E-commerce Sweden [Infographic]
Written by Admin, Posted on June 12, 2018
(Last Updated: January 29, 2021)
Our infographic has condensed the information from our guide to Sweden into a handy image so you can get the run-down on the growth of e-commerce, consumer behaviour and which channels to consider when seeking to create a foothold in the Swedish market.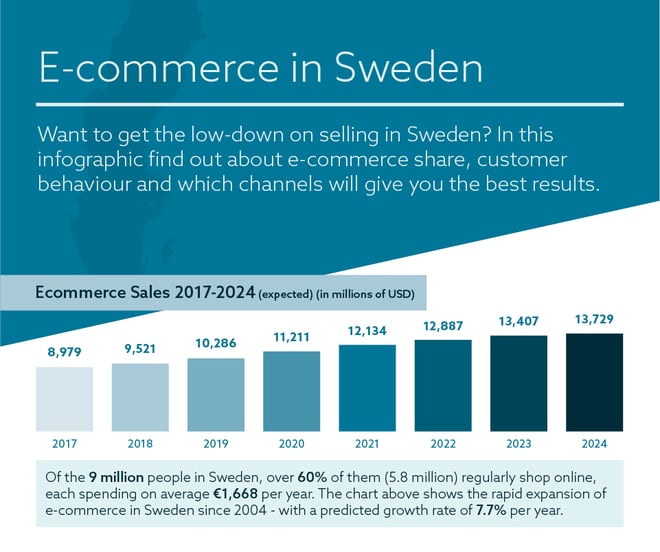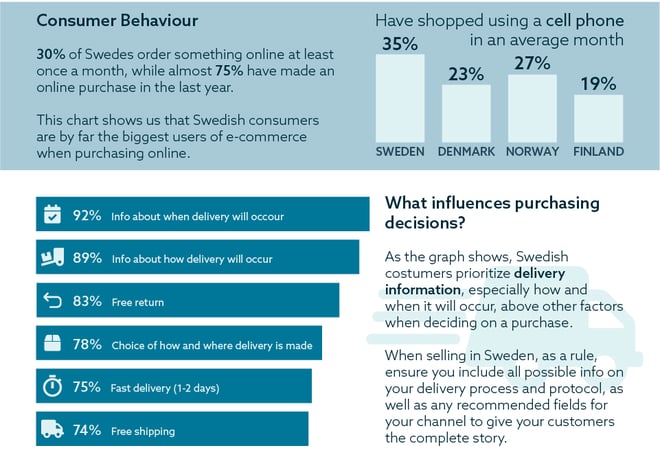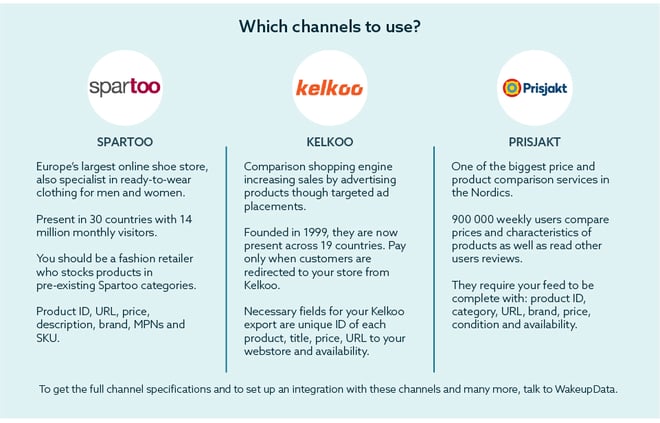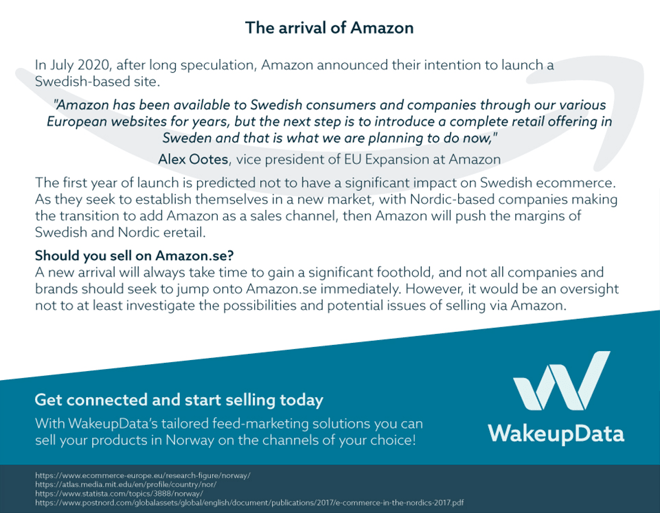 Here we offer a few more details of some of the channels to consider when reaching out to Swedish ecommerce shoppers. Speak to WakeupData to hear the full list of opportunities available to online merchants selling their products in Sweden.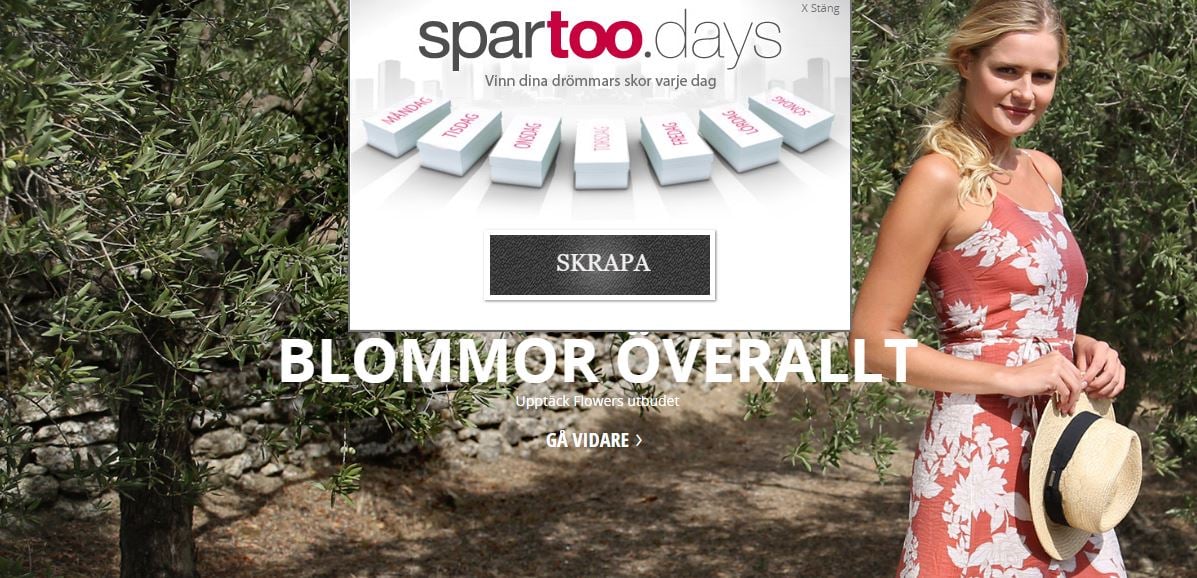 Founded in 2006, Spartoo is Europe's largest online shoe store, also specialising in ready-to-wear clothing for men and women.
They are currently present in 30 countries globally including France, UK, Spain, Italy, the Netherlands, Denmark, Finland, Belgium, Greece, Poland, Portugal, Czech Republic, Austria, Germany - and of course Sweden!
With over 14 million visitors per month you can get access to an extensive network right away.
Spartoo Requirements (source)
• You should be a fashion retailers who already stocks products in pre-existing Spartoo categories.
• Similar to other channels, you have two to three working days to fulfil your orders and shipments.
• You must be committed to answer all customer queries within two days.
As with any e-commerce channel, there are a number of fields required to be filled out in the product feed you export to Spartoo. These include: Product ID, URL, price, description, brand, MPNs and SKU.
Get in touch with a customer success manager at WakeupData and we can show you our pre-made Spartoo export template, letting you set up an fully-working, optimized feed with Spartoo in minutes.
Kelkoo
Kelkoo is a comparison shopping engine which offers integrated services for online shopping, increasing online sales by advertising products through highly targeted ad placements across a network of premium publishers. Founded in 1999, they are now present across 19 countries across Europe.

The screenshot (above) shows how straightforward it is to create an export to Kelkoo via the WakeupData platform, using our pre-built export template. Necessary fields for your Kelkoo export are the unique id of each product, title, price, URL to your webstore and availability.
Aside from the popularity of Kelkoo in Sweden, and pre-existing audience base, if you choose to become a seller you only pay when customers are redirected to your store from Kelkoo.
Get more info on our Kelkoo integration for your product feeds
Prisjakt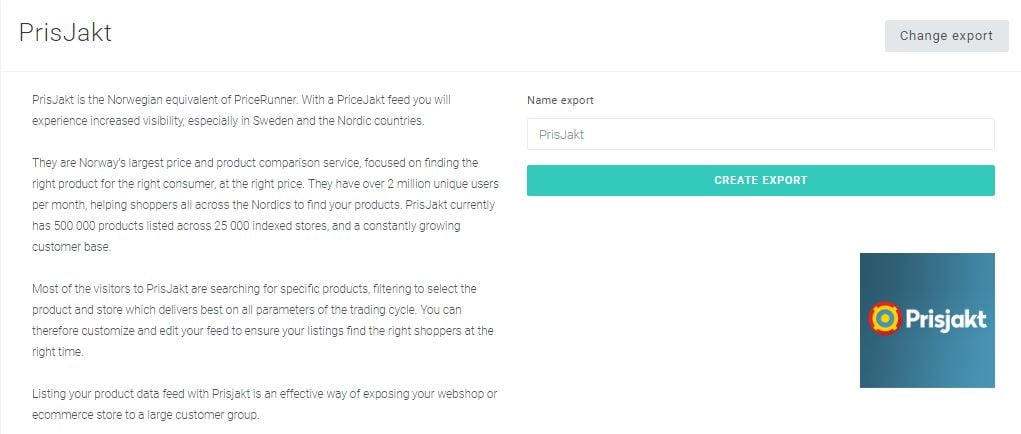 Prisjakt is a price and product comparison service operated by Prisjakt Sverige AB.
Their users can compare prices and characteristics of products as well as read other user reviews on products and retailers and boast over 900 000 unique users per week (source).
They require your feed to be complete with: product ID, category, url, brand, price, condition and availability (check out their full list here)

Join Prisjakt to get access to one of the best price comparison services in the Nordics and benefit from a high-quality and up-to-date WakeupData product feed.recommended: MPN, GTINs, colour, image links, shipping and size.
Get more info on our Prisjakt integration for your product feeds
The next steps?
Take the time to select which channel might be right for you. Check out their product categories to see if they support your type of products and consider carrying out a trial campaign to see if you get results.
Check out our Ecommerce Guide to Nordic ecommerce below: