What does the future look like for ecommerce in Denmark?
Written by Admin, Posted on November 6, 2017
(Last Updated: January 29, 2021)
At WakeupData we live and breathe data, whether it's from the batches which we manage from our Product Feeds or from the analysis of public data and available data from other sources. As we have a focus on e-commerce, we have been doing some research around this industry, with a focus on the Danish market.
Here we have collected some of the interesting trends we have found.
Enterprises making e-sales.
A study of EU-28 countries in 2015 found that the percentage of ecommerce enterprises making e-sales ranged from a 7 % low in Romania to a 30 % high in Ireland. The average at this time was 20%, meaning that Denmark's 29% was greatly exceeding the e-sales of enterprises in most other nations.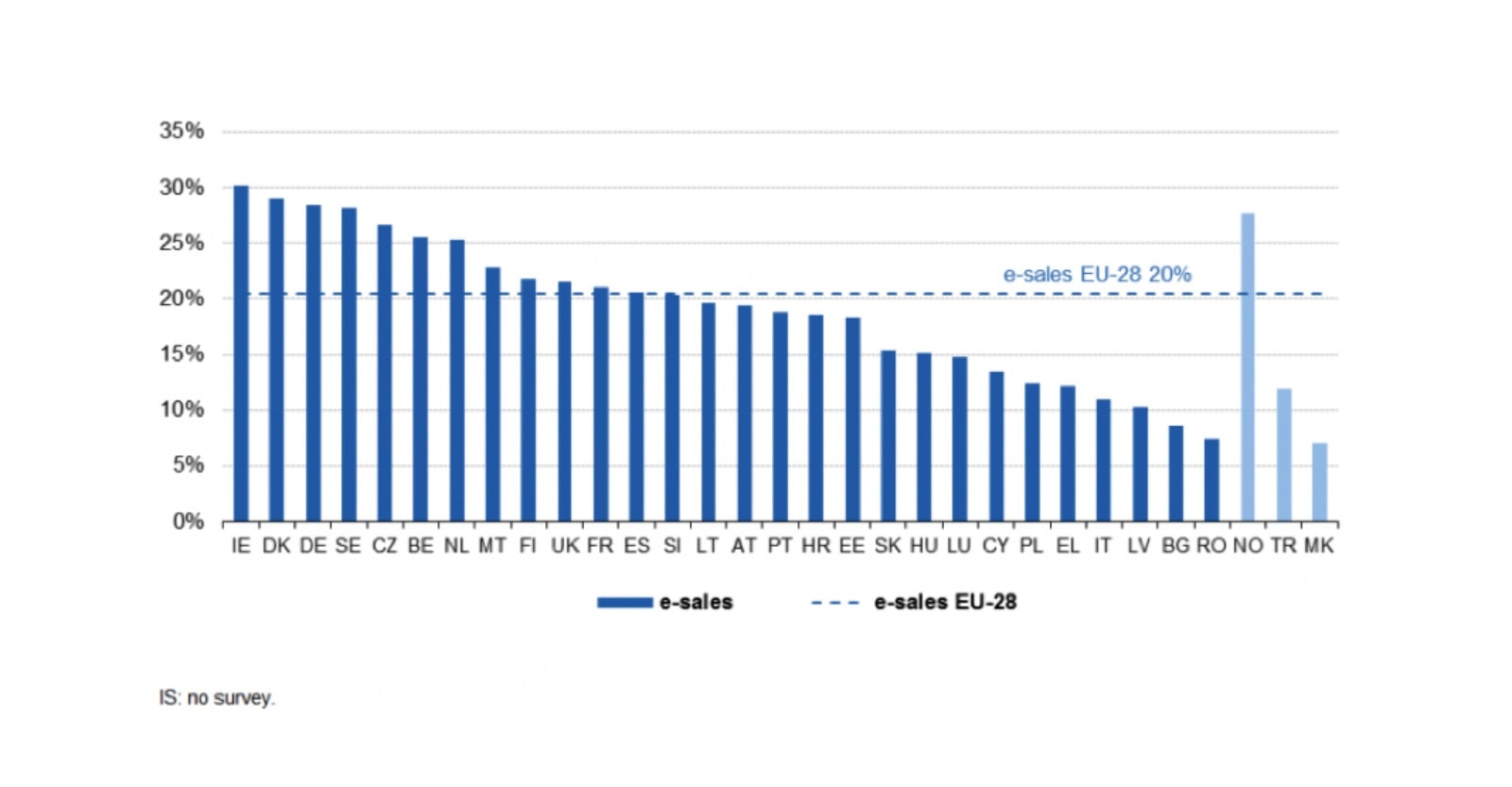 Following on from this, a further study in 2015 looked at the percentage of turnover realised from these e-sales amongst enterprises. The results showed a varied range from just 4% in Bulgaria and Cyprus to 35% in Ireland. Again, Denmark was one of the highest achievers of the study group, with 27% of their turnover achieved via e-sales.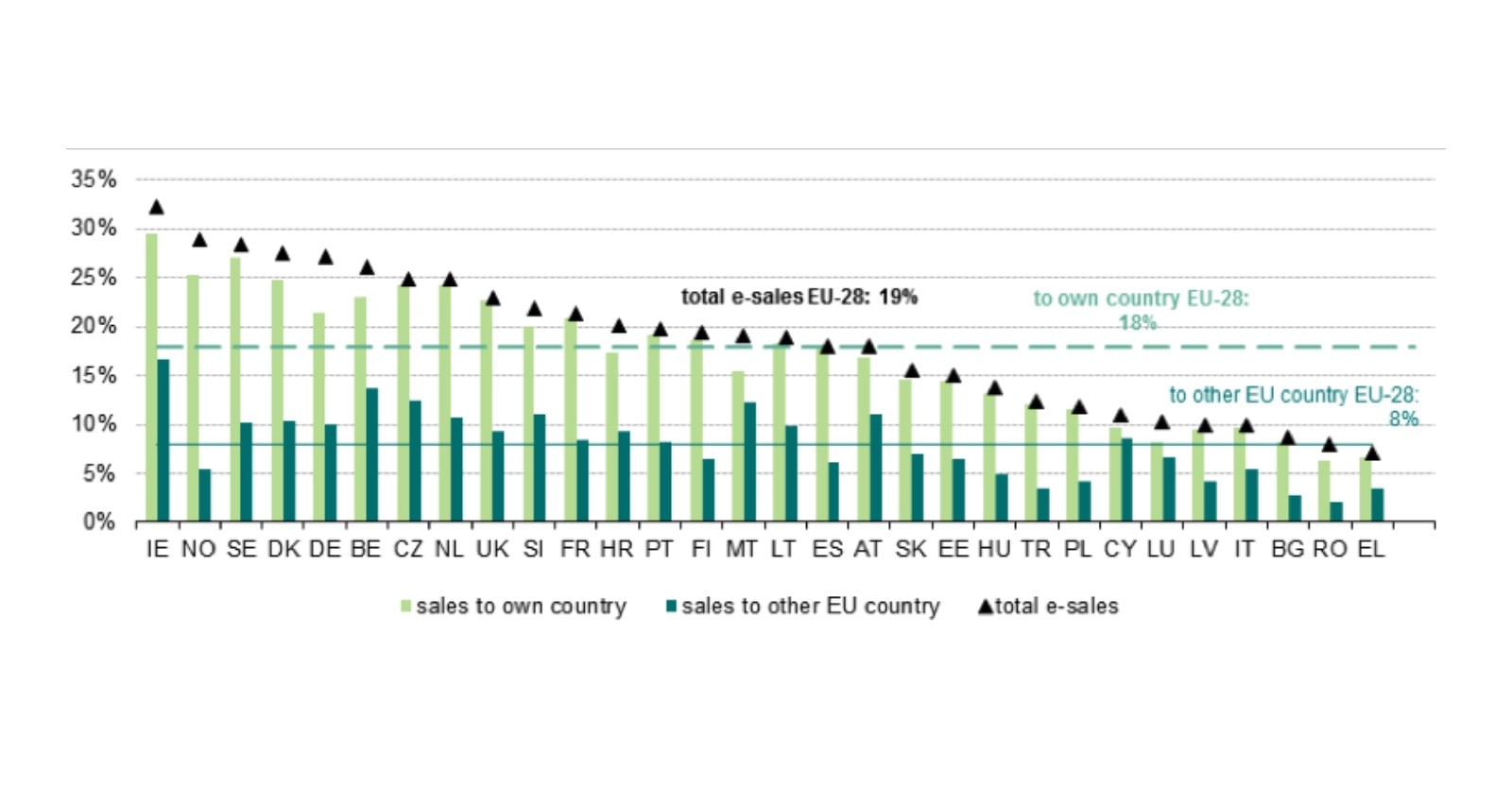 What do those preceding results tell us?
We can see that in 2015, e-commerce sales were not fully exploited by enterprises selling their products electronically.
Business intelligence shows us that Denmark has a huge potential to exploit cross-selling to others, as out of the 27% of the total e-sales, only 10% were sold to other EU countries.
The chart below offers a breakdown of the different industries and their contribution towards e-commerce sales in Denmark. 'Travel' is the largest seller online, accounting for almost a quarter of all sales in the country.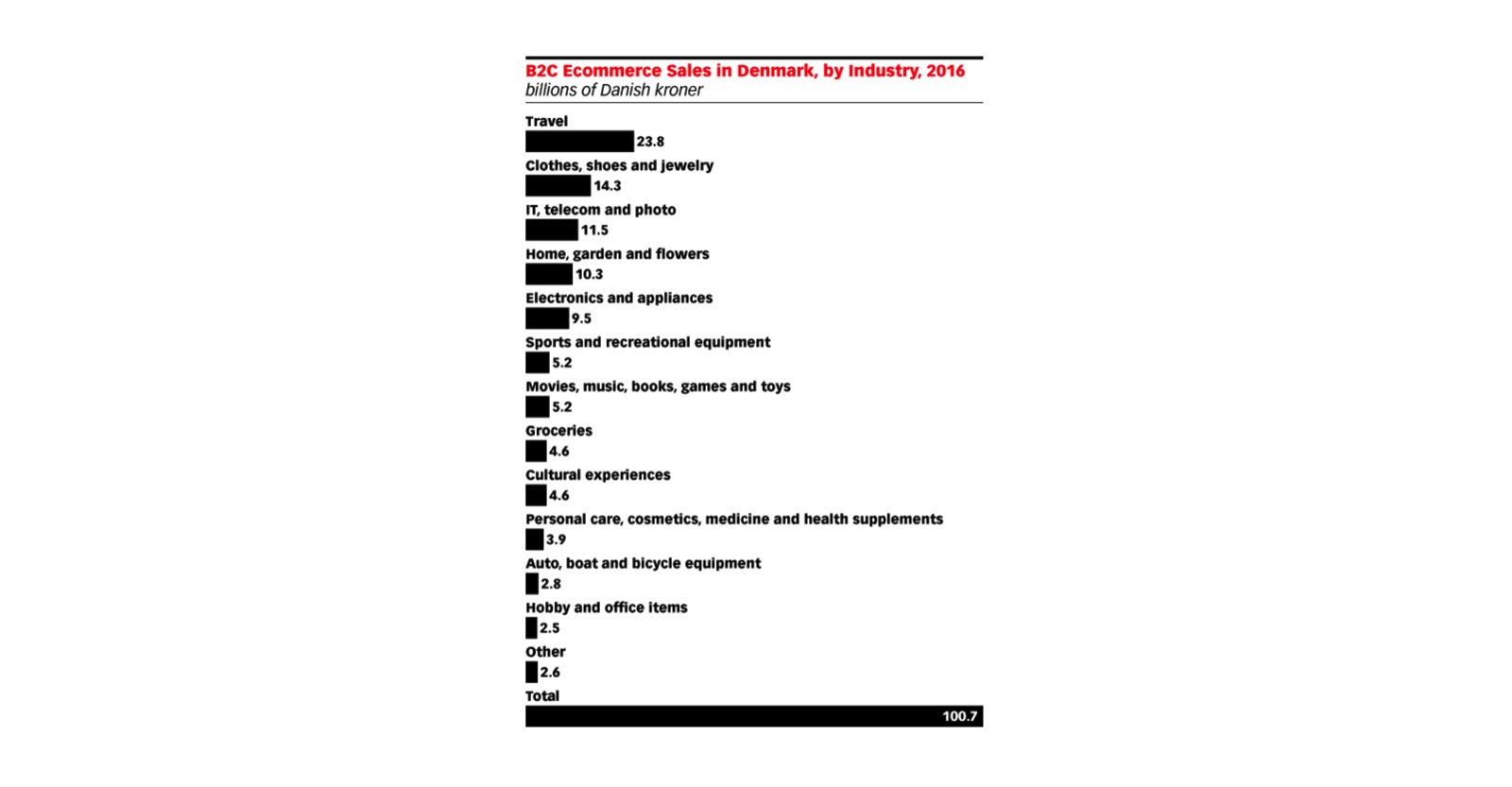 How many people are using price comparison sites in Denmark?
Another survey looked at the share of individuals who used price comparison websites in Denmark in 2016, by both gender and frequency. It found that 60 percent of men and 47 percent of women were checking price comparison websites every time they were making a purchase.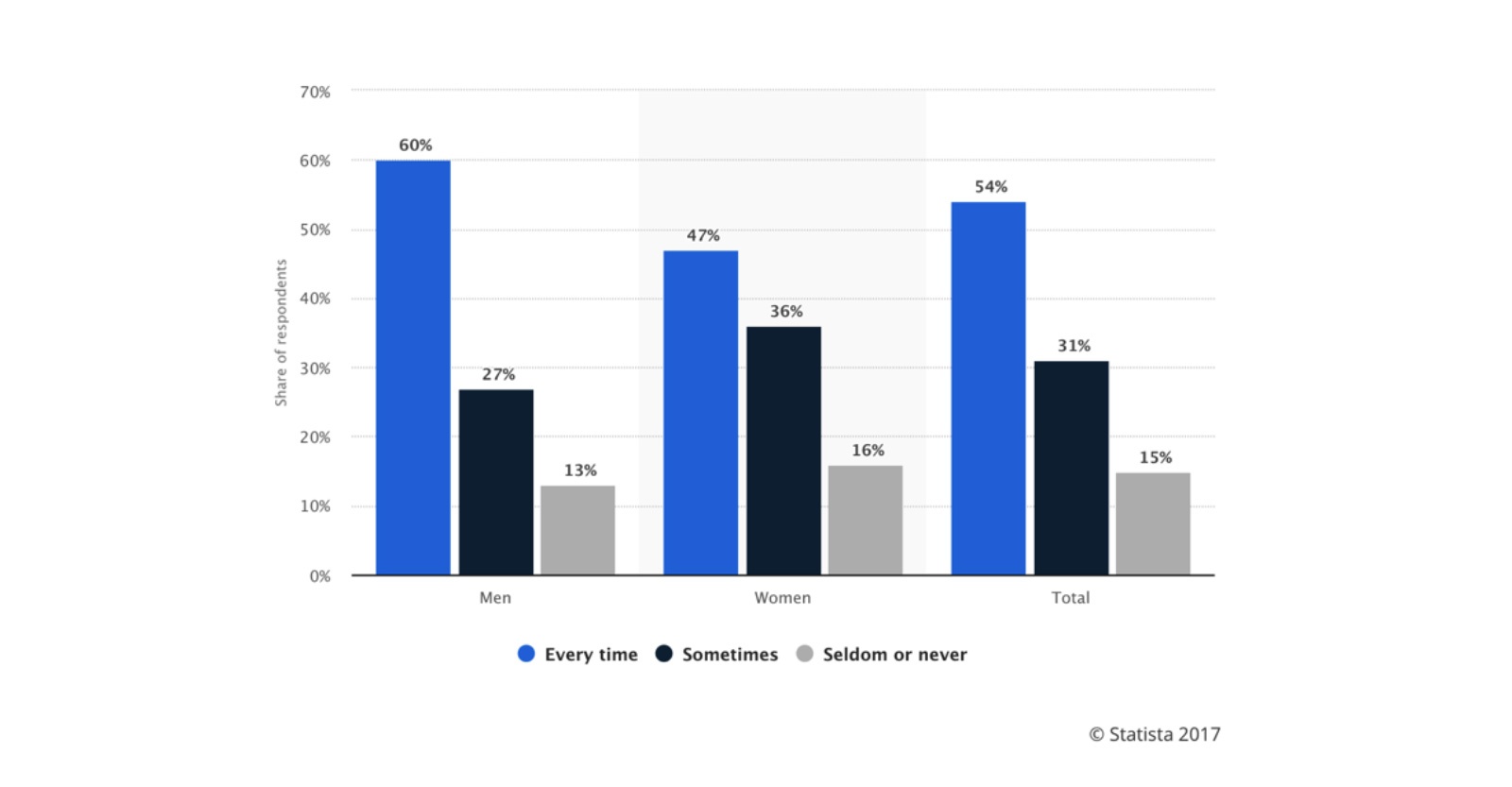 What does the future look like for e-commerce in Denmark?
From the most recent data available to us, we found that at the moment, revenue in the e-commerce B2C market amounts to US $4,956 million in 2017. This revenue is anticipated to show an annual growth rate of 8.4 %, meaning that by the year 2022 we will see a market volume of US $7,420 million (CAGR 2017-2022).
The largest section of this market is currently 'Fashion' which, in 2017, has a market volume of US $1,573 million. User penetration is currently at 60.9 % in 2017, but this is also expected to rise to 66.7 % by 2022. The average revenue per user (ARPU) currently amounts to US $1,415.68.
The bar chart below shows this rise in e-commerce share of total retail sales in Denmark from 2015 to 2018.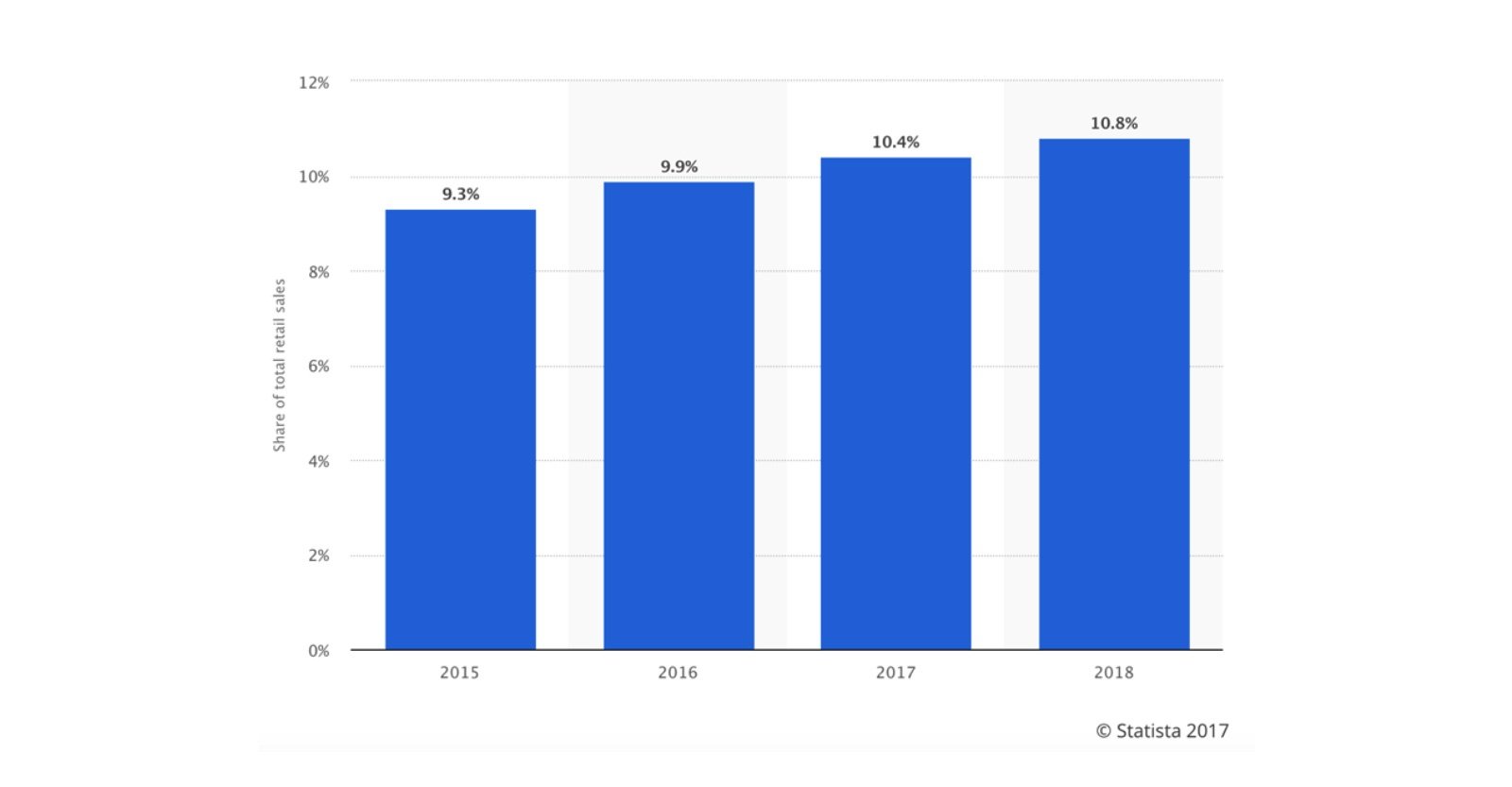 What can we gain from looking at all these results?
The trends and findings outlined here tell us that although Denmark is currently one of the highest achievers in Europe in terms of e-commerce, there is still a need for expansion and improvement in the future.
For example, there is clear potential for a great deal more cross-selling of products from Denmark to other EU countries. For an international company in Aarhus, the news is good.
We help multiple Danish businesses to boost their online performance through boosting impressions, clicks and overall revenue. Check out how we helped fashion retailer Kaufmann to increase their revenue by 44% by optimizing their product feeds.
With a market volume that is predicted to rapidly increase in the next 5 years, it appears that e-commerce in Denmark is on the way up.
Find out more about the opportunities for feed marketing for eCommerce in Denmark and how WakeupData's services are delivering feed marketing solutions to help hundreds of clients.
Looking to expand your reach in Europe?
Check out our ecommerce guides to selling in the Netherlands, Sweden, Germany, Finland and Norway or check out our eCommerce Guide to Selling in the Nordics below 👇