How to Sell on Fruugo? WakeupData help Danish Merchants
Written by Ben Culpin, Posted on August 27, 2019
(Last Updated: April 06, 2021)
Earlier this month, Fruugo announced a partnership with the Trade Council for the Danish Royal Embassy.
The aim of this partnership is for the cross-border specialists Fruugo to help Danish merchants to sell more across global markets.
To ensure each Danish retailer can easily get their products listed on Fruugo, the project includes free support from WakeupData - Fruugo's Danish partner.
To kickstart orders, each new Danish retailer will also benefit from €600 of additional Google Shopping advertising spend, which Fruugo uses to drive highly-engaged shoppers direct to their products.
"Fruugo's innovative approach to this initiative is exactly what we were hoping for when we started talking with some of the leading global marketplaces.

Fruugo make it so simple for their retailers to gain export sales as they manage all translation, forex requirements and traffic generation, whilst working on a straight 'no-sale-no-fee' basis. With the additional support they have created through WakeUpData and Sello to make each retailer's integration simple, it makes perfect sense for all Danish retailers to list with Fruugo."

– Adriana Lyon-Shaw, e-commerce expert to The Trade Council of the Royal Danish Embassy in London
Why sell on Fruugo?
Because around 85% of all sales on Fruugo are cross-border, so it's a perfect opportunity for
e-commerce retailers to increase conversions and turnover on a global marketplace.
You can see Fruugo's own value prop for new merchants here.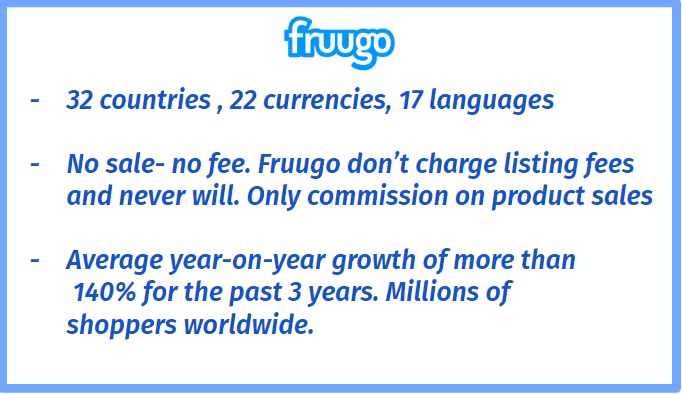 How can you sell on Fruugo?
Using our feed marketing platform to sell on Fruugo's marketplace ensures that your product feed meets all their requirements. On top of this, our Customer Success team ensure your inventories are constantly maintained, managed and optimized for all the sales channels you are selling on.
As with any other sales channel we help clients sell on, we ensure that every aspect of your data is fully optimized and enriched with extra data, in order to gain the best possible results.
What are WakeupData offering?
We are offering all implementation and setup of this new sales channel for free - for all users of our Feed Marketing platform. If you want to find out more about adding Fruugo as an extra means of reach and revenue, simply get in touch with us.