Why should you choose to use Bing Ads for ecommerce?
Posted on November 19, 2018 (Last Updated: April 07, 2021)
You probably don't need telling that Google is the most popular search engine worldwide. But the often overlooked Bing is consistently second place in terms of online search volume year-on-year.
And that is not a figure to be sniffed at. At the beginning of 2018 the search engine platform 6 billion monthly searches.
So although it may sound like Bing is continually playing second fiddle to Google, there is clearly huge potential for you to begin using Bing Ads - especially if you already have an established Google Shopping Feed.
Firstly - what are Bing Ads?
Just like AdWords, they offer a pay-per-click (PPC) service - so you pay only when someone clicks on your Text Ads.
So Bing Ads, as the name might suggest, are basically the Microsoft version of Google AdWords.
Bing Ads provides two types of ads: Text ads and Product Ads - which we'll go through now:
Text Ads
You create your text ads within Bing - with 25 characters for Ad titles and 71 characters for Ad text - it means you need to keep it concise (source).
These will be displayed just as they would on Google. Being a Microsoft service your text ads will appear on Bing, Yahoo, and AOL.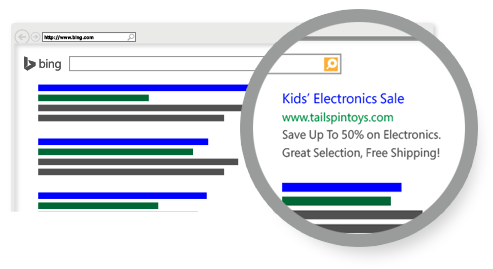 Your ads will appear on search results page when a customer carries out a search on Bing. Where you ad appears on the search results pages is determined by:
The keywords you use to associate your ads

How high your bid is compared to your competitors
And in a way that you may be familiar with from AdWords, you can target your ads to geographic regions, specific audiences or times of day - get more info here.
Product Ads
Products ads include custom images from your own product catalogs - which you can create in the Bing Merchant Center. Similar to Google's Product listing ads, you can add specific promotional text, pricing and seller details.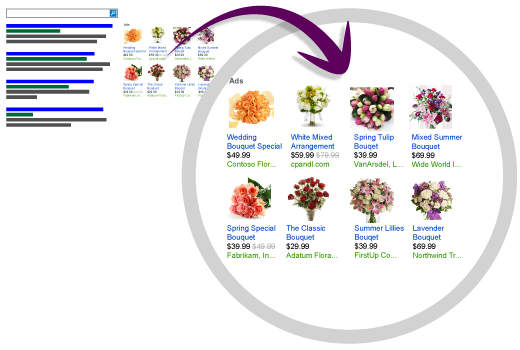 The major difference to the previous ad format is that you have more space with which to display your images, text and pricing.
This increased space for visuals helps your customers make purchase decisions before they click your ad and can translate into higher levels of engagement, increased click-through and conversion rates. Find out more about Product Ads here.
So why use Bing Ads?
The format and scope of these ads may already be familiar to you from Google - and you might now be asking what Bing brings to the table which Google doesn't?
1. A totally NEW audience base who are NOT using Google to do their shopping - remember those 6 billion monthly searches I mentioned at the beginning?
2. On average, Bing users spend 25% more than the average search user - bringing you greater revenue (source).
3. Perhaps the most attractive feature of Bing Ads? The transferral of your ready-made product ads in Google is easy to do, requiring just a few simple steps from within the Bing Merchant Center (source).
This post isn't intended to convert you into a huge user of Bing Ads - just to outline a viable sales channel which has a dedicated and unique customer base and offers easy integration with your pre-existing feed setups.
If you want to find out more about your selling options with Bing Ads, talk to one of our Customer Support team in a one-on-one meeting and we'll be happy to give you all the help you need to get started.