E-commerce feed management is the process of monitoring, organizing and administering product feeds for different sales channels.
E-commerce merchants who are selling a few products from their online store, might decide to start selling on online marketplaces like Amazon or eBay. Simultaneously, they might also want to start advertising on search engines like Google and running social media ads on platforms like Facebook and Instagram.
Each of these will have different rules and requirements for how your list of products (product feed) should appear. This is where e-commerce feed management platforms can be used to centralize all your feeds and manage the information you are sending to multiple channels from a single place.
Why are e-commerce feed management platforms needed?
Different sales channels will be sent product listings from thousands of different online merchants on a daily basis. Many of these will only meet the basic feed requirements of the channel, and be unstructured, untidy, inconsistent and complicated.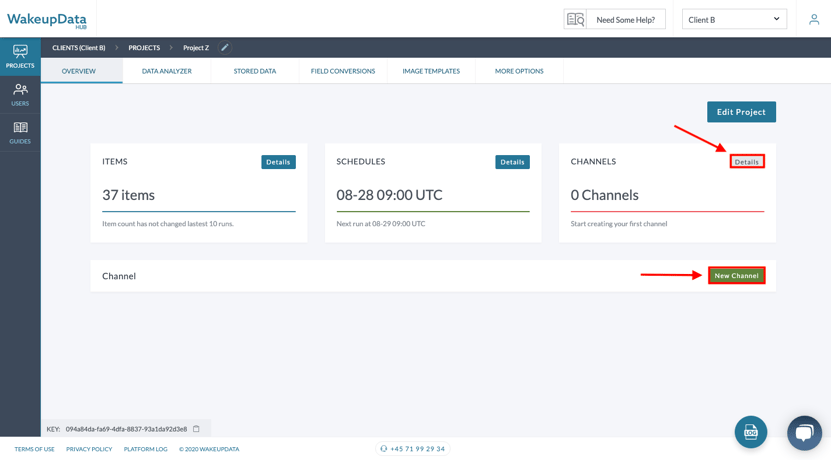 As well as this, each one of these merchants will also be sending their information in various different formats (Google Spreadsheet, JSON, CSV, XML file). Feed management tools help to make the data feeds consistent and optimized for the specific channel which the merchant is exporting to.
Can e-commerce merchants simply manage product feeds themselves?
In some cases, merchants or digital marketing agencies may choose to carry out manual optimization of product content without the need of a feed management tool. Yet this can be a time-consuming and costly solution.

A small 2-minute, optimization using a feed management tool like WakeupData could take hours and be extremely time-consuming on a manual, product-by-product basis! (e.g. Adding Product Brand to feed titles).
The solution: importing and enriching product content through a feed marketing tool
Using a tool that offers product content optimization software, you can merge together multiple data sources, analyze the quality, structure and standardize your product feed content, and export it as a single, high-quality master feed, tailored to your chosen channels.

The graphic below shows some of the options that WakeupData's cloud-based solutions offer:
Gain a consistent, multichannel presence
For an effective e-commerce feed management strategy, you need to make sure the data you are exporting to various channels is consistent.
For example, you don't want to list one set of products on PriceRunner which states one thing, and simultaneously run Google Shopping Product Listing Ads which state something completely different. This is a surefire way to lose any potential sales and negatively impact your brand image.
What feed management tools give you is the ability to maintain a consistent presence across all your sales channel which continually updates with accurate, up-to-date info on pricing and stock changes.
Furthermore, you are guaranteeing that the product feeds you are regularly exporting are going to not just meet the requirements of the channel, but be optimized and enriched with extra data to perform as well as it possibly can:
Enrich product content with additional info to give your business the vital edge:
Integrate competitor pricing: The benefits of getting an overview of your competitors' pricing are many. By merging the pricing info into your feed you can match specific products together based on their IDs. You can then adjust your own pricing and marketing strategies accordingly.


Integrate product ratings: Add extra factors that might be the difference between a customer making a purchase or not. Merging data that contains product's ratings will boost the chances of shoppers clicking through to your product.


Integrate recommendations: Using data from analytics tools like Clerk.io or Raptor Smart Advisor can help you identify best sellers and high performers from your online store and therefore divide and categorize your products more strategically.


Integrate weather data: Adding the weather forecast for the next 7 days to your master feed means you can intelligently push weather-specific products at certain times and in certain regions.
WakeupData supports you every step of the way
After assigning you a designated Custom Success Manager, you will be able to outline your specific industry goals, sales targets and specific painpoints for you or your clients.
Our award-winning Feed Marketing platform lets us set up any integration and standardize, enrich and optimize any product content for any channel.
Want a supportive, customer-oriented tool which can handle millions of your products? Look no further than WakeupData's Feed Marketing Platform.
Get your free consultation and find out what we can do for you below: