1. Knowledge and Support

Since our foundation in 2014, we have optimized thousands of product data feeds for hundreds of clients and our Customer Success Managers are ready every step of the way, to ensure your clients get the best results.

Within our platform we also have FAQs, tutorials and help videos so you can get a helping hand without losing any time.

2. Flexibility

We offer the most flexible and value-for-money service available among all the leading data feed management solutions. Check out the competitor comparison to see for yourself.

The range of tools and solutions which we offer means you don't need to be waiting for IT to sort your product data feeds. We get your products online now.

E-commerce businesses need direct access to all their sales channels, and the comprehensive data management system we offer makes that happen.

We support agile data by making multi-channel strategies easy to manage and export.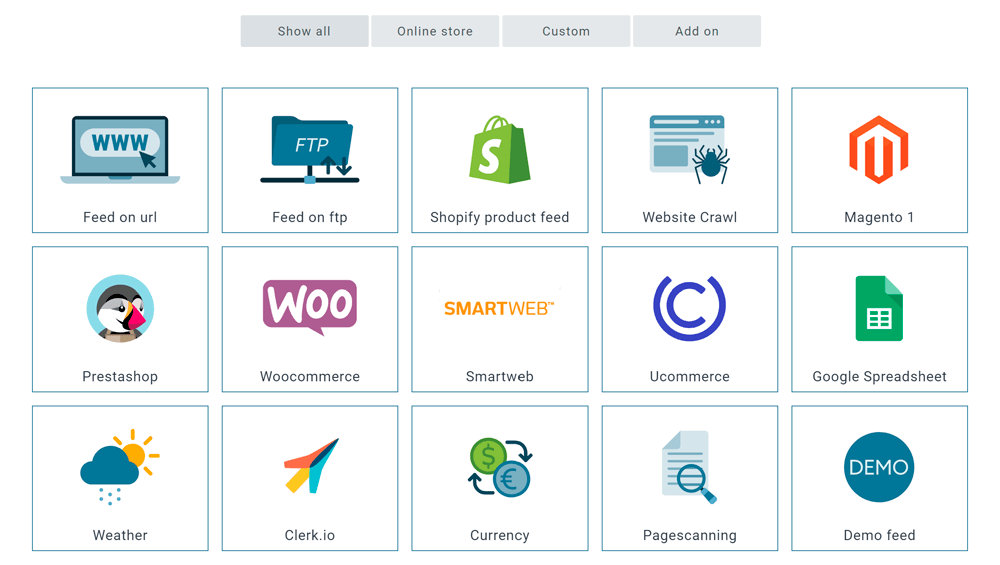 3. Developing and adapting

There are millions of users advertising on Google and Amazon - so how can your product listings stand out from the crowd? WakeupData is highly focused on delivering the single most cutting-edge product data feed experience possible.

From our Expression Engine, which offers over 90 unique functions to fully optimize and transform your data, you can now split test your feeds - to trial alterations or changes over a period of time.

This year we have also added currency conversion and weather data, so your clients can target the right audience at the right time. From our platform you can also dynamically transform images to add real-time prices, logos, promotions and features to optimize all your products and create eye-catching ads.

4. Proven track record

Kaufmann, Silvan,

OMD

and

Iprospect

have implemented our strategies to achieve remarkable improvements to their own, or their clients' online sales.

We ensure that we sit down with all our clients and hear their goals, missions and pain points - in order to effectively and accurately manage and optimize their data to receive the best possible results.
5. Scalable




We offer complete flexibility and choice - so it doesn't matter how you choose to import your data, or where you choose to export it to - we make it happen.

Choose from hundreds of export channels - marketplaces, social media platforms, comparison sites, re-targeting companies

When your business is expanding to new channels, markets and countries, your feed management platform should be able to support you and offer you the necessary tools every step of the way - and that's what we do at WakeupData.
FAQs
What does the Connect service involve?
Connect is our entry level product of our data feed management system. It allows you to import your data feed to our platform and have it set up to be viable for websites such as Google Shopping.
There is a standard limit of 20.000 products per import. There is a small fee for products over this amount. It also allows you to have your data feed customized to your needs.

We support a wide range of formats such as .CSV, .TSV, .XML. We also support other formats such as JSON.
What does the Supercharge service involve?
Supercharge is our state-of-the-art data enrichment product for adding more data to your feed.
Use our data feed software to add additional images, brands, extra product information, stock values and even details about your product variants straight from your website.

The service also allows you to merge your desired data for easier marketing purposes, insert any missing data and add it to your current feed.
What does your Expand product involve?
Expand is our add-on service that allows you to advertise and push your products onto more channels
than just your connect service. Our high-powered shopping feed management system also allows further customization of your feed for these channels.

If you want to submit to a channel that is not stated on our website we would be happy to help, simply get in touch and let us know which channel it is that you want to get listed.
How often do feeds update and how much time is required?
It depends entirely on the schedule we agree upon to fetch your data. The standard schedule is once per day every night.
What are the payments terms?
We offer monthly, 6 months payment (5% discount) and 12 months payment (10% payment)
What is a product feed?
A product feed is the list of products that you carry on your site with options or attributes describing them. These attributes contain anything from the color, manufacturer, material and the size of each product.
What on earth is Product Feed Optimization/Management?
Product Feed marketing software is simply a tool designed to let any user, no matter their company size or experience, import the information on their products from their webshop to a platform like WakeupData, then improve that data and send it to multiple shopping channels.
Once that has been uploaded, users improve factors like titles, images and descriptions on all their data and then create what is known as an 'export', so they can send all this amazing, 'optimized' data to any channel that they want at any time (image above!).
The really great thing about this feed marketing software is that it lets these webshop owners manage the whole process from one, single platform - even if they have thousands of products and are exporting to hundreds of channels all across the world.
I don't have a product feed, what then?
That should not be a problem, we can create one for you by using our data feed software to crawl your site to generate the right information for your feed.
Do you offer your services to Global retailers?
Yes, we offer our services worldwide.
Want to find out more?
Connect with us today, talk to one of our consultants and get your free evaluation.