How to Sell on Google Shopping - Understanding the Merchant Center
Written by Ben Culpin, Posted on October 31, 2017
(Last Updated: September 04, 2020)
The Google Merchant Center is a powerful platform from which online sellers upload product data and can set up how they want to show their inventory to millions of customers across the globe.

As a Google seller, from the Merchant Center and Google Ads interfaces, you can create product listings ads (PLAs), which will be displayed across Google and their partner networks. On this blog post we provide you with an introduction to how to sell on Google Shopping and give an insight into what the Merchant Center is used for.
The main drawing point of using the Merchant Center is the wide spectrum of potential buyers you will be able to gain access to. By working with a feed marketing tool, any consumers actively shopping on Google, YouTube and across the web will be able to view your optimized product listings.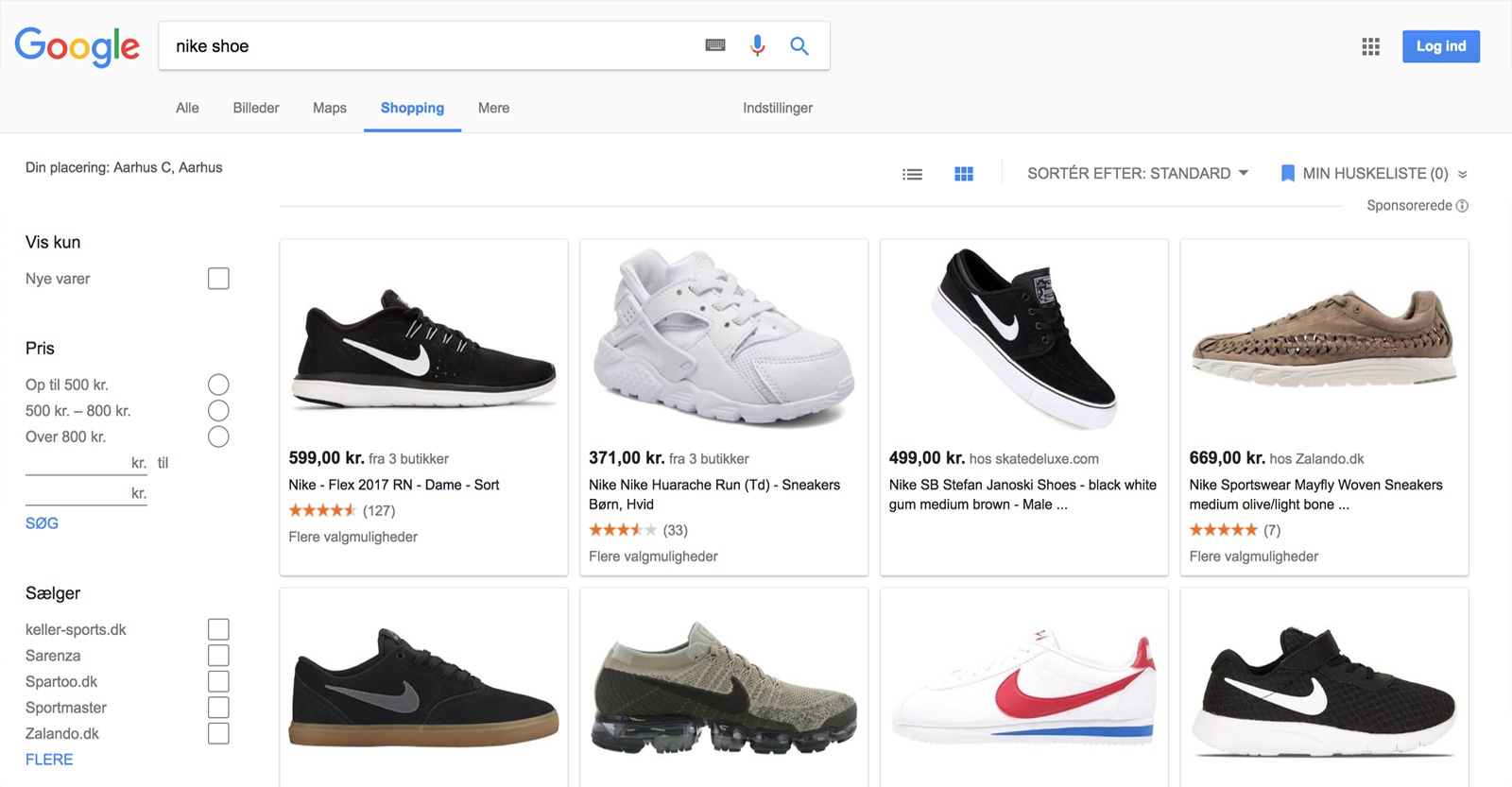 Using the Merchant Centre also means you can keep control over how your products appear, with the ability to keep their information updated and fresh, ensuring that potential customers find the relevant, current items which they're looking for.
How to easily upload your products to the Merchant Center
The following pages offer a simple, step-by-step guide on how you can set up a feed in the Merchant Center quickly and without any hassle.
Once you've set up an account with the Merchant Center by filling out some basic information, you can begin to construct your first feed. Start by scrolling down to the 'products' tab in the left-hand column and then select 'Feeds (new)'.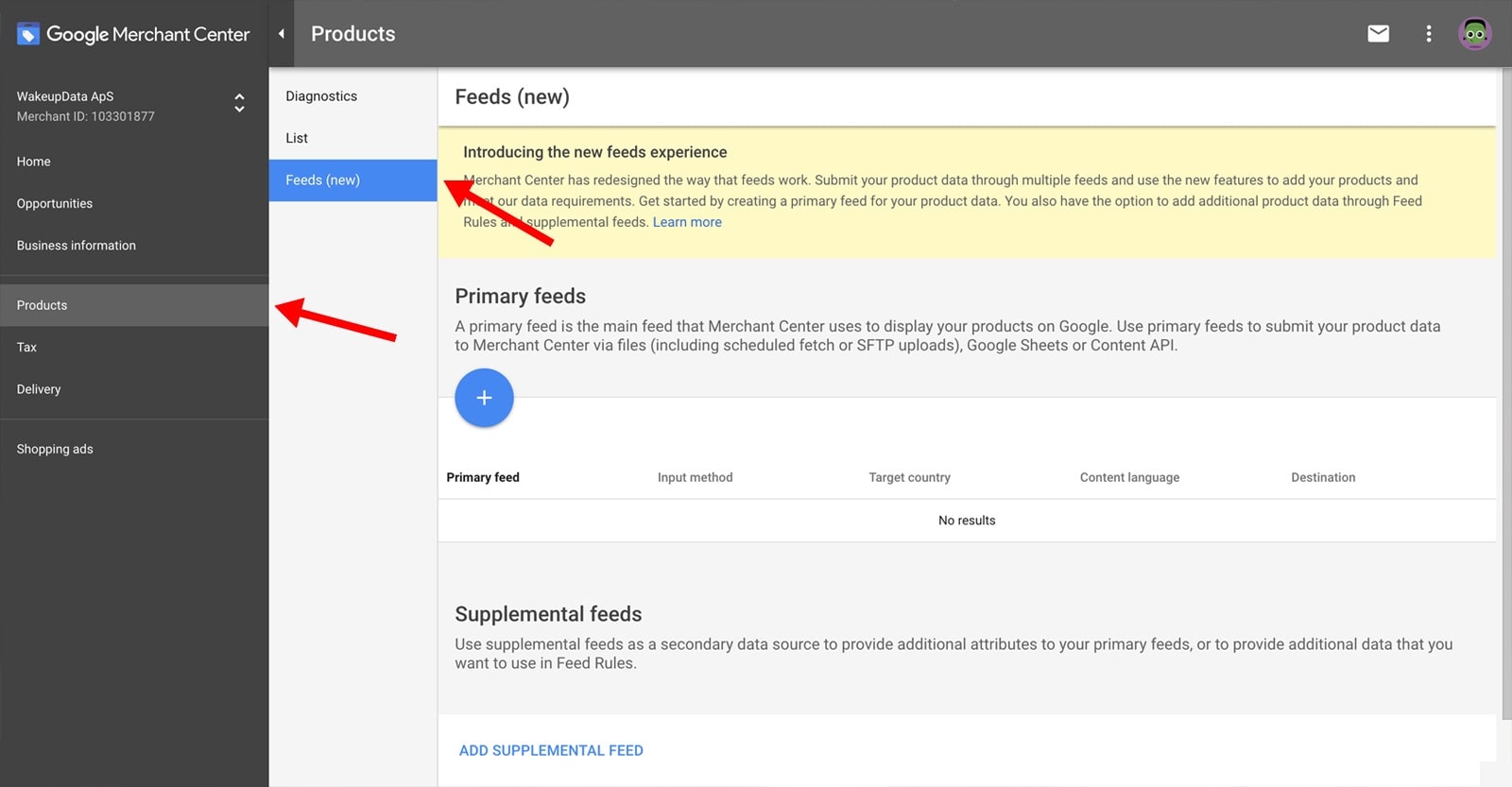 After choosing to create a new feed, you will be required to fill out some 'Basic information' about your company and products – including the target country and language. You will soon have the opportunity to begin to upload your product feed but there are just a few hoops to jump through first!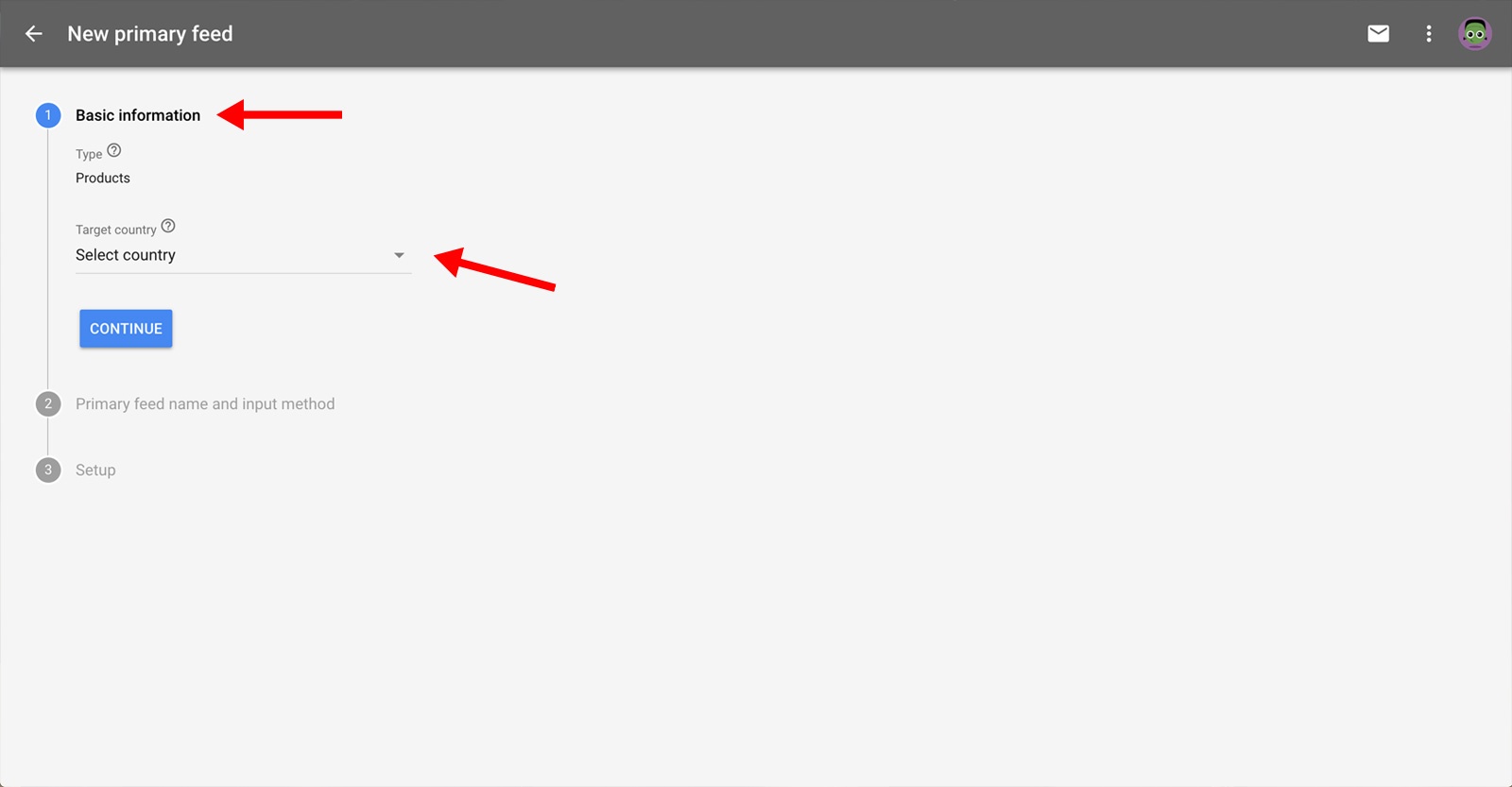 You will then be asked to provide a name for your 'Primary Feed' and to tell Google how you will input your data. In this case you should select 'Scheduled Fetch' meaning that all the data is stored on your website and a regular time is scheduled within which Google can 'fetch' any updates.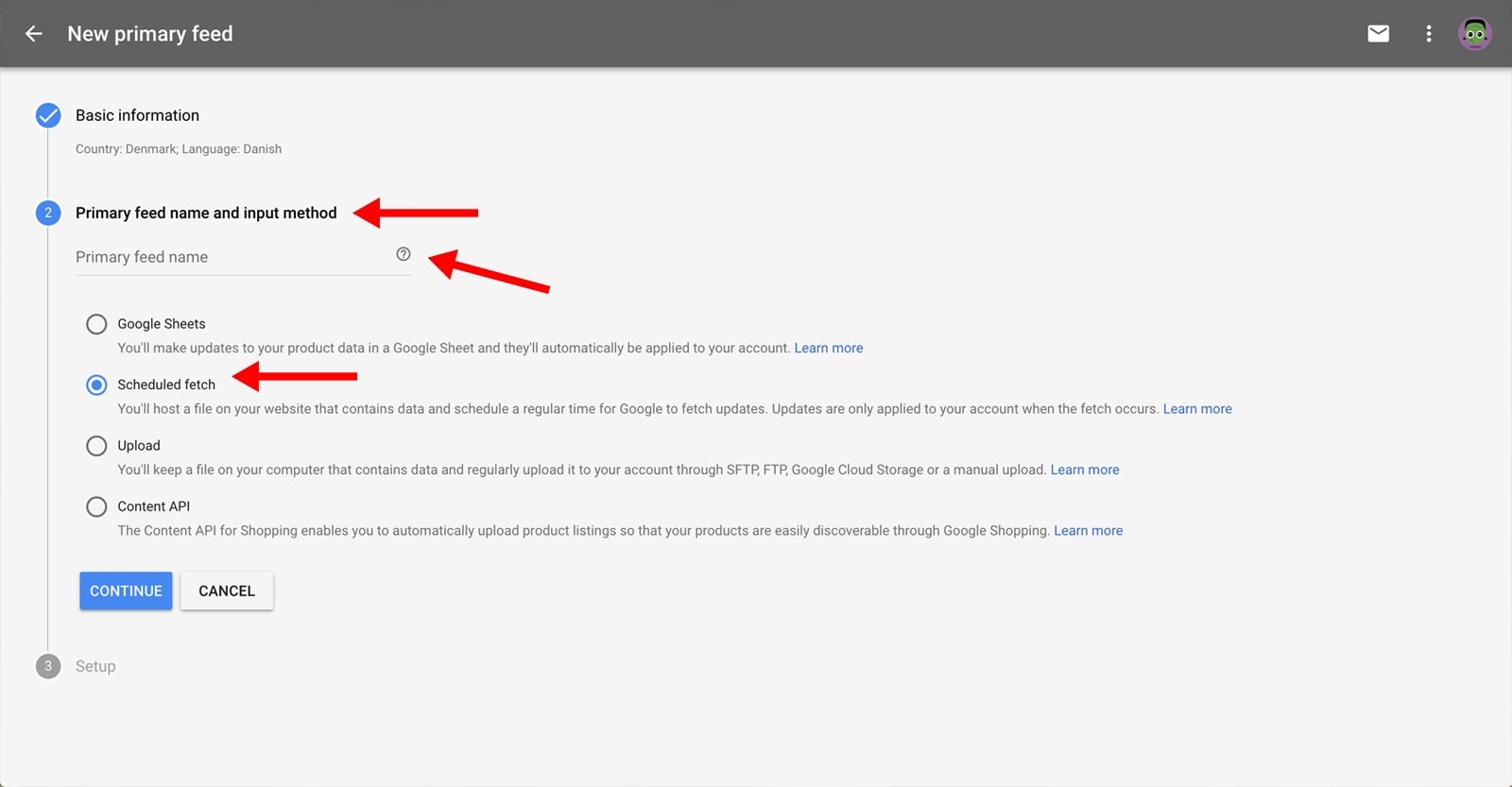 The next stage is to create the 'fetch schedule'. This is simply an instruction telling Google exactly when the aforementioned fetch should take place and how frequently. You should also provide a valid URL, specifying the file it should access from your website.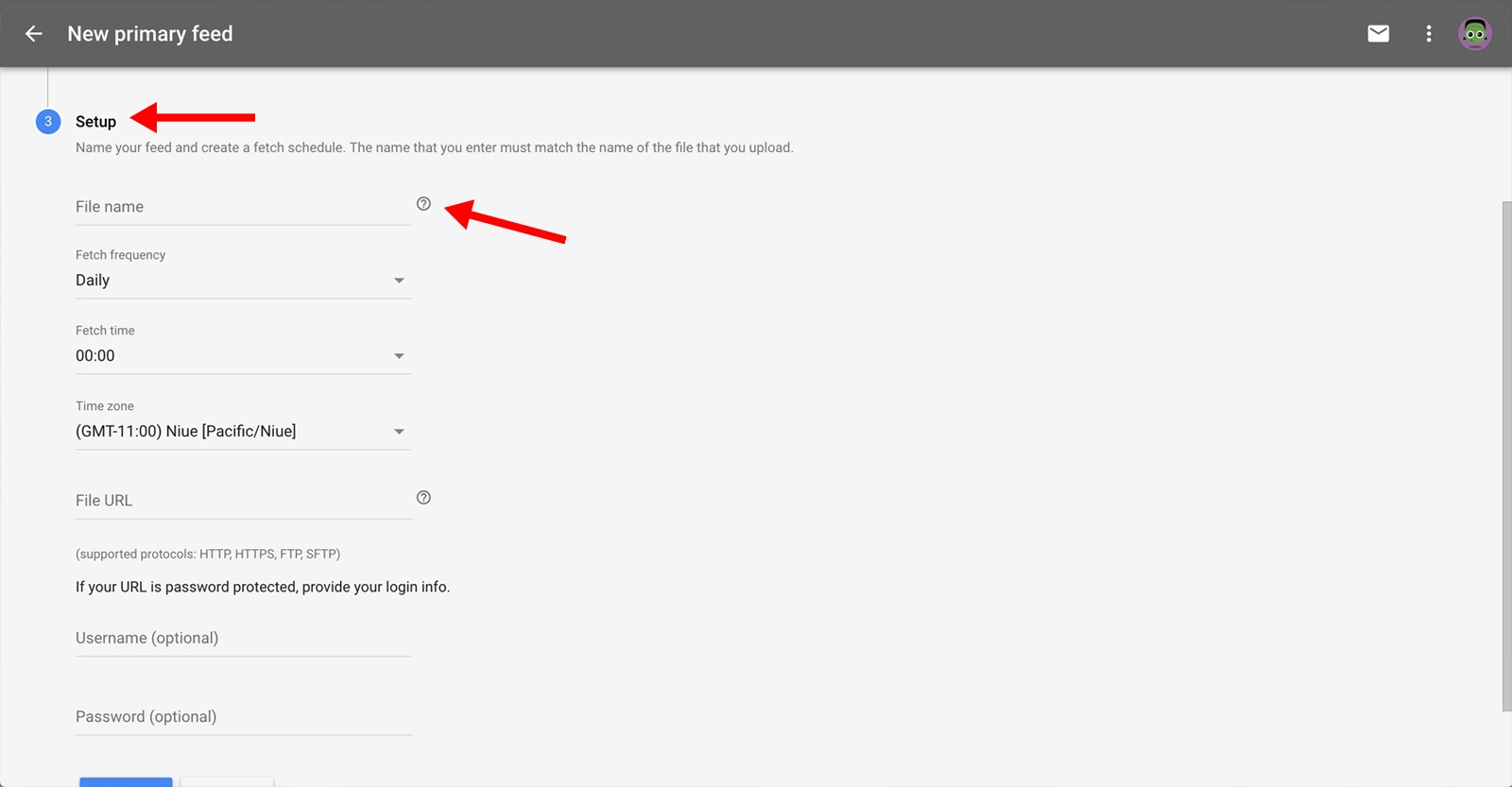 Before you finalise your 'Primary Feed' you should click on the far right of the 'Processing' tab within your Merchant Center account (see arrow indicator below).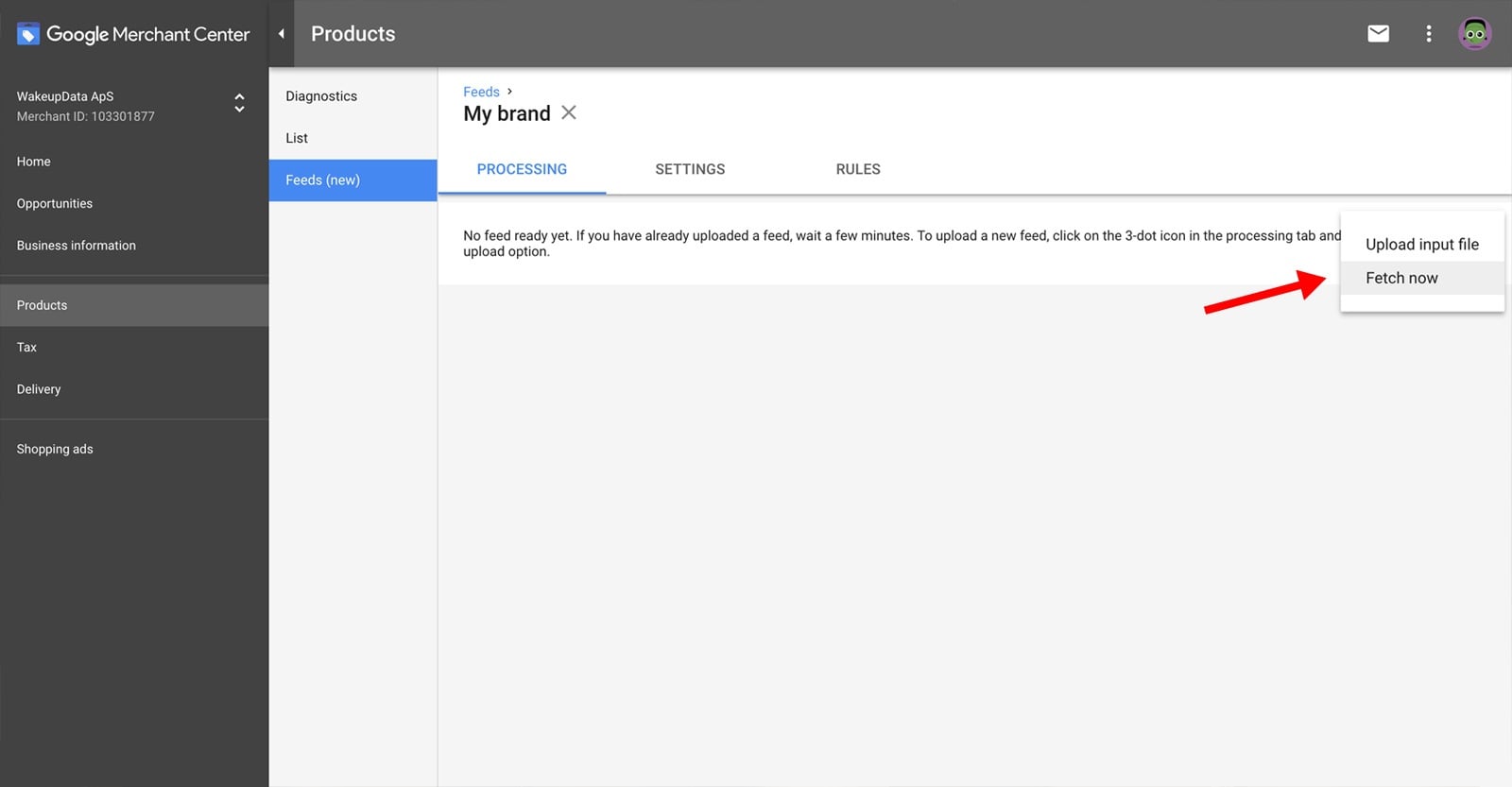 By selecting 'Fetch now' your feed will be uploaded to the Merchant Center for the first time. Once this has been established, your scheduled fetching will mean that data from your website's product feed will be automatically uploaded to the Merchant Center whenever you have specified.
You now have your first feed uploaded to the Merchant Center. It was as easy as that.
Overcoming issues and potential pitfalls to avoid
A point worth noting at this stage is that many advertisers fall into the trap of trying to use the same data feed for several different countries. This leads to errors as each data feed has to be localized with descriptions in the local language and prices in the local currency – so ensure you set up a separate data feed for each target country.
Another long-term issue arising from Merchant Center feeds is specific products being disapproved by Google-bots check when reviewing products. These reviews are done periodically and not only during the products upload. If Google finds out that the prices or availabilities in the feed do not match the corresponding values on your product pages, those products will be disapproved. The obvious way to avoid this issue is to be as thorough and systematic as possible when filling in your product information.
It is recommended to provide as much information as possible regarding each product in your data feed. This can be a long-winded and slow process (which is where feed management tools come in!) but the more in-depth and accurate the information you provide to the Merchant Center now, the easier it is for users to effortlessly search for and find your items once your feed is active.
Related: What is the Google Manufacturer Center and how does it differ from the Merchant Center?
Related: For cross border commerce, what are the Google Merchant Categories for each language?
Selling on Google Shopping with WakeupData
By using WakeupData as your feed management tool you will gain access to a suite of services tailored to online seller's needs.
The main attraction of using our solutions for selling on Google Shopping is that you remain in control of how your products are displayed and what exactly it is that you are displaying.
You can update and optimize the information and contents of your feed whenever you wish, which means that your customers are always guaranteed the most relevant and current items they are searching for.
Find out more about how to how to sell on Google Shopping, or talk to our experts to find out about how you can get optimized results for your online sales campaigns today.