Some fields in your Google Shopping Field have standardized values - such as condition or availability. Meanwhile, other fields like id, description or title will be open for you till add your own input.
Once your feed is sent to Google Shopping, these products are displayed when a customer uses Google to search for a product. They can appear in the main search engine results page or under the shopping tab.Taking the time to really accurately define and describe the products in your Google Shopping feed will help potential customers searching for your products to more easily search for and find your items.
For example, when a customer types 'red running shoes' into Google, they may see sponsored Google Ads appearing at the top of the page.
If they also decide to search for the same query in the Google Shopping tab, they will see a page that looks a little something like this: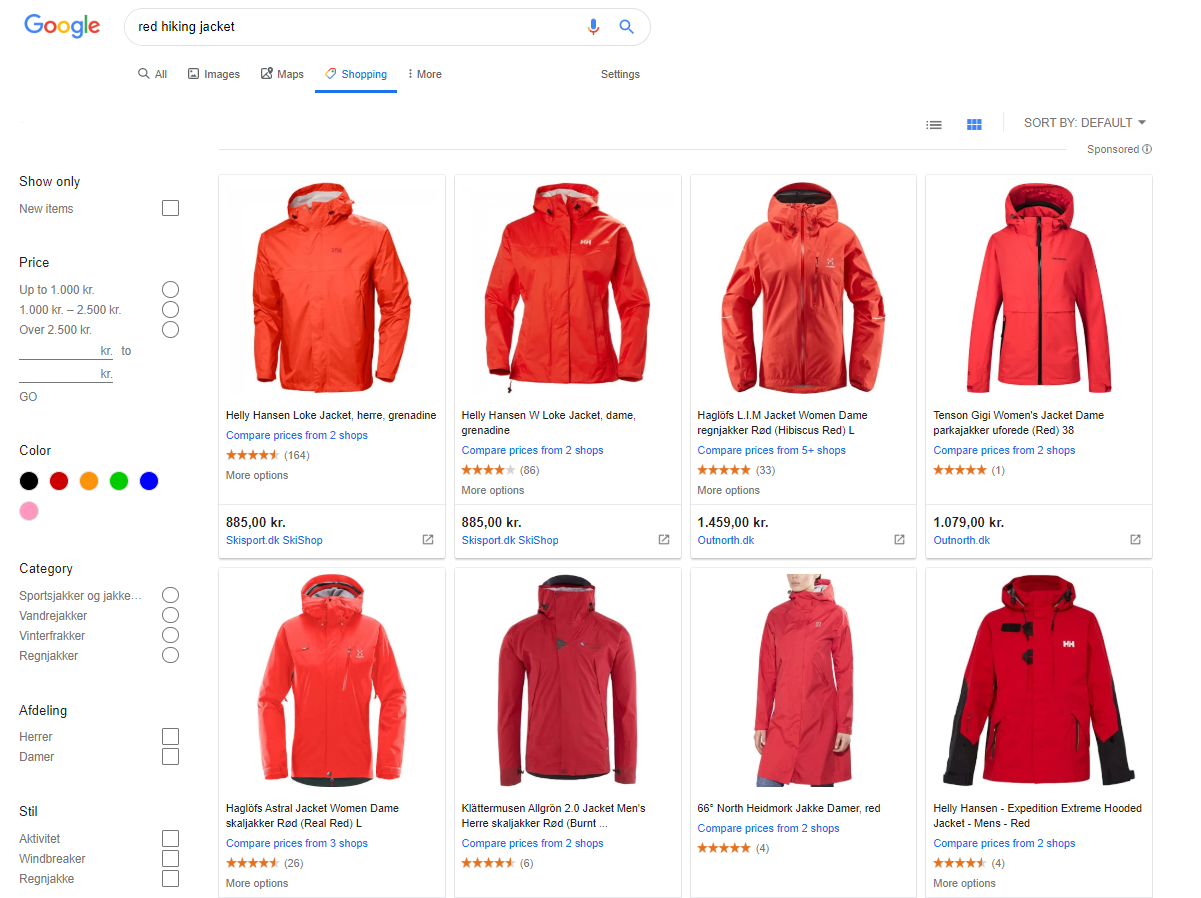 In order to make the most of Google Shopping and gain optimal results in the form of clicks and conversions, eCommerce retailers and digital marketers will have to make use of two platforms:
Google Ads Manager

Google Merchant Center
Google Ads Manager
Google Ads Manager is where retailers run their shopping campaigns. It allows for the control of budgets, bids, settings such as location, ad schedule, and to optimize based on the ad performance insights from their account.
Google Merchant Center
Google Merchant Center is where a retailer will keep their 'Google Shopping feed(s)', which includes attributes of the products for sale. Such attributes include EAN, price, color and title etc.
Get Started with Google Shopping
1. First things first, you should create a Google Ads Manager account. This is a straightforward process and can be setup in a few minutes using a Google login.
2. The next step is to set up your Google Merchant Center account. It's here that you input information about your eCommerce business and will be asked to verify your online store's address.
3. The next step will be to upload your feed to Google Merchant Center in text or XML format. This will contain a list of the products you sell with its attributes including descriptive attributes such as color or brand, price, product identifiers and basic information such as price and availability. You will need to input this information as accurately as possible as failing to do so could result in your product not appearing.
You will then need link your Merchant Center and Google Ads accounts. This can be done in the settings section of the Google Merchant Center - under the Google Ads option in settings.
Creating Google Shopping Campaigns
To create campaigns, you can either begin building after you linked the accounts (you will notice the 'link account' button will turn into a 'create shopping campaign' button) or begin building via Google Ads. Within the Google Ads interface you will see a '+Campaign' button. Selecting this will give you some options, which you'll need to select 'Shopping'.
Google Shopping Optimization
Regular optimization will be required to successfully run a shopping campaign that delivers great results. This will include - and is certainly not limited to – a great data feed, managing bids, developing your list of negative keywords, making bid adjustments by audience, time, device, etc.
Alternatively, you can make use of experts offering optimization help to save you the time and hassle of optimizing (and learning how to optimize) your campaigns.