Google Shopping Optimization
Regular optimization will be required to successfully run a shopping campaign that delivers great results. This will include - and is certainly not limited to – a great data feed, managing bids, developing your list of negative keywords, making bid adjustments by audience, time, device, etc.
Some fields in your Google Shopping Field will have standardized values - such as condition or availability. Meanwhile, other fields like id, description or title will be open for you till add your own input.
Once your feed is sent to Google Shopping, these products are displayed when a customer uses Google to search for a product. They can appear in the main search engine results page or under the shopping tab. Taking the time to really accurately define and describe the products in your Google Shopping feed will help potential customers searching for your products to more easily search for and find your items.
In order to make the most of Google Shopping and gain optimal results in the form of clicks and conversions, eCommerce retailers and digital marketers will have to make use of two platforms:
Google Ads Manager

Google Merchant Center
Google Ads Manager
Google Ads Manager is where retailers run their shopping campaigns. It allows for the control of budgets, bids, settings such as location, ad schedule, and to optimize based on the ad performance insights from their account.
Google Merchant Center
Google Merchant Center is where a retailer will keep their 'Google Shopping feed(s)', which includes attributes of the products for sale. Such attributes include EAN, price, color and title etc.
Flexibility

Our Google merchant feed template is ready-made for your business.
We offer the most flexible and value-for-money service available among all the leading data feed management solutions. Check out the competitor comparison to see for yourself.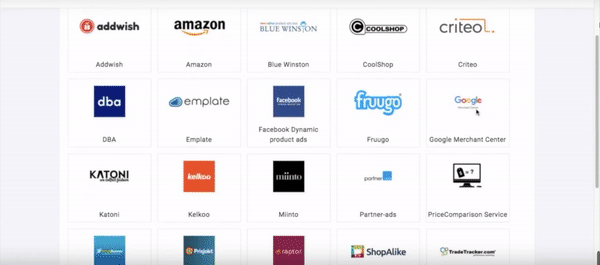 The range of tools and solutions which we offer means you don't need to be waiting for IT to sort your product data feeds. We get your products online now.
E-commerce businesses need direct access to all their sales channels, and the comprehensive data management system we offer makes that happen.
We support agile data by making multi-channel strategies easy to manage and export.
Developing and adapting

Q: There are millions of users advertising on Google, how can your product listings stand out from the crowd?
A: WakeupData is highly focused on delivering the single most cutting-edge product data feed experience possible.
Some examples?
From our Expression Engine, which offers over 100 unique functions to fully optimize and transform your data, you can split test your feeds - to trial alterations or changes over a period of time.
This year we have also added currency conversion and weather data, so your clients can target the right audience at the right time.
From our platform you can also dynamically transform images to add real-time prices, logos, promotions and features to optimize all your products and create eye-catching ads.
We are constantly striving to improve our solutions - with multiple new features and add-ons which are focused on giving clients value.
Proven track record
We have helped hundreds of businesses of all sizes get high-quality, optimized results from their Google merchant center feed by managing their data with us.
Kaufmann, Silvan, OMD and Iprospect have implemented our strategies to achieve remarkable improvements to their own, or their clients' online sales.
We ensure that we sit down with all our clients and hear their goals, missions and pain points - in order to effectively and accurately manage and optimize their data to receive the best possible results.
Scalable
With WakeupData your success is our success and we help your business grow.
We understand Google Shopping management, offering you complete flexibility and choice - so it doesn't matter how you choose to import your data, or where you choose to export it to - we make it happen.
Choose from hundreds of export channels - marketplaces, social media platforms, comparison sites, re-targeting companies.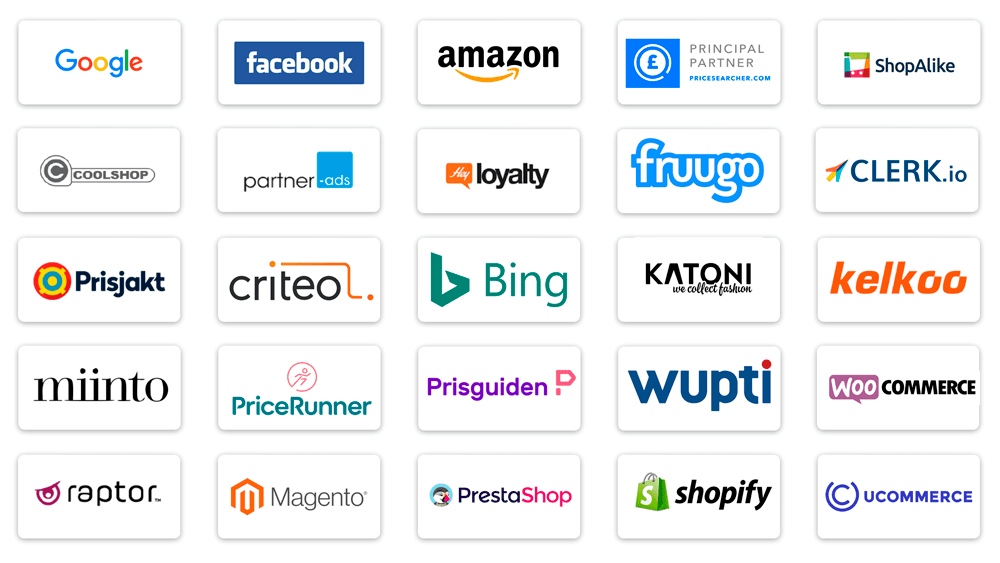 When your business is expanding to new channels, markets and countries, your feed management platform should be able to support you and offer you the necessary tools every step of the way - and that's what we do at WakeupData.