Why WakeupData? Because Time is the Currency on Ecommerce
Written by Juan Jose Rodríguez, Posted on May 9, 2018
(Last Updated: February 08, 2021)
I follow a motto in my life, that time is the most precious currency I have on me, so when it comes to recommending solutions to problems it seems only fair to recommend those solutions that save you time, so you can focus your efforts on something else.
Sell online they said...
So here you are, you just opened a web-shop or a small online marketplace, perhaps you have a fantastic series of products that you are trying to market through different channels- think of Facebook, Google Shopping, a small company called Amazon 🙂 among the hundreds if not thousands of other marketplaces in the world.
Perhaps you are not completely sure about whether you can manage another sales channel or not, time is the currency after all.
You may be thinking "this is just too much work", "I wish my day had 48 hours" you are probably evaluating alternatives to attract more buyers to your products: "Should I try a discount"? "Perhaps a different variation?"
In any circumstance, what you see is that time is shrinking while your tasks accumulate, and we haven't even talked about your inventory!
Can we agree this job is stressful? Thank you. At WakeupData we've learned this first hand by talking to hundreds of clients.
What if you work as PPC in a marketing agency managing multiple clients that are undergoing the above challenges? We know it's not pretty either.
The Pitch :)
What if I told you that we can help? What if I told you we can give you back time? And yes, it is true, this service is not free, we charge you for our services BUT our services are neither expensive nor managed by chatbots.
We CARE about our clients and we want YOU to succeed and get your time back. Let us help you to get home earlier!
WakeupData has created the definitive multi-channel product feed managing tool. We know that you are going to love it just as we know our clients are already in love with our solutions.
Dennis, one of our co-founders saw an opportunity almost 4 years ago to do something disruptive. He saw endless possibilities around data integration and product data feeds.
He created WakeupData, the most powerful data feed management tool in the market - and this is not a marketing stunt, we can prove it to you! -.
Once you integrate your active sales channels - think of Facebook, Google Shopping, Amazon, and 50+ more channels - you will be able to use WakeupData's platform to manage all your feeds. Our software allows you to manage all your product data across multiple channels, in one, single hub!
Not only you can import and export but you can enrich your data to make it more relevant for search engines and for the different channels, saving you time, money and effort while doing so.
We've defined this as a the 'Simplexity" index: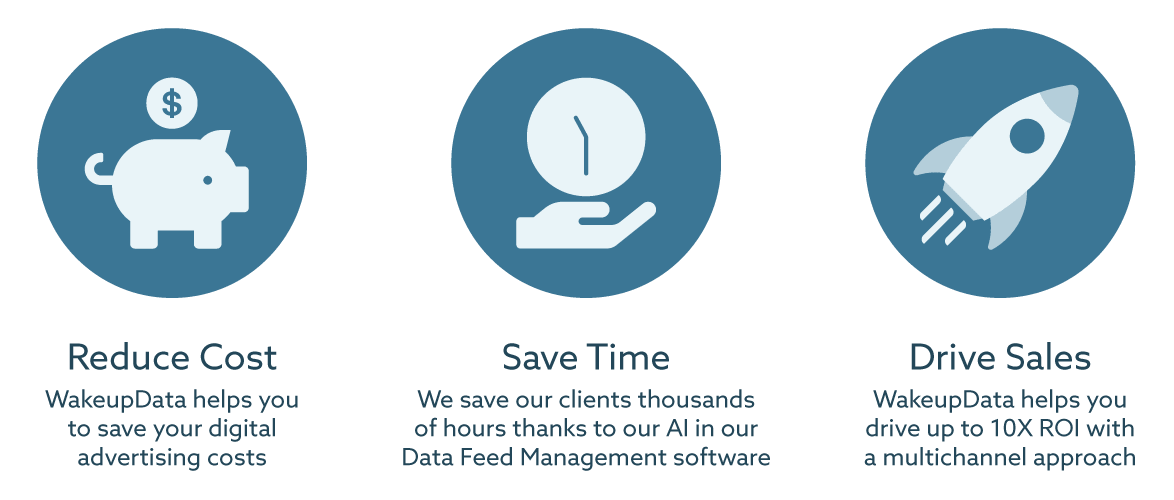 Time is the currency. Our internal research estimates that for each service we implement we save at least 5-10 hours of time for our clients on average per month, while making their business 2x - 10x more profitable depending on the complexity of the channels and solutions implemented.
I know what you may be thinking, I don't believe this. So to prove that we actually can, we are offering you a 14 days free trial on our Feed Marketing platform - that would be the implementation of any channel of your choice - as well as a full hour with our consultants to assess whether we can help you and your clients to be more successful.