Product Content Optimization can be defined as anything that enriches or improves the actual product attributes in a feed, to ensure you are exporting complete and high-quality content to your sales channels.
The online shopping industry has developed high standards when it comes to purchasing your products. No matter if you are selling via an Instagram Ad, a Google Shopping Product Listing Ad or a comparison site like PriceRunner - you need to always be providing accurate and up-to-date content.
Ensuring you are competing effectively and making the most of your revenue potential means data needs to be clean, complete and as informative as possible.
Why is Product Content Optimization needed?
Different sales channels will be sent product listings from thousands of different online merchants. Many of these will only meet the basic feed requirements of the channel, and be unstructured, untidy, inconsistent and complicated.
As well as this, each one of these merchants will also send their information in a different way, in different formats (Google Spreadsheet, JSON, CSV, XML file).
Choosing not to optimize product content means retailers risk missing out on thousands of sales:
Product listings not reaching the buyers they should due to lack of data feed information
Dissatisfied shoppers not purchasing the product they think they are getting.
Giving yourself further work later on - when products get rejected or don't perform well.
Why can't merchants just optimize product content themselves?
In some cases, it is possible to carry out manual optimization of product content without the need of a feed management tool. Some merchants use a Product Information Management (PIM) system to do this. Yet these systems don't let you apply changes and alterations to hundreds or thousands of products at once.
Therefore, a small 2-minute, optimization through a feed management tool like WakeupData could take hours and be extremely time-consuming on a manual, product-by-product basis!
The solution: importing and optimizing product content through a feed marketing tool
Using a product content integration and optimization software, you can merge together all vendor feeds, analyze the quality, structure and standardize the content, and submit it as a single, high-quality master feed to your PIM system. The graphic below shows how this works with WakeupData:
Why use a feed marketing tool for Product Content Optimization?
Consistent multi-channel presence
We stated above how important it is to add consistency to your product content. If you are displaying one set of information in a Facebook ad and an entirely different set on your Google Shopping campaign or your own store, you are guaranteed to lose potential sales and quickly gain a bad reputation.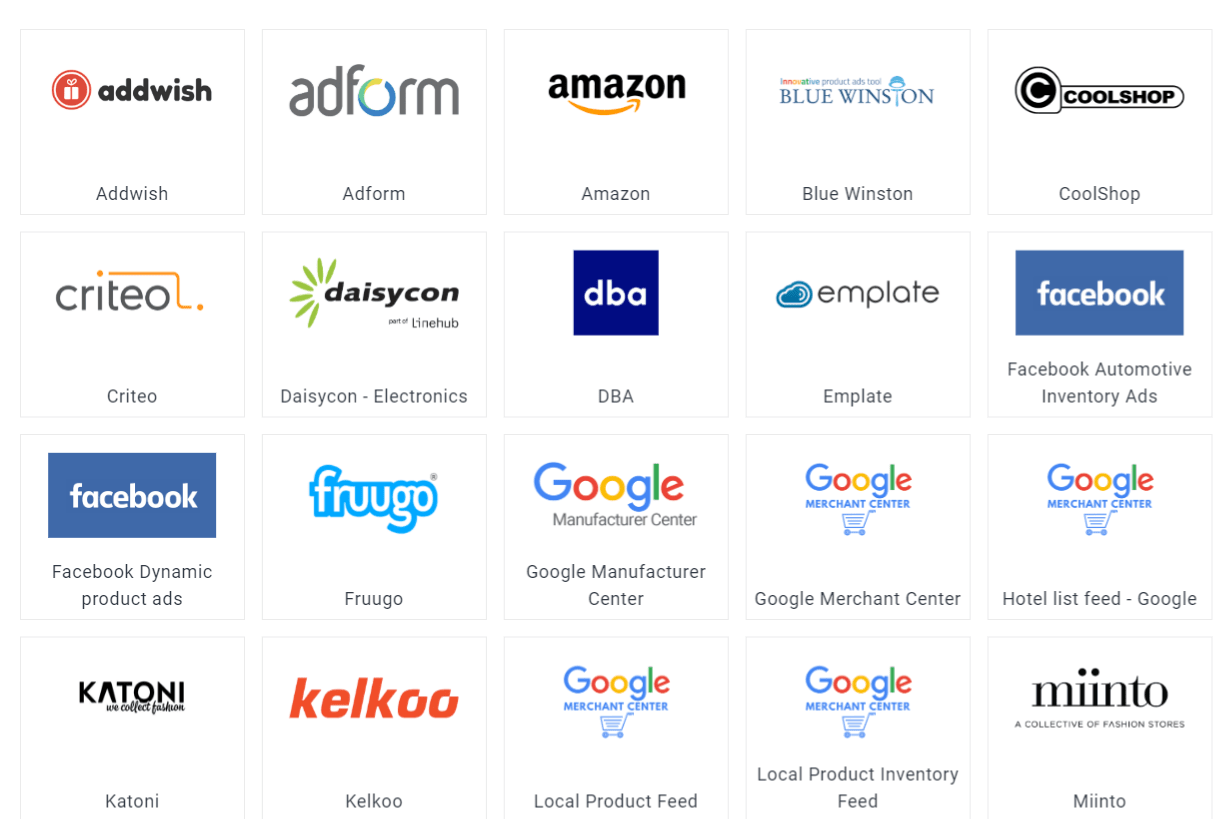 Ensuring you have a consistent presence with the same, regularly updated info being sent to all your sales channels is what feed marketing tools guarantee. You can be assured that the product content you are sending to customers is correct, complete and accurate - improving the overall shopping experience.
As well as this, you are moving beyond tools that offer simple integrations to shopping channels, you are improving and optimizing the product content, so it is not just being listed, it is performing effectively.
Time saving
Possibly the most significant aspect of using a feed marketing tool is the amount of time it saves digital marketers, PPC Managers, ecommerce merchants and online store owners.
Your data is dealt with by feed marketing experts who understand how to analyze the data content they are given. By identifying opportunities for cleaning, standardizing, enriching and optimizing your data - specific to the channels you want to sell on, they deliver a boost to online performance in a fraction of the time.
Enrich product content with additional info to give your business the vital edge:
Integrate competitor pricing

: The benefits of getting an overview of your competitors' pricing are many. By merging the pricing info into your feed you can match specific products together based on their IDs.

You can then adjust your own pricing and marketing strategies accordingly.


Integrate product ratings: Add extra factors that might be the difference between a customer making a purchase or not. Merging data that contains product's ratings will boost the chances of shoppers clicking through to your product.


Integrate recommendations: Using data from analytics tools like Clerk.io or Raptor Smart Advisor can help you identify best sellers and high performers from your online store and therefore divide and categorize your products more strategically.



Integrate weather

data: Adding the weather forecast for the next 7 days to your master feed means you can intelligently push weather-specific products at certain times and in certain regions.
WakeupData supports you every step of the way
After assigning you a designated Custom Success Manager, you will be able to outline your specific industry goals, sales targets and specific painpoints for you or your clients.
Our award-winning Feed Marketing platform lets us set up any integration and standardize, enrich and optimize any product content for any channel.
Want a supportive, customer-oriented tool which can handle millions of your products? Look no further than WakeupData.
Get your free consultation and find out what WakeupData can do for you below: