Product feeds - also known as product data feeds or data feeds - are files in a variety of formats (csv, txt, xml) containing any manner of different product information.
In an eCommerce context, these 'feeds' are used by sales and marketing channels like Google Shopping, ebay, Pricerunner and Facebook to receive the product data from eCommerce merchants and then use it to display their product listings on their site.


Why are product feeds important in eCommerce?
Product feeds play a vital role in getting data from your online store to be listed on global marketplaces.
Each channel has specific requirements for how they want your product feed to look and how it should be structured. For example, Google specifies that each product must have an accompanying GTIN, while Miinto outlines that no brands may be included in product titles.
For digital marketers, product feeds are important as they need are the line between a successful online campaign and a waste of online spending.
For them, it's not just a matter of making sure the product feeds has all the requirements that the sales channel needs. For effective results, product feeds should be about more that just getting product data from one place to another.
Shopping channels use the data in your product feeds as a sign of the overall quality of your campaigns. Based on the content, feed completeness and relevant keywords, channels will decide whether or not your products should get displayed for a specific search query by one of your shoppers.
Starting to see the importance of a product feed?
Let's take a closer look at some of the advantages:
What are the benefits of an optimized product feed for digital marketers?
Better Quality Scores
As an online seller, the only thing you are providing to sales channels is your product feed.
This means that its the only thing for their algorithms to go on when they are looking at what listings should get shown to shoppers. So the information that you decide to include in your feed makes all the world of difference. The more detailed, complete and high-quality your data, the better.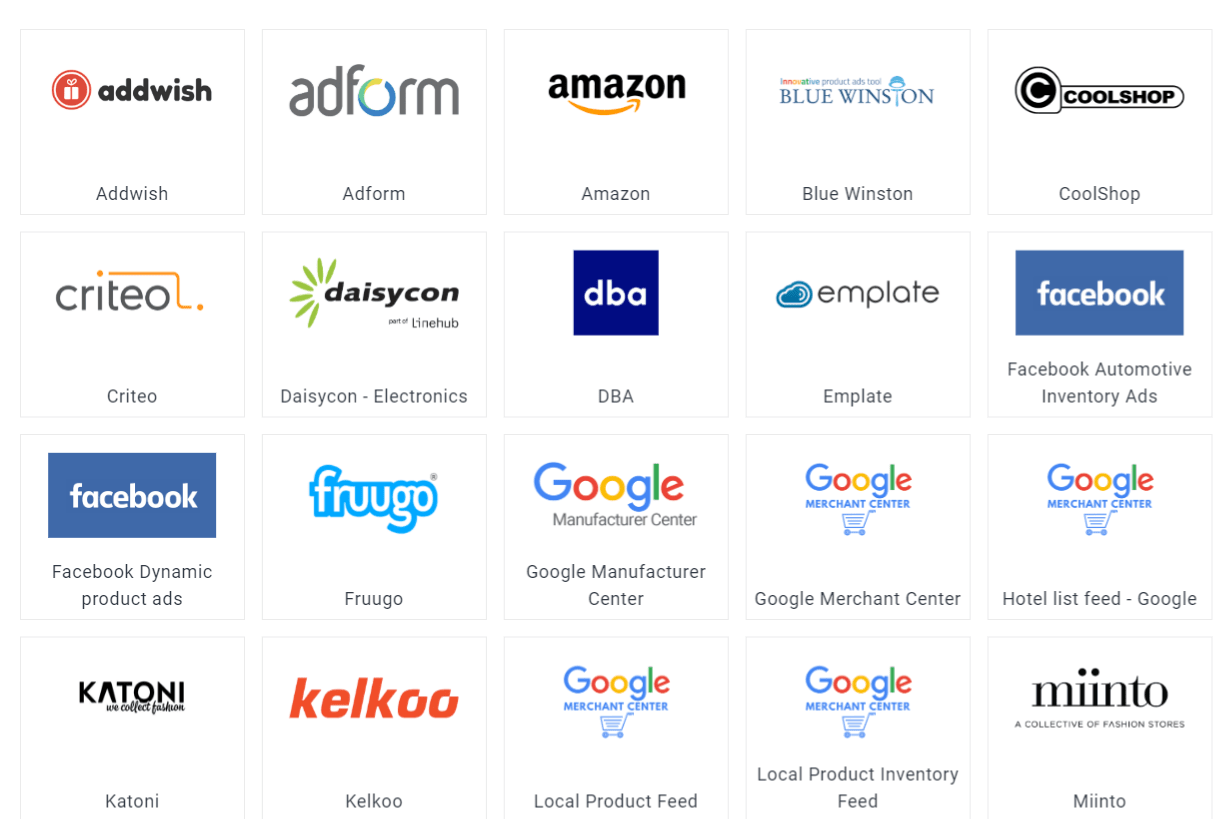 Accuracy of your data
When you are selling online, there are a number of factors you have to complete to ensure success:
Does the listings on your store match those on the channel?

Has your inventory been recently updated?

Have you included new promotions, products or sales prices?

Having a mismatch between your online store and sales channels can lead to suspension, so product management is about getting the right information at the right time.

Effective Product Data
When you are paying for every click, impression and sale, you want to adhere to the recommended methods and techniques which you know will get you the sale. Managing your product feeds efficiently gives you the control over your data which you need.
What options are available to merchants wanting to start selling on multiple channels?
1. Using a spreadsheet to manually build product feeds.
2. Adding product feeds directly from your store using API.
3. Automated product feeds from feed marketing platforms.
1. Manual-built product feeds.
The clue is in the name here! It's up to you (or a costly third-party developer) to build and constantly manage product data using a spreadsheet that you have to update manually using Excel or Google Sheets etc. Every single time you make a change to that initial spreadsheet, it's up to you to re-import the file in a csv or txt format to each and every channel on which you're selling.
If this sounds time-consuming and long-winded that's because it is! Only consider this if you have a very small spreadsheet and a lot of time (or budget!) to spare.
2. Content API product feeds.
These use a connection between the host of your online store and the channel you want to sell on.
Some ecommerce hosts like Shopify, Bigcommerce and 3dcart all have different versions of these API available in their app stores.
The good thing about this is that it's quick and easy.
The bad thing is the total lack of any kind of customization and optimization of your product data. It will be sent to those channels exactly as it appears on your online store. As we looked at above, that isn't always the best case when channels have their own specific recommendations and preferences for how they want your product feed to look and be structured.
3. Automated product feeds.
Unless you are a first-time seller who has only recently created an online store, using automated product feeds is the best option.

Having the process automated saves digital marketers hours of time, meaning they can focus on other tasks and be safe in the knowledge that their feeds will be updated and optimized for each channel they're selling on.


The best technique to use when weighing up which product feed management tool to use is to look at the scalability of the product. If it lets you in at entry level for a low price and a basic package for optimizing feeds, as well as the features and support to allow you to scale up, then it's the tool for you.
Check out our Tool Comparison where we contrasted some of the key features of the available tools.
Who do automated product feeds work best for?

Merchants with multiple SKUs
If you only have 20 products, you probably don't need to use product feed automation tools. As eCommerce businesses grow and begin to stock more products, the need for a tool that simplifies and saves time becomes more relevant.


Merchants with Product catalogs which frequently change
As mentioned above, it's crucial to give eCommerce channels up-to-date information. Any changes to your pricing, inventory, sizes etc need to be registered and exported quickly, which is where a tool that can automate the whole process will come in handy!
Merchants who Want to Sell on More Channels
Perhaps the most crucial use of automating product feed management is when it comes to multi-channel sales strategies.
Remember, the product feed you have isn't optimized for any channel, just your online store. So the demands of Google, Fruugo, Facebook and Amazon and going to vary greatly and it's up to you, the retailer, to meet those demands.
So this is where feed management tools come in, with pre-made templates that tailor a single feed import to each and every channel - without changing your original product data from the online store.
A product feed management tool is the best option when it comes to managing and optimizing your product feeds for any number of channel exports.