Data feed management for multiple sales channels
For online merchants and digital marketers, feed management tools solve a number of key issues:
They provide a single platform for them to monitor, enrich and update their product information simultaneously across any sales channel.
They allow the creation of customized product feeds adapted to specific strategies and requirements unique to certain platforms and distribution channels.
A central location to evaluate product performance, monitor sales, promotions and specific campaigns.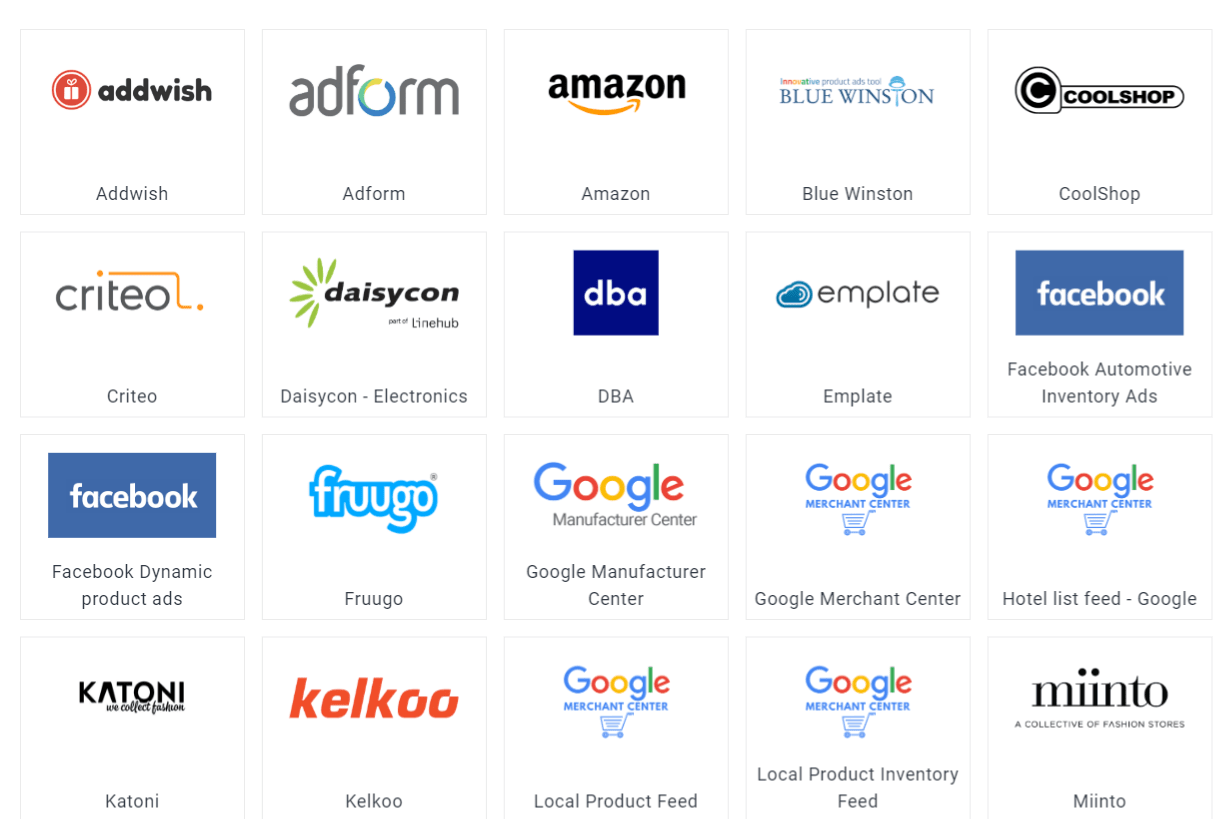 Optimizing your Product Feed
When improving the quality of your product feed, the primary step is to ensure that it meets these individual requirements of your chosen sales channels. Once this is done though, there are plenty more ways to optimize, adding richness and value to your product data feeds.
As an example, improving your product titles is often the first place to start. Ensuring you are removing text that isn't necessary while including important keywords and brand names at the start can make a difference.
Google Shopping will have certain feed requirements which differ from other channels. That's why we help tailor your product feed content to ensure your listings are performing as well as they possibly can - consistently delivering better Return On Investment (ROI).
This article on product feed optimization looks at the many reasons why optimization is an important factor in any successful online campaign for PPC Managers and Digital Marketers.
Providing a quality Source Feed
This refers to the product data already listed on your online store. Although just a starting point for further optimization, it's important that the initial import of your feed includes relevant categories.
This will include basic factors like titles, descriptions, prices, url, etc. If you don't have a product feed, or are missing certain information like GTINs - WakeupData provides a webcrawling service which can get hold of all the information for you.
The product image also plays a key role in convincing your audience to make that purchase decision. It's important to make sure the image is the right resolution and meets the size requirements of each channel. On top of that though, Image Transformation tools can add eye-catching designs like borders, promotions, logos and pricing - to give your images an edge over your competitors.
All-in-one solution
It may seem like there is a lot to handle for e-commerce merchants and online store owners trying to sell on various sales channels.
That's why product feed management tools are used to help you manage your product feed in a simple, easy-to-use way. Check out this feed management tool comparison sheet to see which may be the tool for your business.
These platforms are designed to provide a single place where users can import feeds, optimize their data and add valuable information, manage and schedule their inventories and export to comparison shopping, affiliate marketing, social media or search engine advertising channels.