12 Ways to Retain Ecommerce Customers
Posted on March 9, 2020 (Last Updated: July 14, 2021)
Bringing new customers is vital for every ecommerce business. But how do you keep them around? How much effort do you need to put through on your customer retention strategies?
And how do you encourage them to make a first, second, and third purchase?
If you are uncomfortable answering this question, then you are not alone.
No matter what your answer is, the fact remains that customer retention is crucial to your business' success.
If you are receiving a healthy flow of customers each month, then you need to leverage on them to come up with a solid retention strategy that will boost revenue and profitability.
Personalize their experience
Your customers have their own interests and needs. So, none of them should be treated the same. Instead, let their actions do the talking.
Based on their actions, there are a lot of ways you can personalize their experience through:
Also, personalization has become more advanced, it is now possible to address your website visitors by their names.
In fact, 87% of shoppers say that when online stores take the personalized approach, then they are driven more to make a purchase.
Make the order process transparent
For you to build trust with your customers and encourage them to make a purchase is to be upfront as possible.
In your inventory, make it clear whether or not the item is available. Additionally, your system should also work out shipping costs and taxes so that these fees will not be an unpleasant surprise to the user.
In the ecommerce order fulfillment process, you should also let them know when the order is shipped and when it is expected to arrive.
Similarly, you should also have a system that will process refunds and provide customer support.
Provide reliable delivery
Have you ordered something online, expect to get it on a certain day, and yet failed to receive it? Imagine the frustration that you might have felt at that time.
Well, you are not alone. The thing is, customers, do care about the whole delivery experience.
So, think about how you can actively enhance the quality of your delivery process by the time the customer proceeded with the checkout and right after delivery.
Those who listen more to their customers and understand their ever-changing needs and expectations, while analyzing and acting on feedback, will make themselves stand out from the rest of the pack.
Do upselling and cross-selling
In a nutshell, upselling refers to the seller who is trying to encourage a client to purchase at a much higher price. The customers can opt to buy a more expensive item, do an upgrade, or purchase add-ons on their existing purchase.
For instance, if a customer is eyeing to buy denim pants, you can recommend buying a set of shirts and denim pants at a discounted price.
On the other hand, cross-selling is selling other products that are relevant to an already existing customer.
For example, if your customer purchased denim pants, you could suggest a couple of tops that go along with it for a fraction of a cost.
Improve your customer service
Having a solid support system will allow you to effectively communicate with your customers, providing them with the right level of support.
Having a steady support system will allow you to communicate clearly with your prospects. You can have a help desk or a live chat option that could help a customer in making a purchase or resolve an issue immediately.
More often than not, a resolved complaint or issue can quickly turn an unhappy, dissatisfied customer into a loyal brand evangelist. Customer feedback is equally important since their purpose is to improve your product's value, as well as the overall shopping experience.
Start a loyalty program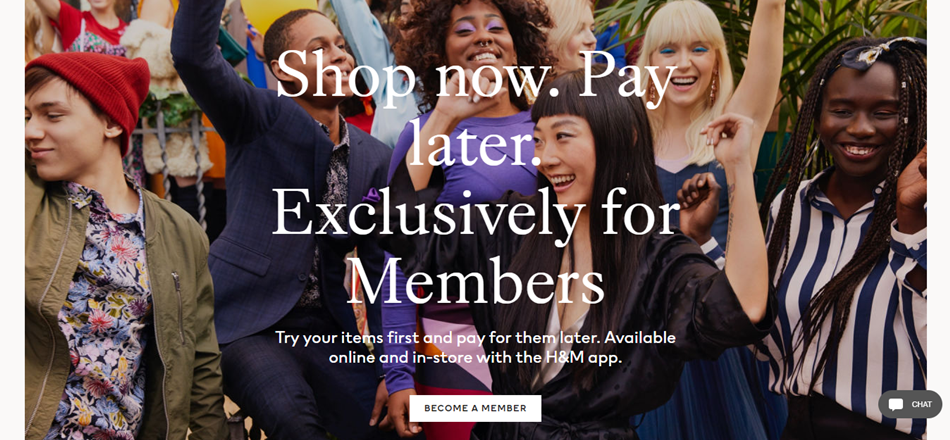 Source: H&M
A loyalty program will serve as a reward to your most loyal shoppers. It can be a free shipping coupon, a discount on their total purchase, a free gift, and so on.
Ultimately, the purpose of a loyalty program is to give back to your loyal customers who helped ecommerce your business grow. In fact, you can reward your customers based on the monetary value or frequency of their purchase.
It is also one of the best ways to show that you care and that you would like to continue providing them with impeccable service.
While implementing a loyalty program will not cause your customers to throw in their wallets for you, combining it with impeccable customer service and competitive product pricing and will most definitely boost your sales and customer retention.
Gamify your business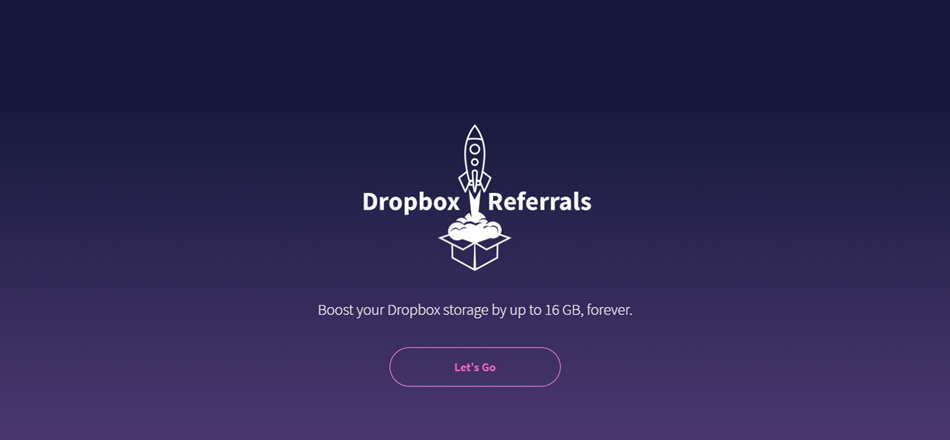 Source: Dropbox Referrals
Gamification enhances customer retention by allowing your business to become more fun to interact with.
The main idea here is to take psychological elements that allow video games a more enjoyable experience, and then integrating it into your ecommerce business.
Some of these psychological elements are:
Fulfilling goals
Getting rewards
Achieving social status
Competition
There are a lot of strategies that you can implement when it comes to gamifying your business. Some strategies that particularly work well with ecommerce businesses are contests, referral programs, scavenger hunts, point systems, and the like.
You can try at least one or two gamification elements in your business. You can start small, make additions along the way, as you start seeing results.
Send out engaging emails
While purchase frequency serves as the backbone for customer retention, email marketing is the backbone of customer engagement and retention.
Emails provide you with an excellent opportunity to create meaningful relationships with your customers before and after they made an initial purchase.
Every message that you send must provide value to the overall customer experience. If it does not, then you risk losing them for good.
Celebrate customer milestones
Do you know that most businesses lose their customers because they feel that the organization does not care for them?
So, what is a better way to make someone feel special than to celebrate special days with them, such as weddings and anniversaries?
People's registration anniversaries and birthdays are a great way to interact with them. For instance, you can send your customers a birthday greeting and offer them an exclusive deal or a free product to help commemorate the event.
When compared to conventional marketing emails, birthday emails have higher click-through rates at 179%.
Create a post-purchase survey
Most ecommerce companies would usually halt their engagement with a person after a product has been purchased and delivered.
But on the contrary, fulfilling your customers' orders is just the first step if you want to establish a meaningful customer relationship with them.
A lot of online sellers fail to understand that their customers' journey is a cycle. So, it always revolves.
What will happen after they make a purchase is as important when they fulfill their first order.
People will also feel valued if you go to great lengths to know that you care about what they feel. Chances are, they will be more inclined to purchase from you in the future.
So, come up with post-purchase customer satisfaction surveys to provide your customers with a platform to voice out their experience with your online store.
Track your customers' buying behavior
You need to study your customers' purchasing habits.
If they usually buy after every six months, then you could at least send a promotional email once every three months to help them make a decision. If they are regulars, then it is a good idea to encourage them to sign up for a refill subscription.
Just do not be too overbearing, though. Customers can recognize this immediately and will simply tune out.
It is also a great idea to look for items that are popular on your website, and know the pages that generate the highest clicks. You can also see to it that these items will become more visible to your website.
Provide guest check out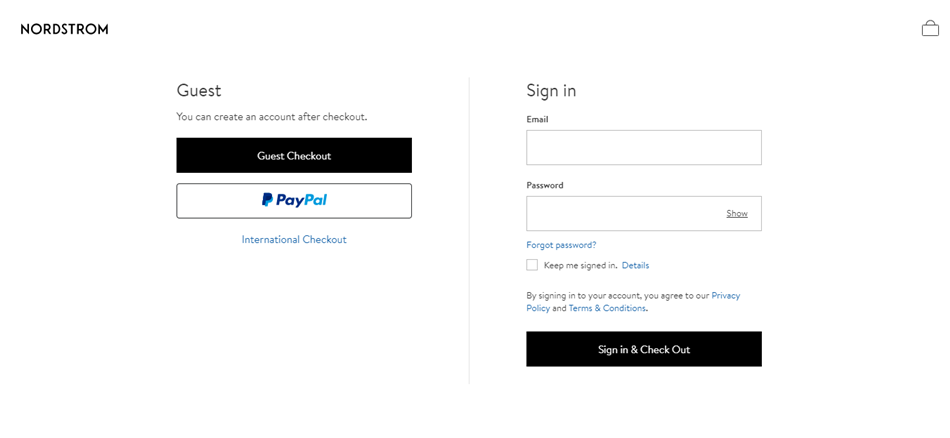 Source: Nordstrom
You have probably seen that providing your customers with a guest check out is better for your conversion rates. But how do you track things if your customers do not have an account in the first place?
Well, you can give them the option to create an account right after they made their very first purchase.
The checkout process is also vital. The simpler it is, the more likely people will come back to purchase something from your site.
You can offer customers a one-click payment for any purchases they make in the future. All you have to use is to add a "Remember Me" option available on the payment gateway.
Over to You
Maintaining loyal and satisfied customers enhances their lifetime value. It means more for your business than having purchases made by one-time customers.
The number of customers that you get regularly is important. But by having the same focus on customer retention, it can surely bring you much better, and long-time results.
About the Author:
Jake Rheude is the Director of Marketing at Red Stag Fulfillment, an ecommerce order fulfillment service provider. He has years of experience in ecommerce and business development. In his free time, Jake enjoys reading about business and sharing his own experience with others.