Posted on October 1, 2021 (Last Updated: April 27, 2022)
Why is Social Commerce coming?
One of the main problems with traditional eCommerce setups is the rather long path from interest to purchase. Many customers' attention span does not last through the conversion funnel. This is why it makes sense to remove the middle steps and let the customer complete the purchase directly on the social media platform.
Social Commerce strives to keep the environment as interactive as possible and tries not to leave a single chance for customers not to buy a product. Meanwhile, other methods redirect the process outside of the social media platform, social commerce is an attempt to keep everything in one place. In these early stages of social commerce, placing the actual order is only available on Facebook and Instagram in the US. The European market will have to wait for that feature.
It takes three easy steps to finish the purchase - View, Click and Buy. There are billions of people out there who use social media, so why should we send them away to make a purchase?
According to a forecast by Statista, Mobile Commerce will have a 53,9% share of the total annual E-Commerce retail sales in the US. That means more than half of the purchases will be made via smartphone or tablet. It is a key factor and advantage for social media platforms since they are all optimized for mobile devices.
Advertising campaigns can be more targeted. Socials offer tools to analyze consumers' data and gather information to serve a more precise target group.
Forecast for the Social Commerce market is predicted to grow by 28,4% (CAGR) in a period from 2021 to 2028. A huge part of the growth is attributed to generation Z, which is more comfortable with buying online. Making the path to purchase even shorter by integrating it into the social media platforms will only strengthen this development.
How Does Social Commerce Work?
The shopping process is integrated into social platforms. The look may differ based on the media, but the principles are the same - get attention, view the product, click the "Buy" or "View on the website" button.
For example, on Facebook, each business has its own "shop" in the tab of its Facebook page. In this shop, you'll find the catalog with all the products incl. descriptions and prices. Depending on the region you are in, there will be an option to check out within the platform or go to the website to make the purchase.
To set up a Facebook Shop - the vendors enter a name for their shop, make a description, choose a cover image and then decide which products they want to sell. To make the last step effective, one path could be to use your WakeupData Connect product feed.

What Is Social Commerce?
Social Commerce is a subset of E-Commerce. It uses Web 2.0 social media technologies to place the whole shopping experience within its platform - from discovering the product or service until the final step of the purchase.
The term itself was introduced in November 2005 by Yahoo and it was described as "a set of online collaborative shopping tools such as shared pick lists, user ratings, and other user-generated content-sharing of online product information and advice." (Wikipedia)
E-Commerce vs. Social Commerce
E-Commerce is a well-known method of advertising and selling goods via electronic technologies. You can read plenty of articles about it, as it is nearly 30 years since people started writing about it. This blog post is focused on Social Commerce, which is a more niche field under Electronic Commerce connected to Social Media platforms.
Furthermore, there is Discovery Commerce. This method guides people towards a product. Sometimes it feels like we just play with words, but this is another term for a specific method.
The Best Social Commerce Platforms

Facebook and Instagram
Facebook built tools for social commerce to help brands advertise and sell their products within their platform. In the Facebook shop, businesses can create a customizable store from which visitors can shop within Facebook and Instagram platforms. Facebook also added a messaging button so the customers can communicate with the sellers directly.
Instagram has always been well designed for advertisements. Thanks to its visual nature, brands can make shoppable posts and have a big advantage over their competitors. For some time Instagram did not allow pure social commerce. The check-out process led to another page, where the customer had to fill in all the information needed. However, US customers now have the opportunity to go through the entire process within the platform and truly immerse themselves in social commerce.
Tik Tok
Tik Tok has announced a new partnership with Shopify! Even though Social Commerce in Tik Tok is at an early stage, the partnership between these two companies will play a big role in a Social Commerce future.
Pinterest
Pinterest is a platform focused on creative things. If we would divide users by gender, there would be over 70% females. Its visual discovery engine is Social Commerce friendly. Pinterest suggests consumers shoppable products, with a link to a seller's checkout page. Even here we see a huge Social Commerce potential soon.
Snapchat
Snapchat came with a creative idea on how to enter the world of Social Commerce. They call it AR lens. It is a virtual studio, within which you can try out products you are interested in, to find out whether it fits you or not. Mostly it is connected with the apparel market. However, the final step of checkout is still outside of the platform.
Key Takeaways
A method of making transactions via Social Medias
A subset of E-Commerce
Moving the entire shopping process into the Social Media platform
The final step of purchase is not yet available on all platforms and in all regions
Reaching global audiences
Building brand awareness, customer loyalty, and relationships
Interactive environment
Big growth of the market predicted (28,4% CAGR 2021 - 2028)

Product Feed Management & Social Commerce
Do you know how Product Feed Management and optimization are connected to Social Commerce?
Feed management plays an important role in advertising products online. Each platform has certain requirements for product feed data which must be 100% correct. Otherwise, the product would not be advertised or there would be missing information. Also, the more data - the more information to offer - the higher the chance of getting noticed and making the sale.
What happens if the Product Feed data is not optimized?
For example, it may cause you to advertise a product, which is out of stock - wasting money on an advertisement, which you do not want to run. Maybe the consumer will not see details such as color, size, or price - which will not trigger the desired sale. Or the visuals will not be attractive to get consumers' attention. Simply - Waste of money, fewer sales, waste of time, and a bad customer experience.
How to optimize the product data?
At WakeupData we offer WakeupData Connect & Actions to help you ensure your products are optimized and meet the criteria of the different channels. Within a 30-days free trial, you can find out how effective these tools are. It will ensure that all the necessary data are present and in the right format. Moreover, the data are optimized for improving ROI and ROAS. The more products and data you have, the more time you will save. Learn more about WakeupData Connect or WakeupData Action.
What Do People Think About Social Commerce?
As a part of our research for this blog post, we decided to make a LinkedIn poll, to find out what our followers' thoughts are on Social Commerce. Do they love it? Do they hate it? Or are they not even familiar with this new subset of E-Commerce? Let's find out!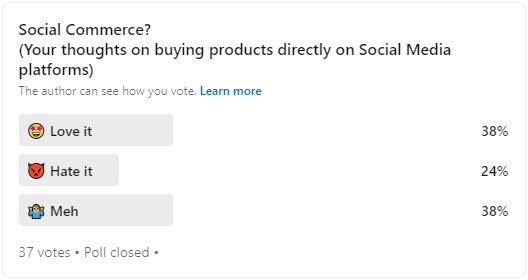 As you can see from the result above, we have achieved a tie between "Love it" and "Meh". The least people went for the option "Hate it". It says enough to come up with a conclusion, that people who know what is going on in social commerce are more likely to like that, and then some people just don't have an opinion or haven't heard about it yet.
Social Commerce is among other E-commerce trends that will take a place also in the next year. If you want to get to know other trends as well, read our blog about E-Commerce Trends for 2022.