6 Tips to Leverage Location-Based Marketing in 2021
Posted on August 17, 2020 (Last Updated: July 05, 2021)
In this smartphone-crazed era, a majority of consumers freely share their location data via various apps they use. Marketers have embraced this opportunity to pitch their services based on location data in real-time.
According to BIA Advisory Services, the predicted expenditure by marketers on geo-targeted campaigns for 2019 in the US alone was more than $26 billion. And this amount is only anticipated to increase throughout 2020 and beyond.
9 out of 10 marketers believe that location-based marketing has increased their sales, improved customer base, and enhanced customer engagement.


Factual report:

It is important for businesses to understand how different types of location-based marketing to utilize them efficiently and help them stay ahead of the competition. This includes the four types of location-based marketing - geofencing, geotargeting, geo-conquesting, and proximity marketing.
To give you an idea, let's take a look at location-based marketing. Say you are shopping in a mall, and you pass by your favorite clothing store and you receive a notification that says that your favorite brand is on sale today.
This notification is location-relevant, tempting, and personalized - one you could actually make use of.
With that being said, here are a few tips to leverage location-based marketing in 2020 using these technologies to stay ahead of the curve.
1. Up your game with relevant and personalized marketing strategies
Businesses often strive to make their marketing and advertising campaigns as appealing as possible, yet the stats say otherwise.
According to a study on mobile marketing, it was found that 40% of customers who receive messages from businesses feel that communication was neither useful nor relevant. This is where location-based marketing can be a game-changer.
Location-based marketing has been found to be 20 times more effective as opposed to generic banner advertising.
Location-based advertising amplifies the marketing game by leveraging location data provided by customers to ensure they are only being sent relevant information at all times.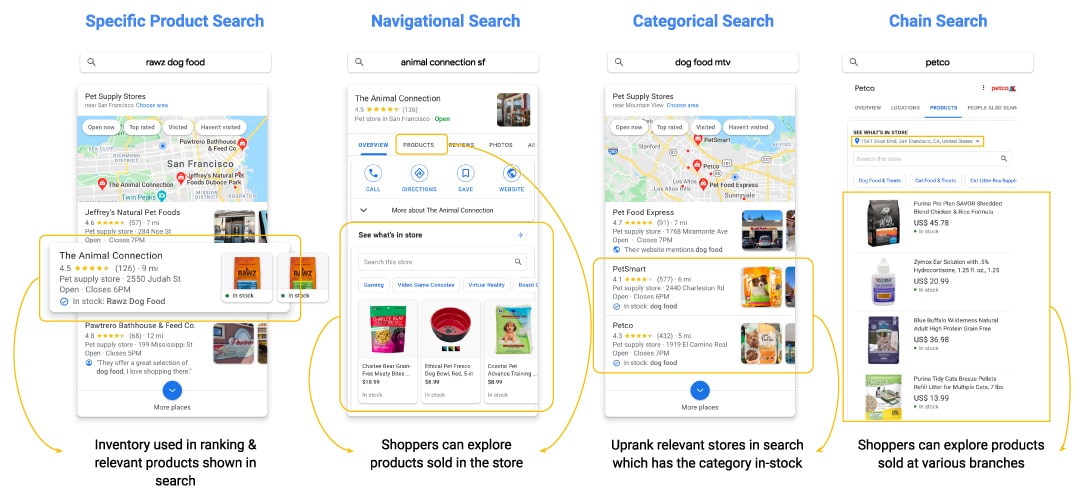 Google Local Inventory Ads (above) might be the most well-known example of location based marketing in ecommerce - but there are other possibilities.
For instance, a customer visits a cafe and receives a notification with an exciting offer. The cafe owner can also make use of dynamic QR Codes that can be created using an online QR Code generator in no time, to credit extra discount, say, 15% off on their favorite latter post-scanning.
It is much more likely that the customer will consider such an offer that is not just relevant, but also timely and offers them an incentive. By ensuring that these two features are included in your campaigns, location-based marketing leads to amplified customer engagement, boosting sales to your business.
2. Shift to hyperlocal marketing
Hyperlocal marketing is all about targeting customers in a geographically restricted area. It is not just an excellent strategy for businesses of all kinds, it also helps you craft extremely relevant and targeted marketing to your customers and capitalize on their locations.
With efficiency always being a primary concern for marketers, they always try their best to reach out to maximum potential customers without overspending.
Hyperlocal marketing is one such method to tackle this as customers are targeted within their specific area. These destinations are often points of interest and the area within which they receive location-based relevant notifications is done using geofencing.
Geofencing is increasing in popularity at a pace to become the top-used tool for location data in marketing.
In fact, geofencing is not the only way to achieve hyperlocal marketing. Beacons are used by marketers equally to deliver relevant location-based marketing messages.
Beacons make it possible to deliver highly targeted marketing messages as a person moves from location to location.
3. Mobile app localization
Businesses from all industry verticals are adopting localization strategies on a global scale. Mobile app localization is simply targeting relevant audiences with ads via mobile app content but tailoring it to specific regions to suit their profile. It is anticipated that mobile app localization will become common practice in 2020 and beyond.
Using this method, marketers can target their audience segments with advertisements based on their demographics and data points. This audience segmentation method uses underlying data about a certain individual, or to their device ID, which can include their demographic information and even geographic location for delivering more effective ads.
4. Move to smart spaces
An unforeseen trend for location-based marketing is its potential partnership with smart spaces. Smart spaces are physical environments that allow individuals to engage with interconnected networks. Think of Google Home or Amazon Alexa.
The increasing implementation of smart spaces into our physical environments will not only make companies reach out to us via these devices but also easier for them to remind us of a particular action or item via these companies.
For instance, these devices can remind us to buy a carton of milk when you enter a grocery shop and even put it in your calendar.
On one hand, smart products allow manufacturers to monitor their customers and more opportunities to display ads in a non-intrusive way since the device is already around them. From another perspective, customers also target themselves by including these smart products into their lives and being single-handedly dependent on them.
As smart spaces become even more connected with our lives, marketers will be able to utilize this proximity and provide not only better-targeted advertising but also enhanced tailored customer experience.
5. Enhanced customer participation
One of the primary concerns of location-based marketing is staying in line with data privacy laws and acquiring consumer consent. This has been backed with the GDPR laws in Europe and CCPA laws in California.
As an increased percentage of customers are being aware of who can access their private data, it can be a challenge for marketers to persuade them to share their location with them.
Nonetheless, customers hugely trust apps that they regularly interact with and share their location data easily. Furthermore, users are likely to be aware of the benefits of collaborating with companies by receiving offers and deals, and it will become even easier to incorporate location-based marketing campaigns.
In conjunction with data privacy laws, one thing that will help customers to engage with location-based marketing is the rise of proximity marketing apps. These apps hand over their entire power to its customers, thus only allowing them to send relevant messages to only those who are interested in receiving such communications.
This works to benefit both the company and the customer, thus no one's time is wasted.
6. Augmented location
Today's tech-savvy, always on the internet, and smartphone users expect valuable and relevant messages only, that addresses their requirements.
It is no longer enough to use just 'pin-location' to send out notifications, but rather, marketers have to augment location within the context of user data to create smart notifications for a richer experience.
Augmenting location with data about consumer behavior patterns enables marketers to create more timely, personalized consumer experiences.
Consider the example of a gaming app that delivers notifications about updated features. Imagine if this application could identify that its user likes to play mobile games during their daily commute. Instead of displaying a daily update about a new coin purchase at 2 PM randomly, this gaming app would sense when the user is commuting and offer to launch their most recent game right from where they left off, and then share the offer.
Augmented location will boost mobile marketing of the future in three ways - by identifying the right time for customers to engage, transforming mobile marketing into problem-solving, and shifting to a more human-centric approach.
Why location-based marketing outperforms industry averages?
Burger King's Whopper Detour geofencing campaign targeted customers who were in close proximity to the McDonalds restaurant resulted in millions of downloads of the Burger King app and over half a million coupon redemptions from the promo.
Consumers are receptive to location-based promotions, with 80% of them indicating that they want location-based alerts and three-quarters of consumers completing an action after receiving a notification when they arrive at a physical location.
In addition, a study commissioned by location data company in which 80% of the marketers surveyed stated that location-based marketing gets higher response rates and enhanced customer engagement than traditional forms of marketing.
In fact, location-based ad spending is anticipated to increase from $12.4 billion in 2016 to $33.3 billion by 2021.
It's no wonder that businesses are embracing this latest trend in location-based marketing.
While location-based marketing is a natural fit for companies with mobile apps, it can also be incorporated into campaigns targeting desktops and laptops.
In fact, any device that has an internet connection is a fair game for a location-based message. Make sure to establish goals transparently, and as with any tactic, test and measure performance to see what works and what doesn't work.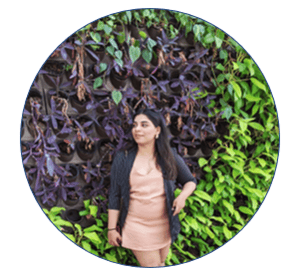 Apoorva Hegde is a Content Marketer at MobStac. Apart from writing articles and blog posts related to QR Codes, she enjoys simple pleasures of life like going on long walks with her dog, eating carbs all day, and falling into a Netflix watch-loop.
Interested in learning more about Location-based marketing?
For those ecommerce retailers who want to, or are already running Google Shopping Ads, Local Inventory Ads can also be a valuable addition. You can get more info from our Google Local Inventory Ads webinar recording, which runs through the hows and whys of running successful campaigns that drive in-store traffic via ecommerce ads.