How data can impact & improve your business decisions
Posted on August 27, 2019 (Last Updated: November 14, 2022)
Business is all about making decisions. How do you know what is the right decision to make though?
Your instinct can be valuable, but it's not always accurate. The answers are already there, you just need to know how to collect them. This is where the data-driven approach comes in. Why not skip the guesswork and trust the facts instead? This way, your business decisions are much more likely to be successful.
This article will help you understand:
what data-driven means
why you should stick to this approach
how to leverage data to improve your processes
how do you come up with data-driven decisions
which tools can help you collect and analyze valuable data
Sounds exciting, right? Let's dive deeper!
What does it mean to be data-driven?
Data-driven. Yet another buzzword. Or is it?
According to O'Reilly, an acclaimed tech book publisher, everything comes from a culture that acts on data. Here's what makes an organization data-driven:
Data needs to be collected
Every venture has a starting point.
Before you move to any decisions, you need to collect enough information to draw conclusions. Consider different data sources. You can start from Google Analytics and then move to tracking user behavior, monitoring social media, asking your customers for insights... The possibilities are endless!
Keep in mind, however, that gathering large quantities is not enough. From the very beginning, a good strategy is crucial. It pays off to revise your data collection strategy as you go and decide on the factors that are critical for your business. Like any other process, measuring your metrics needs to be data-driven, too!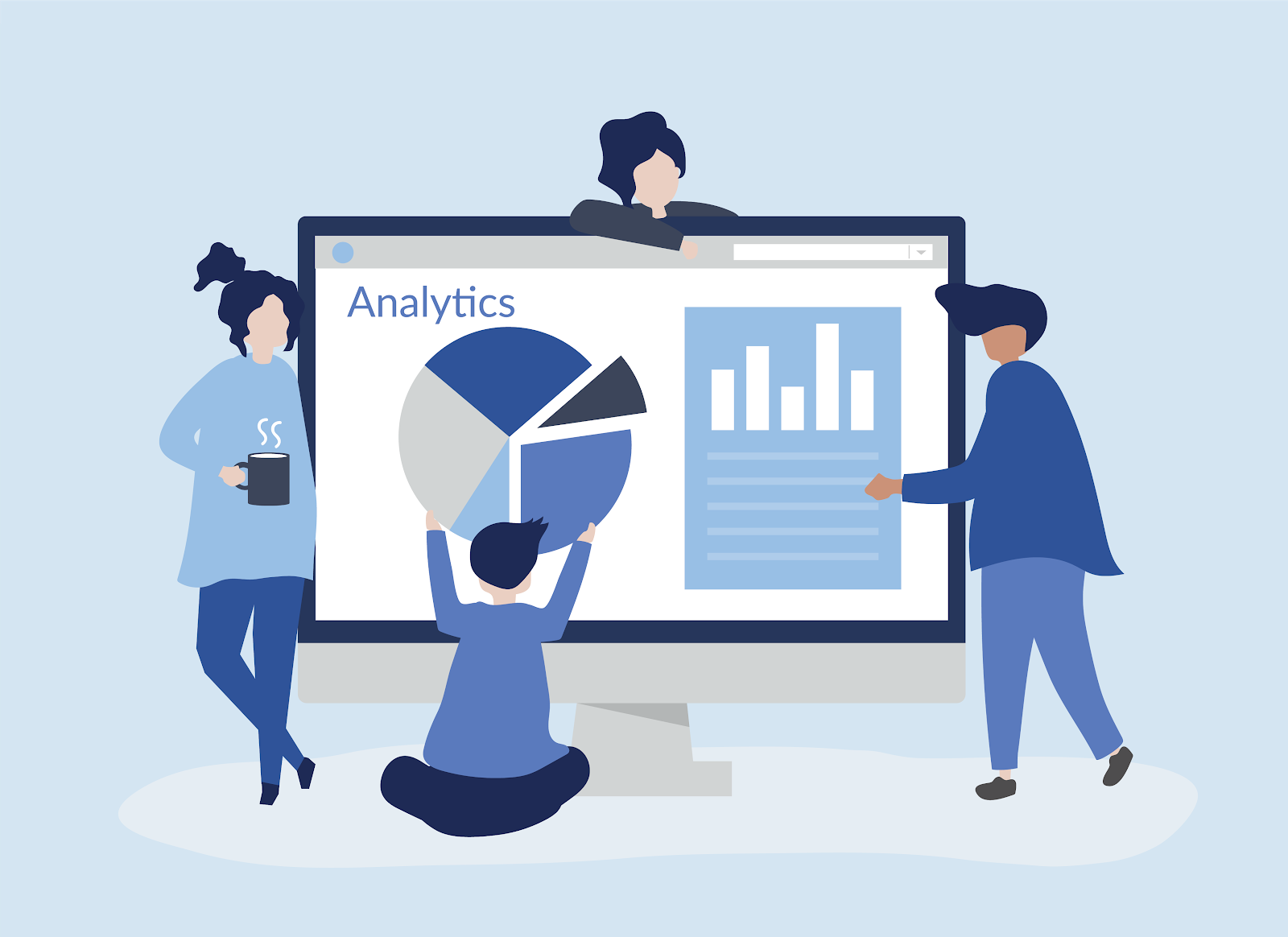 Data needs to be analyzed
The numbers alone mean nothing.
Data analysis is like translating raw material into an actionable piece of information. People who understand data and know how to read it are the ones who know how to make a business work. It pays off to devote a large chunk of your time to proper data analytics.
Have you ever heard of business intelligence? Here's how Margaret Rouse, a technical writer at WhatIs.com describes this term:
Business intelligence (BI) is a technology-driven process for analyzing data and presenting actionable information to help executives, managers and other corporate [...] users make informed business decisions.
This concise definition says it all. Data is not just for data scientists – it can be used to improve processes and decisions of all professionals. Which is why we should move to the next step:
Data needs to be accessible
Try to push for a data-sharing culture in your company.
If anyone needs to access a certain piece of information, it should be at their fingertips. Come up with a knowledge base and keep all your teammates up to date. Being data-driven doesn't mean there's no space for creativity – you never know what can inspire someone to come up with innovative insights and actions.
Moreover, the decision-making process can be really long. Having access to relevant data all along helps a lot in making good business decisions.
Data needs to spark action
This is the last point, but we could definitely say it's the most important one.
You can record loads of data and still not move forward. Tomasz Stachorko, Chief Marketing Officer at Reeport, addressed this issue:
Looking at your performance indicators every morning does not make you a data-driven Traffic Manager. Running an A/B test does not make your product team a data-driven one. Having a team of data scientists does not make your organization a data-driven one. Being data-driven results from the actions following from these initiatives.
It's easy to feel good just because you're collecting data, but it gets you nowhere. Never skip the last step – the main point is to take action.
Why is data-driven decision making important?
It helps you set the right goals
You don't need to take a shot in the dark when you can rely on reliable data analysis instead.
How do you come up with the right goals, realistic yet challenging? It might be hard to estimate how much can be done. Having access to the right data, in-depth insights and forecasts makes it much easier to set targets you can achieve.
It saves your time and money
With data-driven decisions, you're getting straight to the point. As mentioned above, data science helps you find relevant performance indicators and set the right objectives. This way, you don't need to try random approaches and hope this will get you somewhere. Instead, data helps you allocate your resources in the most efficient way possible.
It limits the biases
Obviously, we're all prejudiced in some way and it's barely possible to be entirely subjective. Data-driven decisions, however, help you escape some of the biases. The gut feeling usually comes from our personal experience. It might speed up the process, but might as well be the source of misconceptions.
Striving for data-driven business decisions helps you make sure that you're answering the needs of your target audience. You're not trying to guess what they want – you know it exactly because you've measured it already. Sound like a more logical strategy, doesn't it?
It creates personalized experiences
Need an example of how data science allows you to step in your customer's shoes?
Look no further.
Ever noticed that Netflix keeps changing thumbnails for their movies and TV shows? This is far from accidental.
Depending on what you've watched before, it will display different artworks for the same movie. Have a look at an example:

If you're a fan of romantic movies, you're more likely to see pictures of couples. If you're watching a lot of comedies, you'll be shown comedians – in this case, Robin Williams. And that's just the tip of the iceberg!
Netflix collects tremendous amounts of data on your preferences. This alone is not enough. The point is that they know how to take action, encourage you to watch more and eventually get more involved.
How do you create a data-driven decision?
We'll start with the good news: the more you get used to the data-driven corporate culture, the more naturally it will all come to you. While you're getting started, it makes sense to keep some good practices in mind:
Start with a strategy
Keep yourself focused from the start.
It makes no sense to spread yourself too thin. Decide which areas are the most beneficial for your business and set your main objectives. Your goals should be as measurable as possible. To avoid misunderstandings, it's good to come up with a clear definition of done.
Target the right data sources
You've found your main areas of interest, now it's time to match the data to your objectives.
See what kind of data you already have and identify what's missing. Data collection can be costly, which is why it makes sense to gather information according to what you need to achieve.
In other words: if a certain approach requires too much effort and too much money, focus on the data you need to fulfil your main goals. Luckily, this dilemma is becoming less important. There are dozens of handy tools that collect data automatically. We're listing our favourites below!
The best tools for a data-driven business
You might not have the resources that Fortune 500 companies have, yet this doesn't stop you from making data-driven decisions! What's more, you don't even need to be a professional data scientist. Here are some of our favourite tools to get the most out of data and improve your processes:
To understand user experience: LiveSession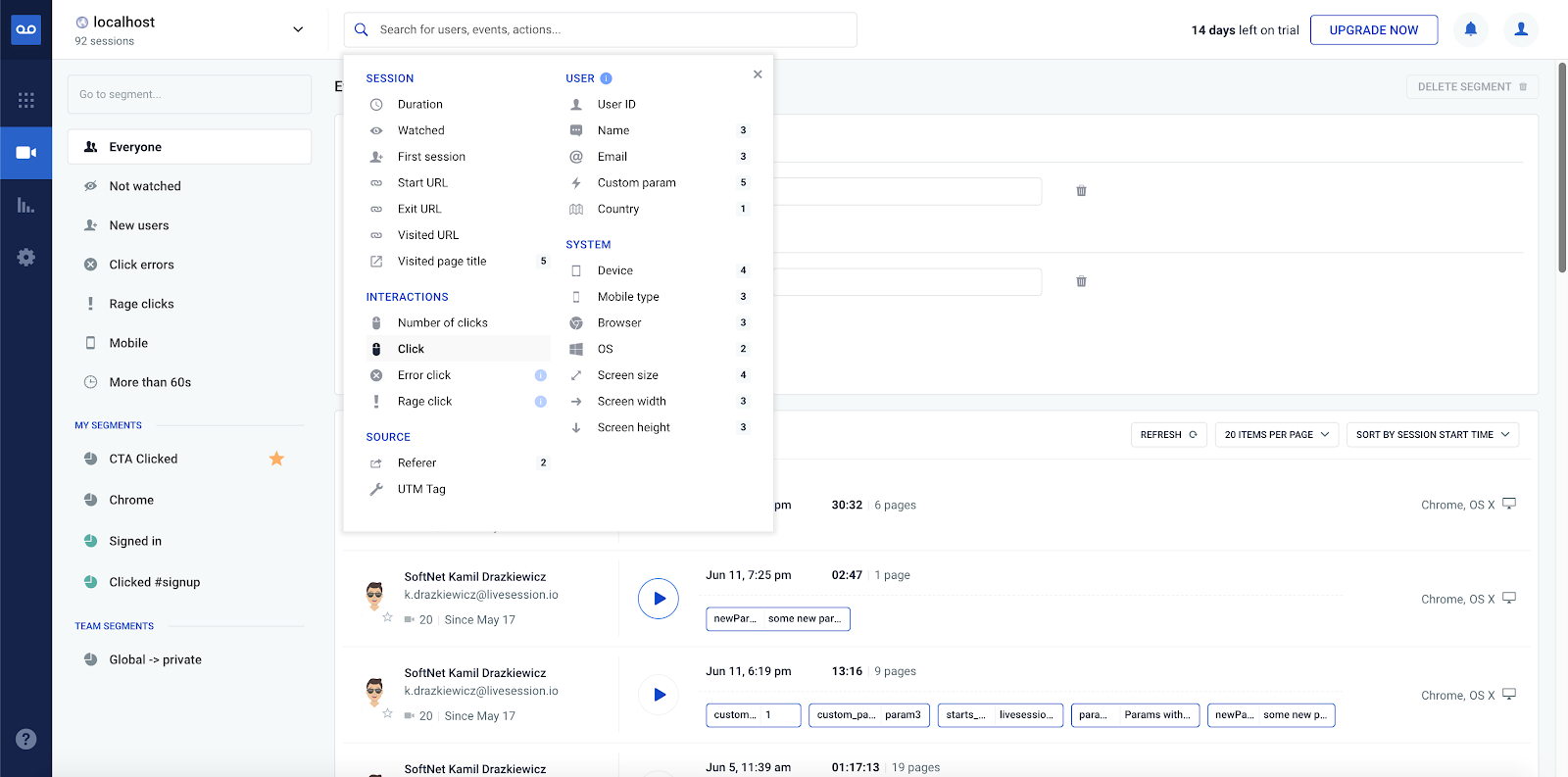 What it does: LiveSession records all the clicks, taps and other actions taken by your visitors. The sessions can be replayed for qualitative analysis. This way, you can easily find all the pain points, sources of frustration and address them immediately.
What's special about it: To top it all of, you can create different data segments. The recordings can be filtered by a wide range or parameters, including devices, browsers, duration and much more. You can add custom parameters, too!
Who needs it: LiveSession can be a source of valuable insights for UX designers, UX researchers, marketing professionals, growth hackers and virtually anyone involved with the user-facing side of the product.
To improve your sales processes: Livespace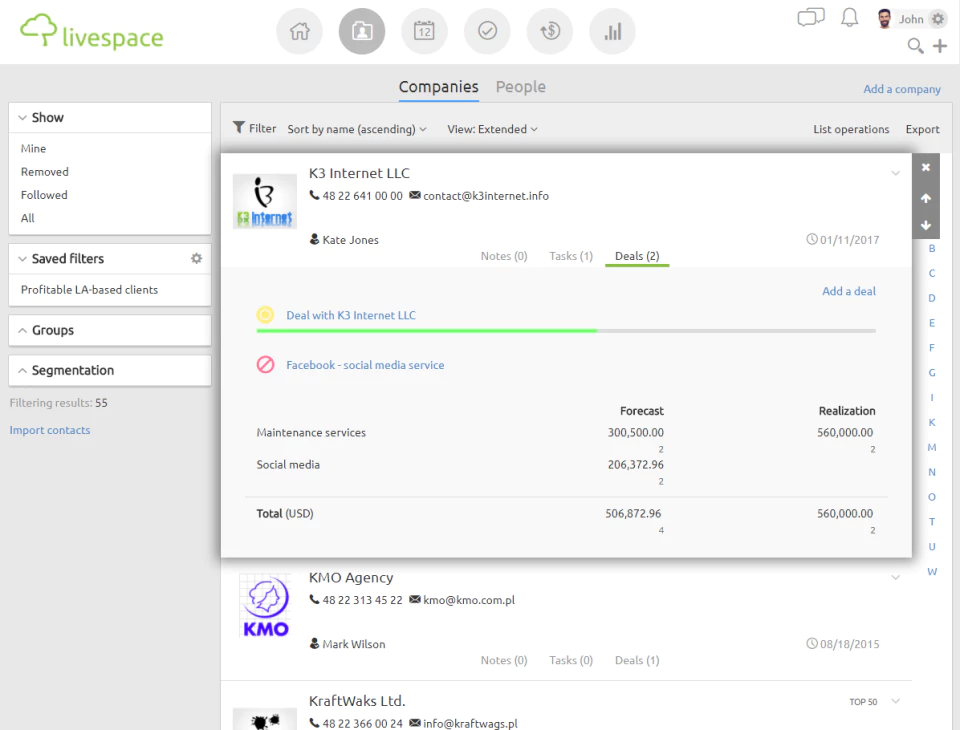 What it does: LiveSpace is an extensive sales CRM, focused mainly on the B2B sector. The number of features it offers is tremendous, as it's supposed to be an all-in-one solution. When it comes to supporting data-drivenecisions, LiveSpace generates clear and actionable reports. These can be used to spot sales bottlenecks and other areas for improvement.
What's special about it: If you're looking for a tool to help you create sales forecasts, look no further. Livespace is great at planning future revenues based on the large amounts on data it collects. Even if that sounds a bit alarming to you, no need to worry – they take data protection very seriously.
Who needs it: Every sales professional!
To make your call center data-driven: CloudTalk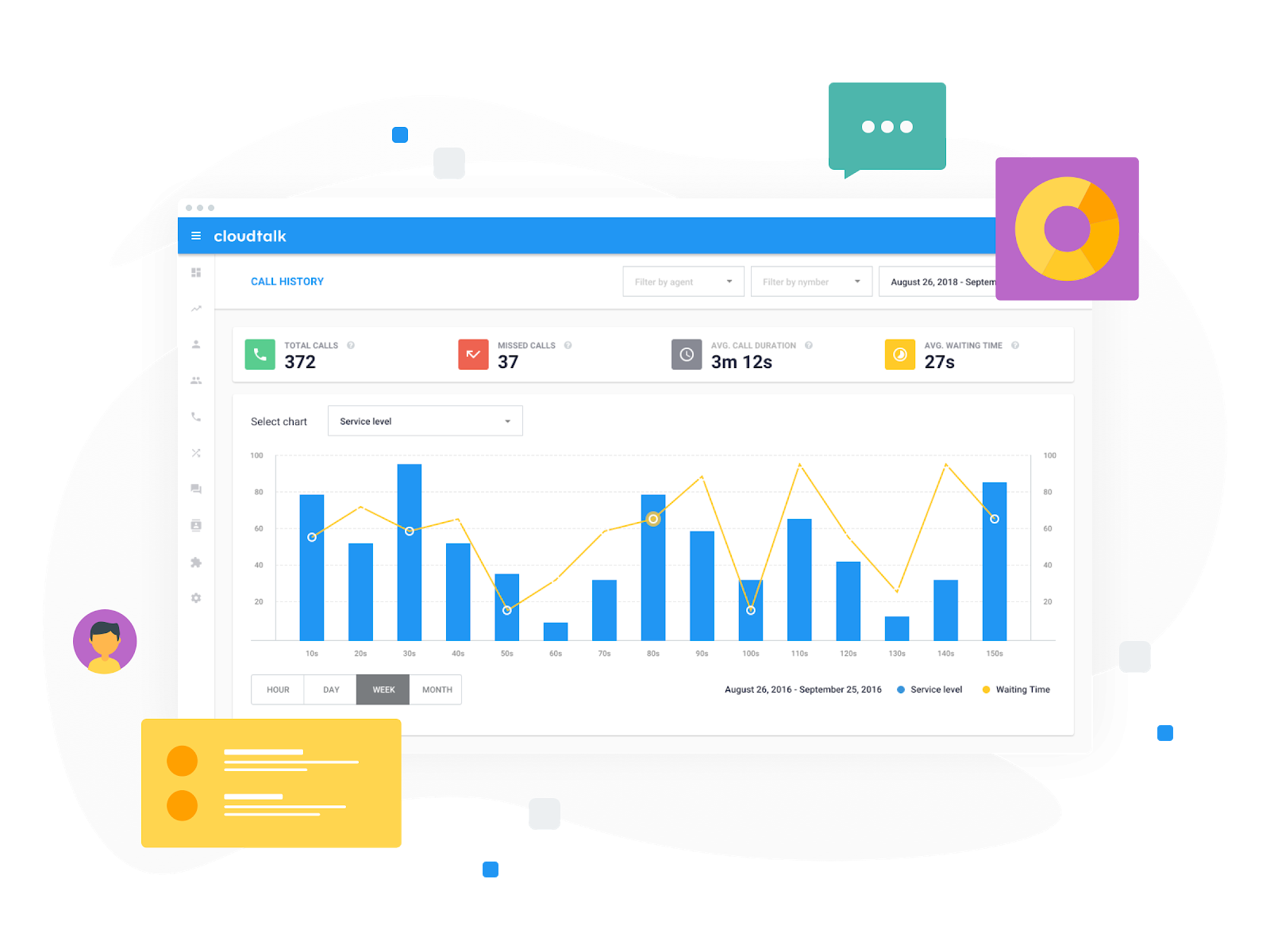 What it does: A cloud-based call center software, CloudTalk can be used to track and record all your calls. It offers advanced analytics tools to leverage the power of all the data you can collect. What's more, your agents don't need to scroll through different pages to find information about their customers. With CloudTalk, the necessary data is always at their fingertips.
What's special about it: Real-time analytics allows you to see the big picture and keep an eye on the performance of your team.
Who needs it: Call center managers, sales and customer service teams.
To boost your social media strategy: Kontentino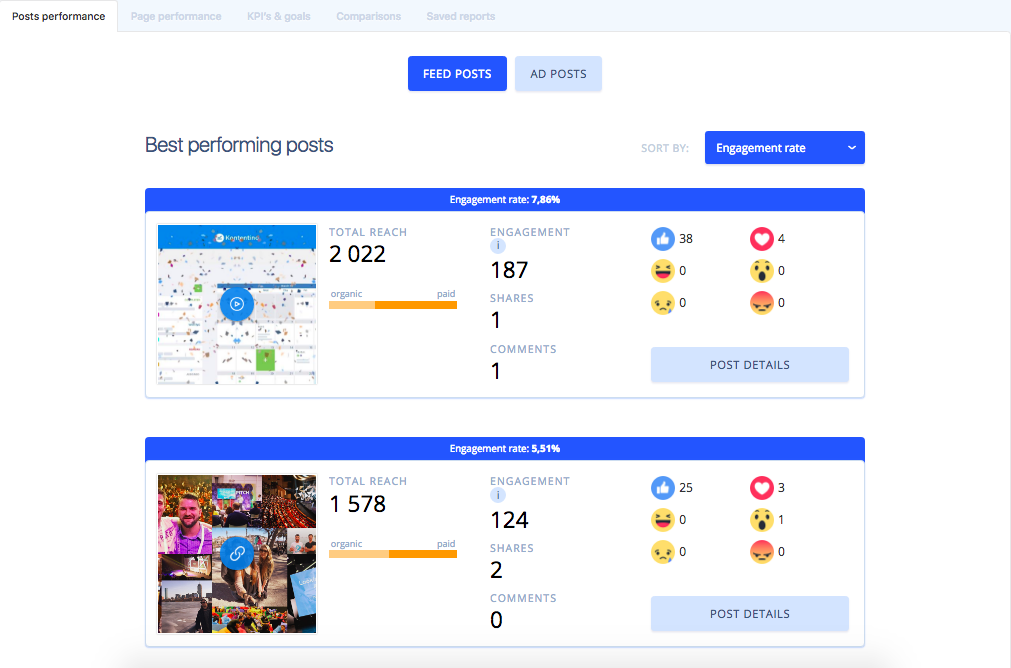 What it does: Creativity can be data-driventoo. Kontentino is more than a social media management tool – it's designed for collaboration fueled by insight and analytics. Your team can look into statistics and work together to create better social media posts than ever before.
What's special about it: Kontentino creates in-depth reports automatically. You can select a time frame, compare different approaches and decide what works best.
Who needs it: Everyone involved in social media and communications
To increase eCommerce conversion rates: WakeUpData
What it does: Data feed management relies mainly on data integration. Although it sounds complicated at first, the process is quite simple: information about your products are imported to other shopping channels.
With tools like WakeUpData, you can optimize your e-commerce processes to increase visibility, conversions and overall revenue.
What's special about it: You can keep track of all the data on your online commerce, as well as the competitors' actions! Knowing their strengths and weaknesses may guide you in the right direction.
Who needs it: All e-commerce merchants
Key takeaways for making data-driven business decisions
As you can see, being data-driven is not just about delegating loads of projects to the data science team.
It's not about investing all your resources either.
It's about a certain mindset.
With the right objectives and a handful of tools to help you out, you can take your decision-making process to a whole new level. We hope this article has been a source of inspiration for you!
Download our FREE Product Feed Audit Guide or learn below about our services.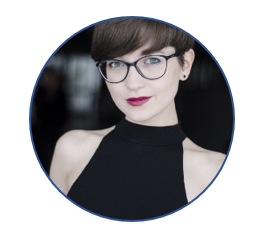 Author Bio - Kalina Tyrkiel
Kalina is a Content Designer at Brainy Bees and is based in Krakow, Poland. She is passionate about UX Writing, a speciality coffee geek and an applied psychology student.