What are Google Showcase Shopping Ads? Setup and Optimization Guide
Posted on December 17, 2019 (Last Updated: August 18, 2021)
Showcase Shopping Ads are a type of Shopping ad which allows sellers to add information about several related products.
These ads are more likely to show when people search for more general terms rather than for a specific product.
This means they insert themselves earlier in the shopper's journey when users are exploring products using non-branded searches (e.g. running shoes). Therefore, you might use these to advertise a specific brand or to introduce your business with a special selection of products.
For retailers, it gives shoppers a chance to browse a catalog of your products related to their search query — without ever having to leave their browser.
We're running through how Showcase Shopping ads work, which countries currently allow Showcase Shopping Ad campaigns, how to set them up in your Google Ads account, and some best practices from the experts.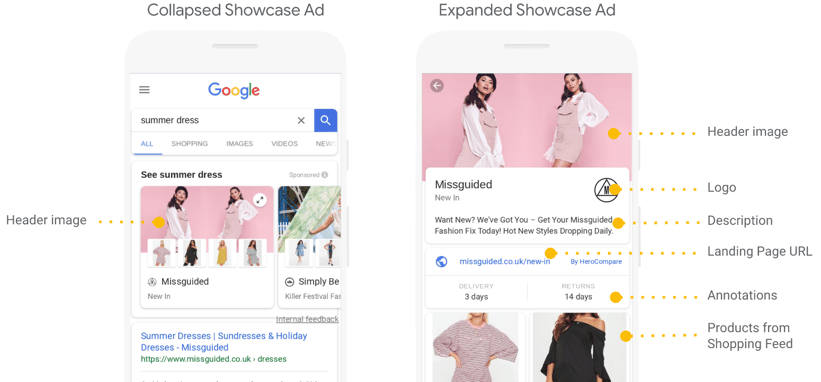 The benefits of using showcase ads
Allows a new audience to discover your brand
Showcase ads are triggered for certain generic search terms. This happens when your potential customers may be unsure of what type of brand, product type etc to look for. It allows you to show your products.
This is a great way for people to discover your products and brands.
Show related grouped products
Another great feature is that you can show related products. For example, a customer may be searching for running tops, then you can show a whole range of running tops that you stock.
It is recommended to start with around 100 products to see which ones work best.
The first click on the showcase ad is free, meaning you are only charged when a product or link is clicked, or when the person has been in the showcase section for more than 10 seconds.
How It Works
A showcase ad is displayed in Google's web search when someone searches for generic search terms trainers, tents, necklaces, etc.
The results are then presented to potential shoppers in a carousel. When the ad is clicked on, it expands into a popup for desktop and a new panel in a mobile device, showcasing all related products from that category.
The Showcase Shopping Model
Showcase ads use a CPE (cost per engagement) model. This means that you are charged when someone spends more than 10 seconds in the expanded ad section or when a product or link is clicked on.
Where are Showcase Shopping Ads available?
You can create these ads with Shopping campaigns, and the ads can appear on Google Shopping, Google Search, and Google Search Partners.
Showcase Shopping ads are currently only available in the following countries:
Australia
Brazil
Canada
France
Hong Kong
Ireland
India
Indonesia
Malaysia
New Zealand
The Philippines
Singapore
South Africa
Taiwan
United Arab Emirates
UK
US

How To Set Up Google Showcase Shopping Ads

Before you can begin to set up a Showcase campaign up in Google Ads, you need an active shopping feed in Google Merchant.
Once you have done this, follow the steps below:
1. Log in to your Google Ads account.
2. From the left-hand column (beneath Overview), select Campaigns.
3. Click the blue plus symbol that appears and then select New campaign (pictured below).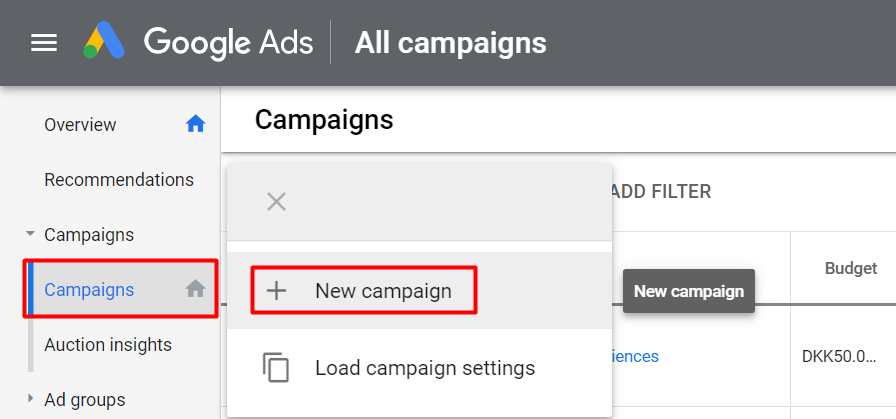 4. Now set up a Shopping campaign and link the relevant Merchant Center Account.
5. Create a name for your campaign and then select a Showcase ad group (image below).
Showcase Ads example
There are plenty of examples to outline what Showcase Ads can do for ecommerce performance.
We'll take a quick look at one of the cases Google themselves outline, which concerns home furniture and accessory company Made.com.
Made.com's target was to drive upper-funnel site traffic to their site - in order to encourage discovery, browsing and purchasing of their products range.

They had already use of Product Shopping ads with some success, so took the decision to trial some new Showcase Shopping ads.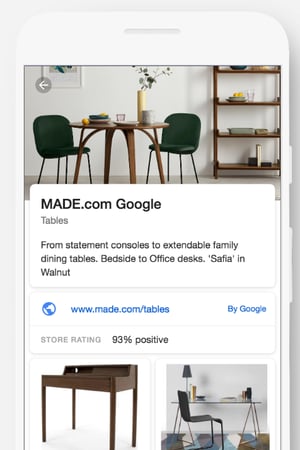 "Showcase Ads are a more engaging format compared to normal Product Shopping ads, helping us drive brand awareness as they appear higher up the marketing funnel."
– Danielle Emmons, Senior SEM Executive, Made.com
Best Practices for your Showcase Ads
Display high quality images - preferably showing your product in context or being used.
List at least around 100 SKUs per feed.
Use 1 ad group per feed category. E.g: running shoes, soccer boots, shorts, etc.
Test first without creating any limitations. Once you have some solid results to go on, start improving your ads based on these.
Campaign
Ad Groups
Ads
Showcase Ads Campaign
Living Room Furniture
Living Room (URL)
Sofas (URL)
Sofa Tables (URL)
Bedroom Furniture
Bedroom (URL)
Beds (URL)
Night Stands (URL)
Catch All
All Home Furniture (site URL)
Build individual showcase Ad Groups for top categories, each targeting all SKUs used in the feed (e.g bedroom furniture ad group above).
Create at least 50 ads, each targeting a unique landing page.
Consider creating a catch-all Showcase ad group that targets the entire feed, for which you use low bids.
Segment your Showcase Shopping Campaign Structure
By making use of the campaign priority settings with your Showcase Shopping ads, you can create multiple ad groups at the category and sub-category levels to segment your coverage based on product groups. Once in place, you can adjust your bidding strategies accordingly.
1. Start off with broad ad groups to identify which search terms are generating engagements by targeting entire categories like those shown in the table above, e.g. Living Room Furniture
2. Create additional ad groups which target sub-categories that you will receive engagements for, e.g. living room lighting.
3. Increase your bids for these new sub-category ad groups which are showing higher purchase intent from shoppers.
4. It's optimal for each ad group to contain at least three ads — each with unique headers, descriptions, headlines and category URLs.
If you have any questions about Google Showcase Shopping Ads or want to find out more about selling on Google Shopping, don't hesitate in reaching out to us or booking a chat below where we can outline how we can help you get setup.