Interview with Thomas Erlandsen from ShopAlike
Posted on March 19, 2018 (Last Updated: August 17, 2021)
Juan Rodriguez, Program Manager at WakeupData, talked with Thomas Erlandsen, Sales and Partner Manager at Visual Meta GmbH and ShopAlike.dk.
Can you tell us a bit about the history of ShopAlike?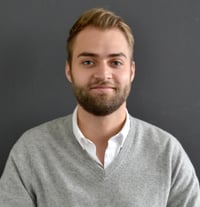 The idea behind LadenZeile, which formed the foundation for Visual Meta Gmbh (ShopAlike.dk), came about when our founders Robert M. Maier & Johannes Schaback were in conversation with brothers Oliver, Marc and Alexander Samwer. The aim was to become a meta-search engine for fashion and other products for which appearance is key. A search engine with a shopping feature, without the need for its own shipping or storage. The team quickly grew to around 40 employees and we're now more than 250 employees occupying various positions, managing our 14 established markets and making sure that our 4000+ partners are meeting their customers needs.

What is your background?
My Background actually spreads across a lot of different interests, but I've always been involved in E-commerce, fashion and online marketing since a very early age. That eventually lead me into pursuing my first job abroad as Online Marketing Manager here in Berlin. Although it was a great experience, I was missing the personal contact and continuously being involved, which resulted in my position here at Visual Meta, where I'm the contact person for our 250+ partners and their success on our danish platform ShopAlike.dk.
What is your role at Visual Meta GmbH / ShopAlike?
Currently here at Visual Meta GmbH I'm the only Partner Manager for Shopalike.dk. My role is to insure that our partners are getting tangible results, in which we provide variations like branding and exposure to different segments, omnichannel positioning, 'meeting' the second and other important parts of our business, our visitors & the end-customers. Together with our partners we put up success criterias that we want to reach over a given timeframe, usually starting with 2-3 months, from there we continuously develop and strive to evolve our cooperation..
What kind of opportunities do you see ahead for ShopAlike?
Seeing as we're still a young but successful expansion from our oldest platform Ladenzeile.de, there is a lot of small, medium & big online businesses and potential partners out there, who might not even have heard of us but would like to sell in Shopalike. Therefore they don't yet know the many possibilities of how we can contribute to their current marketing mixture. At the same time we provide a platform that deviates a lot from others, with a large focus on the visual part, which nowadays has proven to be a major part of buying online. Essentially I'm in touch with new and interested companies on a daily and weekly basis, who may find out new segments, customers or ways of having multi-channel exposure online and through a Shopalike channel via Shopalike.dk.

Who is your ideal client?
It's hard to define 'one' ideal client, because any online store which sells physical products (Fashion, Interior, furniture, Accessories e.g.) can possibly become an important partner - for us and themselves. The reason is that many of our partners may not yet know what their ideal client/customer is as well, so we help them by being that link between the customer and the partner, where the end results should be mutual satisfaction after having made an online transaction.
That is in many ways the interesting part of a cooperation - to explore new ways of getting partners which are passionate about selling their products, through to a customer that is yet to experience what our partners offer.
What kind of trends do you see in the e-commerce industry?
Although it's not yet confirmed, it was expected that B2C E-commerce in Denmark grew by around 15% in 2017. So if we keep it on a B2C level, I believe this reflects a trend where more and more people become comfortable with shopping online, some people in fact almost only shop online. I think this reflects the business we're in, that we have a lot of high quality web shop's that almost look like an online catalogue with multiple features, except you can purchase the products in a matter of minutes and have them delivered to your doorstep 12 hours later.
That for me represents E-commerce and all the data behind it, where there is much more innovation & opportunities that are constantly being explored & introduced.
How did you find out about WakeupData?
Actually the connection between Shopalike & WakeupData was already established before I became responsible for our Danish platform. Shortly after that it came to my attention that we actually contribute to each other very well, seeing as we rely on the product data our partners give, which further push how many possibilities we have granting them more exposure.
Naturally I reached out to WakeupData, Victor Smedegaard to be exact, with a proposal meeting to get to know each others' work & capabilities, which then led to what I believe is a very positive cooperation, that still has many interesting possibilities awaiting.
What value do you think WakeupData can add to Shopalike and therefore to ShopAlike's clients?
WakeupData brings information and data to life. What is important for our ShopAlike partners is that the product feeds we use to integrate their products on our platform should have as much data possible.
WakeupData comes into the picture through the possibilities of actually enriching their existing data feeds, or even generating completely new ones, that also can be tailored to our needs. So in Short WakeupData comes in as an extended arm which can lift up their feeds and improve the marketing possibilities we have with said client.
Interested in seeing what WakeupData's solutions could do you for? Click here and see first hand how we can bring your data to life or get more info on our Feed marketing partnerships.