Norway Ecommerce 2021 - Consumer Statistics & Channel Recommendations
Posted on June 22, 2018 (Last Updated: December 01, 2023)
Norway has a population of 5.3 million, with 98% having access to the internet and 65% regularly shopping online every single month.
What this means for small/medium webshop owners is that there is a large customer base accessible through cross-border commerce.
Key Stats
What are the causes of Norway's e-commerce growth?

Norway has for a long while now been an affluent market with a major interest in e-commerce and a large percentage of purchases made from foreign retailers due to geographical and logistical factors.
As the graphic (right,
source
) shows, nearly two-thirds of Norwegians make online purchases during an average month, and of these, 40% make these purchases from abroad - with Denmark the third highest contributor of imports to Norway.
These high levels of cross-border commerce and logistical issues of a geographically separated population mean that Norwegians have lower expectations on delivery times in comparison to their Scandinavian neighbours. Only 14% of online shoppers in Norway expect to receive their delivery within no more than two days.
This means that there is a lot of potential in Norway for e-commerce businesses that can offer faster delivery times, thereby exceeding customer expectations, acquiring a competitive advantage and encouraging repeat customers.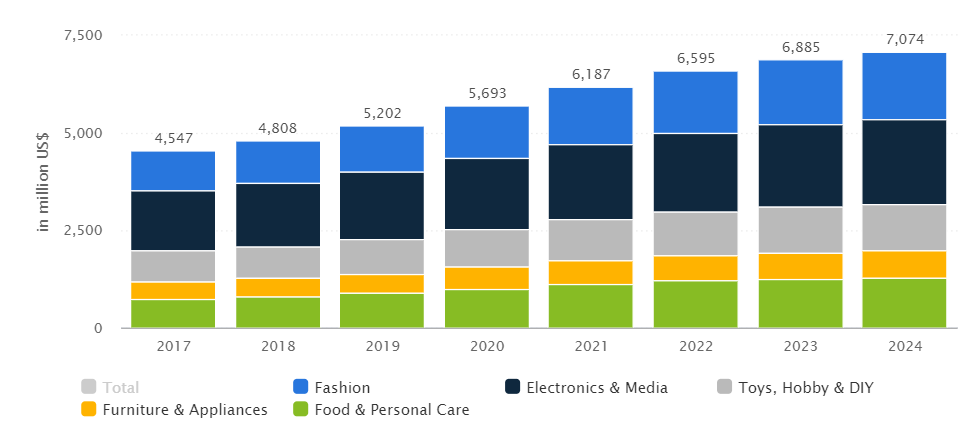 Ecommerce revenue (in millions of US dollars) by category in Norway from 2017-2024 (predicted) (source).
Consumers in Norway
The e-commerce industry in Norway is estimated to be worth about €8 billion a year. As the graph shows, electronics is the most popular online shopping category, while fashion, furniture, toys and food & personal care (health/beauty) follow.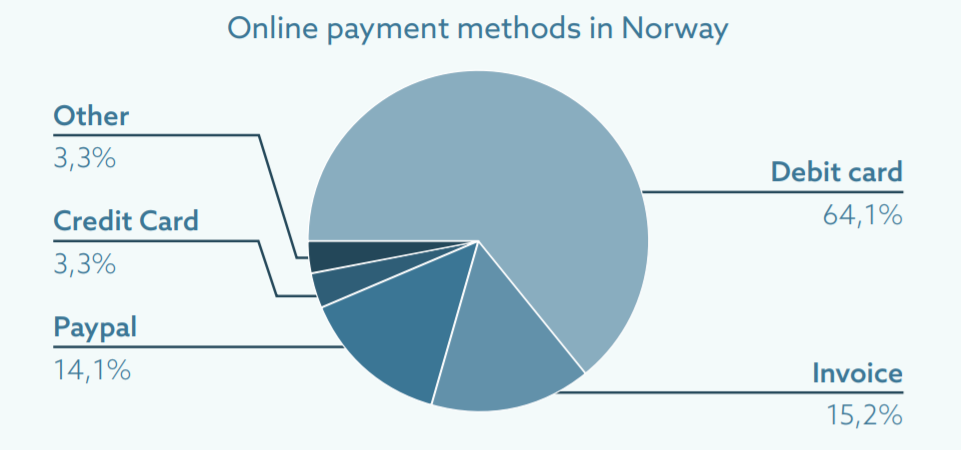 The pie chart (above) shows that debit card payments are the preferred payment type - meaning that an efficient service from your online store is important.
For Norwegians, the biggest factors shaping their online purchasing experience (below, source) was that delivery info and price should be displayed clearly, as well as product information, shipping charges and returns policy.
So clarity through the entire purchase process can give you higher conversions and start building a loyal customer base in Norway. Now let's take a look at some channel options in Norway.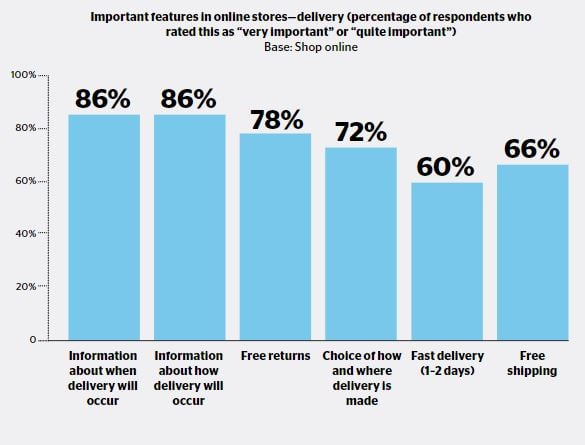 Recommended Shopping Channels in Norway
The current shopping trends are forcing merchants to diversify their multichannel strategy and to explore channels where people are actively searching for a product, wanting to seek the best possible deal.
The launch of Amazon.se and the impact on Norwegian eCommerce
In July 2020, after long speculation, Amazon announced their intention to launch a Swedish-based site.
"Amazon has been available to Swedish consumers and companies through our various European websites for years, but the next step is to introduce a complete retail offering in Sweden and that is what we are planning to do now,"

Alex Ootes, vice president of EU Expansion at Amazon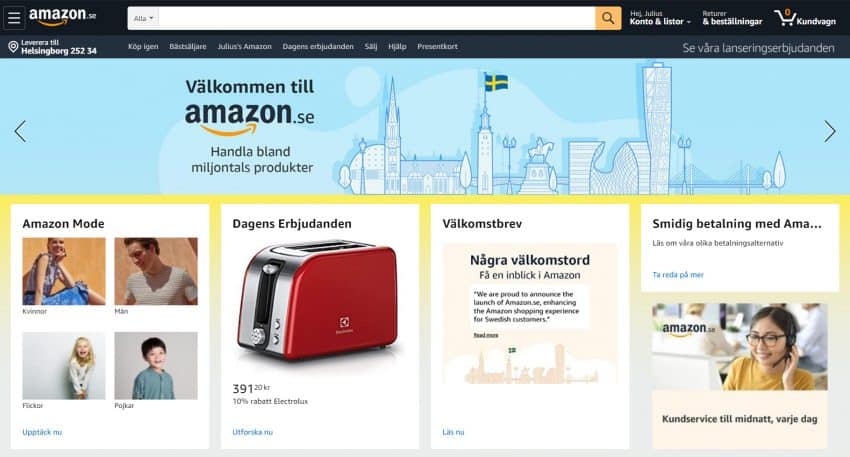 The upside for online stores and retailers that lack the resources for internationalization, is that Amazon provides an opportunity to find buyers across the Nordics even if it is at a higher transaction cost than you may be accustomed to.
The move into the Nordic region's biggest economy comes at a time when the U.S. retail giant is benefiting from an influx of consumers trying to avoid physical stores during the coronavirus pandemic.
But what does the launch of Amazon.se really mean for Sweden's e-commerce?
For now, it remains to be seen.
The first year of launch is predicted not to have a significant impact on Swedish ecommerce. As they seek to establish themselves in a new market, with Nordic-based companies making the transition to add Amazon as a sales channel, then Amazon will push the margins of Swedish and Nordic eretail.
Should merchants who want to reach Nordic consumers sell on Amazon.se?
A new arrival will always take time to gain a significant foothold, and not all companies and brands should seek to jump onto Amazon.se immediately. However, it would be an oversight not to at least investigate the possibilities and potential issues of selling via Amazon.
Failing to make a decision one way or another is where ecommerce retailers can lose out in the long run. Of course there are countless options for globally popular channels like Google Shopping in Norway and many channels are dependent on the products you are selling, so we have pulled out some channels more unique to the Norwegian market which you could consider:
Prisjakt.no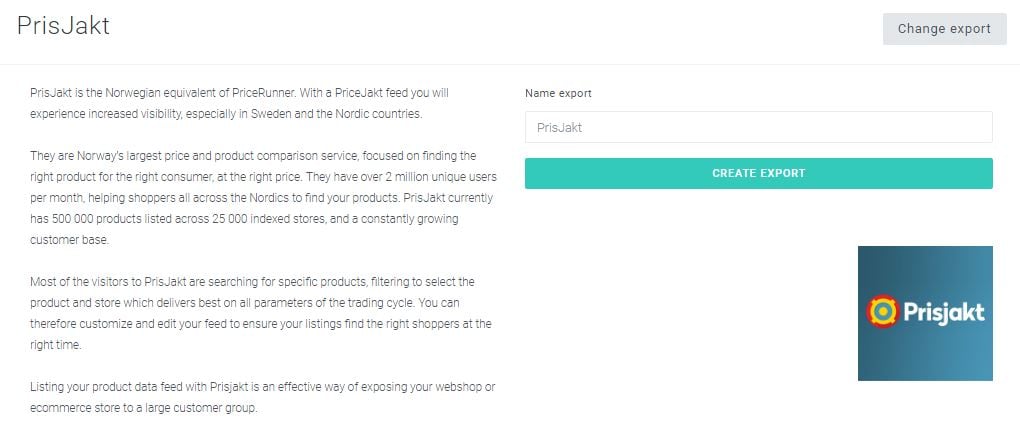 Prisjakt is an international price comparison service launched in 2000 in Sweden. They have products listed in 8 countries: Norway, Sweden, Finland, Italy, France, New Zealand, UK, and Ireland. In Norway alone they have 497 000 products from 2456 stores.

In order to sell on Prisjakt.no you must:
Have a Norwegian organization number and be VAT registered.
Products need to be assigned to

Prisjakt.no's taxonomy, otherwise they will not be listed.
Address and deliver to consumers in Norway and follow Norwegian Consumer Law.
As with any new export channel, Prisjakt also demand your product feed contain factors like Product id, category, URL, brand/manufacturer, product name, price, condition, availability.
You can get the full list of the Prisjakt product feed specifications and all the recommendations here.
Related: Get more info on our integration with Prisjakt here
Elkjøp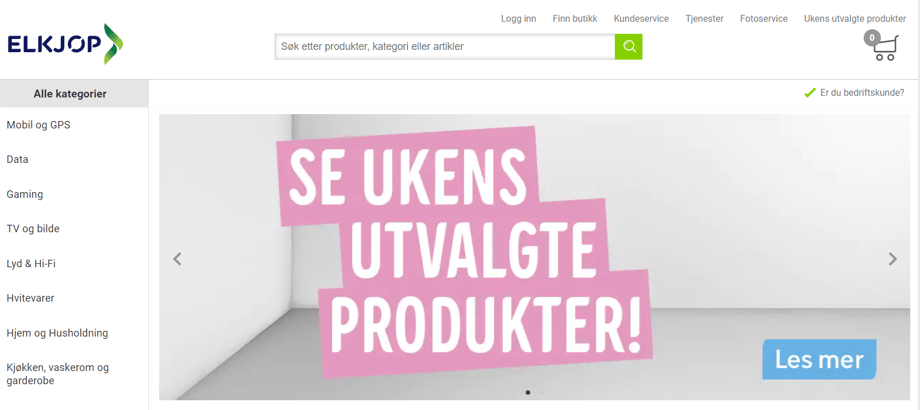 Elkjøp, better known as Elgiganten outside Norway, is the largest consumer electronics retailer in the Nordic countries, with 400 stores in six countries and 10,000 employees.
Stocking everything electronic from cameras, tvs, gaming and white goods - this site ranks second on the list of most popular ecommerce stores in Norway, and is a go-to for thousands of shoppers across the country.
Talk to WakeupData's integrations experts about setting up an optimized feed for Elkjøp today.
Prisguiden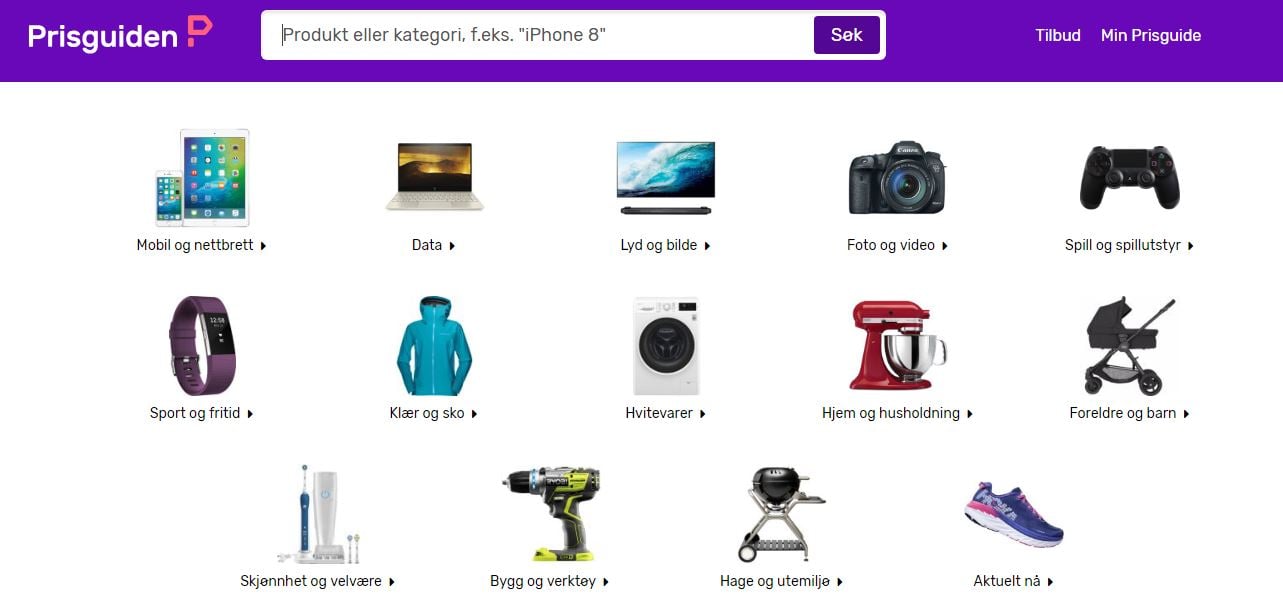 Prisguiden.no is a Norwegian price comparison service and search engine for products. They offer a simple and complete starting point for Norwegian shoppers – including price comparison, test data, reviews and stock status.
It is a free service for users and is 100% neutral in its displaying of products. Contrary to other price comparison services, there are no extra costs once listed to give you more exposure to Norwegian customers .
The only requirements for your Prisguiden feed are price, product and image url, product name
but it is of course recommended that you include as much info as possible in your export feed, you can find their specifications here.

Related: Get more info on our integration with Prisguiden here
Komplett.no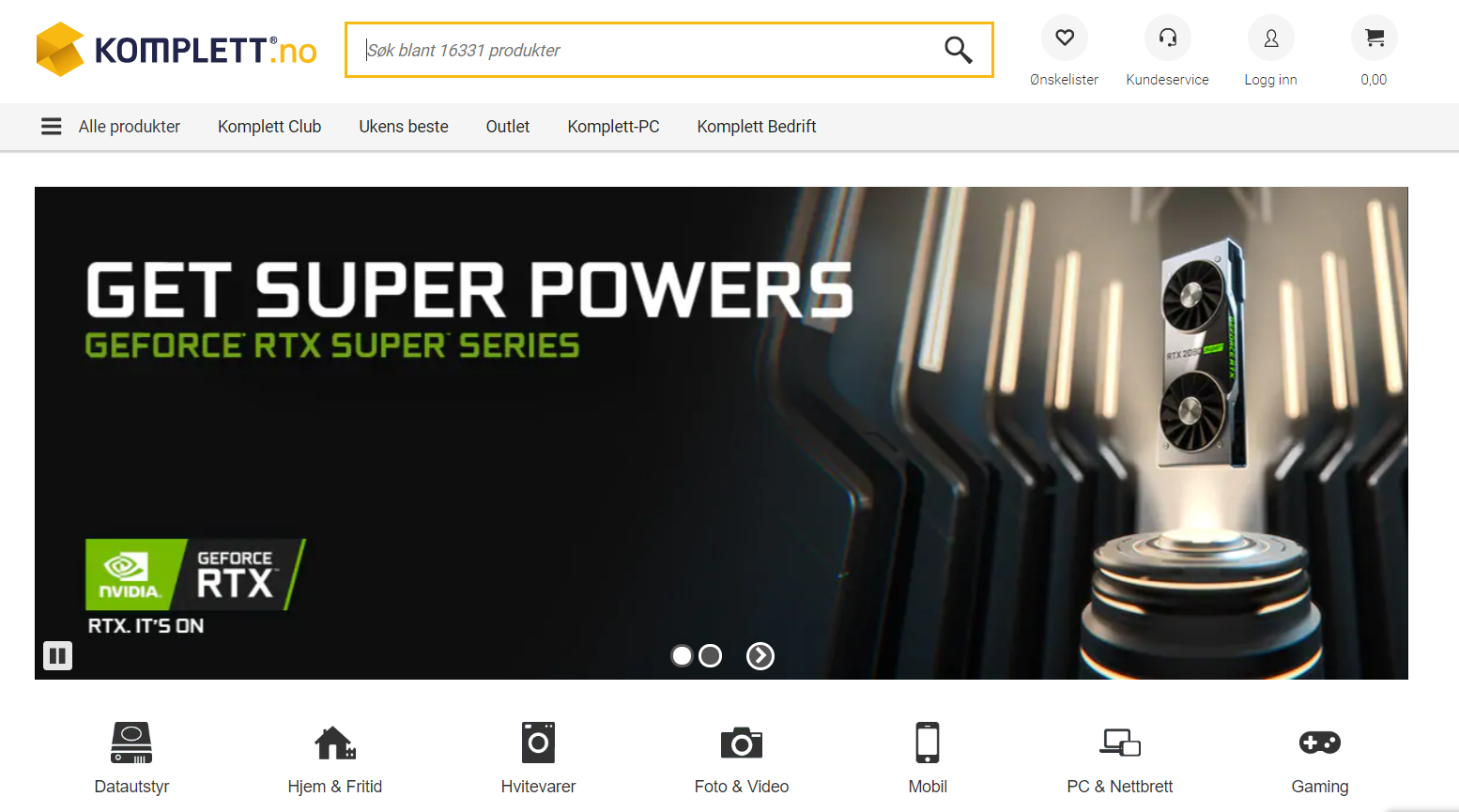 Komplett.no is a Norwegian ecomerce supplier stocking over 16 000 products, with nine webshops in 3 countries in Scandinavia.
The main part of their product assortment is computers and components, but they have also expanded in recent yeras to include photographic, Hi-Fi, TV, gaming and white goods.
In 2018 Komplett ranked as the best selling ecommerce retailer in the country, with a growing customer base across the Nordics of over 900 000.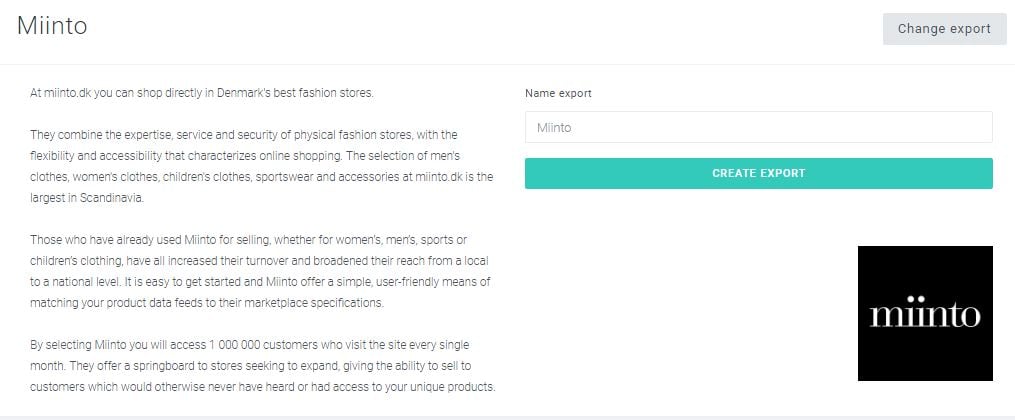 Miinto is a Danish company operating in Denmark, Sweden, Holland and Norway - offering the largest fashion selection in Scandinavia.
They offer services hosting hundreds of stores to over 1 million customers to offer a wide selection of styles and items.
Requirements for your product feed include product urls, no HTML markup, title, descriptions, price, brand, color, size and image link.
You can check out their full list of Feed Requirements here.
Related: Get more info on our integration with Miinto here
Conclusion: Selling in Norway
So what can we take from our statistics? There is a pre-existing, tech savvy and dedicated customer base of online shoppers in Norway, with great potential for an online store that can promise prompt delivery times. Take the time to select which channel might be right for you.
As well as helping eCommerce businesses from across Europe to sell in Norway, we also support multiple Norwegian clients to expand their reach and sale success.
Check out how we helped Oslo-based company, Festmagasinet, to grow their impressions, clicks and revenue by setting up effective Custom Labels for their
Google Shopping Ads
.