Google Shopping Title Optimization - How to Improve Conversions
Posted on February 12, 2018 (Last Updated: August 18, 2021)
The title which you choose to give products is one of the most important factors in ensuring a good performance of your Google shopping product listings.
As we'll see in this article, optimized titles affect how Google's algorithm indexes your products and how your audience can easily understand what it is your selling and click through to your product listing.
This article will seek to outline how you can give the best possible product titles to your products in order to see the best possible ROI.
Why are titles so important?
Google's algorithm will use your titles to decide which search queries your listings will be applied to. What that means it that if you are missing certain important keywords that your target audience are searching for, you won't be listed in their search and will be miss out on a purchase.
But it's not just for algorithms that you need to be optimizing your product titles!
They are for people too, who are coming and browsing your products. Therefore, your titles should outline product attributes in a clear and concise way so that your shoppers can immediately find out if your listing is worth clicking on.
How can titles differ?
Titles need to be tailored to the channel on which you are selling (Google, Facebook, Amazon, PriceRunner, etc) as well as the product type.
Shoppers browsing for clothes and apparel will place importance on brand and color, while those looking at building supplies might be more interesting in unique product IDs (SKUs) or the precise measurements of the product.
So it's about finding the keywords which your audience are searching for and making sure your titles include these so they are finding the right shoppers.
What does an optimized title look like?
Well, as stated above, this will depend on what you are selling. Each title will be optimized and structured based on the type of product - so it announces the most important keywords to your audience in the most impactful way.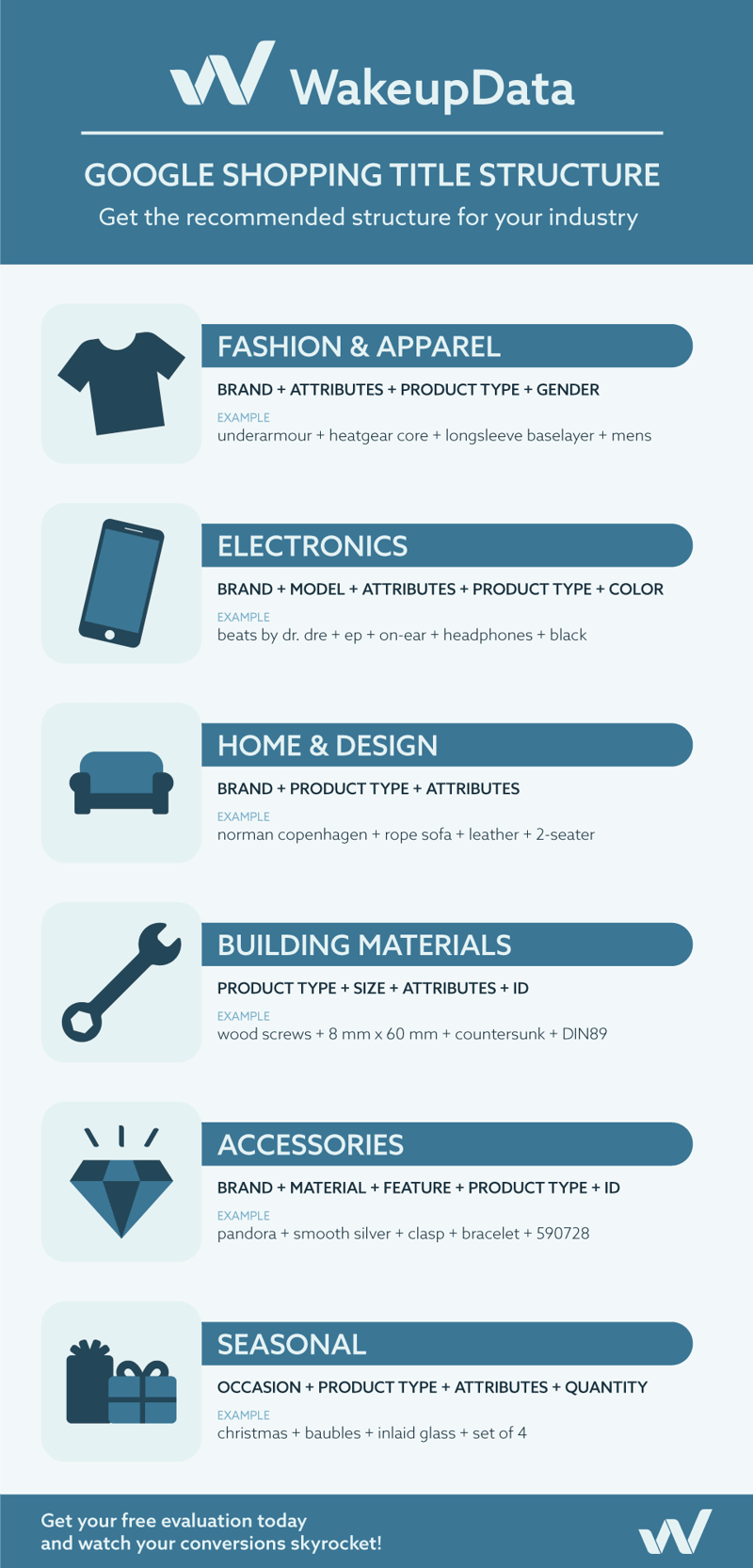 Taking the straightforward step to optimize a title for Google Product Listings Ads can have a significant impact on your listings impressions and clicks. For example, Legeakademiet saw a 61% rise in conversions following optimization of their listings from WakeupData.
Focus on the keywords that are relevant for your specific listing. For example, model numbers are really important to be included in product titles to electronics or white goods but not so much when it comes to clothing.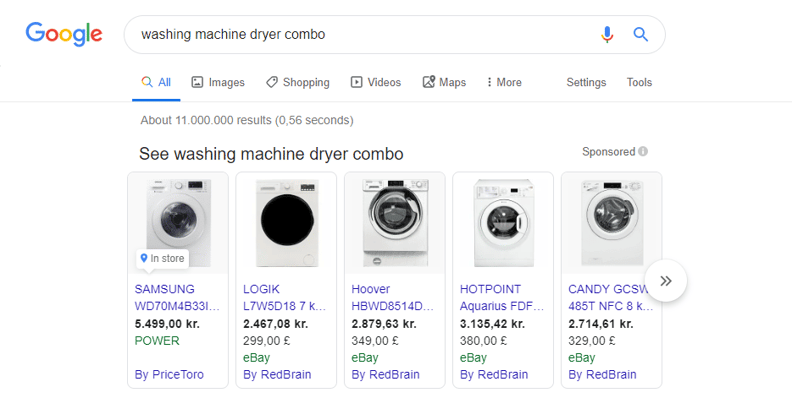 It's also important to think about the order in which you place your keywords. Google gives more weight to those placed at the beginning of the title (hence in brand inclusion first in the image above).
What's more, your shoppers will probably only see the first 70 characters of your titles, so the important info should definitely come first.


Finding your keywords
So what we've learnt so far is that search-specific keywords are vital to the success of your Google product listing campaigns.
The best means of finding relevant keywords which your target audience are searching for is to use a Search Terms report in Google Ads. This will identify your audience queries and the most common searches which landed you conversions.
Reports like this can then help you start constructing optimized product titles.
General titles Rules to avoid 'Spammy Practices'
Avoid over-Capitalization

Capitalized text is common in spam and untrustworthy ads. Use capitalization only when it's needed. This also applies to brand or grammatical abbreviations, phone numbers or countries.


Avoid banned characters
Similarly, Google has a list of banned characters which, if included in your product titles will raise a red flag. This includes things like emojis, asterisks and whatever this thing is: (ಠ_ಠ)
Check out this Google support article for more info
Don't include promotional text

Google prohibits the inclusion of factors like price, sale price, sale dates, shipping or your company's name in product titles, so avoid it at all costs!
Using Branded and Generic Titles
We mentioned above that the brand is important to a title, but what if you are not selling a specifically branded item?
In that case, a generic title that includes other factors will be more relevant in engaging your audience.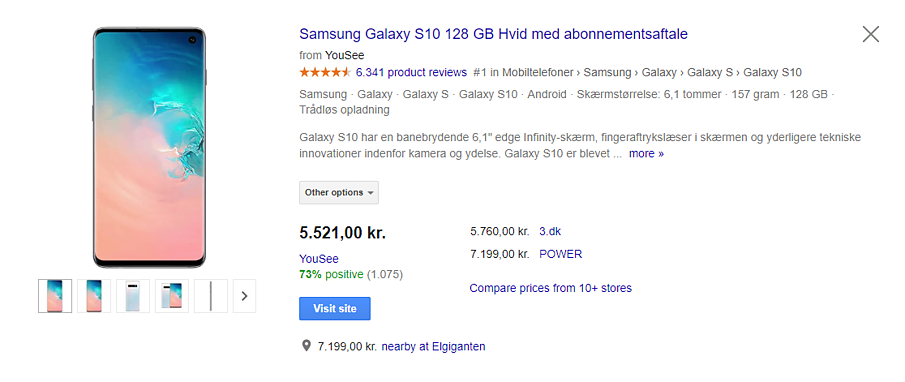 Generic Product Titles
When selling non-branded products, it's important to think of other keywords that are going to be relevant to your customers.
Template: Color + Size + Product Type +Number of items
Example: Black Medium Ballpoint Pens (Pack of 50)
There is no value to including the brand here as it isn't relevant to the specific product.
Branded Product Titles
In contrast, it's vital to include brand on branded product listings - around 82% of consumers are loyal to brand-products. Someone who already knows the brand and has experience with them in the past in further down the funnel to making that crucial purchase decision.
E.g: If my current Samsung Galaxy phone has broken, I'm more likely to search Google for "Samsung Galaxy phone" than "android smart phone"
So it definitely makes sense here to include the brand as one of my primary keywords.
Depending on if you're selling branded vs. non-branded products, you'll need to adjust your keyword strategy accordingly. Try and think how your customer would be searching and then decide if brand is relevant enough to be added within the first few keywords.
Now let's take a look at optimizing titles for specific industries
Clothing industry Title Templates
In the clothing (apparel) industry, the most important attributes are, from a consumer perspective, fairly obvious. Think about some of the features which you'd want to see when searching for a new item of clothing:
Brand, color, size, product type, gender, material
In the following couple of examples we've done some research to show some of the basic formulas that your Google Product Listing ads may follow.
Template: Brand + Feature + Product Type + Gender
Example: Under Armour + HeatGear Core + Long Sleeve Baselayer + Mens

Template: Brand +

Gender +

Feature

1 +

Feature

2 + Product Type + Color + Size
Example: Canterbury + Mens + Vapodri + Woven + Run Shorts + Asphalt + XS

Electronics Title Templates
For online merchants selling electronics, the keywords your shoppers are searching for may be very different from clothing shoppers.
They may have an exact product or size specifications that they have in mind - so the MPN or specific measurements may be important to include.
Template: Brand + Model + Size + Product Type + Operating system
Example: Lenovo + 20ks003nus + 15.6" + Thinkpad E580 Notebook + Intel Core I

Template: Brand + Model + Feature1 +

Product Type + Color
Example: Beats by Dr. Dre + EP + On-Ear + Headphones + Black

Jewelry Title Templates
As with the other industries we've looked at so far, you want to including accurate, interesting keywords in your jewelry listings for Google Shopping.
This includes factors like weight, shape, occassion, material. Let's take a look at a couple of examples.
Template: Metal+Occasion + weight + Style
Example: Yellow Gold + Engagement Ring + 0.23 carat + Round Cut Diamond

Template: Brand + material + Feature + Product type + ID number
Example: Pandora + smooth silver + clasp + bracelet + 590728
Related: What is the Google Manufacturer Center and how does it differ from the Merchant Center?
Conclusion
Optimizing your titles for Google Product Listing ads can give significant improvements to your campaign success.
Titles are not only important for Google's algorithm, but for your shoppers as well. That's why, including the most relevant, useful information in your titles often leads to an increase in overall impressions, clicks and conversions from customers on Google Shopping.
In cases where you may have a relatively short product title, consider expanding by adding a search term alongside the usual specifications for your product (see example below).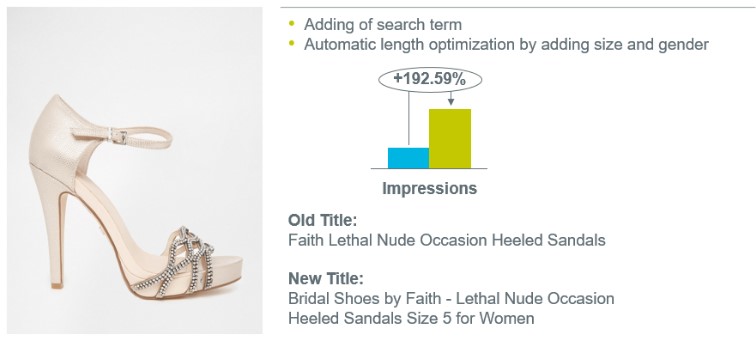 In this study by Crealytics, it was found that adding several more keywords to the search term dramatically increased the number of impressions. Of course it is a fine art to get the right titles to the right audience, so get in the habit of A/B testing your changes to the structure and keywords of your titles and descriptions.
Or get your FREE Google Shopping feed audit to find out what you need to optimize your performance: