PIMs and feed marketing: How the two can work together
Posted on November 3, 2019 (Last Updated: August 18, 2021)
PIM stands for Product Information Management. You may have already heard the term, as in recent years it's a hot topic in B2B and B2C Commerce, and as an industry is growing at an exponential rate.
On the surface, PIM systems and product feed marketing tools can seem to be dealing with the same factors.
That's why, in this article we'll take a look at what PIM systems are, how they differ from feed marketing tools like WakeupData and how the two can work together to drive your ecommerce business performance.
What is PIM?
Product Information Management (PIM) is a wide set of business practices focused on managing product information for use across an organization - from the supply chain to commerce to customers.
PIM solutions provide a single place to collect, manage, and enrich your product information, create product catalogs, and distribute information to your sales and eCommerce channels.
Through PIM systems, users can improve the quality of their product data while simultaneously speeding up their product catalog management process.
As the image below from Bluestone PIM shows, PIM solutions let businesses deliver better product experiences to their customers, improving sales conversions and reaching new Commerce Channels and markets.
A central repository for product information.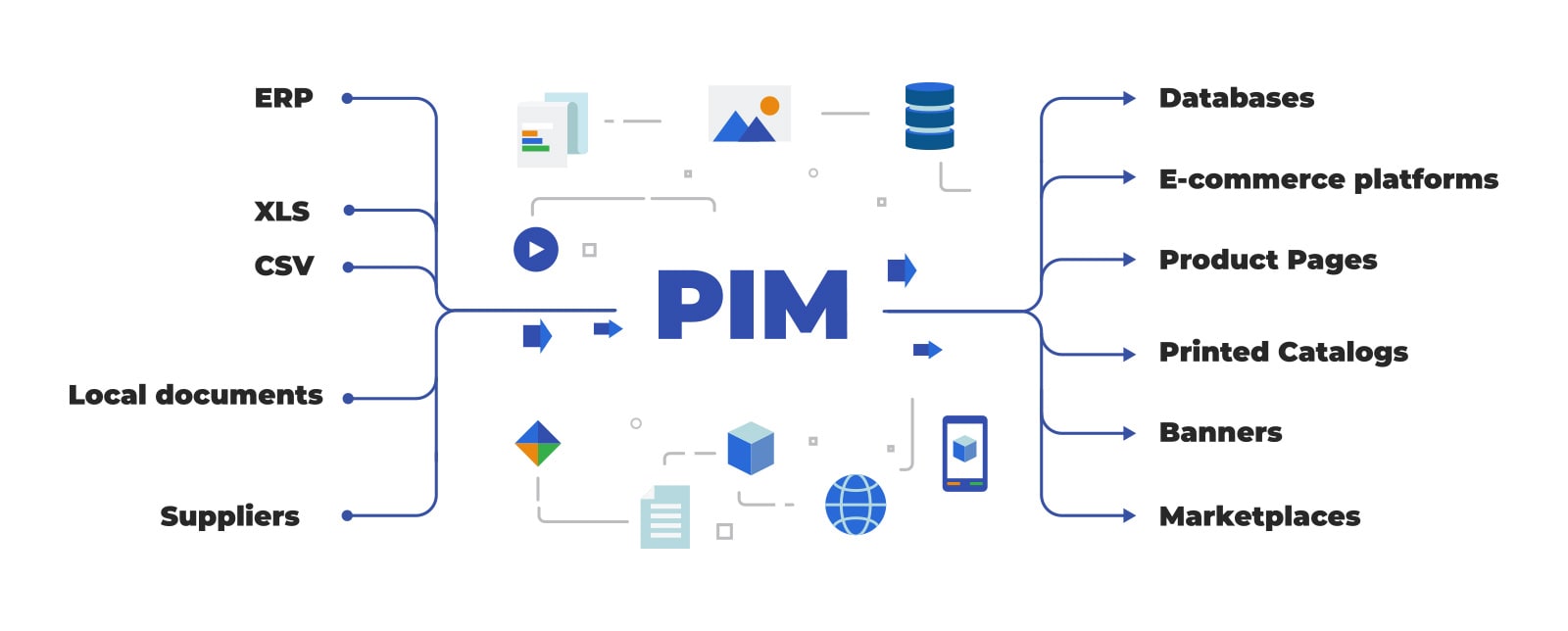 The concept of all PIM systems is that they provide a centralized place where single-formatted, raw product information could be kept. All this data can then be used for websites, product catalogs, mobile, and Point of Sale.
Who uses PIM systems?
Due to the diverse nature of PIM systems, anyone from Digital marketers to brand/ecommerce managers and data feed consultants can make use of PIM systems.
What can PIMs be used for?
A PIM c
a
n be used to m
a
n
a
ge different types of inform
a
tion:
• Technical information: product specifications like the size, color, weight and material of your products
• Usage information: product descriptions with where-used, how-to, and sample usage suggestions
• Emotional information: product descriptions, stories, and imagery that helps create emotional connections with your buyers
The enriched and localized data can then be spread to eCommerce platforms, marketplace listings, print catalogs, points of sale, mobile applications, chat-bots, and/or any other channel.
Where does WakeupData come in?
WakeupData is a cloud-based product feed management platform, designed for businesses to enrich, transform, optimize and transfer their data to any channel.
We provide the tools to let digital marketers make any kind of edits to their product data which will be applied to thousands of products at once.
By tailoring the content and structure of the data, WakeupData clients ensure their enriched feeds are meeting the specific requirements of channels: online marketplaces, comparison shopping sites, social media ads and affiliate marketing sites.
What's more, WakeupData ensures that each integration you create is constantly updating to changes in your product data and the requirements of each ecommerce channel.
Putting our feed marketing tool to use consistently sees an increase to the ROI of businesses, while reducing time and development costs.
How do feed marketing tools differ from PIMs?
So we know what PIMs are now, and we know what feed management tools like WakeupData are.
The key way to look at this question of how they differ, is to see PIMs as a complete storage location of all forms of product information.
The area where feed marketing tools differ is when it comes to the agility of the data you are using. PIM systems are primarily a diverse record of your product information.
Yet factors like transaction information such as inventory levels or pricing are never managed in a PIM system.
Let's take a look at some comparisons to illustrate this:
| | | |
| --- | --- | --- |
| | PIM System | Feed Management Tool |
| Data record | static | agile |
| Data editing | individual edits | mass, bulk edits |
| Usage | Product Information Management, centralizing data | Product feed marketing through optimization, data integrations |
| Distributed to | product catalogs, websites | websites, product catalogs, sales and marketing channels |
How do they work together?
So to sum up what we've discussed so far, PIM systems are so effective because they provide a centralized place where all manner of product data can be stored - and is accessible to your whole team.
The issue from a PIM perspective come in the form of the data quality.
To get the most from your PIM, product information should be up-to-date, well-formatted and complete.
Yet, this relies on all the manufacturers, 3rd party resellers, retailers and suppliers providing data of the highest quality to your PIM which, let's be honest, probably isn't going to happen.
Each supplier of product data uses their own terms and structures, so the quality of data they are providing is out of your control.
So, if you want a PIM with good quality, updated information, the challenge lies in editing the data. Most PIMs don't allow for bulk data changes, so your products need to be reviewed and edited manually, one-by-one. When you have thousands upon thousands of products in your inventory, this really isn't realistic!
Alternatively, you can have just one structured and reliable data import containing all your products and their relevant information:
Example 1: Product content integration (using WakeupData before product content is in PIM)
WakeupData can merge all of your product information from different suppliers, allowing you to easily and efficiently structure and clean your data in bulk, all before it even enters your PIM system.
Doing this guarantees consistent product information across the board, including for your website, mobile POS, and product catalog (for which data is taken directly from your PIM.)
Example 2: Feed management & product content syndication (using WakeupData after product content is in PIM)
On the other end of the spectrum, WakeupData allows PIM users to create enriched and customized product feeds for hundreds of marketing channels.
As mentioned above, as PIM systems are mainly a repository of product information, data stored is simply not agile enough for omnichannel product content syndication.
From Image Transformation (client case) to bulk transformations, WakeupData makes any data agile and of the highest quality for any channel.
Users can optimize their product feeds in bulk using a number of powerful features, tools, and services built into our platform, including smart machine learning technology to automate your work.
Sum up
In a nutshell, WakeupData and PIMs work best in combination, through the following ways:
PIM: Single, categorical record containing all product information
WakeupData's feed management tool: Agile data record containing all product feeds and flexible product datasets for syndication

(BP) before PIM: Merge, structure and standardize your product information before it even gets to PIM to make sure you have consistent data.
(AP) after PIM: Customize, optimize, and ensure channel readiness for product content syndication


Want to hear more? Talk to one of our feed marketing experts to hear more about the advantages of using PIM and our Feed Marketing tool.