Pinterest for Ecommerce Marketing | Ads Guide 2021
Posted on June 30, 2020 (Last Updated: October 11, 2023)
Pinterest is a social platform which, in recent years, has grown to be a hugely valuable resource for many businesses.
It offers ecommerce marketers the chance to reach their audience at every stage of the funnel, reaching potential shoppers who are not only using Pinterest as a source of inspiration but as a search engine for products.
What's more, the trend of greater usage in Pinterest for ecommerce and an expansion of their offerings to digital marketers is one that is only increasing in 2021. They recently launched Dynamic Product Advertising, which is comparable to Google Shopping and Facebook DPA - but offers your content as a source of inspiration - so users are more open-minded and actively interested in your products.
This guide is intended to not only give you an insight into the social platform, but a run-through of the Pinterest Ad formats available to ecommerce businesses, and some easy-to-implement steps on how to set up your campaigns.
Why Use Pinterest as a marketing channel for ecommerce?
Apart from the fact that it is a channel that is growing steeply in usage and popularity on a global scale, there are a number of reasons why ecommerce businesses should at least consider developing a Pinterest marketing strategy.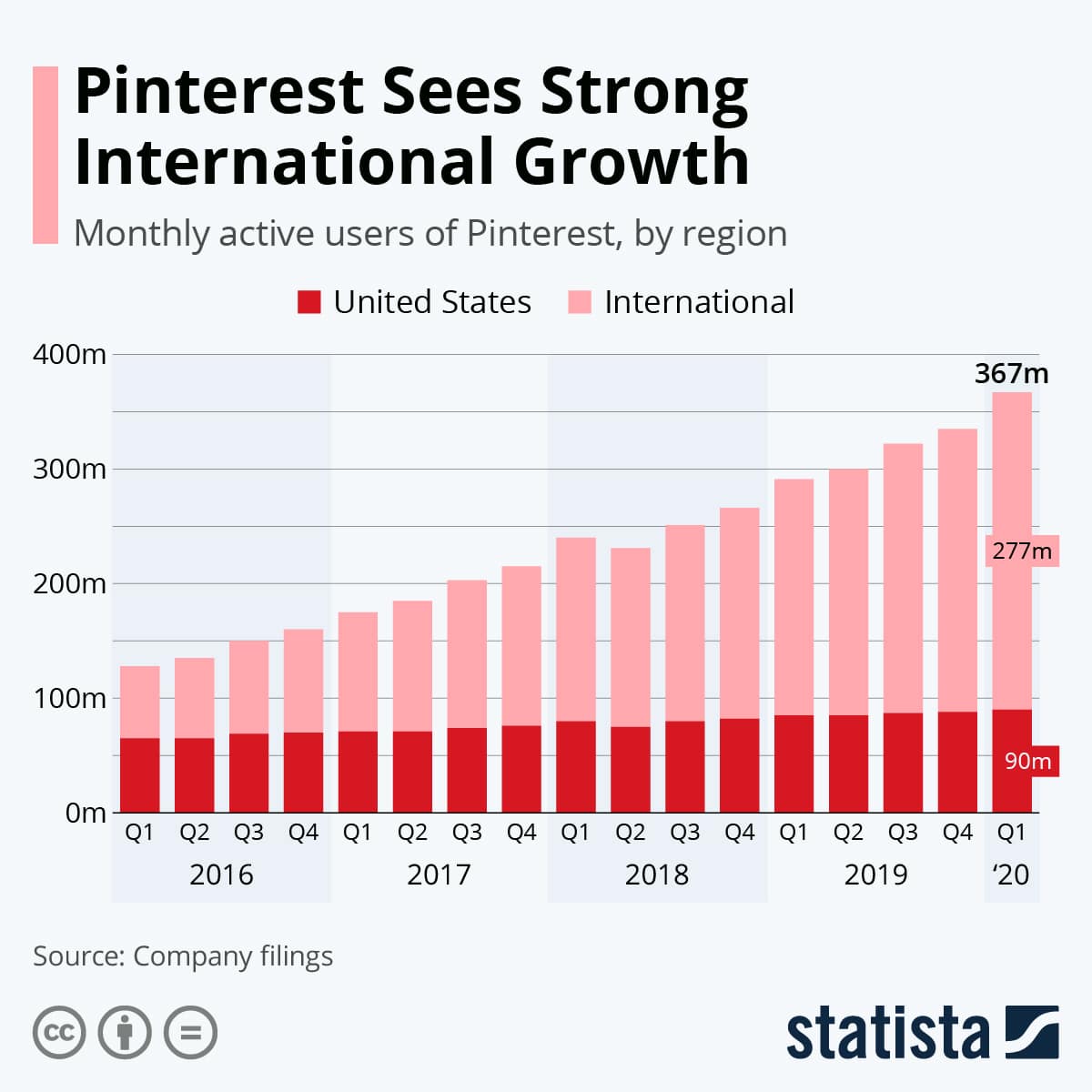 (source: Statista 2020)
Here are a few reasons why ecommerce businesses should be interested in Pinterest for 2021:
You can stay competitive

:

Two-thirds of all Pins are now from a business website. Your competitors are (probably!) using it and you can be certain that your potential customers are.


You can build your brand image:

Building on this previous point, regularly using Pinterest for business will start to build your brand image. From appearing organically on your follower's pages to creating Pinterest Boards that reflect your brand; it's a platform designed to give you the freedom to build your brand.



You are creating long-term content

:

The re-pinning feature means your organic content can appear again and again to followers and their followers. Unlike the short-term nature of channels like Facebook, your marketing posts will last long-term.



You can really Engage with your customers: Developing a Pinterest marketing strategy gives you an insight into the likes, dislikes, hobbies and passions of your existing and potential customers - in a way that other channels like Facebook or Google Shopping can't match.


How to Get Started With Pinterest
Step 1: Signing Up for a Business Account
Setting up a new profile is super simple. Head here and enter your email address, password, business name, website, and business category.
Changing an existing account into a business account is also super simple. Click the Convert your existing account button and then complete the steps as above.
Step 2: Creating a Profile
Next up, you need to create your profile, which you can find under settings. Upload a profile photo (165 x 165), fill in the about you section, add your business location, turn on your notifications, and connect to your other social networks.
Step 3: Claim Your Website
This is a very important step. Confirming your website will allow you to see what other users are pinning from your website, it adds your logo to your Pins (maintaining brand identity), and it boosts the ranking of your Pins in the search results.
What options do you have with Pinterest Ads?
1. Promoted Pins
Promoted Pins appear in the home feed and search results just like a regular Pin except that they're boosted and targeted to deliver more reach. As you'll see in the screenshots below, apart from the "Promoted" label on the Pin, they look the way other Pins do.
Users can still save the products they are interested in to their boards, and the pins make the process of buying the products they aspire to have far more straightforward.
Here's a regular pin: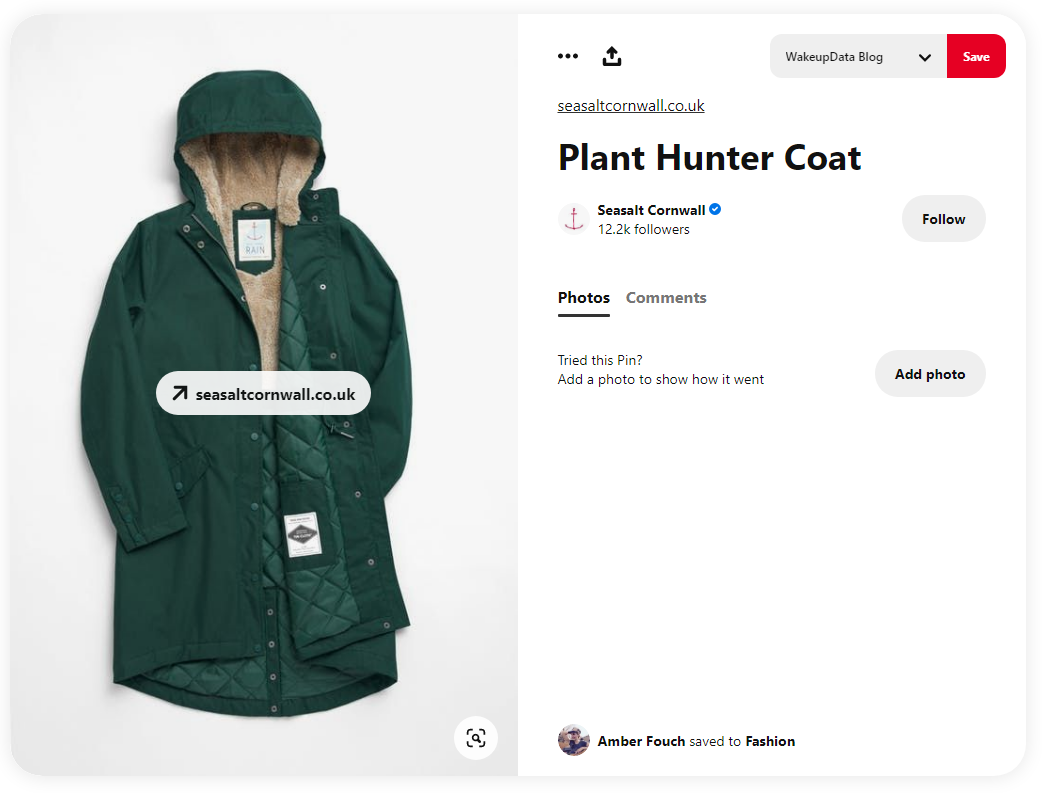 Here's a Promoted Pin: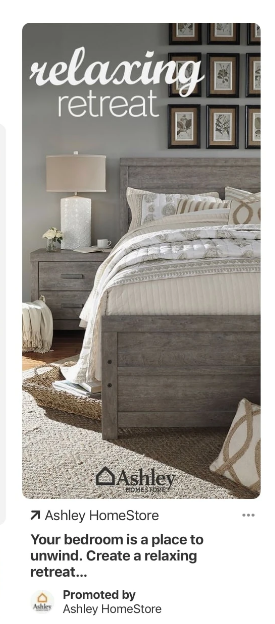 You'll see that the difference is that Promoted Pins (pictured, left) mention the brand sponsoring the product and provides a link to a specific landing page for certain products - while regular pins do not.
Promoted Video Pins

Promoted Video Pins are just like Promoted Pins except the static image is replaced with video. Like Promoted Pins, Promoted Video appears in the home feed, search results, and the "more like this" section under a Pin close-up.
Buyable Pins
Buyable Pins are designed to be shoppable, allowing Pinners to find and buy products directly from your Pin.

These Pins work across mobile and web, and appear in the same places as a Promoted Pin would. The only difference is items in the image are tagged with dots that can be tapped or clicked on to display and link to product information - in the same way as Shoppable Product Image Ads on Instagram.
2. Pinterest Shopping Ads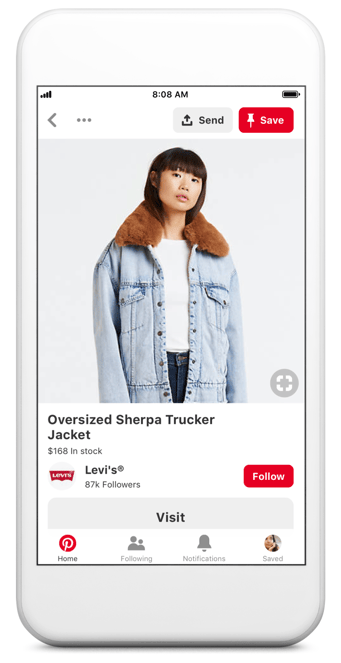 Shopping Ads are marked with a special price tag icon and use the same product Pin format.
They use catalogs pull in real-time pricing info, availability and a product description. If someone decides to buy your product, they'll click to finish the transaction on your site or store.


How to create Pinterest ads and campaigns
We'll now take a look at how you can start creating ads using your business account.
Pinterest's advertising process is similar to Facebook's and Instagram's in that you can create campaigns, ad groups, set your bid amount, and track the results.
There are three levels to a Pinterest Ad:
Campaign.

W

here you can set the overall

objective of your campaign - such as brand awareness, traffic, conversions, etc.
Ad group.

This is where you decide on factors like:
Your ad budget
Display locations for your ads (displaying for specific search results)
Target audience
Like a Facebook Ad campaign, you can have different ad groups as part of the same campaign.

For example a Bags & Accessories retailer might create a campaign with each ad group dedicated to specific products — one for women's handbags and another for men's cases.


Promoted Pins. The final result of your ad campaign is the individual pins displayed to your potential shoppers (see screenshot above).
Getting Started
To create your first ad, go to your Ads Manager dashboard, then under "Ads" click "Overview."
Once you have set up campaigns, this overview is where you'll be able to view them all.
Next up, select "Create ad"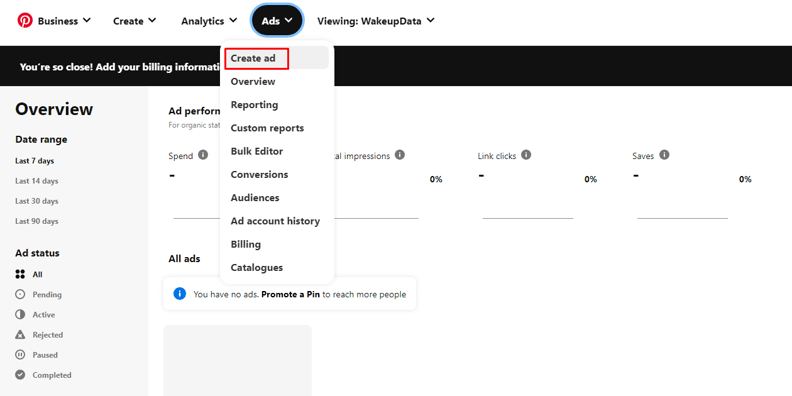 Now, as mentioned above, you'll be given the options to choose your campaign objective based on the outcome you want your ads to have.
It's at this stage where you have a choice. For ecommerce retailers looking to drive lower-funnel conversions from their Pinterest Ads, then Shopping Ads on Pinterest with Catalogue Sales is the best option.
Catalogues enables you to grow sales with campaigns built to promote your product groups.

At this stage you'll simply need to import your product feed to the Business Manager platform: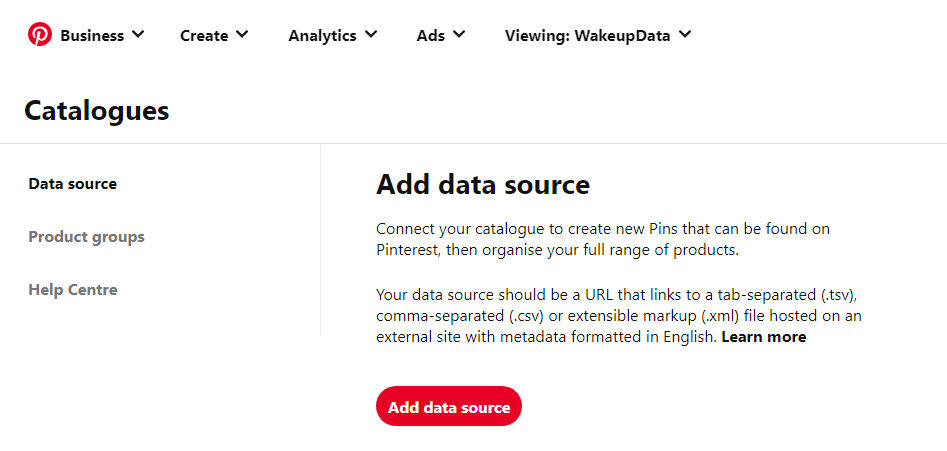 This is where a feed management tool like WakeupData can help you out, providing a feed on URL which meets all the specific Pinterest requiremetns and is fully optimized to achieve greater impressions and conversions from your audience.
You can get more info on our Pinterest integration below, or read on to read about finalising your Pinterest Ad campaign:

Once the product data is imported, you can move onto the next stage: either choose an existing ad group or create a new one.
Next, select your audience.
You'll see a number of options when it comes to narrowing down the targeting for your ad campaign. It's here where you can decide whether you want to use a generic approach or narrow down to a specific audience.
For your first ad, you'll need to create an audience first.
Setting Your Budget & Ad Group
You'll have to set your budget limits, much as you would for a Facebook or Instagram campaign:

Choose which products to add to Your Campaign
Depending on the ad format, Promoted Pins or Shopping Ads, this will look different.
For Promoted pins, the final step in creating your campaign and ad groups is to select the Pins that you want to appear to your ad group.
These saved Pins become the Promoted Pins your audience sees (hopefully they look a bit different to these ads we could run from the WakeupData Pinterest page!).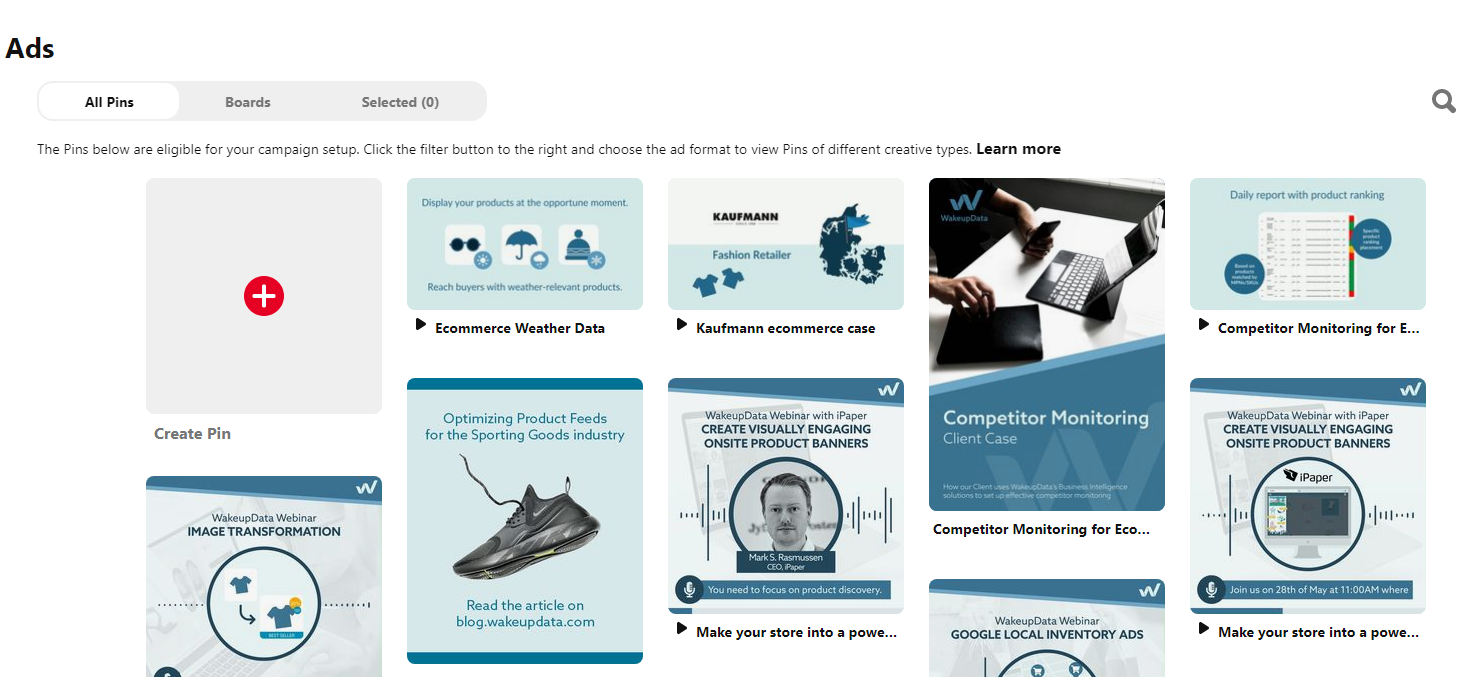 Once you're happy, press 'Review Ads' and the Pinterest team will review your campaign proposal within 24 hours.
It's recommended that you start your Pinterest advertising relatively broadly. Then you can continuously narrow down to make communication more and more relevant to the target audience.
Want more info on Pinterest as a marketing channel? You can access the recording of our webinar from June 25th, in which we run through the usage of Pinterest Ads and a Client Case, in collaboration with Web2Media:
Pinterest Analytics and Pinterest Ads Manager
Now you have a Pinterest ad campaign in place!

Much in the same way as Facebook Ad Manager, a successful ecommerce campaign on these social channels needs effective tracking and monitoring of ad performacne to analyze what works - and what doesn't.
Pinterest analytics and Pinterest Ad Manager gives you access to a lot of valuable information, from Pins with the highest clicks, demographics impressions, and repins; to your highest search ranking Pins. A full user guide can be found here.
You can use this analytics information to get insights into what is going right and what could be going better. Using Pinterest Ads to run trial campaigns and measuring effectiveness using analytics is the best way to establish whether or not what you're doing on Pinterest is working for you and your brand.
How much does advertising cost on Pinterest?
Advertising on Pinterest is no different than advertising on other platforms.
The system is based on a live auction where your bid determines whether your ad will show.
Right now, prices are artificially low when you advertise in Denmark and the Nordics because there are so few advertisers . Therefore, if you get on the platform as one of the first, there is a lot of money to save.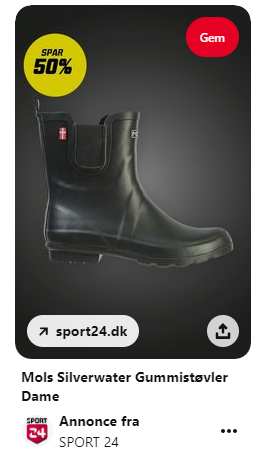 Case Example
A Dynamic remarketing for a Sport 24 campaign was set up by Web2Media, where the products are shown to people who have previously seen these products on the website.
This campaign is currently running for ROAS 27. Clicks and impressions here are significantly more expensive than what we have seen on Pinterest in general, and that is with a CPM 40 and CPC 4.
Final Thoughts
The great thing about Pinterest for Ecommerce Marketing is that you really don't have to be a big brand or a have a massive marketing budget to make Pinterest ads work successfully.
By using engaging visuals and creativity you can showcase your products to your target audience at a minimum of costs.
At WakeupData, we offer and plug-and-play integration with Pinterest. You simple provide the product feed, we give you the platform and solutions to optimize and deliver them in the best possible quality to Pinterest...or any other ecommerce marketing channel for that matter!