Stay ahead with the latest PPC tools, techniques and must use features
Posted on November 2, 2020 (Last Updated: December 01, 2023)
Now more than ever it's vital to keep up-to-date and get the most out of your paid advertising campaigns. Today we're sharing the latest tools, optimisation techniques and brand new features to help you enhance your PPC advertising.
The Latest PPC Tools
YouTube Video Builder (coming soon, currently still a Beta tool)
We know that video outperforms static images (in most cases anyway). Google has spotted this and released its very own editor: YouTube Video Builder (pictured below, credit: Google).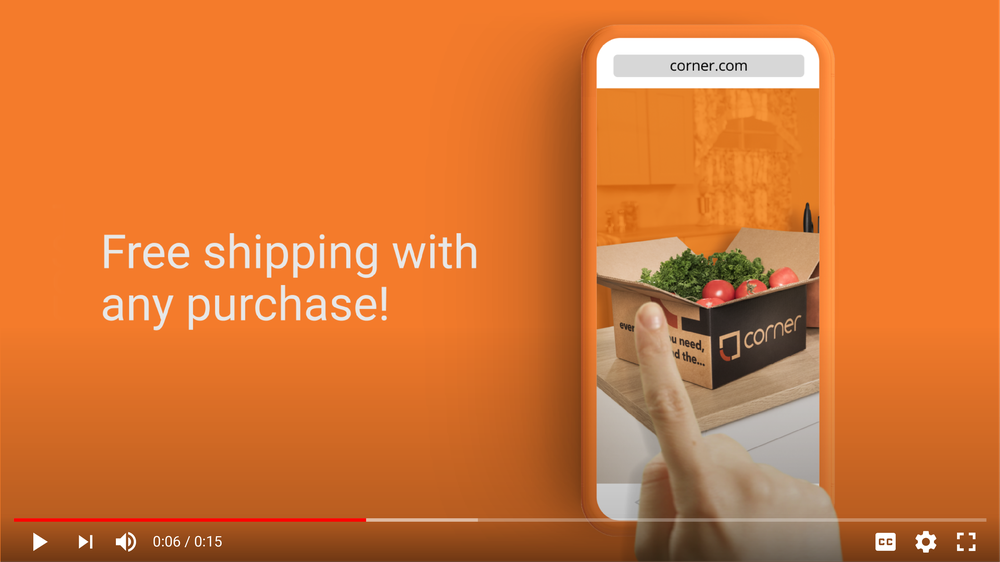 The video builder allows you to create engaging videos from static images, all based on the designs that have performed best on YouTube over the years. It's never been easier to start testing videos as part of your advertising strategy. According to Biteable, video generates more reach, gets more clicks, and has a better ROI overall compared to standard images.
YouTube video builder offers different templates to choose from that are specifically designed to target users in different phases of the purchase funnel. You can edit the templates to fit your brand, and they're available in 6-second bumper ads to longer formats. This tool gives you the chance to experiment with video quickly and easily.
Market Finder
Market Finder gives you a head start to getting your business global. It's a three-step process that takes you from a business plan right down to marketing your products. To get you started, Market Finder (pictured below, credit: Google) gives you detailed insights such as your customers' disposable income, helping you make more informed advertising decisions.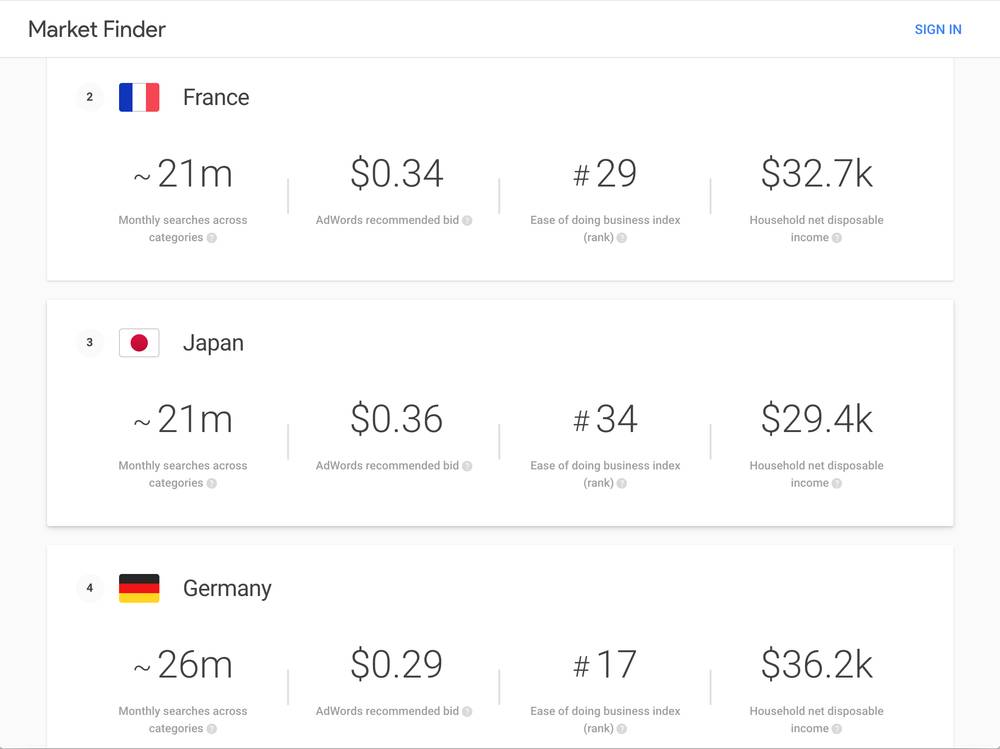 Once you are armed with insights, Google will provide tools, guides and resources to help you plan the setup e.g. international payments.
Finally, there's marketing guidance. Advising you on things such as the best language to advertise in, the devices your customers are using most and the overall best way to reach them. If you're looking to go global, it's well worth seeing how Market Finder can help you get there.
Optimisations
Remarketing Funnels
Creating remarketing funnels allows you to not only convert more but continually engage with your customer base. This rewards you with brand loyalty and lifetime revenue instead of a one-off purchase.
Don't just stick with one or two remarketing audiences, try to target all elements of the customer's purchase cycle. You can do this by testing multiple remarketing lists based on user behaviours. For example, consider those that have visited specific pages on your website but didn't purchase, or signed up to your email newsletter but haven't checked out.
If you are trying to target those who have previously purchased or displayed brand loyalty, a simple question to ask yourself is 'What will pull them back to the website'... Here are some ideas if you're not sure...
A new product launch

Loyalty Scheme

Sale/ discounts

New website/ updated user experience
Video campaign objectives
Deciding on the objective of your campaigns can be just as important as the creative itself. An experiment by Facebook found that video views as the objective won on reach and impressions, the traffic objective got the most clicks, and the leads objective delivered the most new leads.
This experiment highlights the importance of choosing the right objectives for your video campaigns, in line with your overall marketing goal. The same message applies for Google Ads and other advertising platforms.
It's also important to consider the video content and how that will serve the audience and campaign objective. Here are some tips on how to create compelling video content that's right for each stage of the customer journey:
Awareness Objective: Create a video that tells a story of your brand using emotional imagery and vivid colours. This will grab users attention. It's important to remember that people in the awareness stage are not ready to buy, but they are looking to be inspired.

Consideration Objective: Create content that encourages users to engage with your brand. This could be anything from reading a blog post, signing up to a newsletter or listening to a podcast. All of these actions are fundamental to building your audience and cultivating an audience that may purchase down the line.


Conversion Objective:

Those in the conversion stage are ready to purchase. Use dynamic remarketing in a video format to make the adverts specific and reduce touch points to purchase. Alternatively, offer an incentive to purchase such as a discount or free delivery.
Custom Columns
Your data is what should be informing and driving future optimisations, and you can make it work for you by using Custom Columns. Custom Columns allow you to see metrics that are segmented based on specific information e.g. clicks by device.
The main benefit of custom columns is that you can quickly see the data that's important to you and your business.
New Features
Business Audiences
Google is testing out better targeting for B2B marketing. The new B2B targeting will allow businesses to select different industries to target such as Construction, Finance and Hospitality. There are four different company size options small (1-249 employees), and very large (10,000+ employees). It's currently still a beta and in testing, but based on the success of B2B marketing on Linkedin, we predict it's going to be a valuable addition to Google ads audiences.
Search Image Extensions
Search image extensions will allow you to provide relevant, high-quality images alongside text ads. Early results show including an image can increase CTR by 5%! Another benefit of the extension is that your Google listing will take up more space in search results, pushing competitors down.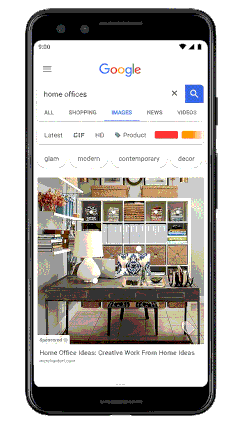 Shoppable Ads on Google Images
Similar to shoppable pins on Pinterest, Google is introducing shoppable ads on Google Images.
The images will show with a 'sponsored' tag and price. Google found from a recent study that 50% of online shoppers said images of a product inspired them to make a purchase.
If your brand is highly visual, this is one to take advantage of.
Image source: Google

Being visible online has never been more important to businesses. We hope these tips have been useful to provide you with some new updates, opportunities and features that your business can take advantage of.
Want to work with an award-winning digital marketing agency that prioritises your brand mission? You do? Well, that's us, CTI Digital! Learn more and get in touch on our Online advertising page here!