Guide to Selling on Amazon Internationally
Posted on June 22, 2020 (Last Updated: July 14, 2021)
Many sellers make a good amount of money by selling through Amazon. However, most of them limit themselves, often without realizing it, by selling only in their native market. Selling their products globally would allow these sellers to massively scale their businesses.
Those who do realize the potential revenue they are missing out on are likely not pursuing international sales because they believe that the process is overly complex and they may be intimidated by all the aspects that there are to know about it.
This helpful guide should assist in simplifying things for owners who do want to expand their businesses globally and overcome any hurdles of doing so by just following a few key and cautionary guidelines.
By taking a little bit of time to educate and prepare, one can begin to grow your business exponentially when marketing a product in varying regions of the world.
Amazon has taken on a lot of the efforts in assisting sellers to move their business ventures internationally and to abandon the belief in the overwhelming difficulty of international sales.
So let's take a look at some of the key points about selling internationally through Amazon:
Amazon Global Selling
Amazon Global Selling (AGS) is a program in which sellers are permitted to list their inventory and sell it on Amazon's various worldwide marketplaces. As of the present time, 13 Amazon websites are globally operational. No matter where in the world a seller may reside, Amazon makes it possible to sell their products across these venues.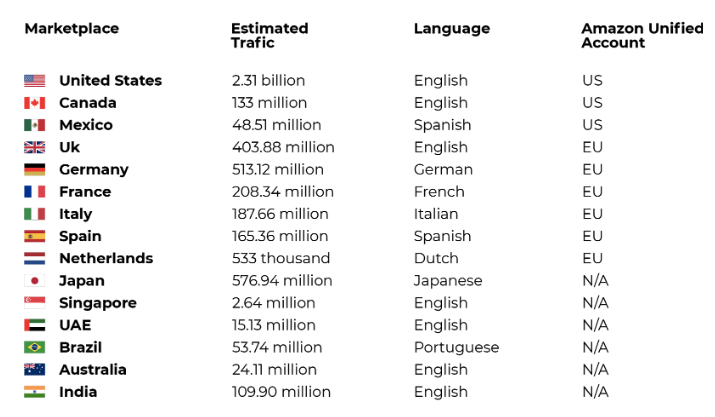 Amazon's global marketplaces as of April 2020
The Amazon sites include the EU contingent of Amazon.de (Germany), Amazon.it (Italy), Amazon.fr (France), Amazon.es (Spain), and Amazon.co.uk (United Kingdom). Amazon.com.mx (Mexico), Amazon.ca (Canada), and Amazon.com (United States) make up the North American contingent, while Asian marketplaces include Amazon.in (India), Amazon.cn (China), and Amazon.co.jp (Japan). Additionally, Brazil has its own marketplace (Amazon.com.br), as does Australia (Amazon.com.au), being Amazon's most recent global addition.
Singapore, UAE, and the Netherlands also have their own Amazon marketplaces.
To sell at any of the marketplaces you will need a seller's account for every individual country. The only exceptions are the North American and the EU marketplaces, where owners will have automatic access to all of the countries' marketplaces included in a "Unified Account".
The process of globally selling on Amazon is generally similar to selling there domestically:
Deciding to sell in a particular marketplace and registering for an account there.
Listing the inventory items available for sale.
Customers see the products, evaluate them, and purchase them. The seller gets notified of where the products will be shipped to.
Sellers ship and deliver the products to customers and confirm shipment (or allows Amazon to fulfill their orders with FBA or Easy Ship).
Once the product is received, the funds are acquired by Amazon who takes their typical fees, transferring the rest of the funds into the seller's bank account.
Advantages of Selling Globally With Amazon
Sellers who market and sell their products successfully on a domestic front are very likely to have similar successes in other markets. When Selling on Amazon, the global expansion of a great selling product is, after all, the next logical step in the business process.
Amazon helps take the stress and hassle off by taking care of the shipments to customers with FBA. Sellers can then increase their global sales domination by entering the market faster at a lower cost.
Some advantages of selling internationally on Amazon include:
Simple shipping and delivery with FBA.
Much wider customers reach potential.
If the seller's business is already successful in their home market, Amazon eases the experience of global expansion, reducing the need to build up the brand.
Some of the biggest sales are made during holiday seasons like Christmas, and special sales days like Black Friday and Cyber Monday. Sales globally these days can yield a massive return.
Amazon makes sure that sellers receive their funds on time, deposited into their bank accounts in their domestic currency.

Brand Registry
Amazon assists sellers in creating a trusted and accurate experience for their customers and protects the business's registered trademarks.
This is the best way to register authorized seller accounts for your product and control your brand in the marketplace. Although a more in-depth approach may be required.
Taxes And Regulations
When selling in the European Union, a seller typically has to register for a Value Added Tax (VAT). Amazon Service Provider network can connect sellers to the necessary resources they need to do so. Additionally, Amazon will conduct a Seller Identification Verification before sales in the EU can begin.
Once a seller reaches 15,000€, the account is re-verified through an EU regulatory requirement called "Know Your Customer." Conversely, European-based sellers will be verified when opening a professional Seller account in the US.
Selling in Japan has its unique quirks. Understanding Japanese local laws is important because every seller has a responsibility for the customs and regulations of selling in the country. Particular items may be subject to customs duties, and all taxes, duties, and customs must be paid as imposed on each order and shipment, with no ability to transfer the responsibility of paying the taxes.
Additionally, Japan requires that any returns made by Japanese customers be made to a local business address inside of Japan. Also, the seller must list the business information on their sellers' Amazon page.
Product Compliance And Eligibility
The EU may apply restrictions on sales of certain products in its various marketplaces and some items will require the EU to grant their sale legal approval. The same goes for the Japanese marketplace, but there might be certain products that are not permitted to be sold through the platform at all.
The restricted products page can be consulted to find out about the eligibility of the products.
Payment Options
Amazon will accept multiple payment currencies but will pay the sellers in their local currency. Some of the payment options depend on the setup of a newly registered account at a particular marketplace.
The funds can be transferred to a local bank account in the marketplace. Additionally, sellers can use the Amazon Currency Converter for Sellers (ACCS) to receive local currency payouts which are deposited into their bank account every 2 weeks, with Amazon picking up the bank transfer fees.
Listing Products/Pricing
In Japan, the customers often seek out offers that leverage a point-based loyalty system, meaning that the seller can grant Amazon points to customers who purchase items on Amazon.co.jp.
Product listings can also be created in bulk in the interest of saving time.
Fulfillment
An IOR (importer of record) is required for sales to be permitted in Japan and Europe. The IOR is responsible for assuring that all taxes and customs are paid, and the goods comply with the regulatory and legal requirements of the marketplace. This means that a person or an entity must be a seller's IOR in the region.
Fulfillment can also be performed by a Non-Resident Importer, which is what sellers would use in case they did not have an IOR available. This requires an appointment of an ACP (Attorney for Customs Procedures) to be responsible for paying taxes and duties on the seller's behalf. The seller retains the responsibility of ensuring that their product complies with local laws and regulations.
Amazon can also fulfill the orders via FBA. This is when a seller's products are stored in fulfillment centers until the time of purchase, then are packed, shipped, and provided customer service for. There are three international fulfillment programs available and the seller can select the one they are interested in.
These include:
Pan-European FBA
Multi-Country Inventory
European Fulfillment Network
In Japan, the FBA can help scale a business as well as customer reach, but sellers are quired to provide customer support in fluent Japanese.
Amazon provides a host of necessary tools for sellers to manage their inventory, set quantities of products, prepare shipping labels, review, track, and update shipments.
Understanding The Consequences
It is important to research the target marketplace before putting a listing to it to assure good sales, adjust the pricing, optimize the distribution channels, and promote the products to attract the regional customers.
It is important to understand if the product sold is suitable for a particular region. Aside from understanding local laws, it's important to keep in mind the technological differences. This applies especially to sales of electronics. Most of Europe does not use the flat two-pronged wall charger as the U.S does, so products with one may not be suitable there. Featherbeds are popular in the UK, but unlikely to do great in the U.S. market.

If selling in a marketplace that operates in a different language, it is important to obtain proficiency in that language. This can be a vital requirement for any marketplaces unless the seller distributes exclusively via FBA. Knowledge of the language helps to better research and understand customer needs and wants in a region. Of course, this is not a necessity, as Amazon provides services and tools to still allow sellers to thrive in a marketplace where they are not proficient in a language.
Some of these tools involve the Seller Central Language Switcher which allows sellers to operate in English and adjusts the language according to the region. As mentioned earlier, Amazon provides unified accounts to sell across most regions of the European Union, so one registration opens up multiple sales avenues.
The "Build International Listings" feature is a great way to manage a product across all marketplace by building links between your native marketplace and others. If there is a change in the listing in the home market, to its price, or with fluctuations in the exchange rate, the changes will be processed accordingly across all marketplace product profiles.
Providing customer service in the native language of the marketplace is also an important feature, and it is a hard requirement in some of the markets, such as Japan. If a seller cannot accommodate this, then the FBA option is always there to help.
Author Bio: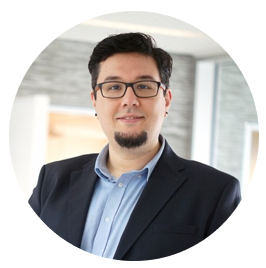 Rafael Berti is an Amazon Seller Veteran with over 10 years of experience. He successfully launched dozens of brands and assisted many others to launch and scale up their business using the marketplace.
Rafael is the founder of AMZ Paragon, a Danish agency fully dedicated to assist startups, SMB and enterprise businesses to prosper on Amazon.