Price Intervals for product feeds
Posted on August 14, 2018 (Last Updated: August 18, 2021)
Many online marketers are using the same bidding strategy across all products. This means you are bidding the same amount on channels like Google Shopping for every single product in your feed, regardless of their price, stock level or value.
In a talk with a client we were asked to divide her products into price trenches, so that she could bid differently on products in various price intervals. This makes a lot of sense – especially if some of your products are sold at 3 euros and some at 10.000.
The way to do this is to firstly go to the 'edit mappings' tab in your export overview to choose the field you want to divide the prices under – this will typically be a custom field. Then choose the "rules engine" and begin setting up the different intervals you want.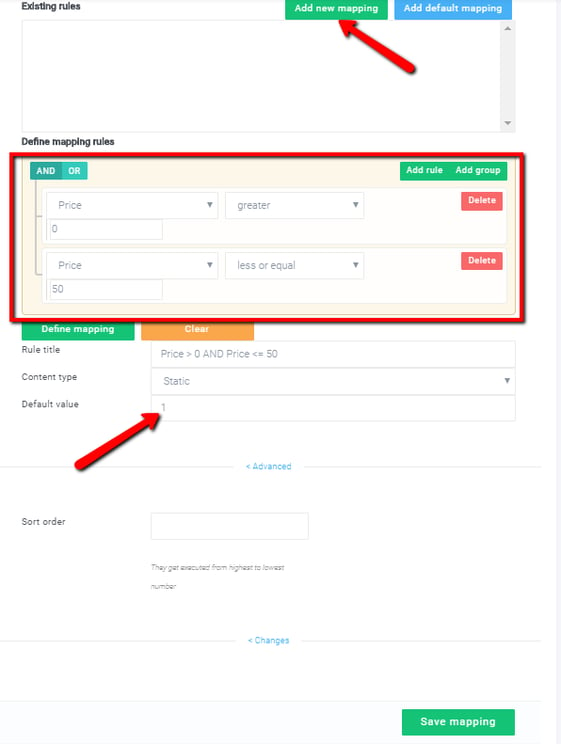 In this example we have chosen to give all products where price is between 1 and 50 the value of 1.
You can give it whatever value you would like – and our experience tells us that the more descriptive name you give here, the easier it is to work with once you import the data to a channel, for example the Google Merchant Center.

Once you have set up the intervals you want, it is important that you remember to set a "default value". This will cover all the products not included in any of the rules you have just set up. In the example here the default value will cover all products that have prices higher than 1000.
Once you are done with the intervals you have set up, remember to save your mapping and move on to the next.
Time estimate
Depending on how many different trenches you need, the price can vary a little. For a setup like the one shown above, it would take about 30 minutes to set up.
Find out more about Product Feed management and the WakeupData's Feed Marketing platform or sign up for a free trial below.