WakeupData Product Update 23 June 2021
Posted on July 2, 2021 (Last Updated: March 20, 2023)
Earlier this month we launched the WakeupData Actions and WakeupData Connect tools in our product feed management platform. (Read more about the last update)
Now we have the first round of updates and improvements ready to bring even more value to your product feed management platform.
Passing data from Actions to Connect
So, you have set up a channel feed and are running your PPC campaigns - but how do you know that you are actually getting the best performance from your product data? Do you trust that all the data coming from your eCommerce platform and other sources is tip top?
What if there was a way to check your data, let you know what needed improvements and provide you with a way to let you change some of the issues right there and then? A tool that would let you know which actions were required to improve your product data?
Strap your sun hat 👒 down and hold on to your shades 😎!
Because in this update of the WakeupData platform we have built the bridge from WakeupData Actions to WakeupData Connect. This means you will now be able to get actionable insights on a channel feed already created in WakeupData Connect.

You can even change the data in WakeupData Actions and bring those changes back into WakeupData Connect as a set of over 40 new fields available to modify and enrich your channel data in WakeupData Connect.
Enabling WakeupData Actions on your WakeupData Connect channel feed brings a whole new level of insights to your product data.
With suggestions on how you can improve your product data quality, you are all set for receiving even better returns on your advertising investments.
You can use competitor monitoring to make sure you are not wasting budget on advertising products where your competition is much cheaper than you.
A few other examples of added benefits of using WakeupData Connect and Actions together:
Tune products individually
Get stock counts for item groups
Get new product state
This is a biggie, so get in touch if you want to learn more about the possibilities for your current setup. If you are not yet a user, make sure to get a free demo of our platform to learn much more.
And remember, WakeupData Actions is a brand new tool that will receive many features and improvements over the coming months.
Actions Reporting for Agencies
Generate a customer audit report in a few minutes.
As an agency you can now generate a professional client reports, with all the actions required to improve their product data. The reports can be customized with yours and your clients logo.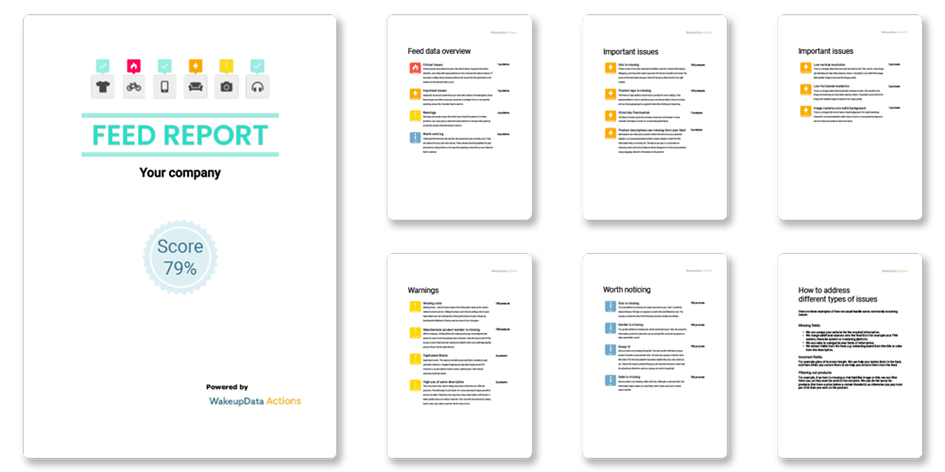 Competitor price exports
From previously relying on a third party competitor price tool, we now have the feature in-house with the introduction of WakeupData Actions, as mentioned above.
WakeupData Actions does not only enable competitor price monitoring in WakeupData Connect but also makes it available in third party applications via URL for external use.
This means you can use your competitor price data as you please.
Improved extracting of competitor pricing
We have added a set of new features to improve our price extraction from various eCommerce platforms to give you better monitoring capabilities
Additional filters in data analyzer
To allow better control in your data analysis we have added a few new filters; Text begins with, Text ends with, Text equal to.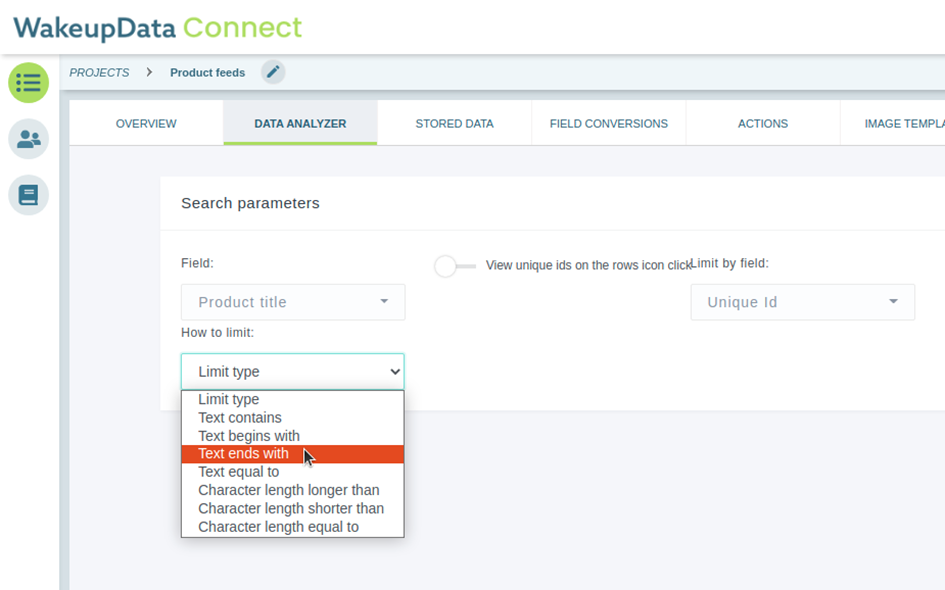 Shopify meta fields

The Shopify template has been updated to also include meta fields. The meta fields in a Shopify feed allow you to import custom fields from your Shopify products, which can be very useful for further transformation and filtering of your data.
Bug fixes and tunings of WakeupData Connect & Actions
Various minor bug fixes and improvements has been carried out to provide you with an even better experience in the WakeupData platform.
And as always, feel free to reach out to your Customer Success Manager if you need any assistance with new or existing features.
If you are considering the WakeupData platform to help your business grow, feel free to request a free demo to learn more about the most versatile product feed management platform in the world.