How do Google Shopping ads and Google text ads differ?
Posted on February 18, 2022 (Last Updated: March 15, 2023)
Advertising has proved once and again that it is here to stay. However, it can be overwhelming to choose the right format for your business. It is important to know what the ad types are and their differences, as well as pros that your business can take advantage of when advertising.
The two most common types of Google Advertisement are Google Shopping Ads and Google Text Ads.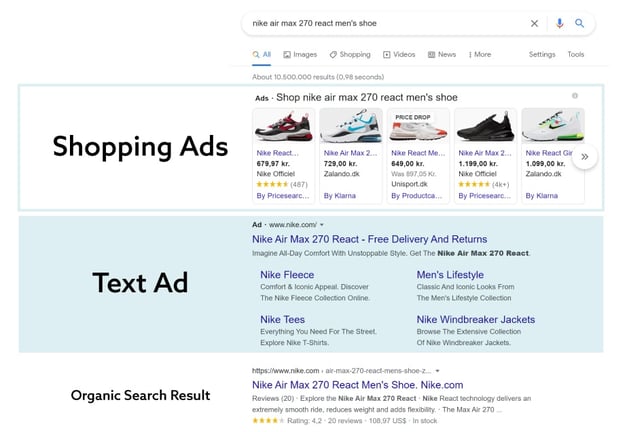 Text ad basics
Google text ads are chosen when you want to advertise both your products and services as search results. Text ads consist of three basic parts: a display URL, headline text and description text. Display URL shows the website address, while headline and description texts are used to highlight some details about your product. There is a character limit, which is currently 30 for Headlines (of which up to 3 can be shown at the same time) and 90 characters for Descriptions (of which 2 can be shown).
Text ads are without images, but offer additional ad extensions, including image extensions. It allows the advertiser to show more content and there are more chances to call out potential promotions and unique selling points. This is mainly thanks to keywords that can help customers find your business.
With this type of Google Ads, there is a possibility of using the location extension. It gives shoppers information about the store's physical location and opening hours, which can't be done with Shopping Ads. Moreover, there is a possibility to stop ads from showing at times when the store is closed. Unlike Shopping ads, you're able to choose when you want your listing to show by bidding on keywords. Depending on which keywords you choose, you can target shoppers who are closer to the deciding stage of the buyer's journey. As they're looking for something specific by typing a keyword that reflects their needs.
They are typically shown right above and below the organic results. Often there will be 3 or 4 grouped together, but this can vary depending on the search.
Pros:
Customizable depending on the goal of the campaign
Different variations of text
Targeting based on keywords that potential customers are typing
Learn more about best practices in Google Text Ads from industry experts, including how to conduct a keyword analysis for Google Text Ads.
Shopping ad basics
Google Shopping ads are the ones you see showing product images. They appear most commonly at the top of the SERP (Search Engine Result Page) and also have a dedicated tab. For Shopping Ads, there is no possibility to bid on specific keywords and target potential customers based on them. By having an optimized feed with detailed and accurate titles, descriptions, and other fields you are able to influence who sees your ads.
Shopping ads use product attributes and details indicated in the Merchant Center data feed - not keywords - to decide how and where to show your ads. That's why it is important to submit the correct product data through the Merchant Center. Do not forget to take into account all changes and updates, for example the product data specification update from January 2022, so the information about the product is accurate. Google uses these details when matching a user's search to your ads, showing the most relevant products according to user needs.
Google shows up to 30 Shopping Ads on a computer desktop and up to 15 on mobile. Now, while your products can appear as Shopping ads more than once, only one search ad per advertiser can show up at a time. This means that you can show multiple results in Google Shopping, but only one in search.

Pros:
Great visualization of the products
Broad reach
Goals tailored down to the product
Both Google Shopping and Text Ads have benefits. However, you have to understand their benefits and be aware of their limitations, so you can master the ads for your businesses. If you ask us, we will say that using both ad types represent the most optimal choice for online shopping and maximum exposure.
Where the ads appear
Shopping ads can appear at the same time as text ads. In this way, Google wants to give potential customers access to a variety of product ads that might match their search. This means that shoppers can find what they're looking for before clicking through to make a purchase. It might help you get the potential customer close to making a purchase.
For example, if you are selling a basketball jersey and have a text ad for basketball equipment and a shopping ad for basketball sportswear, a customer can see both ads on the same page.
How to get started
You probably already have a Google Shopping feed through Google Merchant Center, and that is a great start. Maybe you have also played around with Google Text Ads for your products, but have found it overly time consuming?
At WakeupData we always recommend starting with the data, make sure it is as good as it can be and that you are not using the same feed for all your channels, that's not efficient. We can offer you a free Shopping Feed Audit to help you understand if there is anything in your product feed that can be improved - most times that is the case.
When you have your product feed up to scratch, you can start looking into setting up Google Text Ads for your eCommerce products. At WakeupData we have a tool that makes this process much easier - and even easier when it comes to keeping your product text ads up-to-date. Which is an almost impossible task to do manually.
If you already have some or all of the above setup, but want to optimize it for better performance, we can also help you with that. Check our different plans, add-ons and prices on our feed management pricing page.