Amazon in Scandinavia - what is the status in 2020?
Posted on May 7, 2018 (Last Updated: July 06, 2021)
It is by no means new information that Amazon have their sights set on a base in the Nordics. Since 2014 rumours have been circulating about the e-commerce giant moving into Scandinavia – yet now there looks to be a firmer date on the table.
The launch of Amazon.se
In July 2020, after long speculation, Amazon announced their intention to launch a Swedish-based site.
"Amazon has been available to Swedish consumers and companies through our various European websites for years, but the next step is to introduce a complete retail offering in Sweden and that is what we are planning to do now,"

Alex Ootes, vice president of EU Expansion at Amazon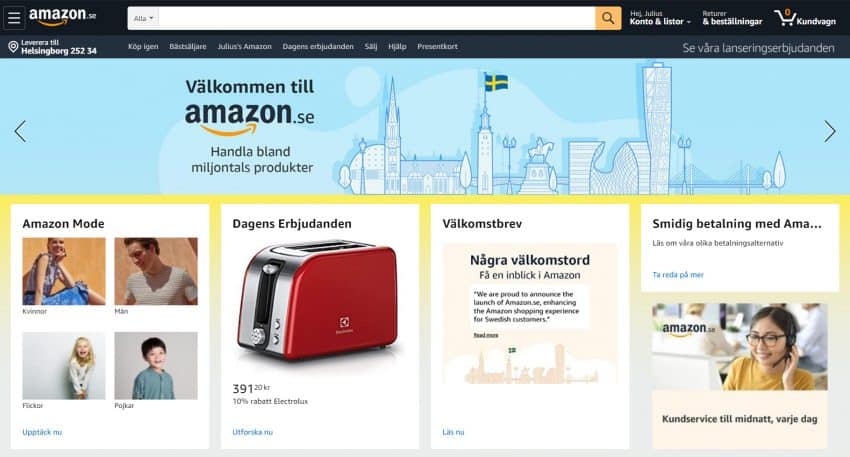 The upside for online stores and retailers that lack the resources for internationalization, is that Amazon provides an opportunity to find buyers across the Nordics even if it is at a higher transaction cost than you may be accustomed to.
The move into the Nordic region's biggest economy comes at a time when the U.S. retail giant is benefiting from an influx of consumers trying to avoid physical stores during the coronavirus pandemic.
But what does the launch of Amazon.se really mean for Sweden's e-commerce?
For now, it remains to be seen.
The first year of launch is predicted not to have a significant impact on Swedish ecommerce. As they seek to establish themselves in a new market, with Nordic-based companies making the transition to add Amazon as a sales channel, then Amazon will push the margins of Swedish and Nordic eretail.
Should merchants who want to reach Nordic consumers sell on Amazon.se?
A new arrival will always take time to gain a significant foothold, and not all companies and brands should seek to jump onto Amazon.se immediately. However, it would be an oversight not to at least investigate the possibilities and potential issues of selling via Amazon.
Failing to make a decision one way or another is where ecommerce retailers can lose out in the long run.

We asked a number of digital marketers, ecommerce managers and Amazon experts to share their insights on what the expansion of Amazon into the Nordics might mean, asking them:
1. What will be the impact on local players in the ecommerce industry?
2. How will shoppers in Sweden and the wider Nordics be impacted by Amazon's imminent arrival?
3.What should Amazon be wary of when expanding into a developed ecommerce market like Sweden's?
"Nordic ecommerce is about to enter a new stage in its evolution – an accelerated one."
1. Ecommerce is well established within most retail sectors in Sweden and there are several big players offering next day or even same day delivery at little or no cost in the larger cities. The COVID crisis has meant customers have increased their spend online and are familiar with buying products this way, especially in certain segments such as beauty, home electronics and baby products.

Many soon-to-be-competitors already have flexible logistics in place. Selective distribution is already a strategy for many premium brands and they can choose a strategy to circumnavigate Amazon. This aside, as Amazon enters the market, its local retailers and etailers will have to react, just as they had to adapt in the United States, Britain, Germany and France. Many have adopted successful strategies to meet the challenge from Amazon by repositioning to premium markets, improving their supply chains and logistics service, or extending brands that are not sold on Amazon.

It is important for companies to investigate and take a stance on how they interpret Amazon entering the market in relation to their business. A close eye on competition and prices is imperative. For those who are selling only through traditional distributors and not through their own channels, now would be a good time to review their business model and sell to consumers directly if possible.

Amazon can present big opportunities for strong consumer brands and offers a way to internationalise. For those retailers who are in the early phases of digitalisation and especially those who have not taken ecommerce seriously, they need to increase their pace because Amazon is likely to increase digitalisation.

Nordic ecommerce is about to enter a new stage in its evolution – an accelerated one.


2. There is price pressure in most areas of ecommerce today. However, Amazon is likely to compound this further. The speed of delivery at little or no cost are one of Amazon's strengths, which means other players will need to up their game, benefitting shoppers.

3. What should Amazon be wary of when expanding into a developed ecommerce market like Sweden's?

Sweden and the other Nordic countries take pride in local brands and the values of a company, how they contribute to society and the working conditions there.. This will play an important part alongside the huge product offerings, low prices and fast delivery on offer. In terms of ecommerce there is no doubt Amazon has a USP in their global presence and track-record, the challenge in Sweden may be more on the "softer" side of business. They will need to build a clear local identity, which can take time to establish.

Amazon's USPs in large markets are huge product breadth, competitive pricing and delivery time/reliability. Many local players in Sweden already deliver on the same day within cities, so it will be interesting to see how Amazon can deliver faster on one of its main key selling points. As for Amazon's competitive (lower) pricing strategy, gross margin in the electronic categories is already squeezed. How much more can be taken out? How long will Amazon accept loosing money – within the Nordics as well as most of its established markets?

The Nordics is a complicated market. Logistically, it spans large distances across smaller populations than Amazon's main markets and this will make it expensive to serve if they go for full national coverage. Amazon's market entry may focus on population centres surrounding larger cities such as Stockholm which are receptive to ecommerce and operate mature markets. Amazon's entry will undoubtedly continue to accelerate online penetration which will potentially also benefit other ecommerce players."

Lars Herrem, Group Executive Director, Nigel Wright Group

"Amazon's arrival in Scandinavia will see customer expectations rise"

1. Amazon is established for raising the bar when it comes to customer experience. Regardless if that's the assortment available, delivery times or no quibble returns.

For competitors in Sweden, this means one thing - customers' expectations are going to rise, and it's going to happen first. If the incumbents can not meet the new standard, they will likely see a significant level of customer attrition across the next couple of years. Once that occurs, there's no going back - especially if Amazon builds out a local prime offering that resonates with consumers.

2. Shoppers are likely going to be delighted by the speed at which Amazon moves. Additionally, how the company improves the experience of shopping online but localizing offers mirrored from other established markets they operate in.

Yes, there will be hiccups, but Amazon is quick to learn from their mistakes and add root cause remedies in my experience.

3. In established markets, incumbents understand local preferences and needs better than Amazon will do at the beginning. They must use local knowledge to draw out customer requirements before proceeding ahead with full speed. Although, I have no doubt this has already been considered.

Ahmed Mir, Founder - SipCoffeeHouse
Strong support for small Scandinavian businesses will be a challenge for Amazon.se
1. A lot of the Scandinavian countries have a very supportive system of small and local businesses, this means it could be difficult for Amazon to break through in Sweden, however it's affiliation programme may become a hit as small businesses will now be able to deliver goods through Amazon's delivery system, keeping prices low and the quality still high.

2. Shoppers will be affected in a positive way as the deliveries will allow a greater flexibility in the retail sector, even though Sweden hasn't been impacted as much as the rest of the world by the pandemic, there still is a sense of worry of what could come, this is where Amazon could become crucial for the country's retail goods sales.

3. Amazon needs to be careful of how they approach and market themselves in Sweden, making it seem like they are there to beat the competition and will not go down well, this is because of the already booming e-commerce marketspace.

A giant such as Amazon will not be seen as an improvement but as a problem which the Swedes will not appreciate.

Ethan Taub, CEO, Loanry
Established European retailers will also challenge Amazon's arrival
1. Amazon will have a hard time penetrating the Nordic market, so the impact will not be tremendous on local players. This is mainly due to already established online retailers, and the public's disposition towards shopping online. Amazon would have to prove to the customer that has more value than more established, specialized shops.

2. Shoppers in Sweden will have access to a broader range of product categories from a single place, as opposed to having to buy from specialized retailers that often focus on very few categories, like home goods and apparel.

3. Amazon should be wary of the cultural aspects of shopping of the region, and existing competing platforms. In Brazil for example, the biggest online platform is Mercado Livre.
Buying on this platform is so ingrained in present Brazilian culture that Amazon has not been able to gain much traction. In Sweden, Amazon will have to compete with CDON, and more specialized retailers like Ikea.

Felipe Vasconcelos, CEO of Kapuluan Coconut
The story from Scandinavia prior to the launch of Amazon.se
In October 2017, Pricerunner CEO Nicklas Storåkers made it a matter of when, not if, they would be present, after he announced that his 'reliable source' had given confirmation that Amazon would move into Sweden in the next "1 to 12 months".
Stefan Lundell, co-founder of the Swedish website Breakit, echoed the certainty of Storåkers when he declared he was "as sure as I can be" about Amazon launching in Sweden. One of the reasons for his certainty was that representatives from Amazon had contacted some of the largest media companies in Sweden to buy advertising space.

The new Amazon Web Store (AWS) EU will almost certainly be operational in 2018 – after purchasing real estate to establish centers in the towns of Katrineholm, Vasteras and Eskilstuna, located west of Stockholm. These will enable webstore owners using AWS to serve end-users across the Nordics with even lower latency.
"AWS's decision to open a new region in Sweden to serve the Nordics with flexible, secure, reliable, and low latency cloud services confirms that Sweden has the best possible conditions to operate large-scale datacenters," says Tomas Sokolnicki, head of datacenters at Business Sweden.
Why should you care about Amazon in Scandinavia?
It might not seem like Amazon's arrival will have the biggest impact on you or your ecommerce business. There are already ecommerce giants in Sweden, like Ikea, Elgiganten and H&M - what difference does another seat at the table make?
The difference is of billions of dollars - 232.9 billion to be exact - only slightly less than the entire GDP of Finland at 237 billion. In fact, Amazon sells more than many of these 'Nordic giant' ecommerce sites combined - with an impressive 606 million products worldwide.
It already dominates the ecommerce markets of the UK, US, Germany and Ireland - so with the sites set on Scandinavia its fair to say that big changes could be seen over the next few years.
What's more, people in the Nordics are already familiar with the brand, having used the UK and DE versions for years. The arrival of Amazon warehouses will mean consumers can purchase the same products at lower shipping costs.
Existing presence in Europe
Amazon already has three 'data centers' in Ireland, two in Great Britain and two in Germany. "For over a decade, we've had a large number of Nordic customers building their businesses on AWS," the head of AWS, Andy Jassy, said in a statement from Agence France Presse.
Sweden, and the Nordics in general, have a strong proven track record in the digital economy, driven by a high rate of technology adoption, innovation and a creative business climate. The adoption of cloud has matured to an advanced stage where the private and public sectors increasingly are relying more on cloud infrastructure.
About Amazon Web Services
For 11 years, AWS has been the world's most comprehensive and broadly adopted cloud platform. AWS offers over 90 fully featured services for compute, storage, networking, database, analytics, application services, deployment, management, developer, mobile, Internet of Things (IoT), Artificial Intelligence (AI), security, hybrid and enterprise applications, from 42 Availability Zones (AZs) across 16 geographic regions in:
The US, Australia, Brazil, Canada, China, Germany, India, Ireland, Japan, Korea, Singapore and the UK.
AWS services are trusted by millions of active customers around the world monthly — including the fastest growing startups, largest enterprises, and leading government agencies — to power their infrastructure, making them more agile,and lowering their costs.


What does the launch of Amazon.se mean for retailers and online businesses?
The arrival of Amazon in Scandinavia will mean suppliers and businesses across Denmark, Sweden, Norway and Finland will have access to a new channel, with a vast customer base, paying only per sale of their products.
Based on the global exponential growth of Amazon in recent years, this is a trend that web-shop owners will not want to miss out on.
Preparing your ecommerce store for Amazon
If you want to capture the additional revenue that Amazon can provide your online store, the key is preparing your products
Apart from deciding which products you want listed on Amazon, focus on improving the quality of your product information before you set up your intergration with the ecommerce giant.
Meeting feeds requirements by ensuring you have provided EAN numbers, color, branding, additonal images , etc means you won't get products declined by Amazon.
You can set up a fully optimized and high-quality Amazon Product Feed in no time at all with WakeupData. We are experts in providing online retailers of all sizes with the capabilities to crawl, clean, split test (above) and bring out the very best in their product data feeds.
Get in touch for more info or download our Selling on Amazon FREE e-book.