Amazon in Sweden - launch of Amazon.se to build Nordic precense
Posted on December 12, 2018 (Last Updated: July 14, 2021)
The launch of Amazon.se
In July 2020, after long speculation, Amazon announced their intention to launch a Swedish-based site.
"Amazon has been available to Swedish consumers and companies through our various European websites for years, but the next step is to introduce a complete retail offering in Sweden and that is what we are planning to do now,"

Alex Ootes, vice president of EU Expansion at Amazon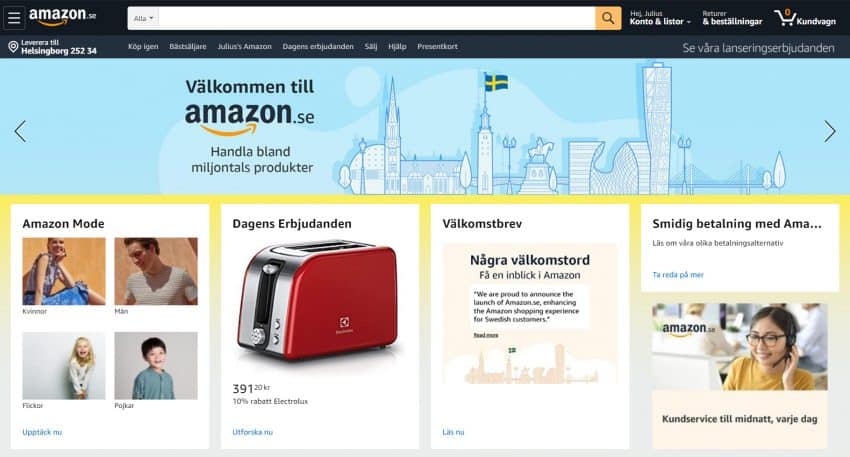 The upside for online stores and retailers that lack the resources for internationalization, is that Amazon provides an opportunity to find buyers across the Nordics even if it is at a higher transaction cost than you may be accustomed to.
The move into the Nordic region's biggest economy comes at a time when the U.S. retail giant is benefiting from an influx of consumers trying to avoid physical stores during the coronavirus pandemic.
But what does the launch of Amazon.se really mean for Sweden's e-commerce?
For now, it remains to be seen.
The first year of launch is predicted not to have a significant impact on Swedish ecommerce. As they seek to establish themselves in a new market, with Nordic-based companies making the transition to add Amazon as a sales channel, then Amazon will push the margins of Swedish and Nordic eretail.
Should merchants who want to reach Nordic consumers sell on Amazon.se?
A new arrival to an established market will always take time to gain a significant foothold, and not all companies and brands should seek to jump onto Amazon.se immediately. However, it would be an oversight not to at least investigate the possibilities and potential issues of selling via Amazon.
The initial launch of AWS in Sweden
On Wednesday 12th December 2018
Amazon
opened its new data centers just outside of Stockholm at
Eskilstuna, Västerås and Katrineholm
– the first of their kind not only in Sweden but the whole of the Nordics.