How to get the best performance from Facebook Dynamic Product Ads
Posted on January 25, 2021 (Last Updated: January 25, 2021)
Whether its for prospecting or remarketing, Facebook Dynamic Product Ads need creative and engaging visuals to drive the best performance.
As digital advertising becomes more and more about relevancy and hyper-personalization, there is a constant need for well-crafted, performance-driving images for ecommerce brands' products.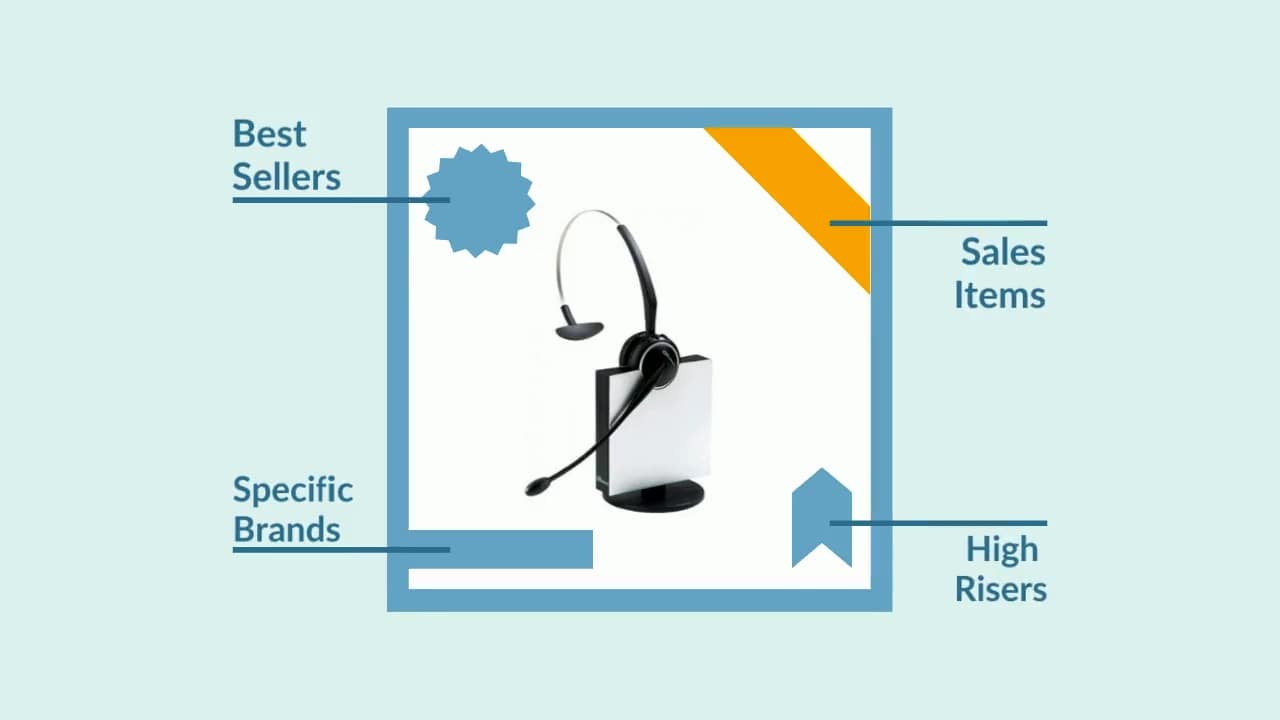 The creatives of your product ads are the first thing that a potential customer sees.
As we'll see in this short article, the better your image design is, the better performance you will see in terms of reach, engagement and ROAS.
The key to good Dynamic Product Ad performance? Decide on your product positioning
Instead of mimicking ad visuals that might work for other brands, it's vital for your business to establish your own product positioning before you expect potential customers to engage with your listings.
Each and every ecommerce business will be perceived by potential customers through comparison to their competitors, spanning the spectrum of luxury brands through to budget retailers.
Compare it to shopping for furniture. This is the difference between premium brands offering luxury design, to mid-market brands offering a range of choice, to discount brands like IKEA offering affordability to all.
1. High-end Brands
The main selling point of a premium brand, is always going to be the brand itself.
People don't buy an Apple TV+ because of the visual quality (although that will certainly be a factor). They buy it because it is the brand they want.
The story behind the brand and what it says about themselves is always more important than any technological innovation or any potential savings to the consumer - and that should be reflected in your Facebook DPAs.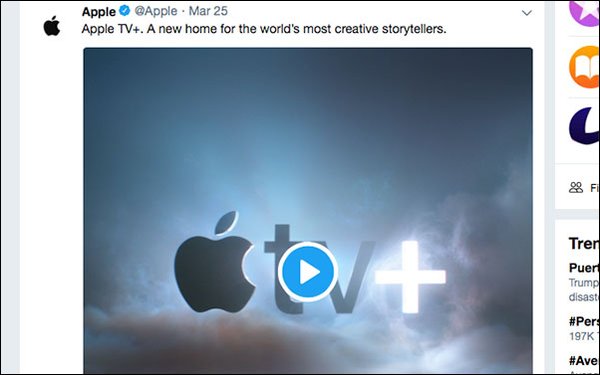 This ad from Apple tells a narrative without focusing on the price.
Therefore, scarcity is right up your alley to take advantage of in your creatives.
For example, if you're the only dealer of your product in your region (or perhaps country), that's a natural and unique selling point to use in your dynamic product ads.
2. Mid-market brands
Mid-market usually means you are optimizing for specific features.
Unlike the preivious example, for mid-market brands it is crucial that your Dynamic Product Ads outline key features of your product (e.g. waterproof, adjustable, calorie-tracking, etc).
You are telling your audience what they are getting for the price, so need to present yourself as the unquestionable expert on this product.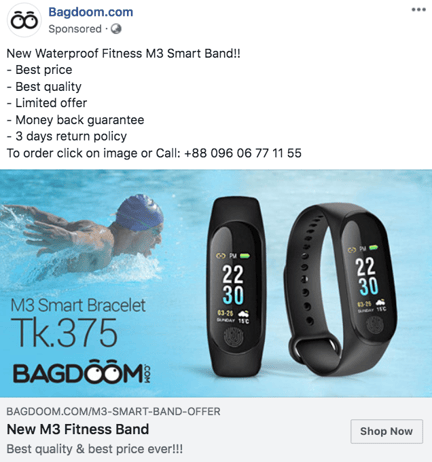 The DPA for this smart watch presents a lot of information about the product and the offer, both within the ad copy and the product image.
Mid-market brands should always be trying to answer the same customer question with their DPAs:
Where can I find the best product for the best price?

The problem? Hundreds of competitor mid-market brands are running DPAs using the same strategy as you.
The solution? Create engaging, eye-catching creatives! Run continual A/B tests to see which ones work best and keep adapting to meet your audience's needs.
3. Discount brands
Ads for discount products are only clicked for one reason: Because they convince the customer that they can save money
So when discount brands are creating DPAs the focus should be on savings and cheapness of products in relation to your leading competitors. This Carousel ad from one of WakeupData's customers focuses more on the price and the savings for the customer.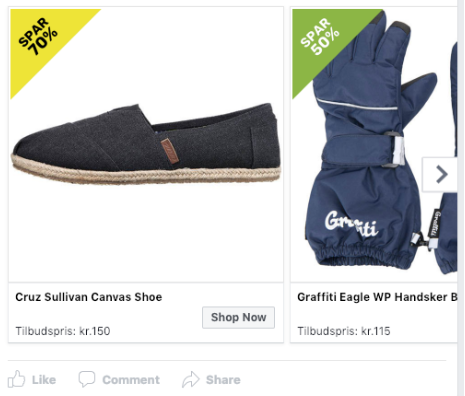 They were able to improve CTR and ROAS by using our Image Transformation tool - you can read about the case in detail here.

A specialized and affordable image optimization tool
With our Image Transformation tool for Facebook DPAs, you can create templates for every product image in your feed.

These templates are made up of customizable layers, allowing you to add additional info to the image like borders, overlays, fonts, logos and promotional text.
- It minimizes the risk of human error. Applying templates to your product images reduces the risk of mistakes. All your ad images can be rapidly optimized with brand-relevant content and promotions.
- Allows you to keep your production in-house. This minimizes costs and the long delays of having to wait for exterior help before you can implement important online campaigns.
- It allows you to stand out from the crowd. Eye-catching, engaging and creative ad images drive impressions, clicks and conversions from your ads. While you competitors start to use new tricks to get ahead, creative image transformation reduces time and costs while consistently driving performance:
- It saves time and is affordable. Our guiding principle is to save our client's time, and that is what our tool provides. Simultaneously, we offer the same easy interface and dedicated support as all the other tools - for a fraction of the cost: Just 300 DKK a month for 30 000 products.