Competitor Monitoring for Ecommerce | Client Case
Posted on June 9, 2020 (Last Updated: November 21, 2022)
The subject of this client case is a building industry supplier, located in Denmark (kept anonymous for the purposes of this case). They pride themselves not only on providing high-quality goods to start building projects, but on offering advice and expertise to all their clients.
Alongside several physical building and supply centres across Denmark, they operate a large eCommerce store, selling thousands of their products across several online channels in multiple countries.
An Overview of the Case: Price monitoring and automated matching
By using WakeupData's Competitor Price Monitoring tool, they have been able to effectively monitor their competitors by receiving reports on a daily basis. By matching specific listings to corresponding products of their competitors, they have been able to monitor price changes and take relevant action to ensure their products consistently rank highest.


A Price Comparison Case Overview
The Challenge:

To get better, regular insights into changes in competitor products and pricing.
To be able to take relevant actions to out-compete and consistently out-rank competitors.
The Process:
Daily web crawl of 5 competitors' websites.
Segmenting using dynamic filters.
Automatic matching generates a report ranked on price.
Competitor data is merged with their own feed and sent to our client's purchasing department.
The result:
They can easily adjust their bidding strategy on a daily basis to rank above competitors.

For new products, they can immediately see the competitor pricing and if they should make changes to the price or renegotiate with their supplier.
The details of the Competitor Monitoring Process
Our client is using the WakeupData web crawler to retrieve certain information from 5 different competitors on a daily basis. Once the product data has been extracted from each site, they are able to use it in two different ways.
Before they start using the data, they have created a segmentation of each product in order to avoid 'data overflow'. This means that they only choose the best performing products, and products which they know are very price sensitive. In this way they are able to create a filter for the competitors' products and can focus on products of particular interest to them.
This segmentation is based on a dynamic filter. This means that if the competitor is adding products to a portfolio at some point in the future, which are featured in the list of interesting products from our client, they will be automatically added to the monitoring list.
Furthermore, if they increase the size of this portfolio which they are monitoring, the product filter for the competitors will be increased as well.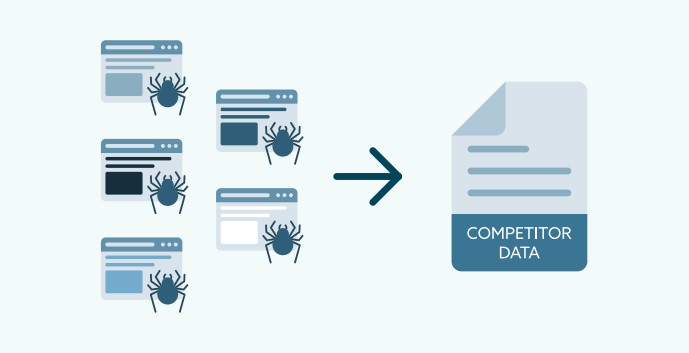 Data Usage - The data which has been retrieved via the daily crawls is then
being used in two different ways:
1. Automated Product Matching
The data which has been retrieved via the daily crawls is then being used in two different ways: They are feeding the filtered competitor data into the WakeupData tool together with their own product feed, filtered in exactly the same way as these competitors. This means that in the Recon tool, they are able to do an automated matching based on the unique product SKUs and MPNs.
This happens on a daily basis and all new SKU/MPN which are added to the feeds will be automatically matched up. After this automatic matching is done, the WakeupData system generates a report, which tells our client their specific product ranking placement based on price compared on any SKU/MPN matched with the given competitors.
This means that they always know if a product is competitively priced or not. Furthermore, the report tells them the difference in price, which will be either a negative or positive difference based on their given placement.
Result: This data is then merged to their shopping feed through WakeupData. During this process our client has done calculations on the price differences based on the percentage that they deviate from the cheapest price, in order to adjust their bidding strategy accordingly.
2. Merging and generation of a tailored report.
The second way that they are able to use the raw data coming from the supplier site is to merge it together with their own feed and send it to a Sheet.
This means that each of their own products are merged together with the equivalent from the competitors. The only data in the sheet is ID, CATEGORY, TITLE, PRICE and the COMP TITLE and PRICE.
Result: This sheet is then published to the purchasing division of our client, so that when they get products in, they can immediately see how the competitor is pricing the product and if they should make changes to the price or renegotiate with their supplier.
Gain control over your data to receive actionable insights that help drive revenue
If you are curious about Competitor Price Monitoring or Website crawls and would like to know how you can get started, you can get a free demo from one of our experts below.
They will be happy to take you through the whole process, and outline how we can tailor our offering to meet your unique business needs.