10 Top Facebook Ad Copy Tips to Improve Your Conversions
Posted on February 3, 2020 (Last Updated: November 15, 2022)
If you want to make a notable difference to reaching your Conversion and ROI goals through your digital marketing efforts in 2021, you should know that Facebook continues to be the number one social media website for business.
However, getting some use out of this globally popular social media network means that you have to pay close attention to your ad copy. Persuasive copy isn't easy to compose but it's necessary for an effective Facebook campaign.
If you want to get an insight into how top brands create effective Facebook ad copy check out the following practical tips.
1. Use a Clear and Direct Headline
What is the first thing that your audience will notice when they come across the ad? The headline, of course. Therefore, you need to pay close attention to how you compose the ad headline.
A 5-word headline is the best choice when it comes to length. Try to summarize what your ad is about within that limit - any more and you'll start to lose audience interest.
Another useful tip that you can apply is to start the headline with a number. According to research from WordSteam, 36% of participants claim that Facebook headlines that start with numbers resonate with them the most.
Direct headlines are very impactful. Create direct headlines by using the imperative mood. That is, let the headline look like a request or a command. This direct approach will depict determination and certainty.
The following Slack ad has an impactful headline with a clear and direct approach: Make work better.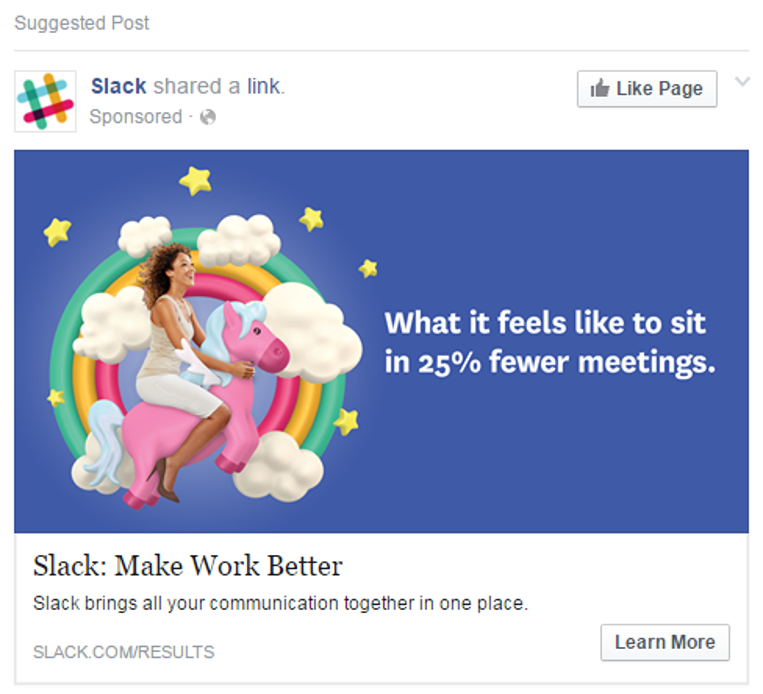 2. Try the "Yes" Question
"Yes" questions are a useful way to get the audience on your side. The thing with "yes" questions is that they draw the audience in because they feel like you understand them.
This is how it is done: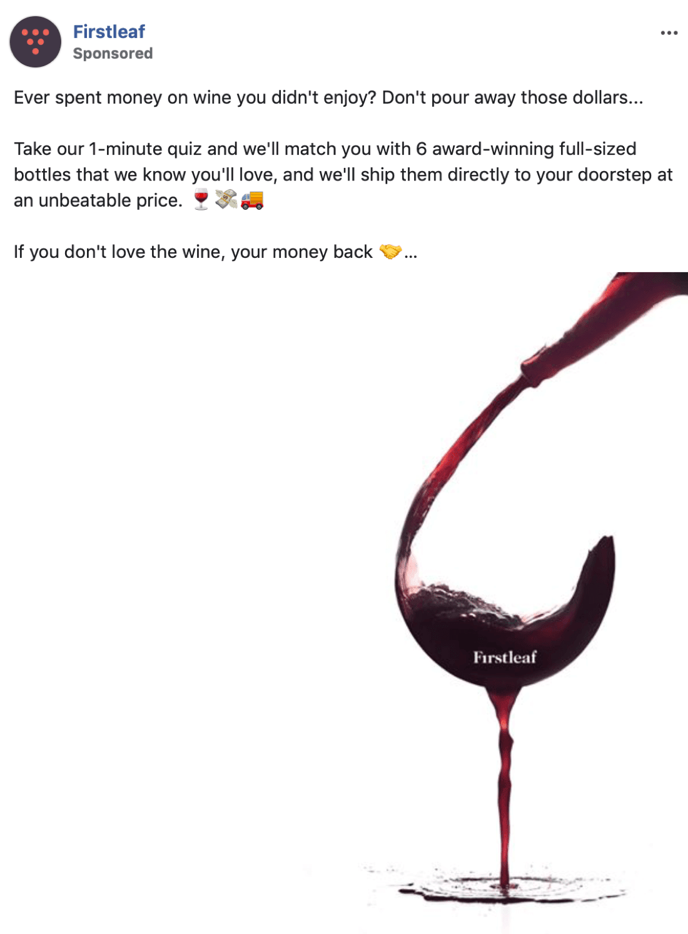 With a simple question, "Ever spent money on a wine you didn't enjoy?" Firstleaf will win over any wine lover who has gone through that type of situation. Show the audience that you understand their struggles.
What makes "yes" questions so effective is that they are crafted for a specific audience. You can't create an ad with a "yes" question that will resonate with everyone.
For that reason, you need to determine the demographic and preference of the audience that you plan to target. That is the only way in which you'll be able to connect with your audience and make them say "yes".
3. Add a relevant Call-to-Action
One of the most important parts of your ad copy is call-to-action. You want your audience to convert, right? Then, you need to properly direct them to actions which they need to take.
For driving conversions, you can use call-to-action such as:
Click here for your 20% discount
Join our Facebook community here
Sign up for our completely free webinar
Call-to-action needs to be simple and relevant to the ad. It is crucial that you don't try to distract the audience with irrelevant ad content and add a call-to-action that has nothing to do with that.
It is recommended that you use a singular call-to-action per post. Multiple options can scatter the user's attention and make them indecisive. Considering that your goal is to encourage the users to act ASAP, a singular call-to-action will simplify their decision.
The users need to have a clear understanding of what they'll gain by clicking your call-to-action. Take a look at how Blue Apron embedded the call-to-action into their Facebook ad.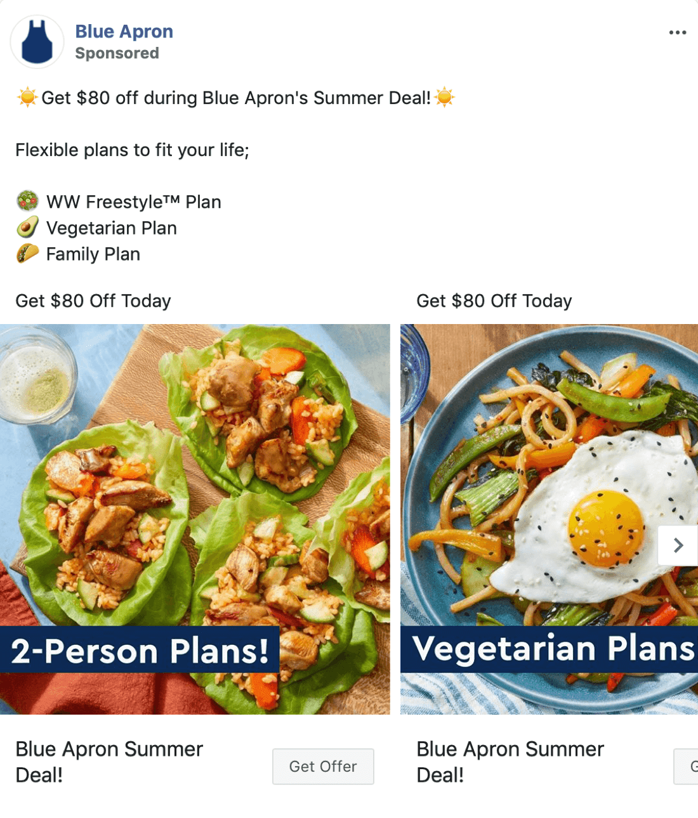 Source
Think about adding calls-to-action to product images too. If you're limited for space and don't want to produce an overly-long title, a simple promotion or offer on your Ad Image can have the same positive effect.
4. Take Advantage of Trending Topics
During the whole Game of Throne craze, Red Swan pizza used that as an opportunity to add a clever text to their Facebook ad: Winter is coming (and so is your pizza)!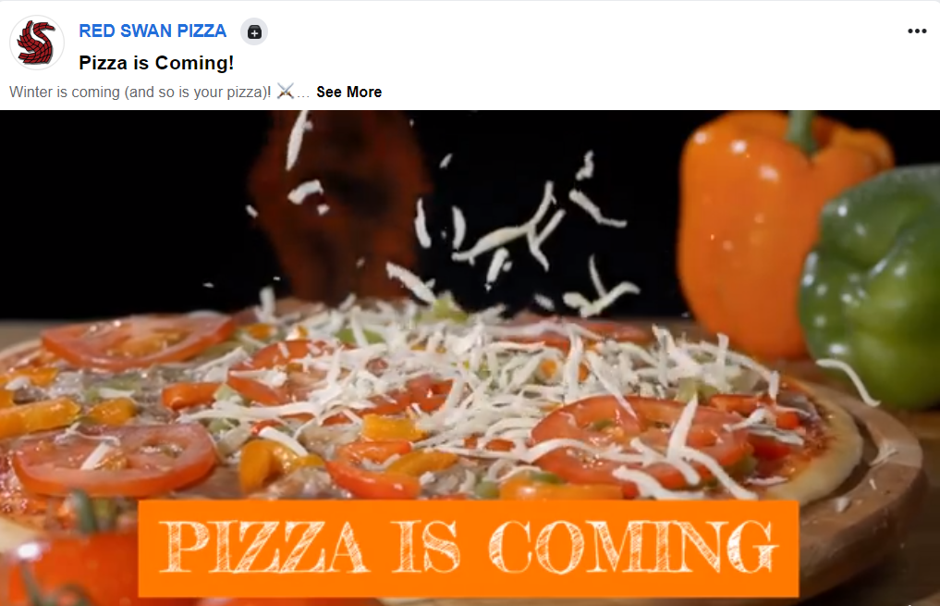 When there is an event that is occupying the attention of your audience, use it to drive their attention to your ad.
You can keep up with trending topics by using Google Trends. Or simply monitor competitors and the behavior of your audience on Facebook and establish what they're interested in and are talking about.
5. Evoke Emotions
Humanize your ad by crafting emotional copy that will touch the heart of your users. There are numerous ways in which you can evoke emotions in users with your ads. For example:
Talk about problems that people face
Mention your personal story
Feature a family story
State your humanitarian side by promoting donating to different causes
Find a way to connect your store to an ad that will evoke an emotional response. Address problems that people have to endure and which can be solved with your services.
Or, if you are organizing collecting donations, such as donating a $1 from every purchase to a specific cause, mention that in the ad.
6. Feature Testimonials
Did you know that 72% of internet users claim that they trust online reviews just as much as they would trust a relative or friend's opinion?
Include testimonials from your satisfied customers to increase your brand's credibility. Ads don't just have to consist of your direct promotion of your product. Let the customers be your brand ambassadors and convince others to give your store a try.
Here's an example of how user's testimonials can become your ad material.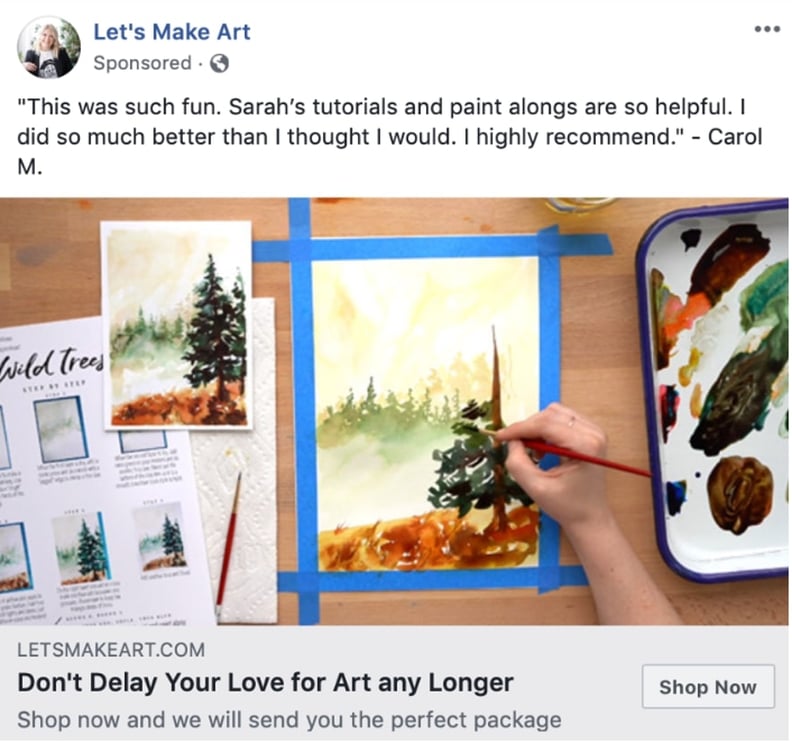 Such testimonials provide social proof and help the users to feel more trustworthy towards your brand.
7. Tell Stories
Stories make a compelling copy which makes them perfect for your ad content.
Storytelling technique is heavily used in the world of marketing because of the convincing effect it has on the users. Feel free to loosen up your imagination and think of a yet untold story you can share with your users.
Tell the users about your company's origins in a few simple sentences. Share your goals and dreams and how the users can contribute. Let them know about a story from users who use your product or service. The choice is endless.
Raddish Kids knows the impact that effective stories can be, which is why they shared this single parent's story of how important the Raddish box is to her daughter.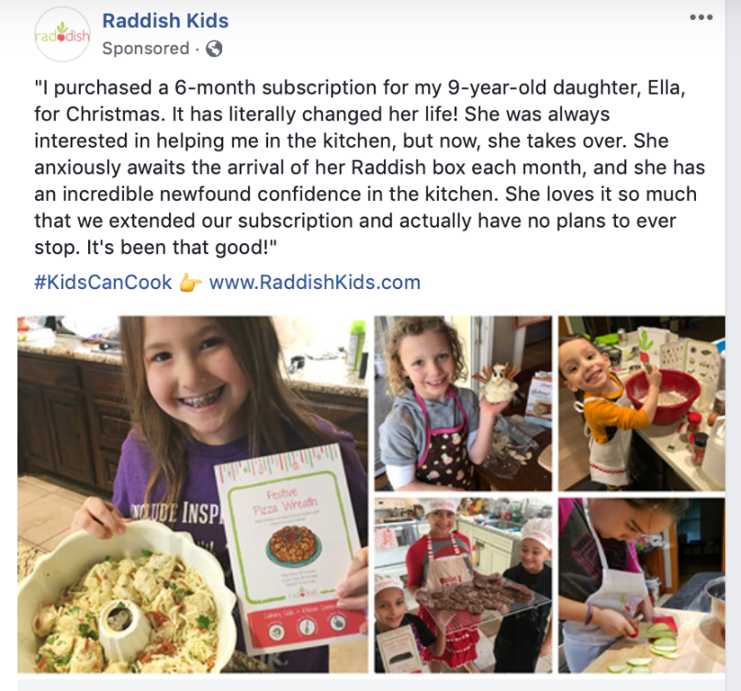 8. Add URL into the Copy
With so many Dynamic Product ads on Facebook (check out some of Mobile Monkeys best Facebook ad examples here), you want to provide the users with something that will single you out. from the crowd What can help you out is presenting your ad as organic content.
Do that by testing out the effect of adding the URL into the copy of the ad. This gives the impression to your audience that they are engaging with any other post they find on their feed.
Try to seamlessly place the link in the copy so that it comes naturally to the users to click on it. It can look something like this: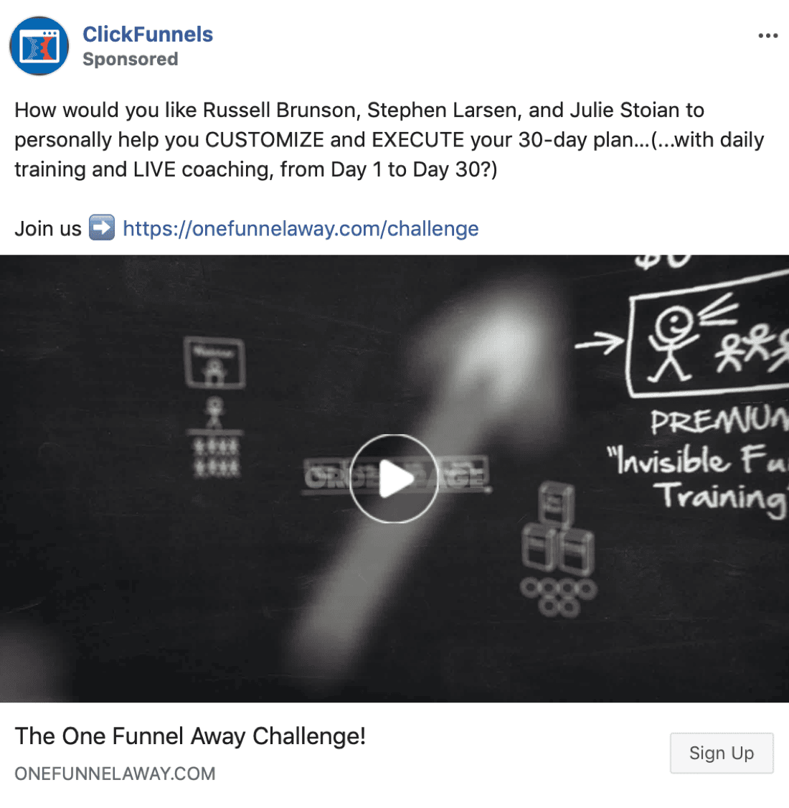 9. Edit the Copy
Before you give that final "yes" to the copy, get someone to check out what you've created. Two pairs of eyes see better than one.
There's more to proofreading and editing than you spotting writing and grammar mistakes. By having someone else look at the copy, you'll have a more objective opinion.
The person who created the ad can't be subjective about the content.
If you don't already have a talented writer on your team, you can team up with writing services like TrustMyPaper. In that case, you will be the one who will determine whether the copy needs further work.
Another crucial aspect of well-written copy is readability. Users of different educational backgrounds need to understand your ad. Therefore, think about using a readability checker tools such as Readable.
10. Enhance the Copy with an Optimized Image
The ad won't reach its full potential if there is no image to enhance it. Being such visual beings, people are more drawn to ads with corresponding imagery.
The image you use in the ad needs to support your claims and be relevant to the content. It can depict what you are mentioning in the ad, for example, if you are promoting a new clothing line, add an image with a few new pieces.
Don't be afraid to get creative and add some fun photos or images that will encourage the users to take action.
Shopify showed us a great way of using imagery. Their headline is simple: Build your store on FB! But then they added a powerful image with text: What's stopping you?
Even though when you first look at the image you won't think of Shopify. However, the empowering text that is featured on the picture motivates the users to make a difference in their life.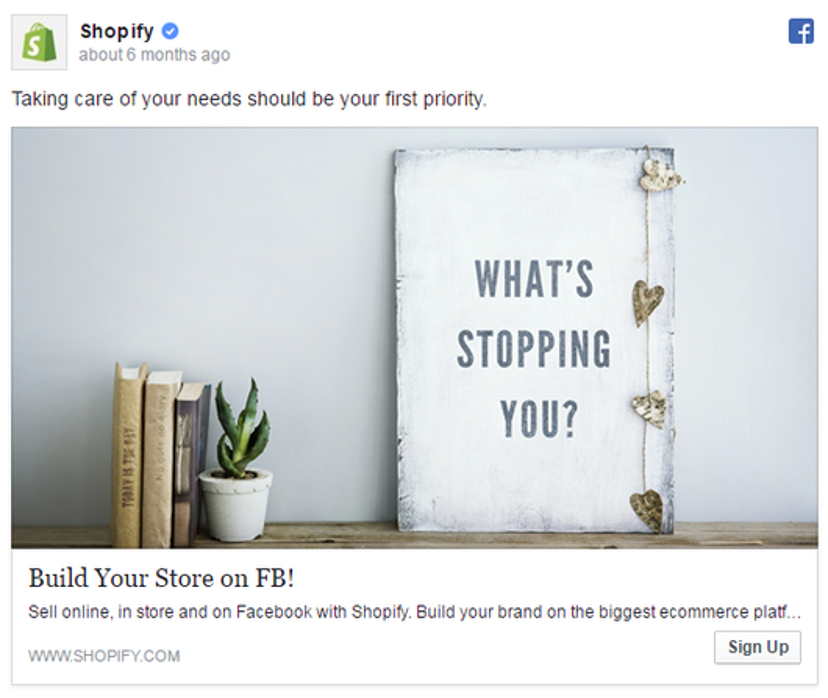 When choosing an image for your ad, consider the following design recommendations by Facebook: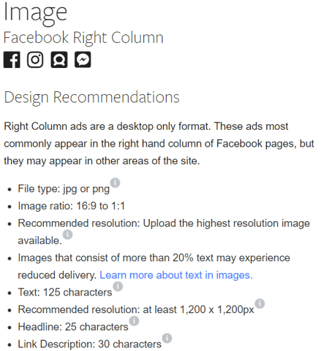 The design recommendations are based on the type of ad. That is, whether the ad will be shown on Facebook feed or in the right column.
Lastly, Don't Forget to be Unique
There is one last tip that can be applied to each one above and that is – add your own twist to it! Users will easily recognize copy-paste ads. Don't try to be like someone else, just be you and develop your own branding.
The tips we talked about will serve you as guidance through the process of making your original Facebook ads. Each example just shows all the imaginative ways that companies use in their ads. However, you need to show off your originality if you truly want to increase your conversions.
Want more insight into building effective Facebook Ads that convert?
Check out our Facebook Dynamic Ads guide, which contains expert advice and statistics on how Digital Marketers can build campaigns that perform well, engaging the right audiences with the right messages.
About the Author:
Kristin Savage nourishes, sparks and empowers using the magic of a word. Along with pursuing her degree in Creative Writing, Kristin gained experience in the publishing industry, with expertise in marketing strategy for publishers and authors. Now she works as a freelance writer at GrabMyEssay