Facebook Travel Ads - Your Guide
Posted on May 15, 2019 (Last Updated: August 17, 2021)
Travel ads (formally known as dynamic ads for travel - or simply DAT) let you automatically show ads across Facebook, Instagram and Audience Network to people who are planning a trip.
For example, if someone has been looking at accommodation but didn't book anything - or maybe browsing certain flights - your travel ads could target them. These can be based on specific dates the audience member has searched for, certain destinations or specific attractions they may be interested in.
In this short guide we will take a look at how's and why's of Facebook Travel ads.
Why are Facebook Travel ads needed?
Before their introduction, travel businesses could only run retargeting ads on Facebook using the Dynamic Ads format.
Yet the format of traditional dynamic ads is not optimal, as the travel industry is so diverse: from travel agencies to hotels, cruises and airlines - all selling different products and experiences that cannot fit into ordinary ad templates.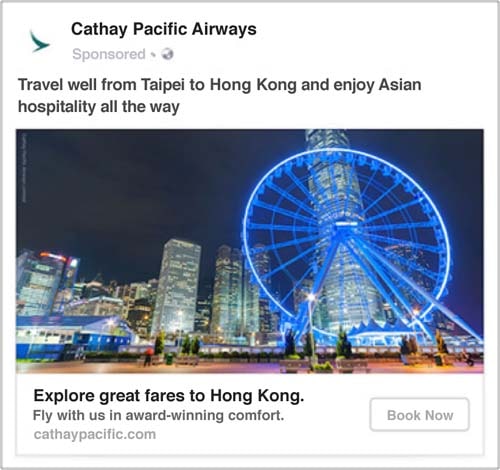 What's more, the prices of the travel industry change so much in comparison to other industries - influenced by seasons, availability, time of booking etc.
That's why a customized ad format that is made specifically for these business to specify exactly what they need is the solution to this issue.
How are travel ads similar to traditional dynamic ads?
If you are familiar with the
dynamic ads concept
and layout for Facebook (
and Instagram
), you might be wondering how they ads for travel industry marketers are similar.
To learn a bit more about conventional Dynamic Ads - you can check out our guide below:
The Same Objectives
Just as with Dynamic Ads, the objective of Travel Ads are sales from your Product Catalog.
The only difference is that you are not advertising a physical product but a service; the automatic retargeting and scalability of travel ads are just the same.
Available across all devices
This may seem like it should be a given when it comes to modern social media advertising.
For travel ads it's especially important though, as shoppers might begin by looking at offers on their phone, then switch to a tablet and end up on a desktop. Travel Ads reach targeted shoppers across all devices, and since they are reached via Facebook and Instagram feeds (plus the Audience Network), it doesn't matter which device they are browsing on.
The advantages of Travel ads for marketers.
1. Dynamically change certain categories
As I mentioned above, what makes the travel industry somewhat unique is the variability of factors like pricing or availability - which can fluctuate from one minute to the next.
For this reason, Travel ads for Facebook use
an extra data feed
that updates more often than traditional product ads.
The reason for using dynamic feed? The Facebook algorithm will be able to select the most relevant and updated prices that matches audience intent.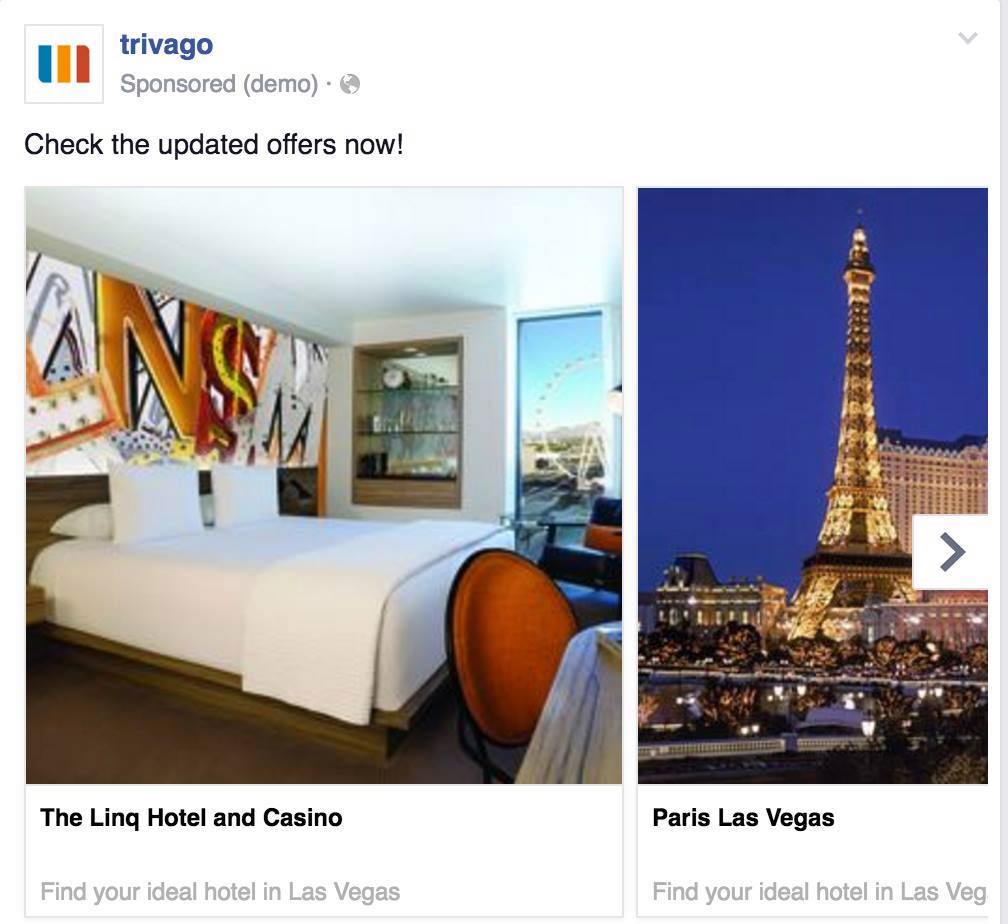 2. The ability to group into product sets
What this means is that you can run several offers using just one ad.
For example, one Product Set might include a specific group of accommodation options all with similar pricing or location.
Travel marketers simply have to group these similar offers together into product sets, and Facebook will promote multiple offers together in the same ad.
The reason for using product sets? You are increasing the number of options available for your target audience, and helping yourself to bid more effectively on ads which are relevant to buyers.
3. The ability to track travel-related searches
You can use search engines like TripAdvisor and Trivago to get hold of key information from your target audience - like group size, destination, activity, etc.
This changes the content of your ads and sends the user to a personalized landing page on your site.
The reason for tracking travel-related searches? Search inputs on your landing pages will be pre-filled to match the browsing history of the user, and personalization on this level has consistently shown to be effective in increasing conversions through travel advertising.
Best practice tips - Getting the best results from your Travel Ads
1. Use focused targeting
As already stated, the audience you build can be extremely granular. Use this to build ads suits to your audience's exact needs and interests.
The image below shows just how granular you can go with your audience creation.
When it comes to building audiences that work effectively for your Facebook advertising campaigns, there are a number of options available to digital markers.
2. Use up-selling and cross-selling features to increase revenue
As with Dynamic Ads for Facebook, travel ads give you upselling features to sell more to audience members who are already engaged with your services.
E.g. For flight campaigns, display travel ads that offer upgrades to business class for those who have already purchased standard- class tickets for the same flight.
E.g. For hotel marketers, you can offer guests who have already booked a weekend stay an upgrade to a larger room with a better view.
Cross-selling on the other hand, can be used to add to their purchasing for their travel period. This could involve a family of 4 who have booked flight tickets to Crete being targeted with car hire or hotels in that destination.
3. Use the management features to retain control over travel ad campaigns
Don't waste budget on audience members who can be ruled out. You can tailor your travel ads so they are only displayed in the build up to specific periods, and can rule out users who have already been converted for retargeting.
Keeping an eye on where you can avoid unwanted ad spend will help increase your ROI - and stop you being irritating or irrelevant for your viewers too!
How to get started with Facebook Travel ads?
You only set it up once
Travel ads are automatic, efficient and adaptable – you only have to set up your campaign once to promote all of your inventory, without having to create each ad separately.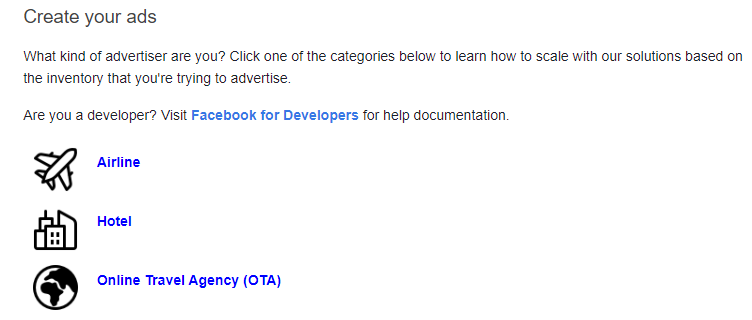 Implement the Facebook pixel
The Facebook pixel will give you reports on how often your inventory is viewed or booked on your site. Facebook SDK and app events will do the same thing for your mobile app.
Upload your travel catalog
Your travel catalog will contain a list of all the products and other product information, such as location, price and availability, that will be included in your ad.
Create a template for your ads
As outlined in this article, you have freedom with Facebook travel ads to create an ad template that will dynamically insert images and details from your catalog to match your audience's travel intent.
With a clear idea beforehand of your targets, you can bid intelligently on your ads, which will ultimately help improve your ROI.
The above-mentioned features and benefits of DAT aim to help businesses in the travel industry really narrow down on their target market, get creative with their ads and offers, and
reach new heights when selling on Facebook
.
Reach out to us if you have any questions or want to get started with Facebook travel ads - and check out our guides to
Automotive
and
Dynamic ads
to see the range of advertising options available to digital marketers.
Want to learn more about your Dynamic Ad campaigns? Check out our
free Facebook Dynamic Ads ebook
, which takes you through the How's, Why's and What's of running effective, optimized campaigns that build revenue.
Get an insight into the WakeupData platform from one of our feed marketing experts. We will outline how our feed marketing expertise and tailored solutions can provide you with optimized results at the best value for money.