Going beyond the same old routine to boost Black Friday revenue
Posted on September 16, 2019 (Last Updated: July 05, 2021)
We want this to be more than just another Black Friday checklist for digital marketers.
Let's be honest, the majority of "Must-have tips" or "Essential hacks" for Black Friday and Cyber Monday are already a part of any competent digital marketers' strategy for the year's biggest sales season.
Therefore, instead of treading out the same recommendations for another year, what we want to do in this post is to show the steps you can take to go beyond the established routine when it comes to running digital marketing campaigns - and take them to the next level.
The event that keeps on growing
This year Black Friday falls on November 29, with Cyber Monday following three days later on December 1 - beginning a shopping season that last year saw 30% of all annual sales (source).
According to Picodi.com, 48% of online shopping came through a mobile in 2018 and a further 11% on a with - and nearly a quarter of the year's transactions came throughout November.
Within the 24 hours of Black Friday this recent year, online sales retailers sold over $5 billion, increasing online Black Friday sales 16.9% over the previous year (table below)(source).
| | | | |
| --- | --- | --- | --- |
| Year | Spend per shopper | Total spend | % increase |
| 2015 | $805.65 | $626.1 billion | 3.2% |
| 2016 | $935.58 | $655.8 billion | 3.6% |
| 2017 | $967.13 | $682.0 billion | 4.0% |
| 2018 | $1,007.24 | $717.5 billion | 4.3% |
E-commerce growth throughout Europe
On Black Friday 2018, European online shops received on average 69% more orders between 00-06 compared to an average day (source). This was even greater in Denmark, as the data from Clearhaus shows us:
"During the last couple of years, we have seen that Black Friday has a positive influence on online shops. Last year, Danish webshops sold 225% more on Black Friday compared to average daily sales."
Claus Methmann Christensen, CEO at Clearhaus.

Overall spending for Black Friday 2018 in the UK reached £7788 million, with £5747 million in Germany and £861 million in the Netherlands (source).


Average spend per online consumer also increased across Europe, with Finland (€221), Germany (€211) and the UK (€346) all growing year-on-year (source).


German (48 percent) and UK (38 percent) shoppers will be the most likely to wield their search-engine expertise when researching Black Friday deals (image below, source).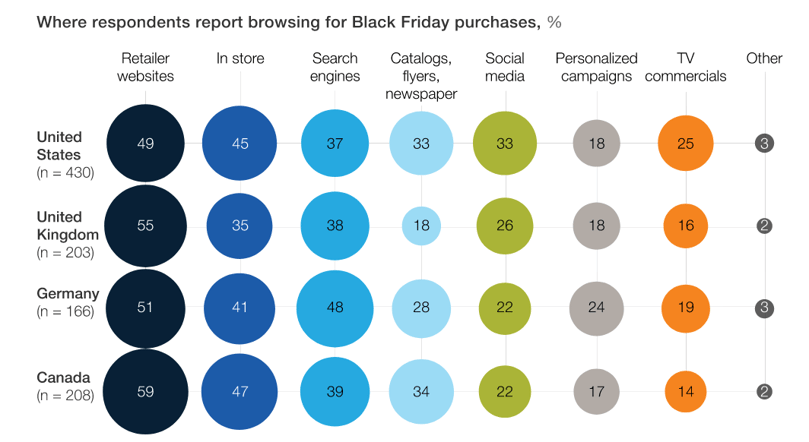 Omnichannel popularity builds
Based on last year's survey results, European consumers mostly intend to head online to shop on Black Friday.
Germany leads the pack for omnichannel growth, with 33% of respondents saying they will exclusively shop online and 28% saying they will mostly do so.
In the United Kingdom, "digital only" is identified as the top choice for 29% of respondents and a further 34% saying they plan to shop mostly online (image below, source).
What will give you the edge for Black Friday?
As I mentioned, this article is about the extra factors, so we can skip the part where I tell you to decide on promotions in good time, optimize your ad landing pages for mobile and perfect your store navigability.
Instead, let's take a look at the role that specific additions to your product feeds can play in giving a boost to Black Friday campaign performance:
1. Take your visuals to the next level
Every retail advertiser is out there wanting to stand out from the crowd and make sure their product is the one being clicked during this incredibly competitive period.
So how will you stand out? What will make your ad different? For Facebook, Instagram, your own store and your email marketing, you should definitely consider create new ad images that are eye-catching and specific to holiday shoppers.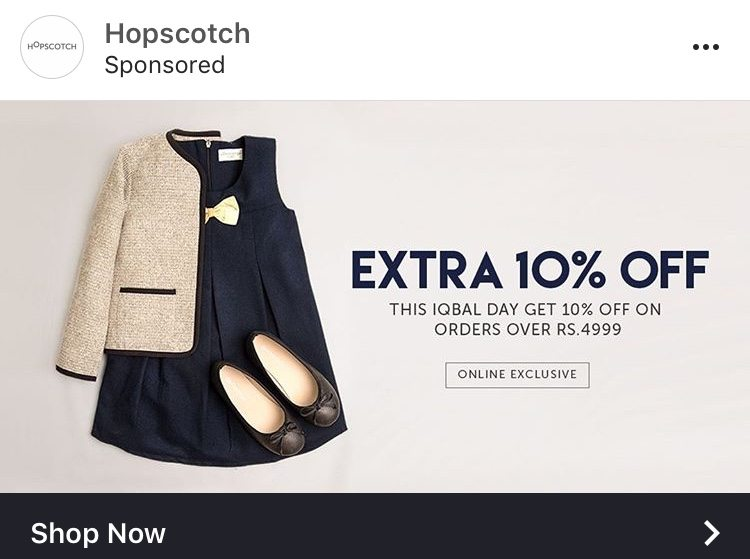 Image Credit: Instapage
From "free shipping" to "Extra 10% off," you can add text quickly and at scale. This will help your creative stay consistent and on-brand while still being unique for the shopping season.
Add anything you need to make your ads pop: bold colors or your own brand colors , logos, attention-grabbing banners and icons, discounted prices in big and bold text, product ratings or reviews.
With our Image Transformation Tool the process of creating powerful, compelling ad creatives that drive your shoppers is straightforward. You can add these details ahead of time, through your feed, so you can make those edits in bulk.

📽 Last year our client achieved a 113% increase in their ROAS by optimizing their product images for Facebook Ads - get the full story below
2. Add new sales channels and tailor your content
What makes an ad stand out on Black Friday Cyber Monday?
Your audience will have plenty of other tempting ads to click or sales to take advantage of. Grab their attention with informative and click-worthy copy and retarget across a variety of online sales and marketing channels suited to your industry.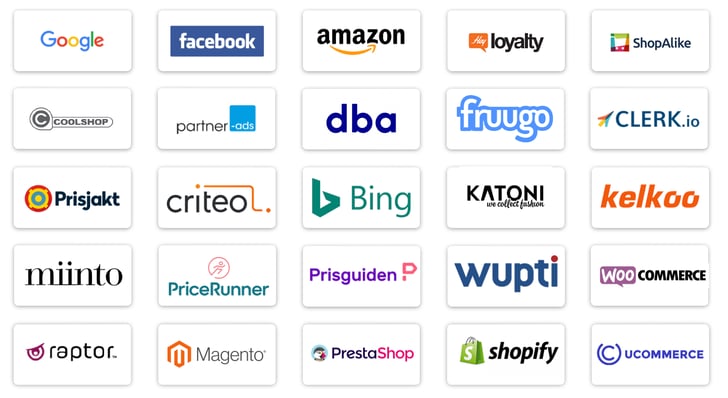 Operating a solid multi-channel strategy that customizes your product content for the specific channel requirements will give your clients more chance to effectively boost their sales and revenue by reaching out to a wider audience.


Client Case
As our example we'll look at Danish shoe designer Cashott Copenhagen. They were already operating a multi-channel strategy, but wanted to create a working integration to a new sales channel with a unique, loyal audience: Miinto.
Like many online marketplaces, Miinto has strict quality policies for merchants, when it comes to connecting with their platform.
We took the time to understand the required feed structure and product contents for each channel, so were able to provide a pre-made template, then edit and optimize Cashott's product catalogue to get it quickly approved by Miinto and help them to start selling on a brand new sales channel. Get more details on the case below:
3. Use smart custom labels
Use these for smarter targeting and bid management during the Holiday Season. Custom labels are used by marketers to segment their products according to seasonality, performance, unique attributes or specific campaigns.
For example, if you're spending a lot on products with a low margin, consider redirecting efforts and ad spend towards more profitable products. Custom labels are added to your product data feed but leveraged in your campaign, where you use them to define bids and targeting.
As our client implemented in the case above, try using seasonal labels for topics like "newyear," or "christmas" to make your campaigns more manageable. You can also combine this with topics related to "pricemargin," "bestseller," and anything else that might help you leverage your campaigns.
4. Create local product feeds
Trying to drive brick-and-mortar sales? Your product data feed can help there, too.
Local Inventory ads are online ads that appear to shoppers near a brick-and-mortar location. Reach your most valuable brick-and-mortar audiences easily with these online ads.

Your local product feed is a basic requirement for making these ads happen. This is an optional feed that lists of all of the products sold in your stores. It lets the channel understand where your physical stores are, what products are there, and when to send customers there.
Local Inventory ads commonly include practical information like:
Store hours
In-store inventory
Promotions
Directions
As a local inventory ad requires 4 separate feeds, our dedicated Customer Success Team can build and optimize your product data - tailoring and adapting your data to suit Google's specifications
5. Implement recommendations data across your feeds
Specific tools like Clerk.io Recommendations engine can add greater value to your online sales campaigns by learning your customers interests, looking at factors like sales volume, trends and seasonal relevance to determine what products to push at what time.
The data that they gather is then used to provide recommendations which help your customers navigate to the exact products they are looking for across all your sales channels.
This data will include all of your product ids, a recommendation score from Clerk.io plus a recommendation grouping in the following way:
The top 1% products: 1
Those between top 1% - 2% products: 2
Those between top 2% - 3% products: 3
etc
Now the only task is to merge the recommended product ids with your existing product feed, and then to re-import your products.
By using recommendations in your feed, you can prioritize the important products on sales channels, just as you do on your website.
6. Go beyond Black Friday and Cyber Monday
Bear in mind that Black Friday is only one piece of a long holiday shopping season, so it's important to consider your approach during this period (and beyond).
Instead of trying to capture a share of sales on just Black Friday, create tailored content and prepare you PPC campaigns well in advance, optimize product listings and advertise promotions for each major associated shopping day.
This might include striking up partnerships. For example, you might be a bigger business who wants to be part of the conversation for Small Business Saturday, or if you want to use a complementary charity to donate a proceed of your profits to on Giving Tuesday.
After more tips? 🤔
Check out Sleeknote's guide to lesser known Black Friday marketing strategies for e-commerce merchants.
The overall message:
"Use all the tools at your fingertips to optimize and customize your approach"
Many of the optimizations you do this season should not be a "one time" thing - but implemented with a view to permanent improvements.
The very first step is to ensure your marketing and sales channels (like Facebook, Google Shopping and Amazon) are treated differently. Include any extra data for those channels and consider altering and testing copy, descriptions, images and other details.
To better serve your different markets, if you're pushing ads and products around different countries , you'll need to customize your approach; thinking globally while targeting locally.
For anyone who wants to take their feeds to the next level, we are offering free:
Analysis of your current feed 🔎
Optimization of product listings
Implementation to Google Shopping or Facebook Ads