Google Hotel Ads - Digital Marketers Guide
Posted on April 23, 2019 (Last Updated: February 20, 2023)
Where are most people doing their travel research? We asked Google and the answer, unsurprisingly, was....Google.
According to their statistics, 63% of those travelling for leisure began their travel research online, with 69% of business travelers doing the same.
This means that for digital marketers in the travel industry, there is a large and engaged audience searching online for your business. Last year, in the US alone, there was an astonishing $8.59 billion spent on travel ads, which is expected to increase to $9.81 billion for 2019.
In this article we'll take a look at where travel businesses should consider advertising their offers, some best practice examples and some industry expert tips.
Google Hotel Ads - what are your options?
There is no distinction for travel businesses. This means that just like any other business who are advertising a service or product on Google, your ad can be placed into the following four categories:
The majority of advertisers in the travel industry use their ad space on display ads, which means it's a competitive space to get hold of. Let's take a look at some factors influencing your success in Google ads for travel.
Effectively using your keywords
What is most important is deciding whether your ads are going to focus on traffic volume or audience intent. Display and Youtube ads will obviously provide greater impressions.
In contrast, Search ads will deliver less impressions but reach out to a more specific and engaged audience.
Once you know the aim of your ads, and the placement in the funnel of your target audience for the ads, you can begin your keyword research.
The obvious place to start here is Google's Keyword Planner (see image below). Here, travel marketers can get an insight into the value of specific keywords and well as finding out about the possibility of alternatives which could give them the edge of similar competitor ads.
Use tools like this to target the keywords in your ads. If you want to target vaguer keywords:
holiday + destinations + crete
Be aware that these are only going to reach high funnel users. Whereas, specific longtail keywords targeted towards audience members who want to take a desired action:
family + hotel + heraklion + crete
These will reach people further down the marketing funnel who are more familliar with the topic and activity. So although the cost per click (CPC) may be higher for these high-intent users, they're probably a better investment of your time and ad spend in the long run.
Google ad for travel example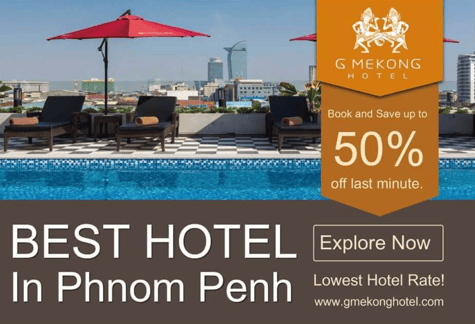 Although this Google Display ad example may not be as engaging for the viewer, it does the job well.
It features an eye-catching image of a poolside and city panorama, alongside clear, concise, copy.
This ad would probably be most effective with a remarketing audience of visitors to the hotel's own page, with an exclusion of those who have already booked with them in the past.
Final tips for hotel and travel marketers
I hope this article has given you some insight into the multitude of options available for travel marketers who want to use Google Shopping to reach out to a new and highly engaged audience worldwide.
I'll finish up by offering a few pointers for any marketers who are thinking of implementing campaigns using travel ads.
If you've got some sales or deals, push them in your Google ads. Travel is an expensive industry for shoppers, so mentioning discounts and deals will draw the eye and attract more business.
If you run or rep a hotel, be sure to sign up for

Google Hotel Ads

. The program takes the premise behind Local Ads and adds new functions.


Keep an eye on Google's travel-related offerings by checking out their

travel blog

.



Take the additional time—and extra resources—to ensure your visual goods are top-notch. Show off what you're selling in a clear, striking image or video.
Find out more about our feed management platform by getting your free trial, or get more info about setting up Google Hotel ads or Google Shopping Feeds.