Amazon Keywords: Optimize Titles and Descriptions
Posted on August 24, 2018 (Last Updated: October 13, 2023)
This second part of our guide to boosting your Amazon rankings looks at how you can optimize your product descriptions and categories to get significant advantages - and, perhaps most importantly, how this differs from Google Shopping.
1. Titles
In Google, you want a concise, engaging title with your keyword close to the beginning (image below).

In contrast, with Amazon's algorithm the most important thing is including multiple keywords (image below). You want to get as many keywords into 80 characters as you possibly can
- BUT ensure that it still makes sense!
How to optimize your Amazon titles?
You can use tools like Merchant Words, Google Keyword Planner and Keyword Inspector to find relevant keywords for your product types or estimate your search volume and optimise your Amazon listing keywords.
You can also begin typing in a keyword in Amazon's search bar, and look at the results that populate below as 'recommended' search terms (image below).

Here are the elements to include in your title:
Brand name (All successful Amazon listings contain brand first)

Name of the product itself

Any distinguishing features such as colour, size or use
Once you have an idea of what you want to include in your Amazon titles, use a feed marketing tool that lets you easily add and remove attributes from your titles.
2. Features / Bullet Points
The other reason that these more "messy" looking listings on Amazon often rank the highest is that the algorithm recognizes that they have the most keyword-rich, informative features listed.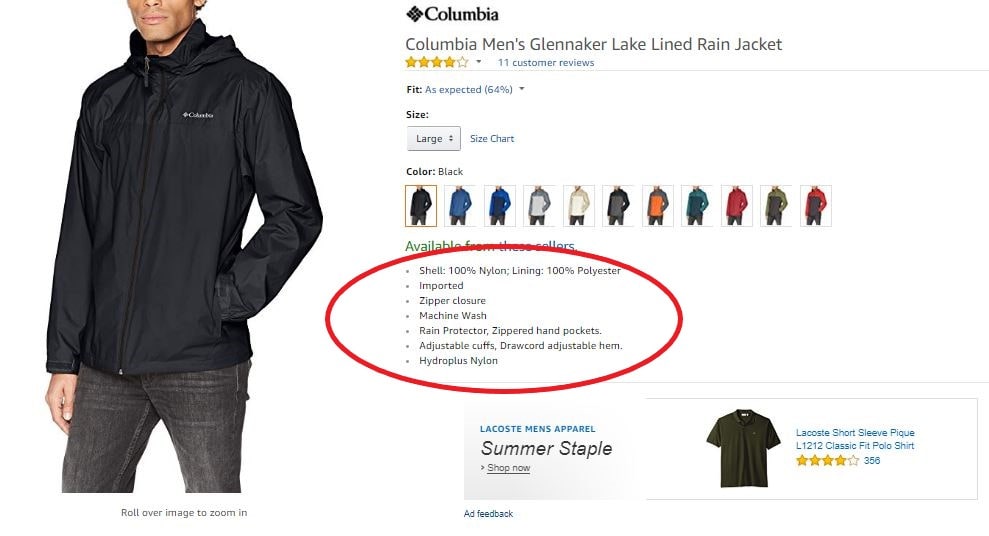 Features are displayed as bullet points right below the pricing and product options and should be seen as a requirement
- This is because Amazon announced that they no longer allow products without bullet points to be featured in the buy box (see our post dedicated to claiming the Amazon buy box).
3. In-Stock Rate
One of the best ways to get bad reviews and annoy your customers on Amazon is to list your products when you don't have them. The most common way this problem occurs is when a seller doesn't keep proper track of their inventory and doesn't update it regularly enough. Whether you're a first-party vendor or a third-party seller, keeping up your inventory is vital to maintaining top rankings in A9's product search results.
Implementing these ranking recommendations
Consider A/B testing to make sure you are boosting Amazon's ranking opportunities.
Carry out small changes to optimize Amazon listing keywords and give enough time to assess the impact of those changes so that you know whether to keep them or go back to the old version of your listings.

Test only one element of your listing at a time (e.g. brand in titles, etc.) so you can tell exactly which change it was that impacted your rankings.
Want more info on selling on Amazon?
Find out how WakeupData helps hundreds of clients to set up an Amazon feed by downloading our Selling on Amazon FREE e-book to find out how to get the best results from your Amazon sales: