Finland Ecommerce 2021 - Consumer Statistics & Channel Recommendations
Posted on June 28, 2018 (Last Updated: November 15, 2022)
Finland has one of the highest percentages in the world of population with access to the internet (97%), of which 72% regularly shops online - the vast majority of which is cross-border commerce.
In this guide, get the details of e-commerce performance in Finland and what consumers look for when purchasing online.
Although lower in terms of regular e-commerce customers in comparison to its Nordic neighbours, there is an increasing trend of e-commerce growth, with an expansion of 20% in the last 5 years (source) and user penetration in Finland is expected to hit 73.7% with 4.1 million online shoppers by 2022 (source).
This high level of purchasing from abroad means there is a clear opportunity for retailers to acquire a customer base in Finland.
What is driving Finland's e-commerce growth?

The combination of Finland's comparatively low level of e-commerce experience and high proportion of the population shopping from abroad (46%) means that the distribution of market share is still very much up for grabs.
In other words, up-and-coming e-commerce businesses from throughout Europe have solid opportunities to reshape the local market.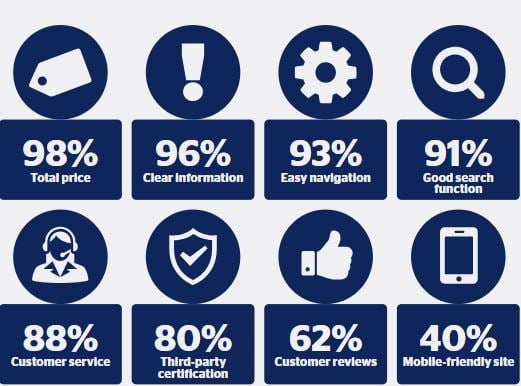 As the graphic above shows (source), the keys to gaining a foothold in the Finnish market (beyond the obvious overall price) are the same as for the rest of the Nordics:
clear pricing, clear product information, an easily navigable site, customer service and a multichannel strategy that utilises Finnish channel preferences
.
Consumers in Finland
Due to the high levels of Finnish consumers that shop abroad, they have the lowest expectations among all the Nordic countries regarding delivery times.
Accordingly, the percentage of Finnish online
shoppers who consider it important to
receive information about when their delivery
will arrive is also the lowest of all the
Nordic countries (see bar chart below, source).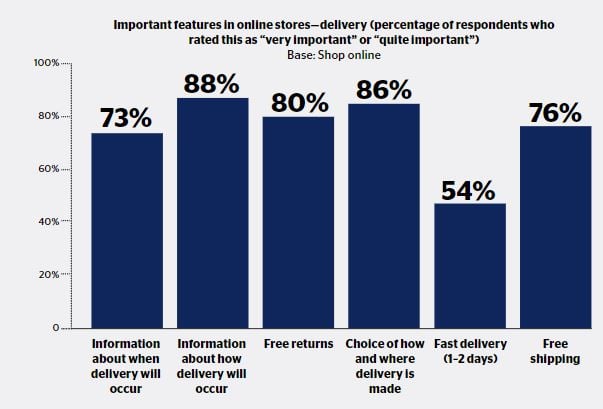 The launch of Amazon.se and the impact on Finnish ecommerce
In July 2020, after long speculation, Amazon announced their intention to launch a Swedish-based site.
"Amazon has been available to Swedish consumers and companies through our various European websites for years, but the next step is to introduce a complete retail offering in Sweden and that is what we are planning to do now,"

Alex Ootes, vice president of EU Expansion at Amazon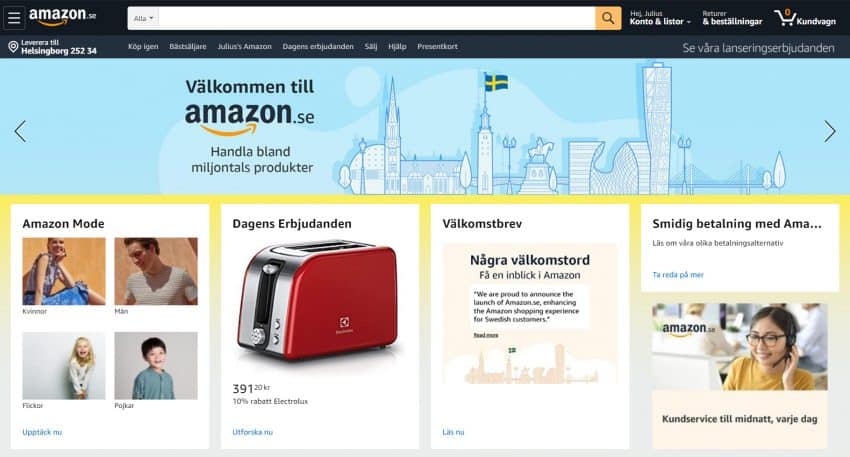 The upside for online stores and retailers that lack the resources for internationalization, is that Amazon provides an opportunity to find buyers across the Nordics even if it is at a higher transaction cost than you may be accustomed to.
The move into the Nordic region's biggest economy comes at a time when the U.S. retail giant is benefiting from an influx of consumers trying to avoid physical stores during the coronavirus pandemic.
But what does the launch of Amazon.se really mean for Sweden's e-commerce?
For now, it remains to be seen.
The first year of launch is predicted not to have a significant impact on Swedish ecommerce. As they seek to establish themselves in a new market, with Nordic-based companies making the transition to add Amazon as a sales channel, then Amazon will push the margins of Swedish and Nordic eretail.
Should merchants who want to reach Nordic consumers sell on Amazon.se?
A new arrival will always take time to gain a significant foothold, and not all companies and brands should seek to jump onto Amazon.se immediately. However, it would be an oversight not to at least investigate the possibilities and potential issues of selling via Amazon.
Failing to make a decision one way or another is where ecommerce retailers can lose out in the long run.
Shopping channels in Finland - which to use?
Verkkokauppa.com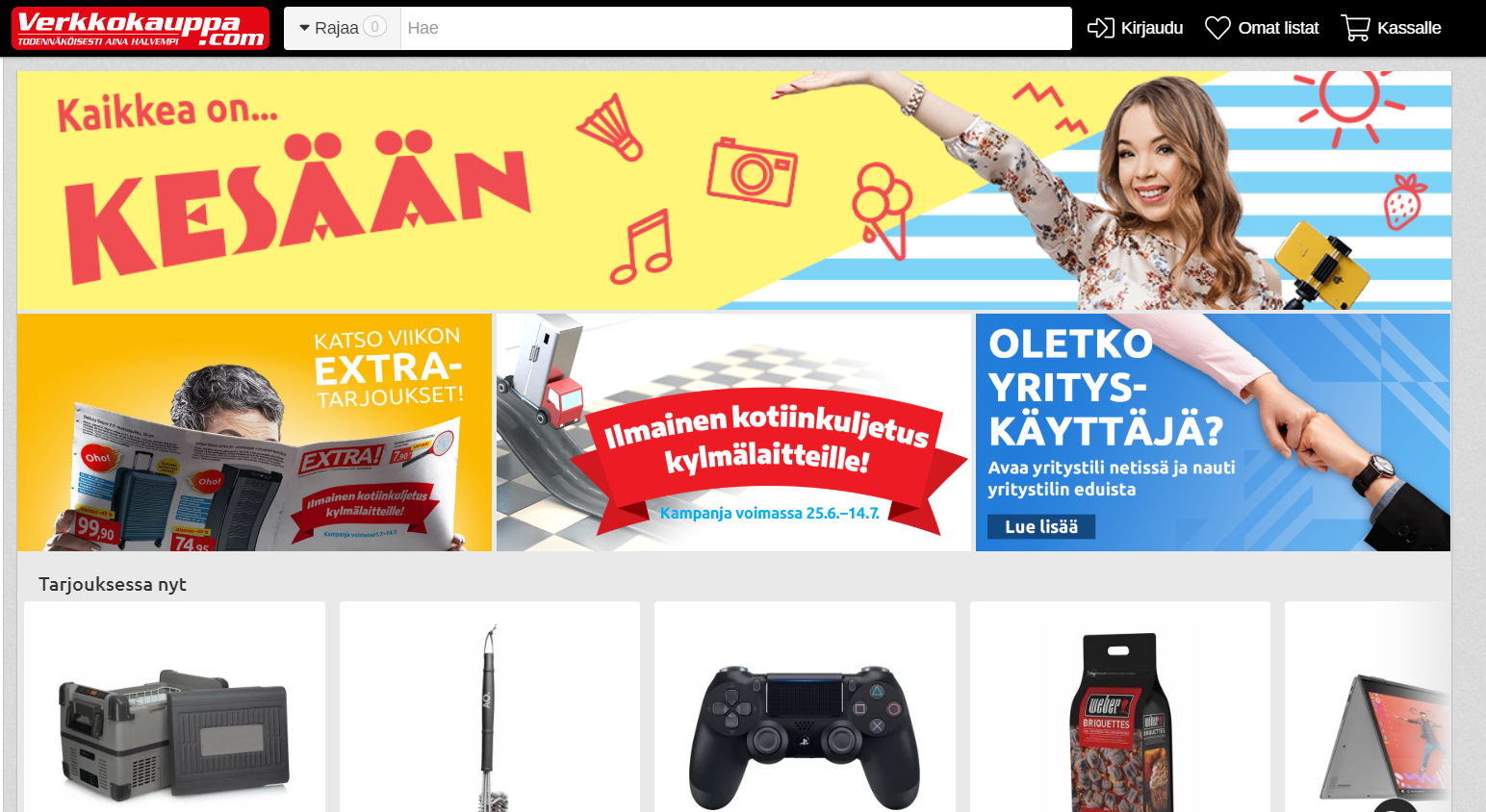 Verkkokauppa.com Oyj is Finland's largest and most visited online retailer that offers over
65 000 different items from 25 main categories including electronics, outdoor, home and kitchen. The company sells its products through four megastores and over 2500 pickup locations in Finland, as well as home delivery and installment.
Get in touch with a customer success manager at WakeupData and we can let you know exactly what is needed to set up an fully-working, optimized integration with Verkkokauppa.
Vertaa

Vertaa.fi is Finland's largest reference site where consumers can compare products based on price, delivery time and other customer reviews - with a dedicated base of nearly one million visitors a month.
They list over 4 million products and generate leads for online shopping with "cost-per-click" pricing.
As with any e-commerce channel, there are a number of fields required to be filled out in the product feed you export to Vertaa. These include: Category, name, price, brand product ID, delivery time, shipping method, delivery price and service country code - you can view the full list here.
Get in touch with a customer success manager at WakeupData and we can let you know exactly what is needed to set up an fully-working, optimized integration with Vertaa.fi.
Related: Get more info on our integration with Vertaa here
Kelkoo

Kelkoo is a comparison shopping engine which offers integrated services for online shopping, increasing online sales by advertising products through highly targeted ad placements across a network of premium publishers. Founded in 1999, they are now present across 22 countries across Europe including Finland in which it is one of the most implemented channels for e-commerce sales.
Neccessary fields for your Kelkoo export the include unique id of each product, title, price, URL to your webstore and availability. Check out their full feed specifications here.
The good thing is that you only pay when customers are redirected to your store from Kelkoo. You can use our pre-made template to create your Kelkoo product feed with WakeupData now and start selling.
Related: Get more info on our integration with Kelkoo here
Prisjakt (hintaopas.fi)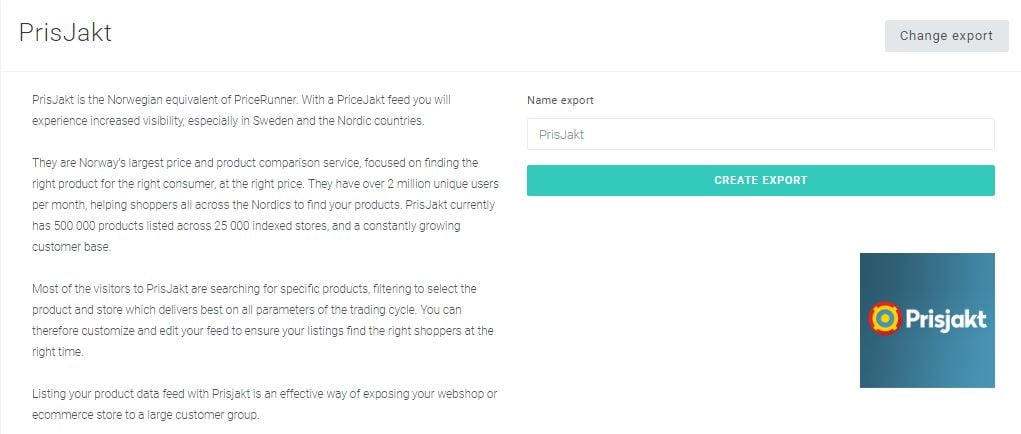 Prisjakt is a price and product comparison service on the Internet operated by Prisjakt Sverige AB. At Prisjakt (aka "hintaopas" in Finland), consumers can compare prices and characteristics of products as well as read other user reviews on products and retailers.
Join one of the best price comparison services in northern Europe and benefit from a high-quality and up-to-date WakeupData product feed.
Required: product ID, category, url, brand, price, condition, availability (get the full list of Prisjakt feed requirements here)
Related: Get more info on our integration with Hintaopas.fi here
Your multi-channel strategy in Finland
Online shopping is already widely adopted in Germany and the ecommerce market is predicted to keep growing. They boast one of the strongest markets in Europe with
well-established names - both multinational and local.
Our feed marketing platform offers a user-friendly interface for online store owners and digital marketing agencies to manage data for multiple export channels in one place.
We are also a Google CSS Premium Partner - meaning we can give a 20-25% discount to merchants wanting to sell across nine European markets, including Finland, Denmark, Germany, Sweden, Norway and the Netherlands.
Reaching out to your Finnish audience
There is a rapidly growing number of Finnish consumers want to shop online and are on the same technological level as the other Nordic countries.
E-commerce is growing rapidly, the domestic supply is not enough, leaving untapped potential for companies from overseas to gain a foothold with carefully planned e-commerce strategies.
Grab our eCommerce Guide to Selling in the Nordics below 👇