Sweden Ecommerce 2021 - Consumer Statistics & Channel Recommendations
Posted on June 7, 2018 (Last Updated: December 01, 2023)
Of the 9 million people in Sweden, over 70% of them (8.1 million) regularly shop online, each spending on average €1,668 per year (source).
If you are looking to take advantage of this rapidly growing market and start selling in Sweden, this guide runs through some of the key statistics and looks at some shopping channels where you can reach out to the most customers with optimized data feeds.
What is driving Sweden's e-commerce growth?
There are several factors contributing to the large market in e-commerce in Sweden - which currently accounts for 8.7% of its' total retail sales annually.
For a start, it is one of the wealthiest countries in Europe, plus it has a strong economy, a long tradition of ordering products by mail and strong retail brands based in the country (IKEA, H&M and Electrolux to name just three).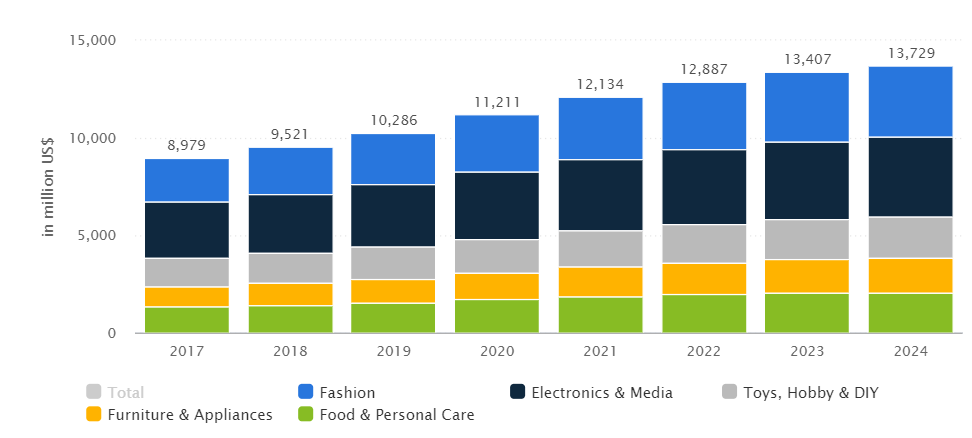 E-commerce sales by category in Sweden from 2017-2024 (expected)(source: Statista December )
The launch of Amazon.se
In July 2020, after long speculation, Amazon announced their intention to launch a Swedish-based site.
"Amazon has been available to Swedish consumers and companies through our various European websites for years, but the next step is to introduce a complete retail offering in Sweden and that is what we are planning to do now,"

Alex Ootes, vice president of EU Expansion at Amazon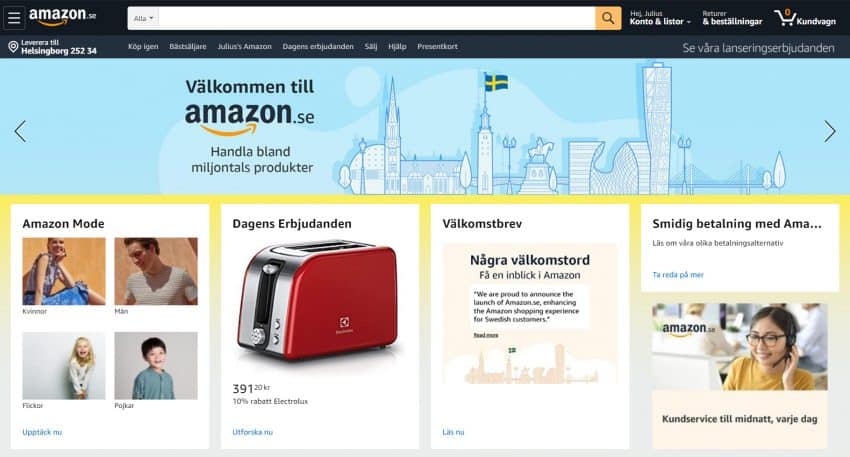 The upside for online stores and retailers that lack the resources for internationalization, is that Amazon provides an opportunity to find buyers across the Nordics even if it is at a higher transaction cost than you may be accustomed to.
The move into the Nordic region's biggest economy comes at a time when the U.S. retail giant is benefiting from an influx of consumers trying to avoid physical stores during the coronavirus pandemic.
But what does the launch of Amazon.se really mean for Sweden's e-commerce?
For now, it remains to be seen.
The first year of launch is predicted not to have a significant impact on Swedish ecommerce. As they seek to establish themselves in a new market, with Nordic-based companies making the transition to add Amazon as a sales channel, then Amazon will push the margins of Swedish and Nordic eretail.
Should merchants who want to reach Nordic consumers sell on Amazon.se?
A new arrival will always take time to gain a significant foothold, and not all companies and brands should seek to jump onto Amazon.se immediately. However, it would be an oversight not to at least investigate the possibilities and potential issues of selling via Amazon.
Failing to make a decision one way or another is where ecommerce retailers can lose out in the long run.
Consumers in Sweden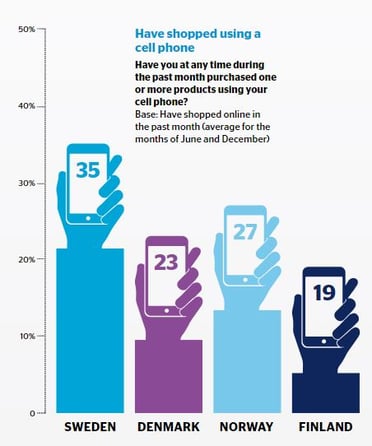 30 percent of Swedes order something online at least once a month, while almost 75 percent have made an online purchase in the last year.
The top 10 most popular websites for last year (measured by their overall traffic) are:
1.Ikea.com
2.Netonnet.se
3.Elgiganten.se
4.Webbhallen.com
5.Zalando.se
6.Hm.com
7.Mediamarkt.se
8.Coop.se
9.Apotea.se
10.Sas.se
The image (above right) right shows that Swedish consumers were the largest m-commerce users , while the bar chart (below) shows the top priorities that influence Swedes purchasing decisions when it coming to buying a product online (source: Postnord).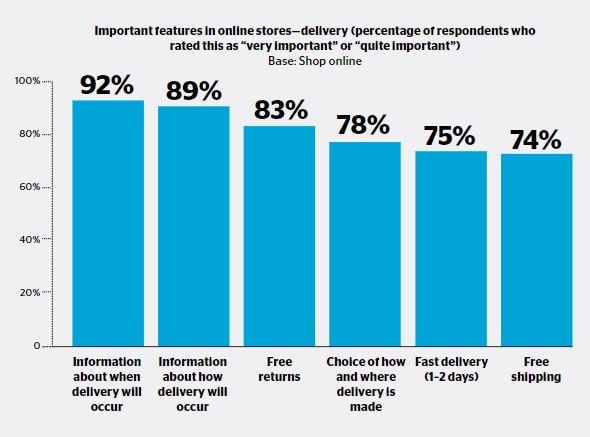 Shopping channels in Sweden - which to use?
Thinking of gaining access to this large, tech-savvy markets of e-commerce consumers? Then you will need to select a channel which is most suited to your products and will give you the best possible results. We've already discussed the launch of Amazon.se and the potential impacts, so here we offer a few possibilities of channels to consider when reaching out to Swedes.
Speak to WakeupData to hear the full list of opportunities available to webstores selling their products in Sweden.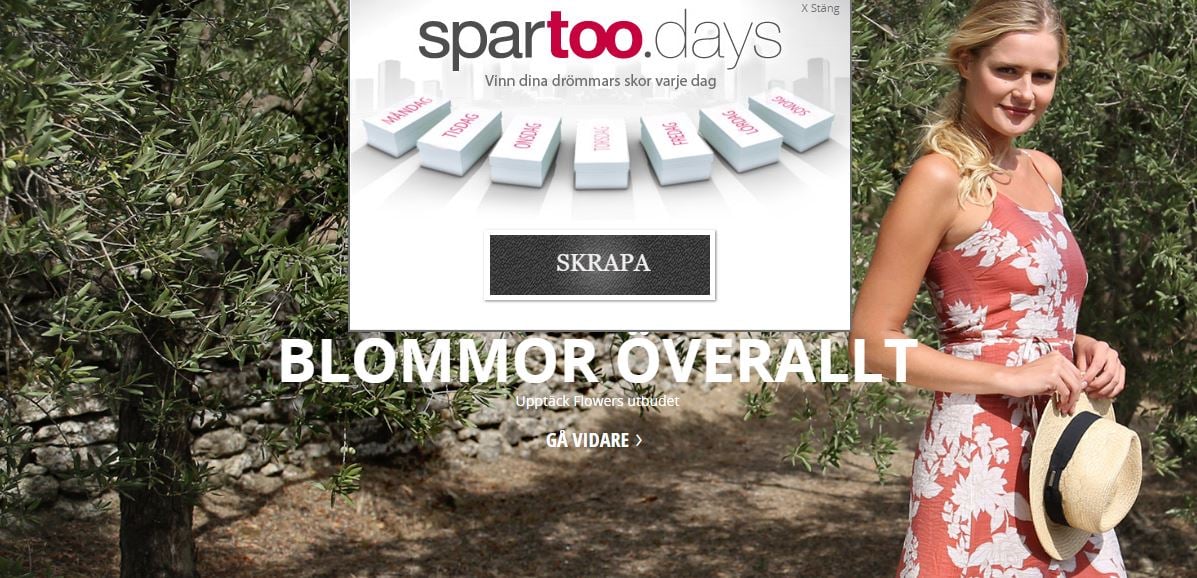 Founded in 2006, Spartoo is Europe's largest online shoe store, also specialising in ready-to-wear clothing for men and women. They are currently present in 30 countries globally including France, UK, Spain, Italy, the Netherlands, Denmark, Finland, Belgium, Greece, Poland, Portugal, Czech Republic, Austria, Germany - and of course Sweden! With over 14 million visitors per month you can get access to an extensive network right away.
Spartoo Requirements (source)
You should be a fashion retailers who already stocks products in pre-existing Spartoo categories.

Similar to other channels, you have two to three working days to fulfil your orders and shipments.

You must be committed to answer all customer queries within two days.
As with any e-commerce channel, there are a number of fields required to be filled out in the product feed you export to Spartoo. These include: Product ID, URL, price, description, brand, MPNs and SKU.
Kelkoo is a comparison shopping engine which offers integrated services for online shopping, increasing online sales by advertising products through highly targeted ad placements across a network of premium publishers. Founded in 1999, they are now present across 19 countries across Europe.

The screenshot (above) shows how straightforward it is to create an export to Kelkoo via the WakeupData platform, using our pre-built export template. Necessary fields for your Kelkoo export are the unique id of each product, title, price, URL to your webstore and availability.
Aside from the popularity of Kelkoo in Sweden, and pre-existing audience base, if you choose to become a seller you only pay when customers are redirected to your store from Kelkoo.
Get more info on our Kelkoo integration for your product feeds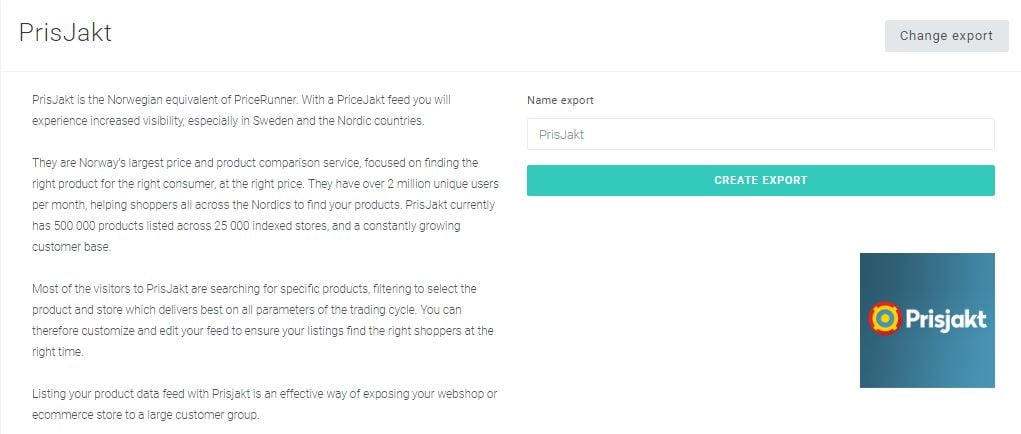 Prisjakt is a price and product comparison service operated by Prisjakt Sverige AB. Their users can compare prices and characteristics of products as well as read other user reviews on products and retailers and boast over 900 000 unique users per week (source).
They require your feed to be complete with: product ID, category, url, brand, price, condition and availability (check out their full list here).

Join Prisjakt to get access to one of the best price comparison services in the Nordics and benefit from a high-quality and up-to-date WakeupData product feed.recommended: MPN, GTINs, colour, image links, shipping and size.
Get more info on our Prisjakt integration for your product feeds
The next steps?
Take the time to select which channel might be right for you. Check out their product categories to see if they support your type of products and consider carrying out a trial campaign to see if you get results. If you are an online store owner looking to expand your reach, check out this ecommerce analytics guide to give you valuable insights. To find out more information about your selling options in Europe, check out our Denmark ecommerce , Germany and Finland guides.
We've also produced an eCommerce Guide to Selling in the Nordics which you can access below: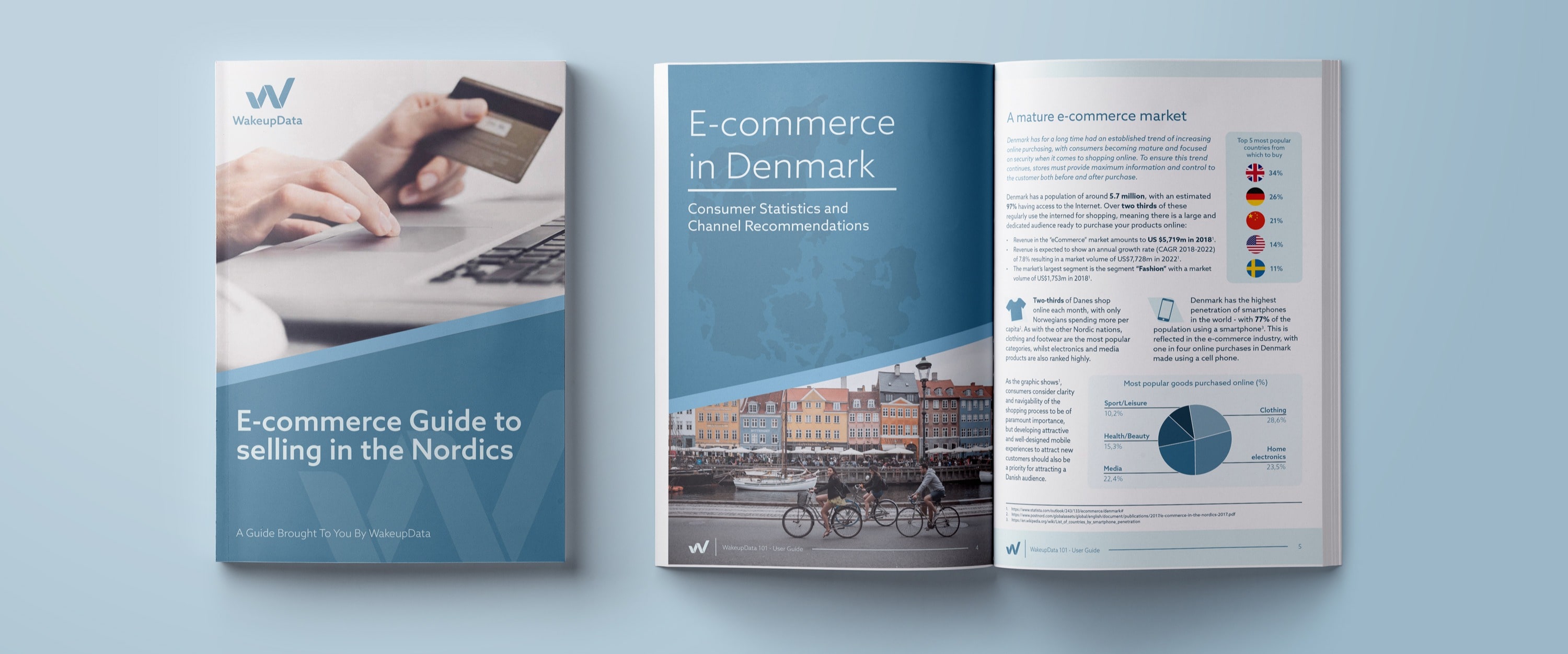 To get connected today, simply follow the link below to get your demo of our Data feed management platform and start selling.