Updating your Google Merchant Center feed with dynamic pricing
Posted on March 15, 2021 (Last Updated: July 14, 2021)
We recently solved a commonly occurring issue for a client which involved updating the feed pricing for their Google Merchant Center feed.
The Problem
You can schedule the update of your product catalog only once per day in Google Merchant Center. If you have dynamic pricing which is frequently changing, this leaves you with limited possibilities.
The solution
By submitting a supplementary feed with your product catalog IDs/Prices/Availability included, you can run your feed as often as you wish.
In order to do this, clients have to submit their feeds via FTP or SFTP.

FTP stands for File Transfer Protocol and SFTP stands for SSH File Transfer Protocol. Both are common ways for users to download or upload files to the internet.
With SFTP, data is securely transferred using encryption and no clear text file data is transferred. Google recommends that you use SFTP because it's a more secure way to transfer files.
You'll need to first register your feed and create an FTP or SFTP account within Google Merchant Center. The file must be under 4 GB in size. If it's not, you'll need to split it into multiple smaller files before uploading:
While this is a good option for regularly uploading large numbers of products, it is important to note that if you want to set up scheduled fetches within Merchant Center (detailed below), you cannot use Google's SFTP Server (sftp://partnerupload.google.com) as your file URL.
Instead, you will need to host the file on your website.
Within Merchant Center, you also have the option to submit your data feed via Google Cloud Storage, which allows you to store and access your data on Google's infrastructure. Interacting with Google Cloud Storage is similar to interacting with an FTP server – you can submit and access files with a file transfer client.
According to Google, the advantages of using Google Cloud Storage are that the file can be up to 10 GB, enhanced security, and it is a "flexible infrastructure" that can be used for other applications as well. Find out more here.
It is also important to note that the data feed file name you enter must exactly match the file name you submit to Google Merchant Center if submitting via SFTP, FTP, or Google Cloud Storage.
Scheduled fetches
in WakeupData
It's important, particularly at times of above-average demand , to time your project updates so that they sync with the most recent changes you are making at the source of your product data.
Here is how to manually adjust your project updates in the WakeupData platform
Step 1: Select "Details" from the schedules box.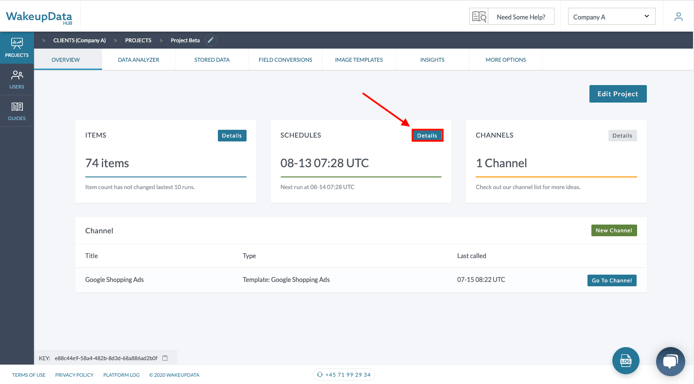 Step 2: Select "Edit schedule".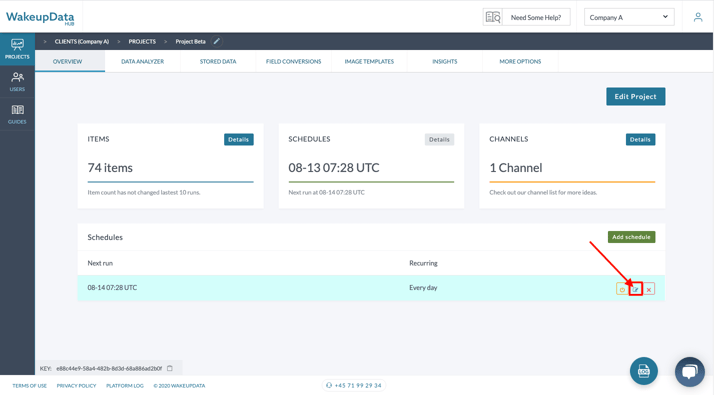 Step 3: Setup your updates based on your current needs. You can choose the time of the updates, recurrence, start date, and end date.
NB! Make sure to select the correct time zone!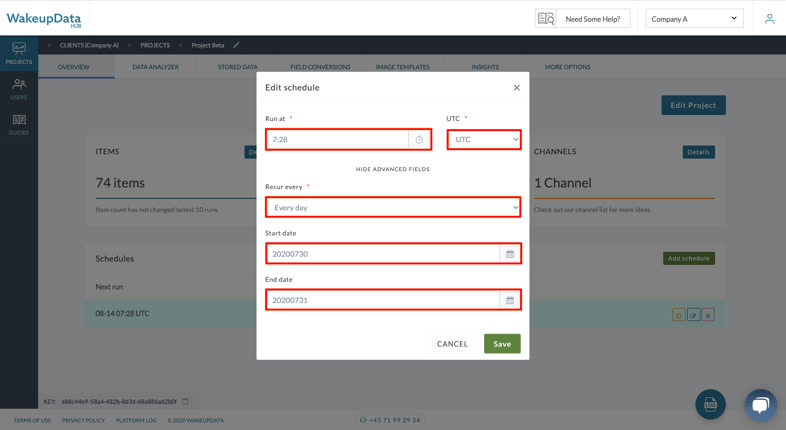 Step 4: Once you have saved the changes, you will see the time of the next update as well as the recurrence of it.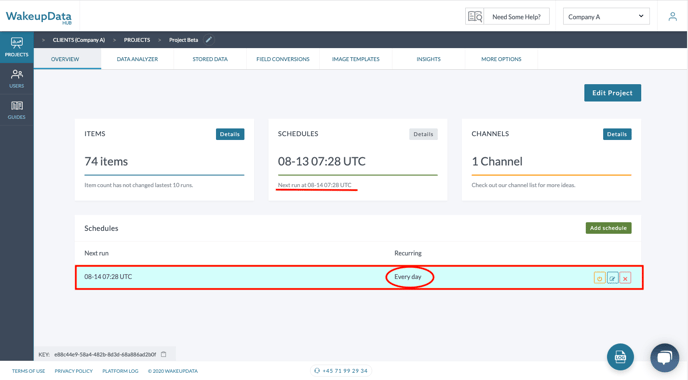 You can add one or more updates during different times of the day, especially in times of high-demand as Black Friday/Christmas period.
N.B. Remember, if the master data isn't updated, no updates will be pushed on Google.
It's important to note that the size of the file that you're scheduling must be less than 1 GB, and the user agents "Googlebot" and "AdsBot-Google" must not be blocked from the directory containing your feed.
The advantages of using a scheduled fetch as your upload method are obvious. It's a more hands-off approach, in that you don't need to manually create or upload your feed, and it will automatically update every time an item or piece of information about a product on your website changes.
Getting the best results from your Google Shopping campaigns
Effectively managing your Google Shopping feed can sometimes be a challenge for ecommerce businesses. That's why we can import your product data, optimize all aspects of your listings and export high-quality feeds to Google with a minimum of fuss.
Get your live demo below, or check our guides Google titles, travel ads and descriptions can also lead to huge improvements in your online campaigns performance.