Automotive Industry Digital Marketing Guide
Posted on August 26, 2019 (Last Updated: April 21, 2021)
When it comes to promoting your business for the automotive industry, there are a wide array of options available for driving traffic and building interest. What's more, it doesn't have to require a lot of time or budget.
In recent years, thanks to changes in technology, innovation and media, the industry has experienced changes to a customer's buying journey, so that 86% of car purchasers conduct research online before visiting a dealership.
Therefore, if you or your client are in the automotive industry you want to be present and visible to those browsers. This doesn't mean spending all your budget on ad campaigns though.
A few months ago we published a guide to Automotive Ads for Facebook, so in this article we're looking at how this works as part of your marketing plan, alongside other options which you can also use to leverage sales in your digital marketing efforts.

1. Publish inbound automotive industry content
Around 95% of vehicle buyers now use digital as a source of information and it takes 65% of buyers just 3 weeks to research online. Twice as many now start their research online compared to a car dealership.
Inbound marketing for the automotive industry attracts customers by creating valuable content and experiences tailored to them.
In the words of Hubspot, the reason for creating this inbound content isn't just to attract new leads though. Once you have established a name for your brand as one that produces valuable info for customers, you have to continue to help, support, and empower them well after they become a customer.
So how can you create industry-relevant content that intrigues and converts?
The same as with any other industry, if you listen to your target audience and existing customers you can create valuable, problem-solving content.
For the automotive industry this might involve:
- Blog content that is relevant and which you audience might be interested and searching for (e.g. Checklist for purchasing a new car, Which cars are suited for niche groups like couples, commuters, families, etc.
- Downloadable content (e.g. top 10 lists, common mistakes new car buyers make - any content which is engaging a solving a question or issue which you audience has).
- Video Guides ( e.g: Informative and explanatory videos could tackle a variety of subjects, for example: how power-assisted steering works, what to watch out for when buying a new car. Include your own cars and branding as examples in the video).
2. Optimize your content for search engines
This of course goes hand in hand with the valuable content recommended above.
If you aren't also taking the steps to tailor your content for specific searches, there is little point in putting in the production hours.
Search Engine Optimization refers to the efforts to get your business pages to the top of Google's top results organically (i.e: without paying for a Google Ad which would place your content at the top).
Now obviously, in the automotive industry it will be a challenge to compete for the top spots when it comes to short-tail keywords.
The solution? Use a keyword search tool to find long and medium-tail keywords related to your automotive business. This way you are more likely to compete for the top ranking on Google and take a share of that traffic.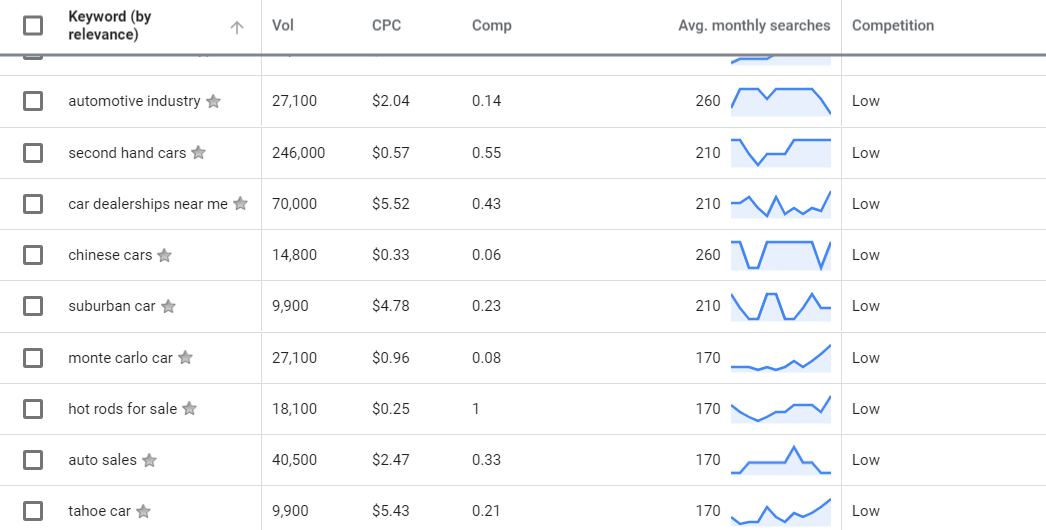 The screenshot above shows the suggestions from Google Keyword Planner, for a hypothetical Danish automobile business.
Factors like monthly search volume and competition being decisive in giving you an insight into which keywords you want to try and organically rank for in your SEO efforts. Once you have decided on the keywords you should plan, optimize and adjust your content accordingly to try and build those organic rankings and gain traffic to your site.
3. Facebook marketing & Instagram marketing
Again, this won't just work on its own, but forms part of a successful overall marketing strategy for the automotive industry. You won't gain anything from just existing on Facebook and Instagram.
Instead, use the valuable content you are creating to share it on your Facebook page. Slowly but steadily you will begin to build an audience who engage with and are interest in the material you are sharing:
- Videos and blog posts (e.g: tips for caring for your car in the winter, best cars of 2019)
- Competitions - encouraging tagging, liking and sharing (test drive this new car, win 30% off your next car, etc).
Remember to have in your mind that you want to help your users by answering question and providing valuable content that solves issues and outlines advice - don't make your content too salesy or advertisement-filled - the name of your business is enough to create a lasting, positive impression.
How might your approach differ for Instagram?

Last year Instagram crossed the 1 billion user mark worldwide - that means there is a potentially vast audience willing to engage with your business organically.
As Instagram is a more visual platform for video and image-sharing, for businesses it's important to create regular, interesting, funny content to stay top of mind.
You can of course use the same style of content as you do with your business' Facebook page. Alongside this, consider a humorous, more day-to-day, behind-the-scenes approach which shows work life at your business while showcasing your cars and offerings as part of the video content.
Even if those viewing your Social Media marketing content aren't immediately considering buying a car, the chances are that they will at some point, and posting regular content will ensure you are the first consideration.
4. Facebook automotive ads

Finally, let's take a look at how automotive ads can give your digital marketing a real boost to build revenue. By using these, you can reach a lot of people in a specific audience, within having to break the bank!
Automotive inventory ads are a form of Facebook dynamic ad, tailored towards an audience browsing for vehicles.
In the same way that product-based dynamic ads work, your Automotive Inventory ads use your Facebook pixel to show specific ads to your shoppers, such as recent website visitors (image credit: Business of Apps).
Why should you consider using automotive inventory ads?
Real-time availability and pricing. Automatically display ads to audience who have already shown an intent to purchase - based on the actions taken on your website.


Cross-device reach. No matter if your audience viewed an inventory listing on mobile, computer or tablet - your ads will appear regardless.


Single setup. Once you have imported your automotive inventory catalog and set up your campaign you are ready to go. No need to create separate ads - they automatically promote your listings.
Industry experts estimate that the average digital ad spend for automotive will break $14 billion by 2020, representing a 200% increase in just 3 years - so you want to take the steps to make sure you automotive ads are truly standing out from the crowd.
Let's take an example.
Perhaps you made a new piece of content about the release of the new 2019 Nissan Juke.
With automotive ads you, or your digital marketing agency, can create tailored target groups that are most likely to be interested in this product.
This could involve:

- People who have looked at this car manufacturer on your website
- People who live in your area and are fans of the big car brands on Facebook
- People who have engaged with your site or made purchases in the past

For each of these target groups you could then create a different category - perhaps based on car brand or price range - depending on the size of your product catalog.

Check out our guide to get an overview of importing the right feed and creating Facebook Inventory Ads that convert.
Why Automotive and not standard Dynamic Ads?
It may be that you are already using Facebook dynamic ads for your vehicle listings - with the feed in an e-commerce catalog format.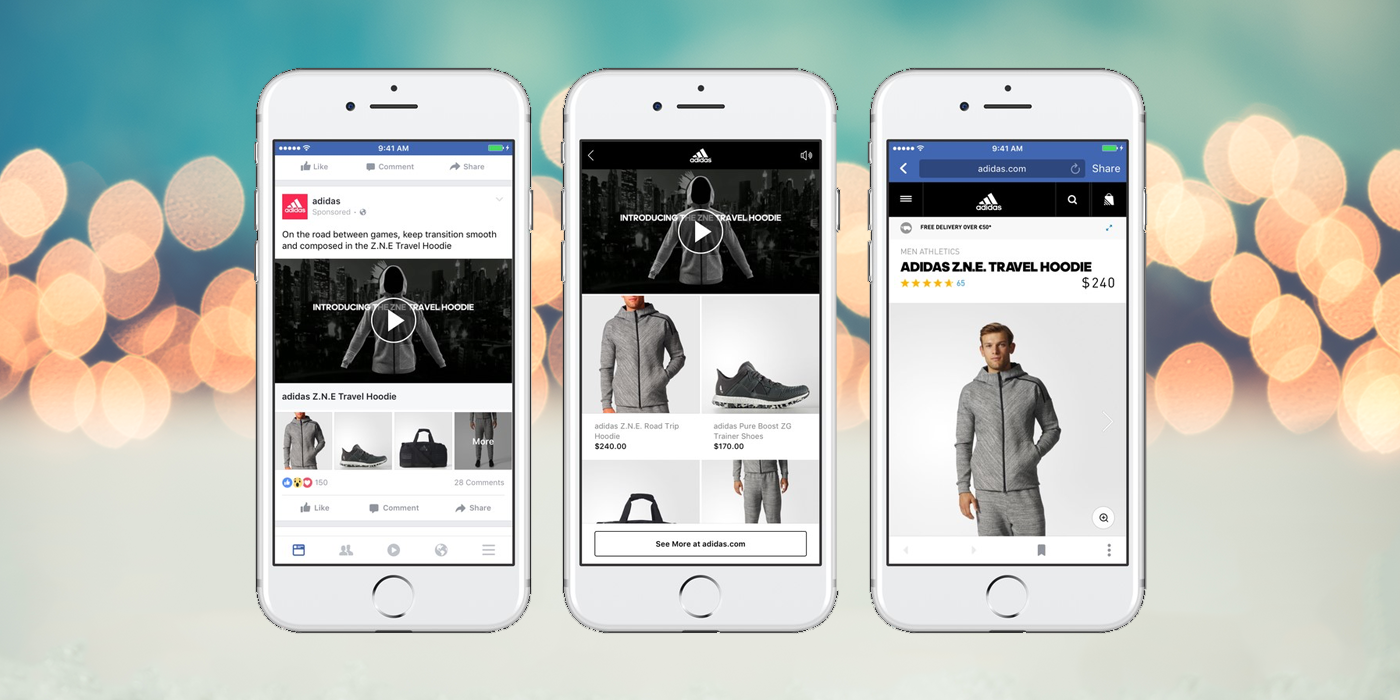 Automotive Inventory Ads are specifically created for vehicle sales - so Facebook strongly recommends that you make the switch. Although the differences may be minimal, automotive ads are optimized to target in-market car buyers.
An effective Digital Marketing strategy for the Automotive Industry
To summarize what we've looked at in this article, doing the research to find out what your audience are interested in, what questions they are asking and what they expect from your business can go a long way and bring you multiple benefits.
Creating inbound content across a range of mediums that draws interest, ranks for niche keywords and shows your industry expertise is a way to get the ball rolling. From there, you can begin to build an audience around social media channels and the granular targeting options of tailor-made Automotive Ads for Facebook.
Combining the recommendations included in this article can automotive industry businesses a valuable means not only of boosting sales, but of building a loyal audience that returns to your brand.

Please don't hesitate in reaching out to me if you want to find out more about selling on Facebook or Facebook Automotive Inventory Ads.
I can send you some examples of our existing cases of clients successfully implementing automotive ads as part of their strategy.