Posted on March 5, 2018 (Last Updated: November 11, 2022)
The Goal: Revenue
Kaufmann are a fashion and apparel retailer with a wide presence across the Nordics and beyond. They use Google Shopping (Product Listing Ads) for marketing its product catalogs, which contains brands such as Polo Ralph Lauren, Hugo Boss and Tommy Hilfiger.
They send all their product data to channels like Google Shopping using WakeupData's product feed solution, Connect.
Our Customer Success team were then able to use our platform to effectively optimize Kaufmann's product feeds - improving factors like:
For example, we ensured each feed was not missing data or had empty fields.
| | | | |
| --- | --- | --- | --- |
| Product title | Color | Product title | Color |
| Berghaus hillwalker jacket | (blank) | Berghaus hillwalker jacket | red |

We also always ensure each feed has consistency in any written ad text:
| | |
| --- | --- |
| H & M | H&M |
| Hennes and Mauritz | H&M |
| H&m | H&M |

And remove any unwanted HTML text or un-needed values:
| | |
| --- | --- |
| Berghaus [*Hillwalker*] jacket </b> | Berghaus hillwalker jacket |
This helped Kaufmann achieve remarkably better sales figures - initially 71% more, which subsequently doubled - and allowed them reach their true potential.
That is why WakeupData won the 2nd place in Best Ecommerce Case - Web agency or Supplier category at the FDIH Danish Ecommerce Awards.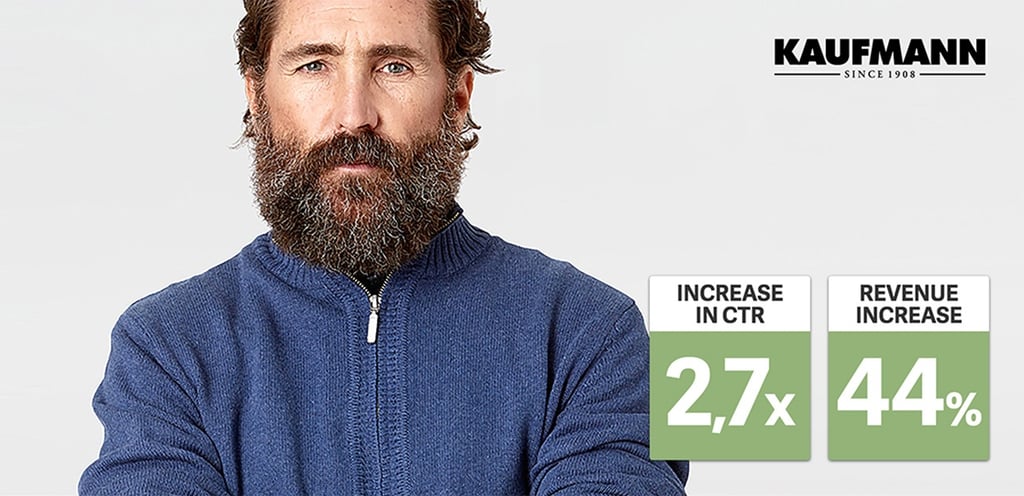 Work with the best
Getting connected to a new channel is easy. Helping you reach your conversion goals - a process not many can handle - is not. We therefore assign an integration consultant to you, so that they can assist you throughout your journey to success.
As seen by Kaufmann, in many cases, you will first experience an increase in your impressions or impression share. Better, optimized click rates will follow and subsequently, we will be helping you reach your full revenue potential.
The Keyword: Relevance
With WakeupData, you can enrich, transform, update, combine, evaluate, filter and do so much more with your up-to-date data - anytime you like - until it provides the best results based on search relevance.
You can choose to setup your Google Shopping product feed yourself or ask your integration consultant to do it for you. The setup is free for up to an hour and will include important aspects such as basic Google product categorization.
Content is king
Get in touch to ask us whether your product feed has the correct product information, for example: titles, descriptions, product types, categories and much more. Check out more case stories here.