How to optimise Google Shopping descriptions | WakeupData
Posted on April 2, 2018 (Last Updated: March 15, 2023)
It might seem that the most important things in a product's listing are ensuring you have high-quality images and optimized titles.
These are certainly important but the descriptions you give your products also play a vital role when you optimise your product feeds. In fact, Google announced in Q3 2020 that Product Descriptions would be playing an even more vital role in contributing to the success of effective product listings.
What a user reads (or doesn't read!) about the product hugely influences whether or not they will make that crucial purchase decision. Products submitted without data in the Description field will still be displayed, but their reach and ability to compete with similar products will be greatly diminished.
In this article we're taking a look at the importance of Product Descriptions to Google Shopping, and the steps you can take to create detailed descriptions that engage and convert your browsing audience into buyers.
Why should you optimize your Descriptions?
First and foremost, it contributes hugely towards your product's ranking on Google Shopping. Of course, a picture speaks a thousand words, but sadly search engines like Google cannot see images.
Search engines will crawl your feed to determine if your listing is relevant for different search queries. The keywords you use in both your title and description field play a vital role in Google determining that relevancy. That's why it's important to add accurate keywords to not only your title, but your description as well.

This process works like Search Engine Optimization (SEO), so the description structure has to make sense too. Finding effective and relevant long-tail keywords can dramatically increase your chances of ranking highly on search engines.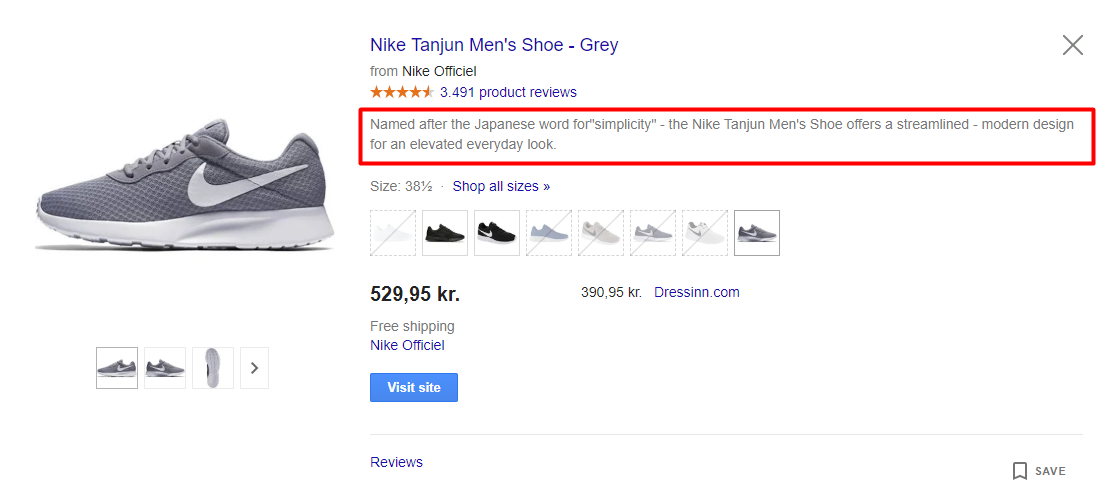 Secondly, an attention-grabbing, interesting (example above) and well-written product description can draw in your visitors and convince them to convert into paying customers. When you have hundreds of products with similar design or function, it can be a challenge to write unique, engaging and good quality descriptions.
Therefore, keep your descriptions short, high-quality and free from fluff - while still explaining to the customer what it is and how it works.
How to optimize your Google Shopping Descriptions
You might have already read that Google lets you use 5,000 characters for your product descriptions. But I think it's fair to assume that no customer is likely to read an essay like that about your product!
So let's forget about that 5000 limit for a moment. Maybe that is fine for your own online store, where shoppers are only browsing your items.
When it comes to competitive markets like Google Shopping, you ideally want to keep your descriptions between around 500 to 1000 characters.
Even then, Search Engine Results Pages (SERPs), will shorten to descriptions down to a shortened view of between 150- 180 characters - which means including your most important info at the start - just as we saw with product titles.
Sort out keyword hierarchy first
As I mentioned above, the SERPs will severely limit the number of characters displayed for your product descriptions.
So even if you'd written beautiful, keyword-rich product descritpions, they won't rank highly if you haven't sorted out a hierarchy which ranks the most important factors at the start.
Similar to the factors in title construction, think about:
Your product brand
The type of product (e.g. laptop, jacket, rucksack)
The intended audience
Now, work your way through the following list. These are factors that pretty much should ALWAYS be included in the first 180 characters of those descriptions:
Size
Color
Brand
Material
Texture
Technical specifications
Special features
And while we're on this subject, I guess it makes sense to include some factors you should avoid as well!
As an existing or prospective Google Shopping merchant, you've probably already realized that Google has a lot of rules and regulations when it comes to your product listings and Merchant Center account.
Here are some factors to avoid in your descriptions:
Promotional text, e.g: "Free shipping" or "Sale"
BLOCK CAPITALS and spam punctuation (e.g: S*A*L*E or D.i.s.c.o.u.n.t)
Describing your company (This is just about the product, not the business!)
Details or descriptions of other products or accessories
Information about payment or sales
Including the Google categorization for that item (e.g., Clothing & Accessories > Clothing > Jackets)
Now find the right keywords for your Google Descriptions
You obviously want to be looking for keywords which are going to give you the most relevance and be found by the right shoppers. Here you have to put yourself in the perspective of your customer: what keywords might they be searching for to find your product, which attributes, factors and considerations are going to be important?
Yeah - it can definitely be a lot for first-time sellers to think about. We've outlined a few factors to think about below (with examples!)



Product Type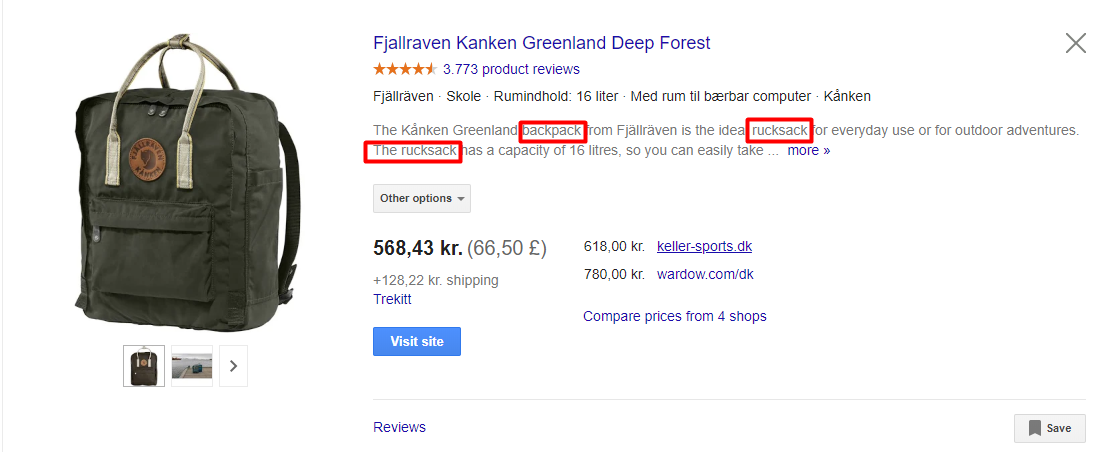 Make this as clear as possible. Okay, maybe the example above might overdo it slightly, but getting that produce type (and its varients, e.g: rucksack, backpack) is vital.
Size
No matter what you are selling, the size of the product is always going to be pretty crucial. Almost any shopper, whether looking for new sneakers, a bike or a laptop, will want to know what size the product is - so get that in the description asap.
Material
This also rings true for the product material. It doesn't matter if it's a baseball shirt or a handbag, your customer is going to want to know what material the product is made from.
Brand
Did you know that 65% of a company's business comes from existing customers?


For shoppers who are loyal to certain brands which you stock, the brand of a product could be the deciding factor in whether or not they click through to your ad.

For that reason, make sure you are always including the brand in those first few characters somewhere.

Texture
The issue with ecommerce shopping? You can't (well, not at the time of writing in 2019!) let you shoppers handle your product.
Therefore, your description needs to paint that picture for them. Is your product coarse, smooth, silky soft? If it's relevant, get that message across.
Technical Specifications
This is particularly true for electronics sellers. Add all the specifications so the shopper knows exactly what they are getting their hands on. This might include the processor, RAM, hard disk space, etc.
Special features
What does your product have that others don't? If you can add special features which will stand out from the crowd, these are the small factors that contribute to greater conversions and ROI.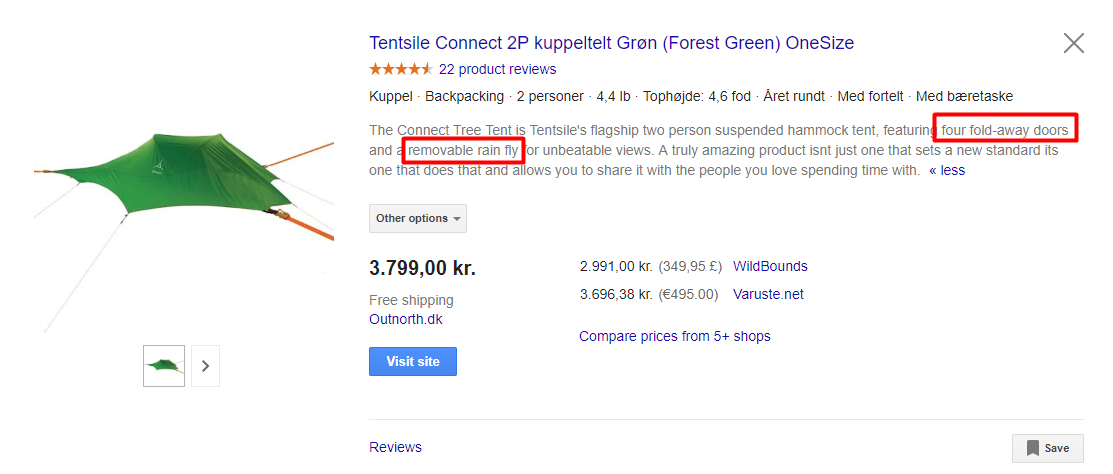 Define Your Buyer Persona

Before writing your product descriptions try to have your buyer persona in mind. What websites do they visit, what are their interests and what kind of language will draw them in? Consider what they want to do to improve their business, what they want to achieve, and how they make decisions – all of this will help you target your descriptions to include more vivid, personal and persuasive language which speaks to your buyer persona.

Check out this Moosend blogpost on how to go about creating buyer personas for your products.
Use language which is unique and engaging
Implementing this into your product descriptions will ensure that users can convert into paying customers. They want to know what's in it for them. How does it make their lives better? Which problems does it take away?
Define Your Tone of Voice
Do you want to sound like a big corporation? Or do you want to engage readers with personality and some humor? Your tone of voice can differentiate you from your competitors; it gives readers a strong impression of your organization's culture and personality.


Do NOT copy product descriptions
Taking these directly from the manufacturers' websites will destroy your conversion rates and lower your SEO ranking. It may seem like a clever, time-saving strategy but I'm afraid the negatives outweigh the positives in this case.

What benefits can improved product descriptions give?
This is a good question, luckily you've come to the right place! Legeakademiet approached WakeupData to hear about the possibility of improving the conversions via their Google Shopping feed.
They compared a 15-month period without using WakeupData with a 15-month period using our feed management tool to optimize their Google shopping feed. The results of improved product descriptions, as well as titles and images are shown below:
Read the full success story of Legeakademiet here.

Related: What is the Google Manufacturer Center and how does it differ from the Merchant Center?
Conclusion
Well planned, well written, optimized product descriptions in Google Shopping can go a long way toward improving the visibility of your products, boosting click-through rates and preparing shoppers to buy once they get to your product page.
Using this advice as a basis, you can then optimize your product images and add relevant keywords to your product descriptions (and titles) that you know customers are using to find your products.
By choosing WakeupData as your product feed management solution, you gain a professional and experienced service with results that speak for themselves.
Find out more about Selling on Google Shopping and get a free product-by-product analysis of your Google Shopping feed below: