How does product feed management add value to my business?
Posted on March 3, 2023 (Last Updated: March 03, 2023)
If you're new to working with eCommerce product advertising, product feeds can be confusing. If that's the case, you might want to read this article first to get a basic understanding: What is a product feed?
If you are not new in the game but still unsure why you should dive head first into product feed management, have a look below to learn more about why the fastest growing eCommerce companies do it, and why you should too.
Product feed management, particularly a product feed management platform, can add significant value to your business. Let's take a closer look at how it can help.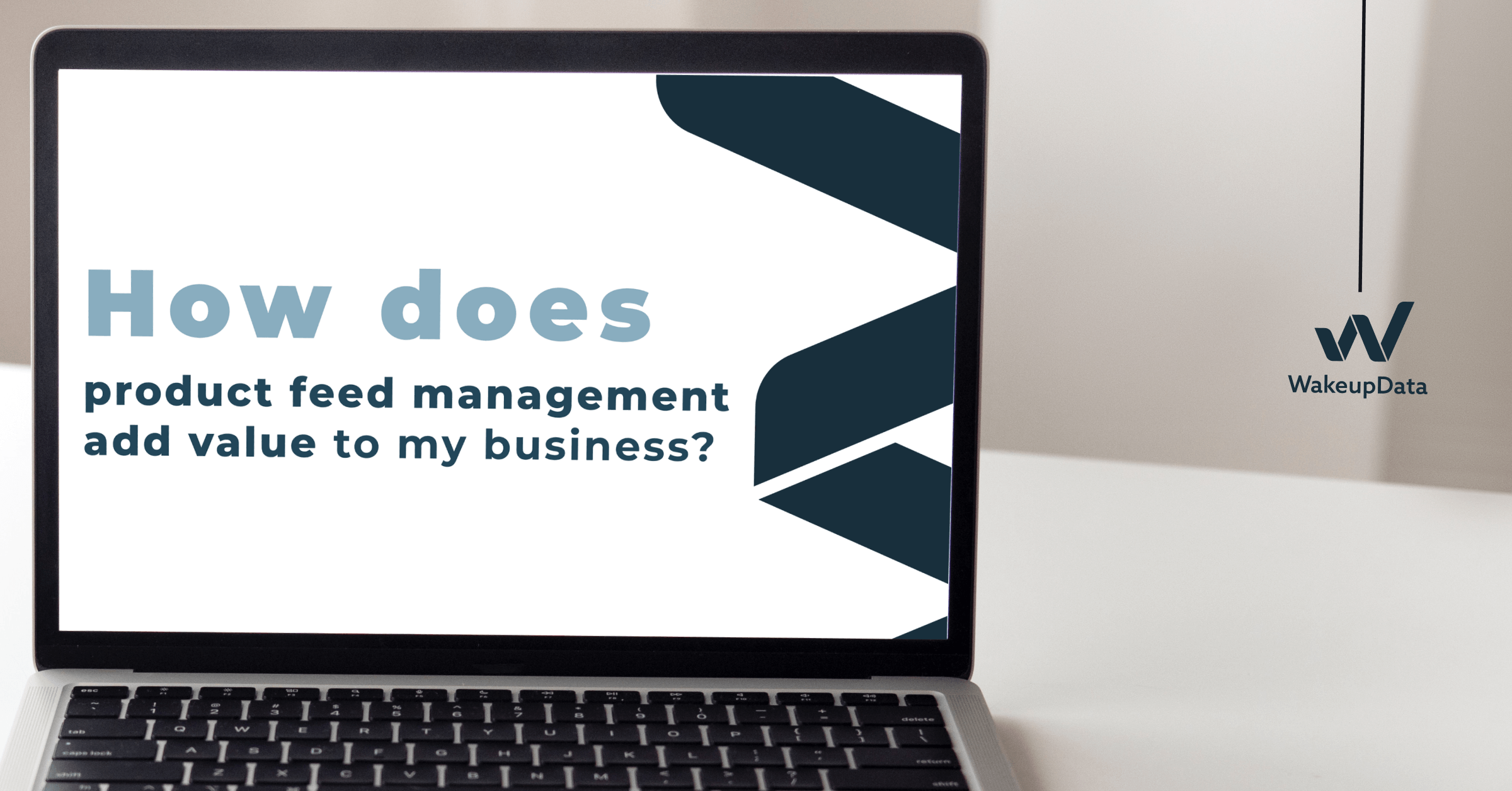 Increased Product Visibility
When you properly manage your product feed, you ensure that your products are visible on multiple platforms and channels, including search engines, marketplaces and comparison shopping engines. This can help to increase your reach and attract new customers. Optimised product data improves the chances that your product will show up in the right searches on the right platforms. For example, if you have rules that optimise your titles to include all of the required information (e.g. brand, colour, size, material) for each of your advertising platforms, it's more likely that shoppers will find your product – and if they're looking for something very specific, it improves the chances that they'll purchase your product.
Improved Data Accuracy
Product feed management ensures that your product data is accurate, up to date and consistent across all platforms. This can help to reduce errors and improve the customer experience.
Using up-to-date data prevents you from advertising out-of-stock products or out-of-date prices, which can get your product rejected in Google Merchant Center.
If data is missing from your product feed (e.g. your stock levels are updated on your website using data from your ERP system), you can scrape the up-to-date data from your website and merge it into your product feed. This reduces the chance of errors while increasing your product feed performance.
Increased Product Sales
A well-optimised product feed can increase product sales by making it easier for customers to find your products and compare them to your competitors. Sending the correct data to your respective platforms also helps to increase sales. You can even utilise competitor price monitoring to make sure you're not wasting money by advertising products that are significantly more expensive than your competitors. Instead, you can focus your budget on products that you know have a competitive advantage – and a bigger chance of winning the sale. Focus on POAS instead of ROAS. Profit margins can be imported from your ERP and merged with your product data – or an estimated profit margin can be calculated directly in your feed management tool.
To increase sales even further you can start using image transformations to optimise your product images for your chosen channels. For Facebook, and other platforms that allow it, you can add prices, discounts, logos and other graphics to make your product images more engaging. An engaging image has been proven to increase CTR, thereby increasing your ads' efficiency. Automated background removal is a great tool for making sure your product images meet Google Shopping requirements.
Better Targeting
By properly managing your product data, you can create more targeted campaigns that reach your desired audience more effectively. This can be achieved using custom labels, which allow you to tag products that you want to push in campaigns or to specific target segments on platforms like Facebook or Google Shopping.
Custom labels for Google Shopping enable you to group products across brands and/or categories to make sure they reach the right audience at the right time. This is very useful for seasonal sales like Black Friday, Valentine's Day or Christmas. Custom labels for Facebook can achieve similar targeting.
Increased Productivity
Automating your product feed management can reduce the time and resources required to manage your product data – so you can focus on more strategic tasks.
With a good feed management platform, you can set up rules and automation to help you update your product data and make changes to data so it meets your advertising channels' requirements.
For example, it would take many hours or even days to manually update 30,000 product titles. However, using simple rules in a feed management platform can automatically ensure that all products are being checked and updated as needed. It could be as simple as checking whether a product's brand appears in your product title – if not, it can be automatically inserted in front or after the title.
Manually creating Google Text Ads for all of your eCommerce products is a big job that could take weeks to complete. Fortunately, there are tools to help you create and maintain all of your Dynamic Google Search Ads while making sure that ads are added or removed as stock changes.
Reduce Time to Market
An efficient feed setup will enable you to easily branch out to new channels and/or new markets. A product feed ensures that your product data is up to date and that you're sending the right information to your advertising channels.
Especially for larger brands, efficient procedures for launching new products is invaluable because it frees up time so that you can focus on getting the messaging right instead of struggling to get the right data to the right channels.
Increased ROI
Improving your product visibility, accuracy, targeting and sales can increase your return on investment and grow your business more quickly.
The biggest benefit comes from the efficiency you gain by not wasting budget on poorly converting ads when your stock levels are correct and your prices are up to date – and not spending money to advertise products that have low margins or are not competitively priced.
Overall, product feed management can help improve the visibility and sales of your products, making it an essential tool for any eCommerce business looking to grow and succeed in today's competitive online marketplace.
Better performance on Google
If you are struggling to compete on Google Shopping, or feel you are spending a little too much to get a sale, we have a few tools to help you achieve better performance.
Firstly, we can help you reduce your cost per click on Google Shopping. Save up to 20% on Google Shopping ads by using a Premium Google CSS Partner, compared to your competitors that use the default Google CSS. This will in most cases decrease your CPC instantly and increase your impression share. If you leave your budget unchanged you will be more competitive.
Secondly, you should focus on getting the right traffic and avoid wasting money on ads that are no longer relevant. This can be achieved if you update your product feed frequently with correct prices and stock levels for your Google Ads. This can also improve your customer experience as customers won't be led to products that are out of stock or advertised at a different price than what you show on the landing page.
The third way to increase your Google Shopping performance is by setting up Local Inventory Ads. With Google LIA you can increase your brand awareness and also your in-store sales by reaching people searching for your products locally. Local inventory ads can jump ahead of traditional Shopping Ads, at a lower cost, if they are more relevant to the user. LIA allows you to promote your in-store inventory online thus leading potential shoppers to your physical stores.
And last but not least, increase high intent traffic through long-tail keywords. By matching very specific searches, there is a higher chance of converting. You can do this by adding Google Search Ads, or Text ads for your products. You may think this is an impossible task, but we happen to have a tool to help you with just that. Dynamic product Text ads are now much easier to set up and maintain and can help you be shown in those very specific long-tail searches. These long-tail searches usually see a higher conversion value, which can lead to more sales.
Better overview
Make better decisions by analysing your up-to-date data (e.g. inventory). Extract your own data in any way you need (e.g. use your data in BI, Google Sheets or Excel) to perform your own analysis or pass it on to relevant departments for more efficient workflows.
A feed management platform like WakeupData will let you do exactly that.
How is your product feed quality?
If you're unsure whether there are improvements you could make to your product feed, we can tell you with 99% certainty that there are. It is just a matter of deciding where to start.
WakeupData offers a free feed audit. When you take advantage of this offer, we'll go through your product feed and suggest improvements to increase your efficiency.
You're also welcome to book a free demo to learn more about our flexible feed management platform and how it can benefit your business.