What is the impact of Coronavirus on Ecommerce? An impartial guide
Posted on April 6, 2020 (Last Updated: March 28, 2023)
Since the global outbreak of Covid-19, predictions and expectations on the impacts and roles of ecommerce during this time have been commonplace.
The objective of this article is therefore not to add more fuel to the fire by stating WakeupData's own predictions. Instead, we've been discussing the impacts and required actions at length with our ecommerce clients, and here we offer some of their comments and ideas.
Combined with this, we're taking a look at the data to offer an impartial guide to what it tells us, and what we can expect to happen over the remaining weeks of 2020. We will strive to keep this article updated to give you the best possible insights:
A positive ecommerce outlook initially
Many marketing experts initially predicted that e-commerce sales would increase rapidly as COVID-19 cases increased, leading to global restrictions on socialising and enforcing greater social distancing. In practice though, the results so far have shown a different story with a more mixed bag among several ecommerce industries.
In fact, 36% of sellers predict their sales will actually decline due to supply chain issues, product shortages, shipping delays, and the potential for demand to drop as the economy fluctuates.
As the graph from Quantum Metric (below) shows, 36% of ecommerce retailers interviewed reported an expected downturn for their business, with only marginally more predicting an increase in purchasing from consumers (38%).
The role of Consumer Confidence in ecommerce?
These initial predictions of signficant growth for ecommerce globally can also be brought into question from recent studies looking at consumer confidence at this time.
The uncertainty of struggling global economies and worries over consumer's personal financial situations may act as a hindrance on ecommerce spending.
A study by Digital Commerce 360 into the current concerns facing retailers found that 42% of 304 ecommerce businesses cited consumer confidence as an issue for them, with a further 16% acknowledging that it will have a negative impact on online sales.
Issues with supply chains
Many of the recent studies into the role of ecommerce during the Covid-19 crisis also reflect the concerns of many retailers around supply-chains.
In March we read how Amazon had experienced a strain on its supply chain, leading to shipment delays and labor shortages and resulting in them announcing a halt to shipments (including Fullfillment By Amazon sellers) of nonessential products to its US warehouses until April 5.
Those ecommerce retailers who were asked what actions they're taking as a result of the pandemic quoted greater supply chain communication and contingency planning as their top required actions.
However, the Danish ecommerce union FDIH also noted how several companies were hiring new employees to keep up with the increased demand. The grocery giant Nemlig.com plans to hire 200 new employees to keep up with demand, with smaller Danish companies like Med24 also hiring more new colleagues.
The benefits for certain ecommerce industries
We also saw that, after focusing their efforts on securing the most basic of needs such as groceries, health products and financing, consumers have been shifting their online activity to focus on items and services that will help get them through an extended period of isolation.
The New Consumers' report from Rakuten Intelligence that found US ecommerce spending up ~36% YoY from Mar. 12-Mar. 15, "almost twice the growth rate it had been generating this year."
Online Grocery Stores Struggling To Keep Up With Demand
Traffic to online grocery stores shot up +84% in the last week of March, contributing to an overall +161% increase in visits since February.
While didn't see a dramatic increase in demand for any clients, we noted an increase in purchasing of groceries, streaming platforms and online games during the weeks of lockdown."

Anders Led, Adapt Agency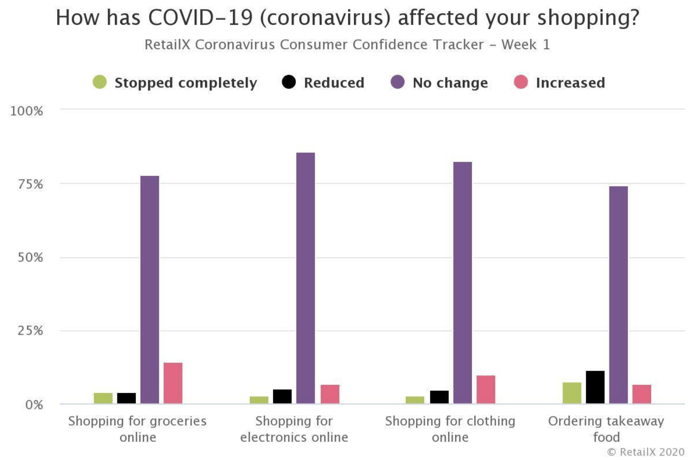 Retail healthcare clocked in a steady number of visits but significantly fewer transactions (down -35%), suggesting consumers may have already stocked up on essential medical supplies, vitamins, etc. to last them for the several months of lockdown and ensuing gradual lifting of restrictions.
As some grocery and retail healthcare players experience supply chain issues, it is worth noting that transactions on cosmetics websites were up by +33% during the first weeks of lockdown. Many beauty ecommerce businesses have decided to refocus their offering, with much success, on necessities such as soap and hand sanitizing products.
We also saw a large increase in the performance of apps and online games recently. There is definitely an increased demand for entertainment products like console and board games during days of social isolation.

Jacob Nissen, Adgora
Tourism and Real Estate Continue to Suffer
Following weeks of relative stability and a slight dip during the initial introduction of lockdown measures, the real estate sector recorded a huge dip in traffic in the last week of August — -46% compared to -52% since the beginning of the Covid-19 outbreak.
The travel and hospitality sector continues to experience a slowdown in traffic, which was down – 44% during the last week of March 2020. Transactions were also down -67%, contributing to a decrease of -81% since the start of the crisis (source).
Communication with one of our partner agencies, Adgora, echoed these results, who noted that among their clients, travel and hospitality being hardest hit, particularly among smaller-scale businesses who were more inclined to simply shut down their ecommerce campaigns for the foreseeable future.
Meanwhile, visits to fashion and luxury sites were down approximately -15% in March, and apparel sites in particular saw a -8% decrease in transactions.
The
important role of e-commerce
As more physical shops close down because of falling customers numbers or as a result of regulatory requirements with partial curfew, Ecommerce Europe is expecting to see a general increase for the e-commerce industry.
"Online stores will play an important role, if in the future we are experiencing the adverse scenario with an overall downturn in physical commerce"
says Iger Wijnand Jongen , President of Ecommerce Europe and managing director of Thuiswinkel.org, the Dutch e-commerce association .
Build trust in uncertain times
From keeping consumers informed of product shortages to taking steps to improve your supply chain to maintain inventory, every single agency client we spoke to recommend the same action: reassuring the most crucial aspect of your business: the customer.
Be online and communicate openly with your customers. Make sure they know if there is any delay in deliveries, etc.

We are giving our ecommerce clients credit and encouraging them to take advantage of the opportunities of more media space and reduced prices of ads.

Jacob Nissen, Adgora
The coronavirus situation is changing rapidly, and it's still too soon to know exactly what to expect and how to prepare. But if e-commerce sellers keep their customers at the forefront by trying different strategies to re-engage customers, it'll successfully guide their decisions.
If you want more updates on the impacts and changing roles of ecommerce during the coronavirus crisis, and the support that Product feed management tools can provide to retailers, please consider subscribing to our newsletter.