How to set up Product Review Feeds for Google Shopping
Posted on June 27, 2019 (Last Updated: November 14, 2022)
Google Product Review Feeds allow you to send a feed to Google with details of all of your customer reviews. These can then be used as a means of enhancing your product listings ads.
This short guide explains how the process works and how you can properly format your product review feed.
Product Ratings appear as a 1-5 star rating system and a count of total reviews. These star ratings represent rating and review data for the product, compiled from multiple sources including merchants, third-party reviews, editorial sites and consumers.
For shoppers on Google who are browsing through hundreds of products, the addition of extra, eye-catching info like previous reviews can go a long way in making your product stand out - and convincing them to make that purchase decision.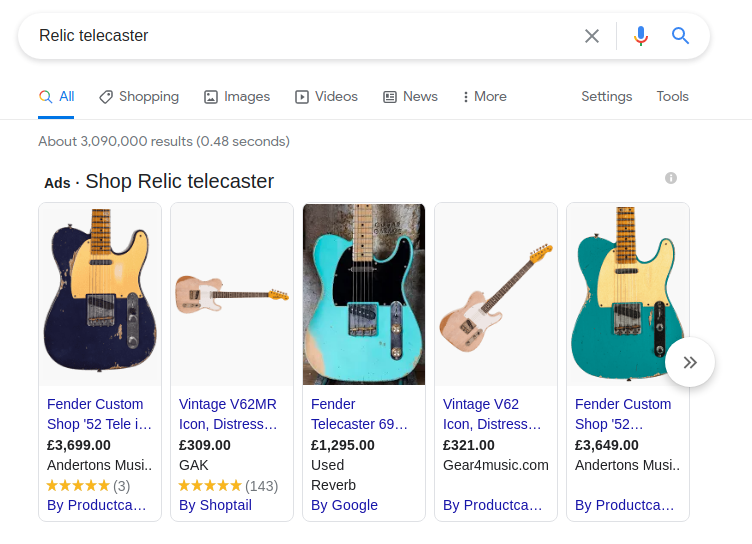 If you'd like Product Ratings to appear on your Shopping ads you need to have at least 50 product reviews and fill in the Product Ratings Interest Form.
Creating your Product Review Feed
In order to be approved for the addition of product reviews to your listing ads, you need to submit an XML feed to Google. This includes relevant fields like the feed schema version, publisher and custom reviews. Check out this Google helpsheet for putting together and validating your XML feed.

Once you've been accepted onto the Google Product Review program and created a reviews feed in the XML format, you'll need to set it up inside your Google Merchant Center account.
1. Login to your Google Merchant Center account, open the menu on the right and click on Merchant Center Programs (Image below: credit).
Next you need to select "Product Ratings". You will be able to submit your application and indicate your reviews count. Google will ask you how many 1, 2, 3, 4, 5 star reviews you have. Approval by Google usually takes less than a week, but times may vary depending on your particular scenario (image below: credit).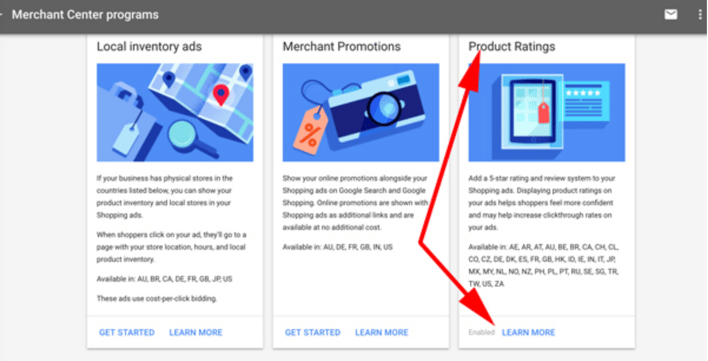 Once you are approved, go to Product Reviews in your Merchant Center side menu and select 'Add Feed' (image below: source).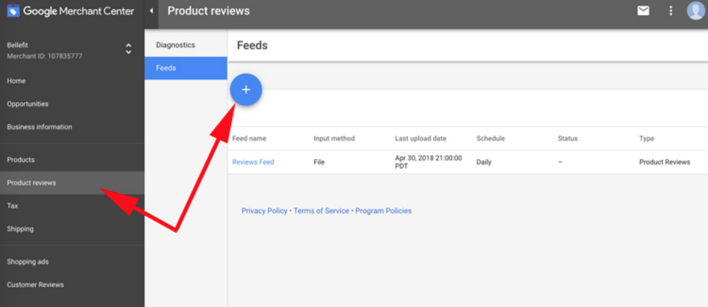 Enter the basic info, a filename, choose a fetch time, and enter the feed URL
Once that is completed, Google will fetch and validate your feed and contact you if there are any issues. Note that providing a feed does not guarantee that your content will be included in Google Shopping.
Conclusion: Why use Product Review Feeds for Google?
This is a free and relatively straightforward procedure that has the potential to add great value to your feed marketing efforts. As with any channel, product or industry in ecommerce, it's the small factors and add-ons which give you that competitive edge and ensure your products stand out more.
That's why WakeupData don't just optimize and export your data, but offer add-ons like weather data, image transformation, split testing and competitor monitoring.
Find out more about Google Shopping or check out our resources below, which gives you access to downloadable ebooks, webinar content and client stories.