Shoppable Product Images in 2021 - From Google to Instagram
Posted on March 30, 2020 (Last Updated: August 16, 2021)
In the world of ecommerce, more and more channels are realizing the importance of the product image - and offering the tools to help digital marketers take advantage of this.
77% of those who viewed shoppable sites found them easier to navigate and 66% of them got enough information to make a purchase decision.
Styla.com
It's a trend which isn't unique to sites, with marketing channels like Google, Instagram and Pinterest launching shoppable product image features over the past year. We're taking a look at how digital marketers now have the tools to make creative, engaging images in minutes.
The combination of engaging visuals and instant information about specific products creates the perfect ads for ecommerce retailers to drive revenue (Source: Hubspot).
Here's what ecommerce marketers should know about the potential for displaying their product images in 2021 - plus a few predictions for what new trends we could be seeing on the horizon.
Shoppable images across platforms
They might use different names depending on the platform, but the concept of a tagged, shoppable image is the same across Google, Instagram, Pinterest, Snapchat - you name it.
Lets take a quick look at the different types across platforms and when to use them for your audiences.
1. Google Shoppable Images
| | | |
| --- | --- | --- |
| Displayed In | Details: | Audience: |
| Google Image results | This sponsored format surfaces ad images, and advertisers can tag multiple products in the image for sale | Users searching for general inspiration related to terms or looking for specific products and types of products |
2. Instagram Shoppable posts & Stories
| | | |
| --- | --- | --- |
| Displayed in: | Details: | Audience: |
| Brand's own post or story | Advertisers can add shoppable tags directly to their own posts and Stories | Account's followers, targeted audiences, and others who may come across post organically |
3. Pinterest Product Pins
| | | |
| --- | --- | --- |
| Displayed in: | Details: | Audience: |
| Pinterest Pins | Advertisers can either use a product feed or individual product pages to make their pins shoppable | Anyone browsing pinners and targeted audiences. |
4. YouTube
| | | |
| --- | --- | --- |
| Displayed in: | Details: | Audience |
| In-stream video ads | You only pay when someone chooses to watch at least 30 seconds or clicks on your TrueView ad. | Youtube's Find My Audience lets you gain an understanding of your most valuable customers. |
5. On-site Display from iPaper
It's not all about the social media channels though. Display is a product promotion banner attached to your own site and specifically made for eCommerce retailers.
It's designed to encourage shoppers to explore your products and gives you the toolkit to apply your unique style and branding to each banner.
The screenshot above (credit: iPaper) shows a Display banner for Pixizoo who achieved a significantly higher conversion rate and a reduction in their bounce rate after implementing iPaper's solution.
How does Display work? Using your shopping feed, product images prices and information are directly uploaded to your Display banner.
If your prices or product visuals change, they'll be automatically updated in your Display using your shopping feed.
Get more info on Display here.
Ecommerce adoption of Shoppable Product images
The task for many businesses will be updating their current practices to ensure they data feeds are meeting the various requirements for shoppable creatives across those channels and integration partners mentioned above.
A greater focus will need to shift towards the creation and improvement of high-quality product images.
- Preparing your product catalogue for Shoppable Images
Ecommerce businesses need to prepare for making the most of shoppable images by collecting 'lifestyle' images that are visually engaging and then to start tagging images with specific product data for Google, Instagram, Pinterest, etc to use.
Here are two steps to prepare:
Search for existing Shoppable Content.
You might already have more possible shoppable images than you know about. Often visually striking content that could be applied to ecommerce may be applied to specific channels like newsletters or social posts and then forgotten about. Don't let your content go to waste!


Get the ball rolling.
The best way to understand how shoppable product images work for your business is to get started in small cases.
Try out shoppable content on your own ecommerce site, email newsletters or a single sales channel.

Once you have done so it will help you to get insights into how your customers engage with that content, what they enjoy (and don't enjoy!) and, most importantly, whether it delivers a good ROI to justify further time and costs.
- Use content from customers
Regardless of the channel, content contributed by happy customers consistently performs well.
As with Client Cases, it's a way of customers speaking to one another, without the input of your marketing copy and design.
ASOS has made use of this with shoppable instagram images from user-contribution photos from across the globe. The #AsSeenOnMe encourages photo sharing and input from other customers who want to be featured.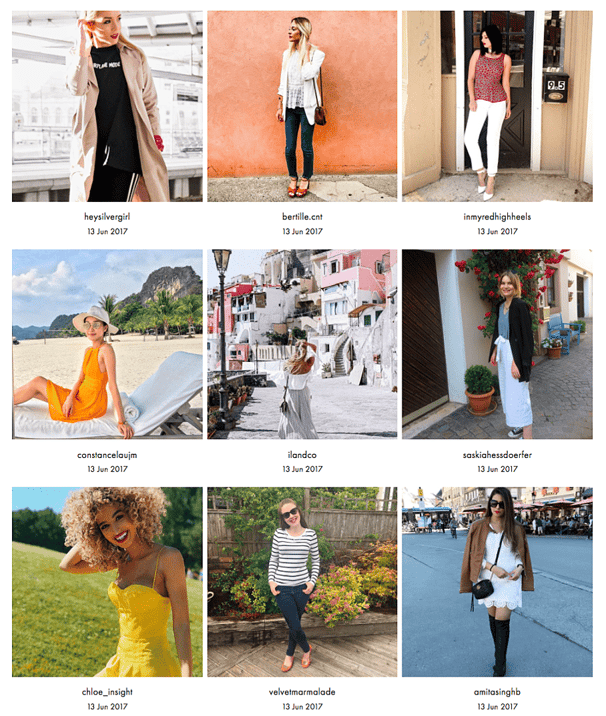 The rising trend of shoppable product images
No matter the ecommerce channel, shoppable ads are often the highest performing in terms of engagement and conversions:
They're visually engaging
They are easy for marketers to personalize
They provide immediate details on products
With the right tool to transform product images, the time that you put into creating high quality, shoppable product images for your website and marketing channels will pay off.
As mentioned above, it will take time to get your images looking just right, but once you get insights into what works and what doesn't, you can tailor your approach to fit your audience's preferences.
At WakeupData, we have built an in-platform tool that can be used to optimize your product images for E-commerce. You can use our expert image editors to adjust backgrounds, clip, crop, align, and retouch your product images to meet exact channel specifications for engaging shoppable images.