Boosting your Sales with Instagram Shoppable Posts
Posted on May 8, 2019 (Last Updated: July 05, 2021)
Instagram recently reported that they have 500 million active profile pages, and over 80 percent of those users are following at least one business account.
What's more, 72% of users have actually made purchases after seeing a product on Instagram.
These statistics might not be news to you. The latest features introduced by the expanding e-commerce industry giant are making it easier for retailers to offer their products in engaging and enticing formats.
We've already looked at the multiple options of Instagram Dynamic Ads, so in this article we'll be taking a closer look at their Shoppable posts (see image below).
This is a means for brands to avoid relying exclusively on sponsored ads and achieve direct purchases through organic posts via their page.
But there are a number of requirements and best practices to achieve success with your shoppable posts, so let's take a look at those now.
How do Instagram Shoppable posts work?
The concept of shoppable posts on Instagram is straightforward.
You simply tag products included in your images - so viewers can click through to the product to get more info. It means they pass straight from browsing to buying in seconds.
You'll firstly need a product catalog uploaded to Facebook. For the full story check out in our Facebook import guide on how to do this - as well as info on how a single catalog can be applied to all your Instagram Dynamic ads too.
Once your catalog is uploaded, Facebook can access the most important info about your products.
How to make your post shoppable?
Upload Your Instagram Image
This process is the same as any normal post by your business or brand - add filters and edit as your normally would.
Tag Products
Now navigate to the next screen, where you can usually tag people, add captions, locations and SoMe sharing options. Here you'll see you now have the option to tag products.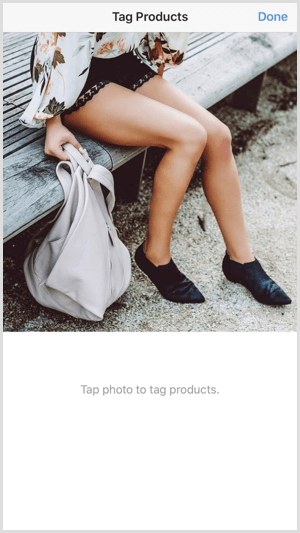 Once you press on this option, you will be able to select where you want the tag to appear on the image - just as you would when tagging people on Facebook or Instagram.
You'll then be offered a list of products which you have already imported to your Facebook catalog. Select those which you want to include in the post and simply select save this tag and upload your post .
Your product will then appear with a tag on the image which includes name and price.
Sounds simple right? How can you get the best results from this?
So we've seen that the actual process of importing, setting up and tagging your products in shoppable posts is actually very straightforward.
Making sure your images are therefore engaging, eye-catching and attractive to your customers is vital to ensuring the success of shoppable posts like the one below.
But what more can you do with your product data to ensure the best results?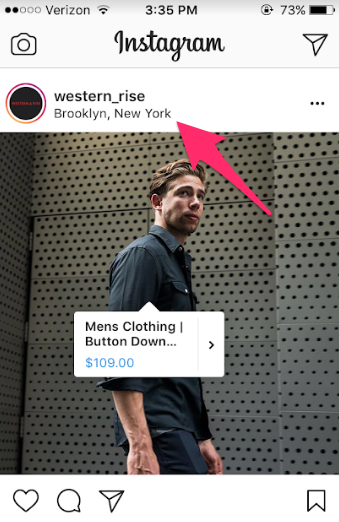 The information you provide in your product catalog shouldn't just meet the requirements of each channel. Effective data feed optimization lets your feed data stand out from the crowd.
Remember, when you're optimizing your product catalog for Instagram you are also optimizing for Facebook - meaning you are fully ready to sell more on two channels with minimal effort.
We've pulled out a few key tips from our longer blog post on optimizing a Facebook product feed for effective revenue increase:
1 Complete
Ensure missing or empty fields are filled in.
| | | | |
| --- | --- | --- | --- |
| Product title | Color | Product title | Color |
| Berghaus hillwalker jacket | (left blank) | Berghaus hillwalker jacket | red |

2 The same throughout
| | |
| --- | --- |
| H & M | H&M |
| Hennes and Mauritz | H&M |
| h&m | H&M |

3 Makes sense
| | |
| --- | --- |
| Berghaus [*Hillwalker*] jacket </b> | Berghaus hillwalker jacket |
Making small changes like those above will go a long way in ensuring a better customer experience. Online store's selling on multiple sales channels want to keep their high standards of copy and ensure messages and presentation is always on-brand.
Keep boosting conversions through perfecting your Shoppable posts


So as we mentioned above, selling on Instagram is becoming easier than ever. Yet with organic posts like this, don't make your audience feel like they are being sold to.
Here are a few tips to keep in mind when boosting conversions through your Shoppable posts:
1. Keep with your current organic content strategy and use the shoppable tags only on posts where they are still a natural fit for your business.
2. When it's relevant, using multiple tags on certain photos will give your viewers a chance to explore the product catalog range you offer.
3. Make use of Instagram's analytics features which tell you how many people viewed or clicked through on your shoppable posts. Find out which tags and image types work best.
4. Test and experiment on carousel posts as well as single-photo posts to see which gives the best results. Keep in the know about what is driving the most clicks and conversions.
Start selling effectively on Instagram and Facebook
As I mentioned above, it's important to overall performance to ensure that your product listings are fully optimized and the best they can possibly be when selling on Instagram and Facebook - or any sales channel for that matter!
With the help of WakeupData's customer support team we can provide you with an optimized, high-quality product feed for any channel using our pre-built templates.
We remove the need for complex coding or external IT support and save you the most important currency: time.
Want to find out more about managing effective Dynamic Ad campaigns for Facebook and Instagram? Check out our free ebook guide, which takes you through the How's, What's and Why's of creating effective Ad campaigns that perform well and build revenue.