8 tips for advanced Google Shopping Feed Optimization
Posted on March 1, 2021 (Last Updated: August 18, 2021)
It's been said before, but it's worth saying at least once more: 'The quality of your product data is the deciding factor in the success of Google Shopping campaigns'.
Or any other ecommerce channel for that matter!
We've put together this article to help people who know about product feed optimization, and would like some concrete tips which are going to take their Google Shopping campaigns from average listings to high-performing assets which are driving conversions.

What benefits does product feed optimization bring?
For the same reasons that you would optimize your product listing pages on your online store, you want to increase the clicks and conversions from potential buyers.
By providing as much valuable information as possible in your feed through data feed optimization, you will make your listings more relevant for your shopper's searches. The outcome will be that search engines like Google will display your ads more frequently, for less money.
The data feed you provide for each channel is the foundation of your online campaign. If you aren't putting in the effort to ensure it looks good and is of high-quality, you will not perform as well as your competitors.
Product Data Feeds which aren't optimized:
Won't rank for certain desired search terms

Will cost online store owners more money to display their ads.

Your competitors will be given more ad space
If you're missing fields like size, variation, brand, then you can't bid on those factors.

Stated shortly: your feed is fundamental to your ecommerce performance.
1. Get hold of GTINs for your products
Global Trade Item Numbers, or GTINs are perhaps the most common product identifiers used for Google Shopping. If you are familiar with ASIN (Amazon Standard Identification Number) then this is the same concept.
GTIN Requirements
Way back in ancient e-commerce history (2016), Google announced that all products submitted to the Merchant Center by sellers required GTINs, as well as the brand attribute for that item.
Manufacturer Part Numbers (MPNs) are also strongly recommended by Google but, as of yet, not mandatory (unless you cannot provide a GTIN - see further down in this article).
Submit a GTIN as defined in the official GS1 validation guide.
Make sure that the check digit is present and correct

using the

GS1 Check digit calculator.
Don't submit a GTIN for a generic product.
Don't submit a GTIN for a product that doesn't have a GTIN. If you're the only seller of a product or if your product is a store brand, it generally won't have a GTIN, so you don't need to submit one.
Submit separate GTINs for variation products. Products that have multiple variations in size, shape, color or material should each have their own unique GTIN.
Finding your products' GTINs
If you don't already have a list of GTINs for your feed, it can be time-consuming to get hold of them (usually listed on the barcodes of your products packaging or via EAN search tools online).

Fortunately, WakeupData offer an on-demand web-crawl tool which lets you extract valuable information like this (as well as tags, images, metadata, etc), from across the web - crawling manufacturer sites and databases.
Google uses the GTIN to pull from the supplier's catalog and place your ad into a lottery with the other resellers of the same product. The ads default to the attributes of the supplier's catalog and will override optimizations made in the feed.
These specific ads are triggered for high funnel specific searches and only show one PLA. Once a user clicks on the ad, it takes him to a landing page with all the variations of that one product only for your online store.
Related: How to use GTINs in Google Shopping
2. Title Optimizations
The title which you choose to give products is one of the most important factors in ensuring a good performance of your Google Shopping product listings.
Google's algorithm will use your titles to decide which search queries your listings will be applied to.
What that means it that if you are missing certain important keywords that your target audience are searching for, you won't be listed in their search and will be miss out on a purchase.
But it's not just for algorithms that you need to be optimizing your product titles!
They are for people too, who are coming and browsing your products. Therefore, your titles should outline product attributes in a clear and concise way so that your shoppers can immediately find out if your listing is worth clicking on.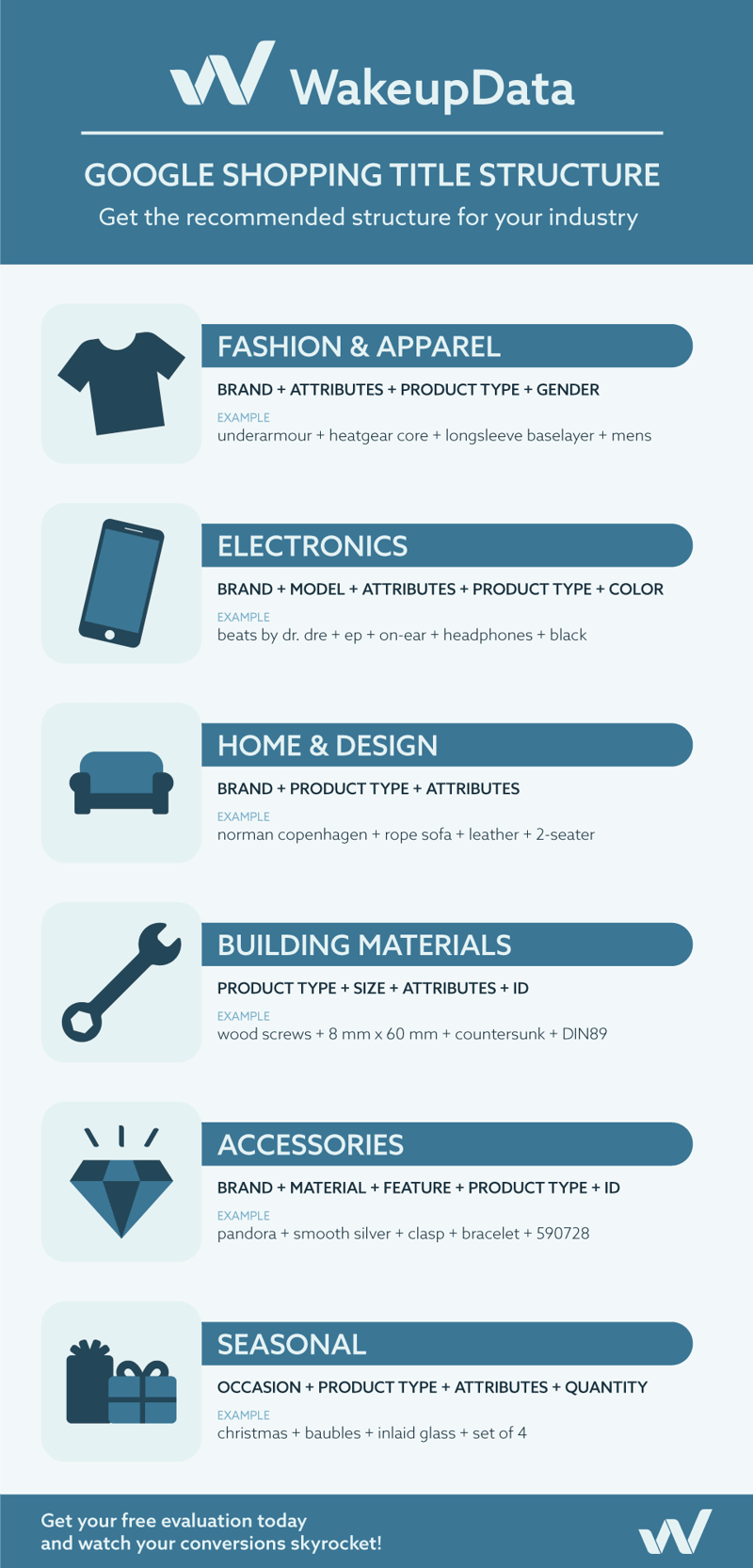 How to go about actually optimizing your titles?
Within the WakeupData, platform, the process of optimizing titles couldn't be easier.
From within our 'Transformation Engine' you can easily and efficiently make any changes you like to any field.
Let's take an example, in which we want to add our brand and material to each product title within our Google Shopping feed.
You'd simply select 'Product Title' as field 1
Then 'Brand' as field 2 and 'material' as field 3
You can click and drag the order of the transformation, get a preview to see how the output looks and voila - your optimized titles are ready!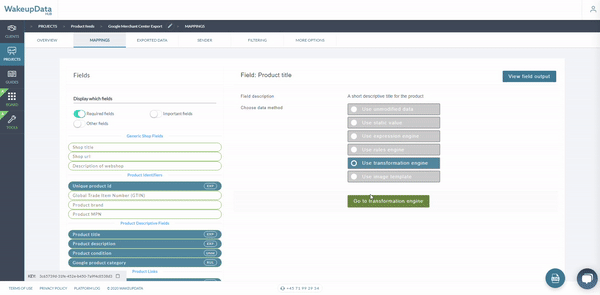 Google wants your product titles to be written for real people, just like your on-page SEO content. You aren't writing just for the search bots, and that is important to keep in mind - so review your titles as you go.
That way, you'll make sure that you don't write product titles that make no sense to your shoppers.

Related: Google Shopping Optimization to improve conversions
3. Add some Color
It used to be best practice to flatten your colors in your feed into something a user would search for. An example of this is selling a product where the color was "Pomegranate" you would change the color to "light red" or just "red".
Nowadays though, you will get disapprovals for mismatching landing page information. Google crawls the micro data on landing pages and will match the color attribute in the feed to the color value on the landing page.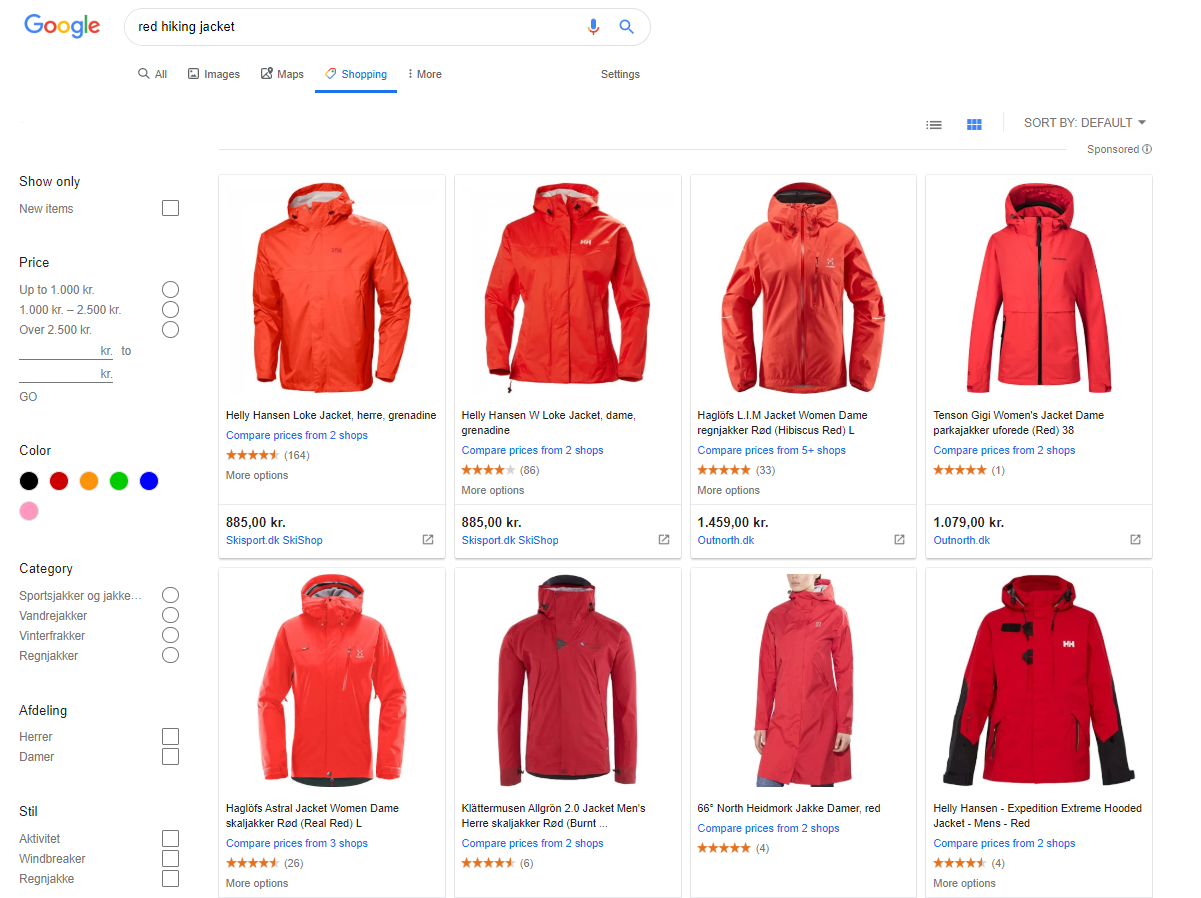 4. Transformation Engine
As mentioned in section 2, the Transformation Engine is a in-platform tool available to all WakeupData users.
Through a click-and-drag interface, users can browse hundreds of functions, from simple corrections to text (capitalize, remove, combine, etc) to price calculations and filters.
The transformation engine is extremely helpful in data feed optimization because it allows you to match many characters while only using one string.
You can use it in many ways such as;
finding and replacing duplicate words
fixing multiple sizes at once
replacing spelling errors or removing excess spacing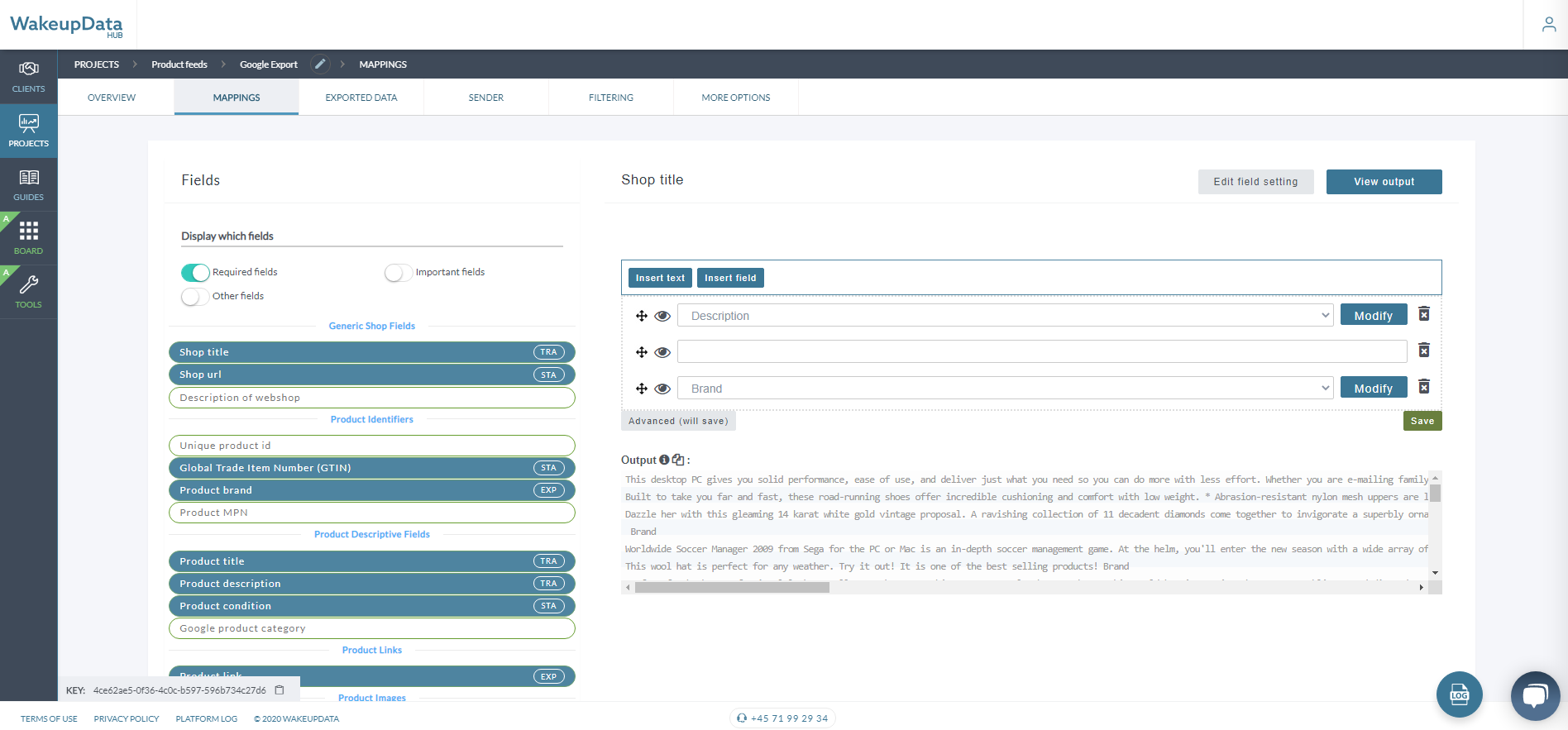 5. Selecting The Right Image
Product Images are the first thing users see when your ad is shown, so you want to make sure these look great. Here are some key points to for making sure your image link is optimized:
Use High-Quality Pictures (For Mobile Responsive Devices)
Make sure the variants match the picture (color, size, material etc.)
Look out for text over the picture (watermarks, sales, manufacture parts numbers)
Test product images vs lifestyle images (to find which works best for your brand)
Related: How to implement Google Shopping images that give the best conversions
6. Custom Labels: Use For Reporting
Custom labels are 5 optional columns which let you split the biddings on specific ad groups within your Shopping Campaigns. These aren't used by Google to rank your product ads, but solely for your own internal reporting or for structuring your Google Shopping campaigns.
Adding proper custom labels will give you an increased ability to segment your products for better bidding and reporting.
The products in your feed will vary by price, margins, seasonality, etc.
| | | |
| --- | --- | --- |
| Custom label | Definition | Values |
| 0 | Margin | High, low |
| 1 | Price category | €0-20, 21-50, 51-100, |
| 2 | Season | Spring, Summer, autumn, winter |
| 3 | Sale | Clearance, half price |
| 4 | Shipping | Free, standard |
When you create your custom labels, you simply assign a definition for each, and specify the values for each.
Being able to bid less aggressive for cheaper products versus high value products is a good way to increase your ROI.
Related: Using Custom Labels for Google Shopping campaigns.
7. Clean The Data
One thing that is frequently overlooked is cleaning the existing data in your Feed.
Whether it's the brand being the store itself, or five different ways of spelling the same category or something else, there is always data to be cleaned.
That's why you should make sure all your product data is:
1. Complete
Ensure missing or empty fields are filled in.
| | | | |
| --- | --- | --- | --- |
| Product title | Color | Product title | Color |
| Berghaus hillwalker jacket | (blank) | Berghaus hillwalker jacket | red |
2.The same throughout
| | |
| --- | --- |
| H & M | H&M |
| Hennes and Mauritz | H&M |
| h&m | H&M |

3. Makes sense
| | |
| --- | --- |
| Berghaus [*Hillwalker*] jacket </b> | Berghaus hillwalker jacket |
8. Populate missing fields
Ensuring that you have as many fields as possible for Google Shopping can be a good way to future-proof it.
It's also a good way to ensure that you can add these fields to the title or product type in the future - see steps above.
Lastly, the ability to set bids or structure your campaigns based on color, size, material, etc. can be a strong segmentation tactic - and for Custom Labels. All of these ideas require that you have as many fields populated as possible. Some of the most common fields that most ecommerce advertisers can add to their list are:
Color
Material
Size
Size Type
Gender
Age
The Easiest Way To Populate Fields Without Data
If you can't get these fields directly from your ecommerce platform, then you need to add them manually. Thankfully you don't need to go through your products one-by-one.
WakeupData offer an on-demand web-crawl tool which lets you extract valuable information like this (as well as tags, images, metadata, etc), from across the web - crawling manufacturer sites and databases.