What On Earth is Feed Marketing Software?
Posted on August 1, 2018 (Last Updated: October 12, 2023)
In the eCommerce and feed marketing industry, it's easy to get lost in the technical jargon and forget just what lies at the heart of our motivation. That's why in this post we're going old-school and taking things back to the very start with two of the most basic questions:
1. What on earth is feed marketing software?
2. What do our clients get out of this software?
Then we'll take a look at some of the key terms from this industry. So, first things first:
"Feed marketing software, also known as a feed management platform, is simply a tool designed to let any user, no matter their company size or experience, import the information on their products from their online store to a platform, then improve that data and send it to shopping channels."


Once their has been uploaded to our platform, users can improve factors like titles, images and descriptions on all their data and then create what is known as an 'export', so they can send all this amazing, 'optimized' data to any channel that they want at any time (image above).
The really great thing about this feed marketing software is that it lets these webshop owners manage the whole process from one, single platform - even if they have thousands of products and are exporting to hundreds of channels all across the world.
That all sounds pretty good and fairly straightforward right?

If I've still got your attention, let's press onwards with our investigation of feed marketing and find out why people actually choose to use it. So apart from the single platform thing, why do people choose to use feed marketing software?
1. Time is the currency! Automating your processes.
The driving motivation for businesses who regularly use data feed marketing software is the sheer amount of time they can save. And as we all know, time is money.
By selecting the right feed marketing tool, nearly every task can be automated. This includes data integrations, category mapping, setting up rules and expressions – automation saves hours of time throughout the entire feed preparation process – and means you can get your products listed on any channel as fast and as simply as possible.


2. Gain independence from IT contractors
Feed marketing software gives you independence – YOU have control over YOUR product feed and can wave goodbye to relying on IT. But don't just take my word for it:
"Wakeupdata allows me, a person with no programming background, build the feed by myself from scratch and customize it as I go,which definitely has the potential to be a big time-saver."

Joni Helminen
Senior Specialist - OMD Finland
An effective and intuitive interface with FAQs, use cases and support lets you get the job done without the need for any external assistance.
3. Simplifying complex tasks
An effective feed management tool makes your job easier by letting you clearly understand your data while making edits, meaning you can get things done a lot faster.
As a simple example, you may want to add the brand to your product titles. With the right tool you simply need to set up an expression and your entire product inventory can have this applied to it - rather than having to manually edit individual pieces of data which, believe me, would not be a fun process!
So far a tool that simplifying the process sounds like a pretty good idea right? 💡
Getting started in the e-commerce industry can be difficult enough. So when it comes to managing your data and ensuring it is optimized and performing as well as it possibly can, we want to help you out.
We know there are a lot of technical terms which businesses vying for your attention will use, or which may be necessary for carrying out certain actions within your online store. That's why we've put together the a 'dictionary' of technical terms, so you can cut through the jargon and understand what is being said!
Product feed
A data feed, or product feed, is a file that contains all of your products' information. Data feed management tools can import your data feed to their platform and allow the data to be improved from there, before sending it to any channel that you choose.
Feed 'requirements' or 'specifications' are the factors which you need to include in your product feed. These will be unique to individual shopping channels, comparison sites or affiliate marketing - depending on who you are sending to. Some of these requirements include: Having EAN/GTIN numbers, product category, cost, URL to your online store, manufacturer, etc.
Taking the time to make sure you data feed meets all these specifications will mean you don't run the risk of getting items rejected by the channel - losing you valuable time - and money! Even if you don't have a product feed yet, we can create one for you by using our data feed software to crawl your site to generate the right information for your feed.
Import
An import is the name given to the data 'uploaded' into a product feed management platform like WakeupData.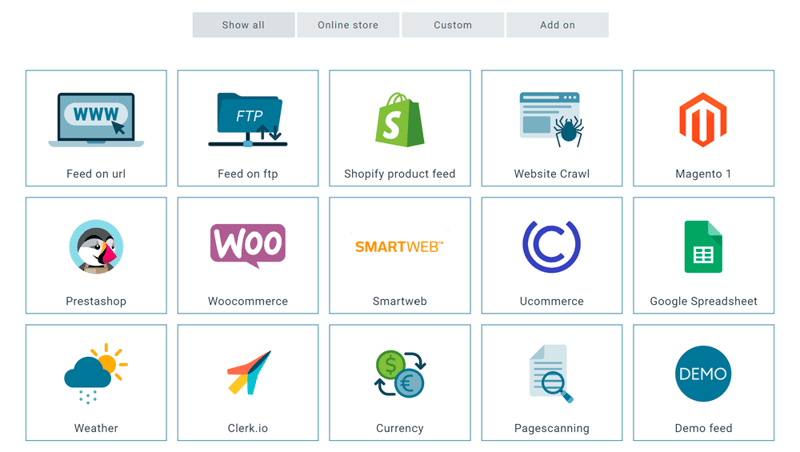 Some platforms will not give you much choice in how you want to 'import' your feed, but with our platform, NEO, you can import in a number of different formats. This includes via a URL, File Transfer Protocol (FTP), through a crawl of your online store, as a Google spreadsheet or through a site like Shopify, Prestashop or Woocommerce, Magento, Smartweb or Ucommerce.
Web Crawling
A web crawler (sometimes called a "robot", is an Internet bot that systematically browses the web, most often for the purpose of indexing. The most common example is Google, which is crawling the world wide web for web page information and indexing them so they can appear in Google Searches.
Optimization
You may already know what this means, but in a data feed management context this refers to the process of improving your product listings from your feed so that they perform better on your sales channels.
This 'optimization' of your data might take the form of:

It may involve the removal of values that repeat themselves, or the addition of values that might be missing like GTINs.
Using WakeupData's solutions means you can also optimize by using:
to reach out to specific markets at the right time.
Export
An export is the name given to the data you choose to send from your data feed marketing platform to a channel.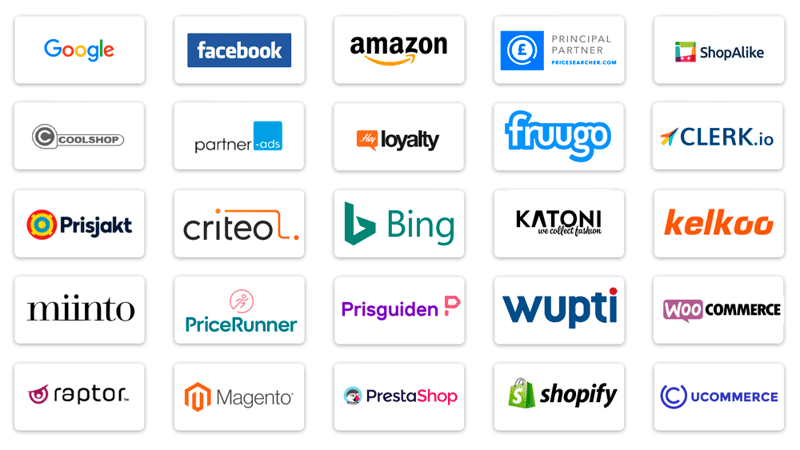 This channels could be price comparison portals, marketplace or affiliate marketing platforms and you will be able to set up multiple 'exports' if you want to use the same product listing across different channels like:
Google, Facebook, Amazon or PriceRunner, etc.
If you're unsure about which channel you want to use for your product data feed, talk to one of our Customer Success Managers and we can share our knowledge and experience to set you on the right path.
CSS
Comparison Shopping Partners are certified Comparison Shopping Services (CSS) that have completed in-depth training to help businesses make the most of Google Shopping Ads.

WakeupData are a Danish Google CSS Premium Partner, and have been selected for this program due to the team's in-depth knowledge of technical setups and product feed campaign management.
So there you have it. The main reasons people use feed marketing software can be boiled down to:
Saving time (and money!) ⌛💰
Gaining independence 💪
Simplifying complex processes 💡
There is a misconception that creating and optimizing a data feed is a job solely for IT departments. Creating a data feed by using the crawling service takes less than a few days and for a fraction of a price and you can optimize your data on-the-go for multiple sales channels. No need for coding skills. Using a tool like WakeupData to do this gives you the best possible solutions at your disposal whenever you need.
Find out more about Data feed management or get your demo below.